The Good: The Nokia Steel is one of the best looking wearable devices you can buy, and its battery lasts 8 months.
The Bad: Only offers basic fitness tracking compared to similarly priced competitors. No huge improvements over the previous model. Nokia's software is buggy.
The Bottom Line: If you're after a stylish watch with some smart tech sprinkled on top, the Nokia Steel is for you. If you're keen on actual fitness tracking, jog on to other devices.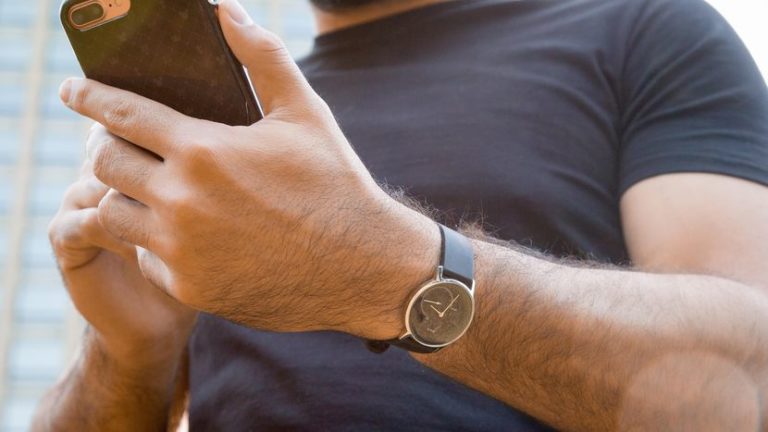 How much you like Nokia's new Steel depends on one question: How smart do you like your watches?
It is technically a smartwatch — it's a watch, and it connects to your phone for basic fitness($122.90 at Amazon.com) tracking. But you won't be able to answer calls from it, get messages or emails. It doesn't even have a screen, as you've probably noticed. Those are actual physical watch arms in those pictures. If you want those features in a wearable, this is a no go.
But maybe you don't like the looks of the Fitbits and the Samsung Gears of the world. Or maybe you find them too pesky to charge and only want bare-bones fitness tracking from a stylish accessory that doesn't garner too much attention. If so, Nokia's Steel may be what you're after.
It looks like a regular — but nice — wristwatch, one that's flexible enough for a day at the beach or a night at a restaurant. It comes in both black and white, retailing for $130, AU$229 or £119. It's not exactly new, being a rebrand of the Withings Activite Pop. That's kind of the problem though: The Activite Pop was released in 2015, and there's not much new to Nokia's version.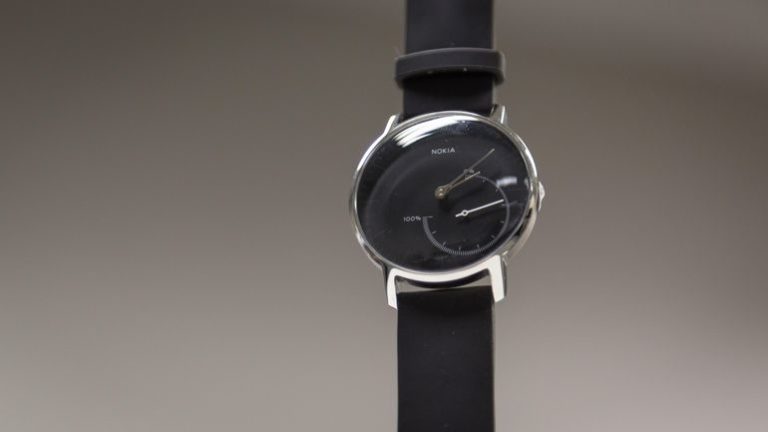 Subtle tracking
The Steel's fitness tracking isn't as fully featured as most wearables. It'll track your steps and distance travelled and it can estimate the calories you burn during exercise, plus your total energy expenditure for the day. It's only a useful exercise tracker for walking, running and, being water-resistant to 50 metres, swimming. That means those of you who prefer to do cardio on a cycle or elliptical machine are out of luck.
Unlike other trackers, little of that information is displayed on the device itself. There's a dial that tells you the percentage of your step goal you've walked so far, but everything else is in Nokia's Health Mate app. Health Mate lets you compare your activity with friends, so long as they also use Nokia or Withing devices. It'll also award you with Badges for reaching certain milestones, such as walking 42 kilometres, which the app informs me is "the distance of a marathon."
Health Mate works with Google Fit for data tracking, MyFitnessPal for calorie counting plus RunKeeper and Nike+ for more running tracking. You'll want to link to those running apps, since the Steel and Health Mate app can't track your run times. The app is also home to Nokia's whole ecosystem of products, as it's also used with Nokia and Withings smart scales.
Nokia is also keen to help you keep a record of your sleep, with a tracker that'll tell you how long you sleep, a total time of how long you were in bed for, how long it took you to actually get to sleep and how many times you woke up. Like calorie expenditure, it's really more of an estimate, as I've woken up without the watch registering it — I remember because the nightmare that woke me up was wild — and I feel like it takes me longer to get to sleep than the app indicates.
Nokia tries to be more helpful with its guide to better sleep, in which it tries to curb what it calls "Social Jet Lag," which is what you apparently get after screwing up your sleep schedule on the weekend. It's all helpful, but you can get the same amount of tracking, and in my experience more accurately, in the free Sleep Cycle app.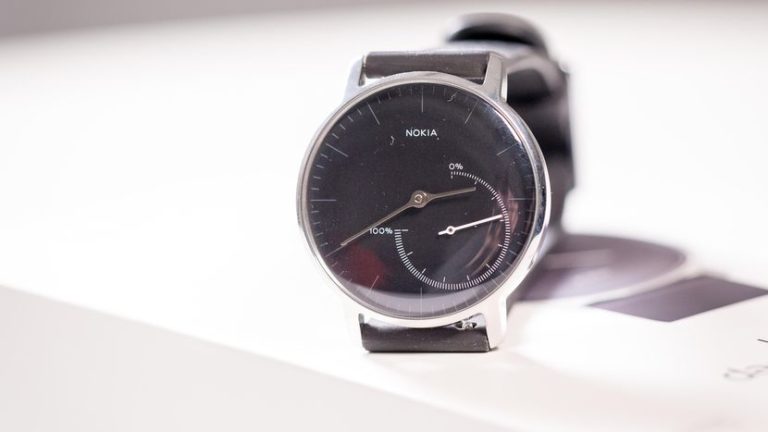 Keep it simple
The philosophy of the watch is simplicity. There's no need to charge it as Nokia says its battery lasts 8 months. You put it on, live your life and check in on the app every now and then to see how you're sleeping and walking. No need to fiddle around with apps or buttons on the actual watch.
That's all good in theory, but it can be hard to escape the lack of functionality. As mentioned, there are cheap or free apps that track your sleep. The phone I'm currently using, Huawei's P10, has a built-in pedometer, so my steps are already counted. There are also many apps for this.
Then there's the competition. For less than $10 more, Garmin's Vivosmart 3 gives you a heart-rate monitor and a bunch of fitness tracking tools. That includes V02 Max readings, an aerobic-performance indicator which until recently was reserved for more expensive wearables. But it's not just the luxurious bells and whistles that the Steel lacks, as it's also without a heart-rate tracker, which you'll find in the identically-priced Fitbit Alta HR, though Withings did include one in the Steel HR (pricing and availability for the new Nokia model isn't yet known, though the older Withing's version was priced at $180 or £170, which is about AU$230).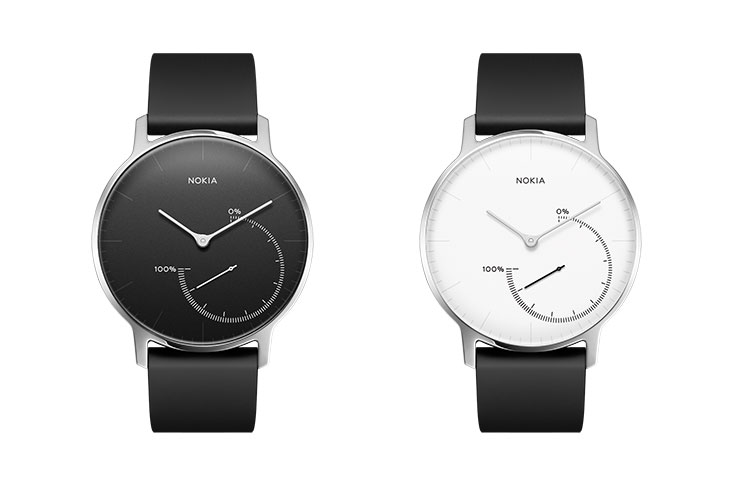 A step backwards

Lack of functionality is one thing, but it's not my main problem with the Nokia Steel. More importantly, there's been no meaningful evolution from 2015's Activite Pop, which is essentially the same product. The only real change is on the software front, with Nokia redesigning the accompanying app, which is the second problem. That change doesn't appear to be for the better.
I never got a chance to use Withings' app, but many users have had trouble with Nokia's version. For my part, I struggled to get the Steel to sync to my phone. No matter how many times I tried, it didn't seem to work — until it randomly did. I'm not sure I could replicate the process you asked me to.
Since then, the app has mostly worked for me, but has at times registered me as sleeping when I wasn't. Complaints from users mostly centre on random drops in functionality. People often seem to have trouble syncing data from the watch or from other apps.
In a sense, it's unfair to compare the Steel to dedicated fitness trackers from Fitbit and Garmin, and especially to smartwatches from Samsung and Apple. It does some fitness tracking, but its primary purpose is not to be a fitness tracker: It's a fashion accessory first, a functional device second. That was a new idea in 2015, but now Nokia has competition. Garmin's Vivomove is a strong alternative, and Fossil ha several similar watches coming later this year. That makes the Steel's lack of evolution and software woes even less forgivable.
This is a rare case where judging a book by its cover is actually appropriate. If you're shopping for a watch and like the look of the Nokia Steel, it makes sense as a purchase. But it's hard to recommend for the tech that's inside.
(cnet.com, https://goo.gl/NZ5CMa)
Comments
comments