OUR VERDICT
Misfit's first foray into the world of smartwatches brings with it a big bold screen, a premium design and a low price tag considering it's an Android Wear 2.0-toting watch.
FOR
Large, vibrant AMOLED display
Android Wear 2.0 works well here
Low price
AGAINST
Thick design
Can't use Android Pay
Misfit Activity app is limited
Making a smartwatch is a difficult process even when you've had experience, but we've seen a lot of companies trying for the first time in 2017 to make it in the smart wearable space.
The Ionic was Fitbit's first attempt at making a tracker that also doubled as a smartwatch, plus we've seen more and more attempts from fashion brands around the world, so it makes sense that Misfit wants a piece of that growing smartwatch pie.
The good news is the Misfit Vapor is a suitable option for your next smartwatch. It's not built for everyone though, so read on to work out whether the Vapor is the watch you should buy for your wrist.
Misfit Vapor price and release date
Launched at $199.99 / £185 / AU$279.59
Announced in January 2017 but wasn't released until the end of October
Different straps will cost you varying amounts of money
The Misfit Vapor has been a long time coming. We initially heard about the first smartwatch from Misfit at CES 2017, but it wasn't until October the same year that the watch finally went on sale around the world.
You can buy the Vapor in most markets that Misfit is present in, including the US, UK and Australia. The price is set at $199.99 / £185 / AU$279.59, which is quite an affordable price point for an Android Wear 2.0-toting smartwatch.
Compared to a lot of other Misfit products though, this will be expensive. Specializing in mostly screenless fitness trackers, the Misfit range has managed to stay affordable for quite some time, so the Vapor is an expensive option if you're just looking for something emblazoned with the Misfit name.
Design and display
Thick and weighty design, but feels like a premium smartwatch
Bold and vibrant 1.3-inch AMOLED display looks great
Lots of different body and strap color variations
For a first attempt, the Misfit Vapor is a surprisingly well designed smartwatch. There's a round display, it's comfortable to wear and it offers all of the hardware functionality you'd expect.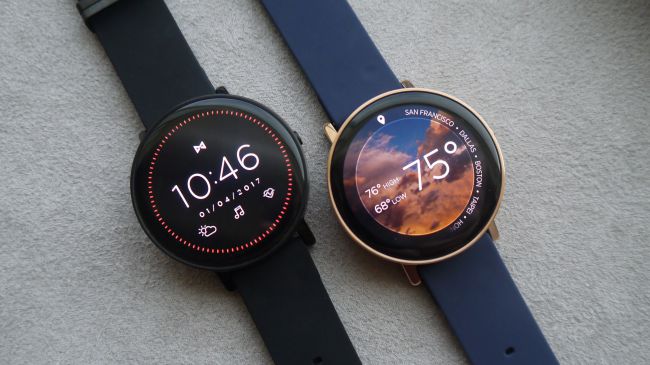 The Misfit Vapor sports a very simple design. The stainless steel body itself is quite thick – it comes in at 13.5mm – and you may find it heavy, but we found it gave a comfortable weight to the watch unlike some other options such as the Huawei Watch 2.
The weight and thickness doesn't make it uncomfortable to wear, but if you have smaller wrists you may find it a little much.
The Vapor only features one hardware button, which sits in the position where you'd usually find a crown on a normal watch. This button is a little small and it can sometimes take a few presses to get it to work because of the size, but it's a simple to use interface, which we'll dive into later in this review.
Everything else you want to interact with on the watch is done through the generously sized 1.3-inch round display in the center of the watch. This is particularly bright as it uses AMOLED technology, which also leaves it looking vivid and bold.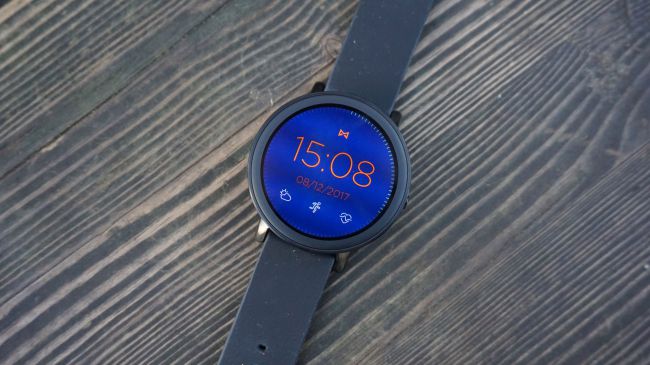 It offers 326 pixels per inch, which is around the standard you'd expect for a smartwatch of this type and provides a clear picture. The LG Watch Sport, for example, has 348 pixels per inch while the Huawei Watch 2 also has 326 ppi.
The Misfit Vapor defaults to a black watch face, but if you change the face to something more colorful you'll notice the color range on the display that makes it stand out compared to a lot of the other competition.
That said, there are some thick bezels around the side of the screen that may leave you a little disappointed by the look of the watch. This is a trend we've seen a lot on Android Wear smartwatches, so it's not as thick as the bezel on the Asus Zenwatch 3 or the LG Watch Sport, but it's still a turnoff for some people.
This is especially clear if you compare it to the Apple Watch, which is essentially bezel-less as the screen curves round the sides, and this just doesn't look as premium as Apple's wearable because of this big line that runs around the outside of your watch.
When you buy your Misfit Vapor, you'll have a few different design options to choose from. We had perhaps the most dull looking Vapor design but we still liked the look of the Jet black body with a black sport strap.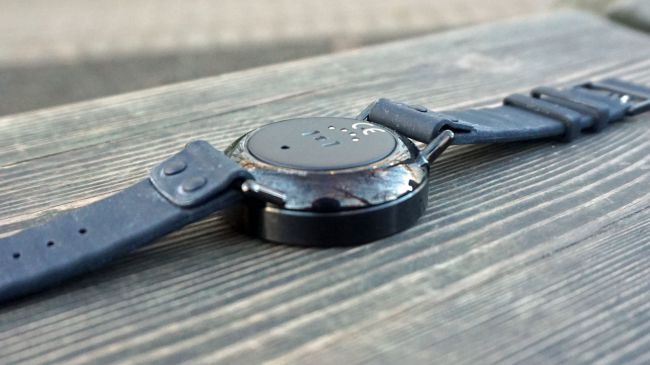 You can also get a stainless steel body with a black strap, a gold body with grey strap or a rose colored watch with either pink or blue straps. All of these look good, but some are bolder color choices than others.
If you don't like the color of the strap you can buy replacement ones on the Misfit website starting at $19.99 / £14.99 / AU$28, with a huge variation of materials and colors including leather and woven options.
These are easy to disconnect from the body of the watch, so we imagine it would be practical to change the straps for different occasions. So far we've only had the opportunity to wear the sport band, but we found it was comfortable to wear, even when you're sweating on a workout.
Fitness
Connected GPS means it only tracks your location if you run with your phone
Can take the Misfit Vapor both swimming and cycling
Limited fitness features, but accurate heart rate tech
The Misfit Vapor isn't like a lot of the more fitness-tailored devices we've seen from the company, with its heavier and thicker design, but it's still a suitable device for anyone looking to keep a track of their workouts.
The Vapor is compatible with a variety of Android Wear fitness-focused apps, but you'll likely find it easiest to connect it to the Misfit app supplied by the company, which is already on the watch and raring to go.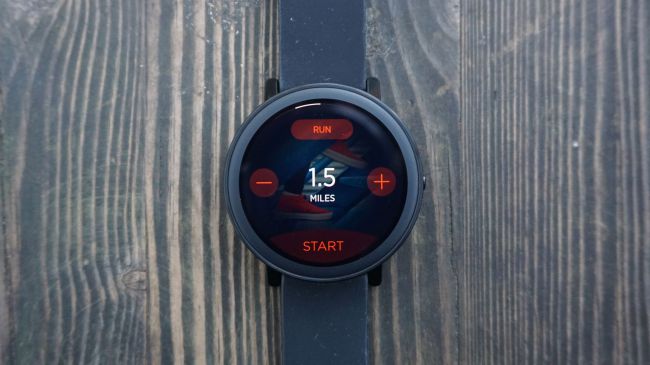 The default app is called Misfit Activity and it'll be able to track your workouts as long as you're on a walk, run, cycle ride, hike or in the pool for a swim. There's no gym workout setting or weight training like you'd find on the LG Watch Sport or the Apple Watch 3.
That's a shame, but if you're planning to use this as a running watch we found it worked well. There is GPS tracking – which we found to be as accurate as most other alternatives right now – but it connects to your phone's GPS rather than having GPS of its own, so you have to take your phone out with you.
There is a heart rate tracker on the Vapor, which is something that has been missing from a lot of Misfit products in the past. We found this worked well and gave an accurate reading. It's pretty fast at getting a reading too, and we found it worked well even when you're in the middle of an exercise, which is something some trackers can sometimes struggle with.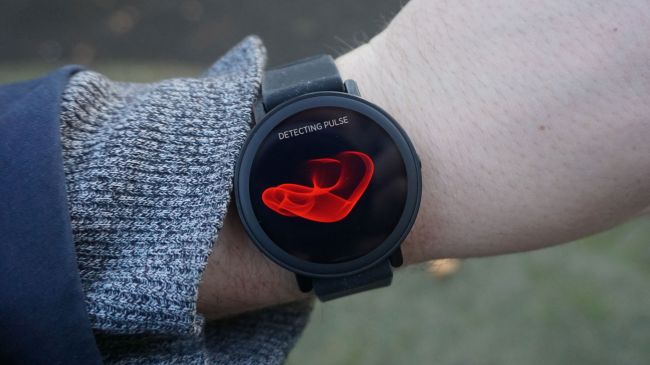 If you want to start a quick workout you'll need to enter the Misfit Activity app and start it on your wrist, as the Vapor won't automatically notice when you're running like the Fitbit Ionic for example.
Instead the Vapor will track your daily steps and you'll need to manually start workouts. This is easy and simple to do through the app, where you can also setup your own time or whatever you want for your workout.
You can also take your Vapor into the pool with you as it's waterproof to depths of 50 meters, and it'll be able to track your swim, but we've yet to do this with the Vapor and will be sure to update our review when we try it out.
If you don't like the Misfit Activity service, you can also link the Vapor up with third-party apps from Android Wear 2.0, such as Strava or even Google Fit. We found Google Fit worked well, but it's much easier to use the Misfit service if you're happy to.
Battery life
Misfit Vapor will last around a day, or maybe a bit longer
If you're using it for fitness, expect it to run down very quickly
Recharges on a specifically made charging base included in the box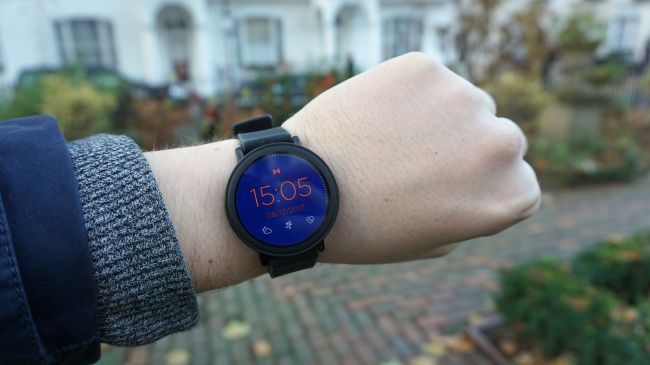 Unlike a lot of other Misfit products, this won't last you a whole month from a single charge. Instead the Misfit Vapor – like most other smartwatches – will only last around a full day, or maybe a tiny bit more.
We often found putting the watch on at 8AM meant we were down to around 25% battery left in the tank by 10PM. That's not the best battery life we've seen on a smartwatch, but if you use your watch only lightly you might be able to push it to around two days.
Whenever we risked not charging it overnight with average usage though we only made it a day and a half before the watch crashed out and needed a recharge. If you're using a lot of the fitness features, including connected GPS, those will eat into the life even quicker too.
This is a little below average when compared to many Android Wear watches on the market right now, and it's a bit of a shame considering Misfit has included a well-optimized chipset like the Qualcomm Snapdragon Wear 2100, especially as the watch is also thick, so it should be able to have a bigger battery inside.
That said, it's not awful battery life. You'll just need to remember to recharge this watch at night. We found it took on average just over an hour to charge up using the charging pad in the box, but you'll need this specific connector to be able to pump battery into the watch.
It would have been preferable for Misfit to include Qi wireless charging tech inside the Vapor, but instead the company decided to opt for its own charger, which means you'll need to remember to take yours with you if you're going away for an evening.
Specs and performance
Top internal spec that runs well, but we did find it sometimes crashed
No NFC, so you won't be able to use Android Pay
4GB of internal storage so you can upload your own music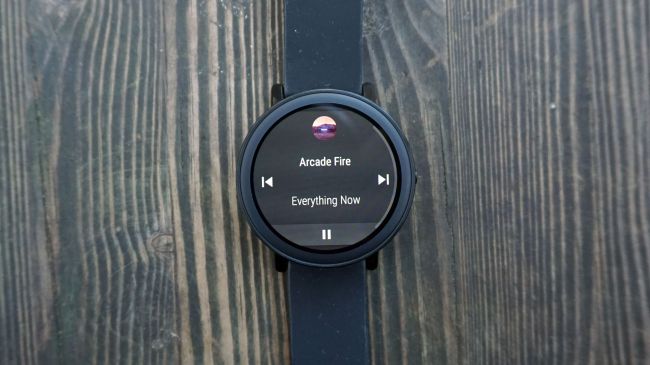 The Vapor is running the latest – at the time of release – Qualcomm Android Wear chipset, specifically the Snapdragon Wear 2100, which we've seen in a variety of Android Wear watches and we found it worked well.
One or two apps did crash now and again, but it didn't cause us any major frustrations when this happened and it sorted itself quickly. We don't know how much RAM is inside the Vapor, but it's enough to keep pace with a lot of the competition right now.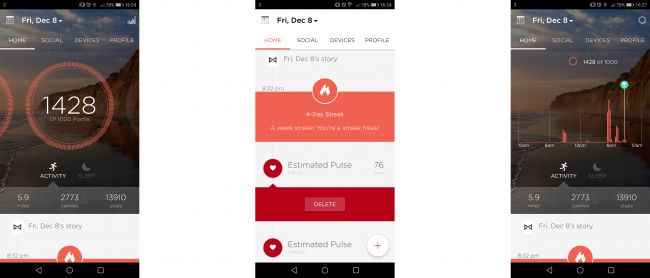 You can upload music directly to the Vapor as there's 4GB of space on the watch to fill, but it's annoying there's not any Spotify or an alternative streaming service that you can use independently of your phone.
Music on the watch isn't something you'd likely use much though as the connected GPS means you also won't be able to use GPS without your phone. That's a big shame for the Vapor and it would be much improved with GPS built-in as it would encourage us to use the space on the watch to upload music – and, of course, to leave our phones at home.
Another big disappointment is the lack of NFC on the watch. That means you can't use Android Pay for contactless payments, while lots of alternatives such as the Fitbit Ionic, Apple Watch and most Android Wear watches will allow you make contactless payments.
Interface and app
Running Android Wear 2.0 software that works well
You use the screen to move around, apart from one hardware button
App is complicated and may confuse some users
Running Android Wear 2.0 software means the Misfit Vapor is an easy device to interact with. Initially Misfit announced this watch would run its own software, but we feel this was the better decision in the end as it means you have access to all of the Google Play Store Android Wear apps and it's a stable platform.
If you've used Android Wear before, you'll recognize the way you move around. You can press the button on the side of the watch to see the list of the apps you have and scroll through using your finger on the screen.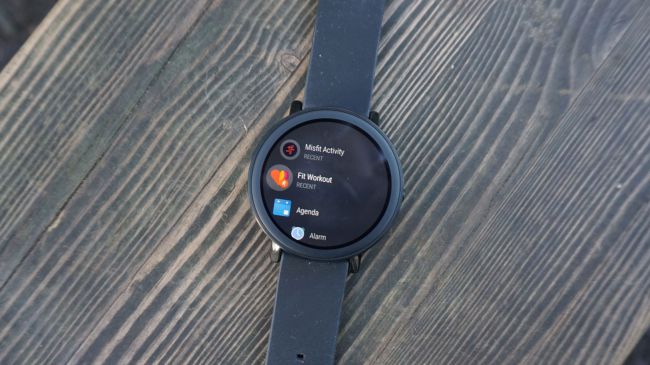 The interface isn't as fluid as say the Samsung Gear S3, as that watch has a rotating bezel that allows you to scroll through menus, while here you have to navigate with taps and swipes on the small screen.
Waking the watch can be done by turning your wrist or pressing the hardware button, and here you'll be greeted with the watch face you've chosen.
You can change your watch face within the Android Wear app, but we particularly like the specifically designed Misfit face. Along the bottom of the Misfit face are shortcuts for features such as the weather or to start a workout that makes it a simple upgrade for the Vapor if you wanted.
As for the app itself, the Misfit app for Android Wear and iOS can be a little bit complicated, as everything is calculated using points rather than real-world stats, so it may take some time to be able to get your head around it.
It'll automatically log your workouts and activity into Today's Story section, which you'll find when you scroll down, but every day you'll have a score of a certain amount of points you need to hit by doing different exercises.
This is easily customizable for your goals within the settings screen, and the same is also an option for your sleep pattern. You can also share your scores through the social aspect of the app, but you'll need to have friends using the Misfit app to be able to show them your scores.
Verdict
Misfit's first attempt at a smartwatch does a lot of things right, but there's so much competition in this space right now it's a difficult one to nail.
There are lots of great Android Wear watches as well as running watches or even the Apple Watch 3 to choose from, but the Misfit Vapor has done a lot right and kept the price low given the features on offer.
This is perhaps the most affordable high-end watch that also looks fashionable and runs Android Wear 2.0 software, and while the fitness side is limited it achieves a lot given the amount of money you're spending here.
Who's this for?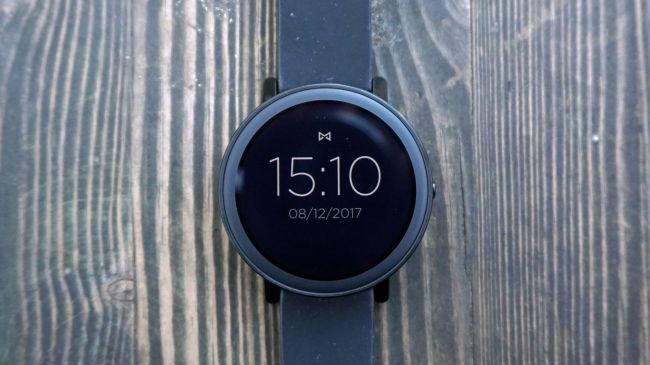 We'd recommend the Vapor for anyone who's looking to get an Android Wear watch on their wrist but wants to look fashionable and not spend lots of money. The design is really well thought through on the Vapor and with a more vibrant display than a lot of the competition it helps the watch stand out from the rest of the crowd.
The Vapor isn't the best fitness tool on the market, but it looks great and although it's limited it can still track your runs, walks, swims and cycles.
Should you buy it?
If fitness isn't your main intention of buying a smartwatch, we think the Misfit Vapor will be a happy medium. The price is low considering the rest of the market, this comes with a heart rate tracker as well as connected GPS and there's all the benefits of Android Wear as well.
This is a watch you'll want to wear on multiple occasions and if you want something stylish you can wear while working out and swap the straps for that business meeting, you'd struggle to go wrong with the Vapor.
Competition
Don't think you like the Misfit Vapor? Here are some watches you should also take a look at.
Fitbit Ionic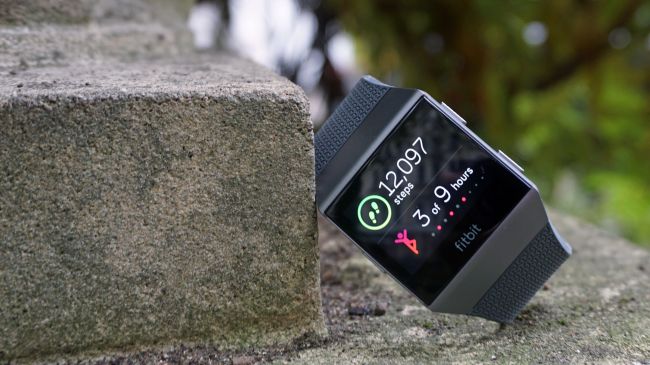 Another fitness-focused watch, the Ionic is Fitbit's first attempt to make it into the smartwatch business and switch from just making fitness trackers. If you're already embedded in the Fitbit platform after owning a Fitbit, the Ionic may suit you well.
There are a lot of similar features on the Ionic, but this has GPS built-in and is going to cost a lot more than the Misfit Vapor, so if you're on a budget the Vapor could be a better choice.
Apple Watch 3
This will only suit you if you own an iPhone, but the Apple Watch 3 is one of the best smartwatches in the world right now and looks a lot more fashionable than this choice from Misfit.
Fitness features are about the same on both of these watches, but there's an LTE version of the Apple Watch 3 up for grabs if you want to be able to take calls on your wrist without having to take your phone out for a run with you.
That said, any version of the Apple Watch 3 is going to cost you a lot more than a Misfit Vapor so be prepared to spend more if you opt for the iOS-only choice.
LG Watch Sport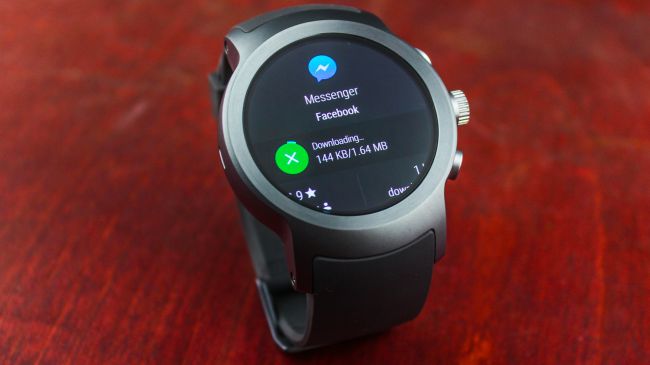 One of LG's flagship watches is perhaps the best fitness device in the Android Wear space right now and tackles the Misfit Vapor at what it's attempting to do the best. You can use the LG Watch Sport without your phone a lot more easily than the Vapor, and strength tracking is included in LG's wearable too.
Compared to the Vapor though, the design isn't as nice and the battery life isn't much better so it's a difficult choice to make that largely comes down to whether you want to go running without your phone or you're happy to have it in your pocket.
(techradar.com, https://goo.gl/K8H1nV)
Comments
comments