El Capitan is a rock formation inside the Yosemite National Park, and OS X El Capitan is, as its name suggests, an enhancement to Yosemite, in the same way as Snow Leopard offered an enhancement to Leopard. Apple's primary focus with this release is to be performance and stability, both of which should speed up tasks on a Mac – in fact Apple is claiming that older Macs will see significant performance improvements.
If that sounds boring to you, you'll be glad to here there will be a few new features and some much needed updates to the accompanying software and the user interface.
For example, you'll be able to choose to hide not only the Dock but also the Menu bar at the top of the screen, particularly useful with small screen laptops. Also, when you enter Mission Control (usually by pressing F3) you'll be able to see all the documents you have open as used to be the case in Exposé in earlier versions of OS X – in Yosemite documents associated with apps are gathered together, overlapping each other so it's harder to select the Word document you wish to edit.
There's also a new full-screen mode called Split View that lets you have more than one app open at once. To activate it, click and drag the green window-resize button and you can fill the screen with two apps at once.
Also getting a significant change is Spotlight, Apple's tool for searching you Mac. One of the criticisms of Spotlight in Yosemite was that Apple moved it to the centre of the screen from the right hand corner, this gave Spotlight more space for its results, but people were frustrated that the Spotlight window couldn't be moved from its new location. Well that's changing in El Capitan – you will be able to click on the Spotlight result box and move it around the screen. We are disappointed that when you click away from the Spotlight results the box vanishes though – we often find ourselves having to jot down conversions from Spotlight so we can copy them into a document we are working on. Now the box can be moved out of the way it is only logical that we should be able to keep it on the screen if we want to.
Spotlight is also getting natural language search – which hints that Siri may be coming to the Mac. You'll be able to construct your search query in a more colloquial way, for example: "documents I wrote in July" or "emails sent by Ashleigh".
Photos for Mac hasn't been out for long but the new operating system will bring some much needed updates including the return of geotagging (which was present in iPhoto but missing from the first version of Photos). It will also be possible to sort albums by date and title. And Photos will apparently be better at identifying Faces. Photos hasn't been released in the beta yet so we are unable to comment further.
Safari is getting a few tweaks. We like the fact that we can 'Pin' our favourite sites to the menu bar – although it strikes us that we will have too many ways to store our favourites: Pins, Top Sites, and Favourites. Apple really needs to do away with Top Sites now because it is essentially the same as Favourites.
Another new Safari feature is that it will identify which of your open tabs is playing audio and make it possible to mute the audio with a single click on that tab. If there is more than one audio stream open you can click on the speaker icon in the address bar to see a list of all the tabs playing audio. You'll be able to shut down the audio on the tabs you wish from this view.
While both of these new Safari features are impressive, they have featured in Chrome for some time.
We are glad to see that Apple is giving Notes some attention in El Capitan. Notes will be able to handle photos and PDFs, URLs, and map locations as well as text. And it will allow formatting of text. There's also a new formatting option that will turn a list into a checklist. There is also a new attachments browser in Notes which you can flick through to find all the media, websites and other attachments you have added to the app from any of your devices.
Finally, Mail is gaining some new features that are reminiscent of the iOS Mail app. There are two new gestures that will be familiar to any iOS users: swiping left to delete an email, and swiping right to mark as unread. You'll also be able to minimise an email you are composing, just as you can in iOS.
One new feature in Mail is the ability to manage different email threads in Safari-like tabs. The new natural language search also shows up in Mail, making searching for "emails from Ashleigh with photos attached" easier than ever.
There is one more significant change coming to OS X El Capitan, Metal, the graphics technology that was announced with iOS 8. Metal will bring Will bring improved game performance and improved performance in processor hungry apps. Adobe has already committed to adopting Metal for its OS X apps and demonstrated how Metal has improved After Effects and Illustrator. Autodesk and The Foundry have also committed to using Metal and it is thought that using Metal will also drastically speed up the likes of Autodesk's Maya.
Metal for OS X is also great news if you're a Mac gamer: major game developers have already confirmed commitment to Metal, including Unity and Blizzard, as well as Feral and Aspyr who specialize in bringing Windows games to the Mac. Along with the performance enhancements coming in El Capital we expect Metal to have a real impact on this sort of processor intensive work.
In a matter of days Apple will give the world a first look at what the next version of OS X will look like. Even now rumours are suggesting some of the new features that we can expect to see in the successor to Yosemite, so we're going to take a quick look at what they might mean we can expect from OS X 10.11 when it launches. We have high hopes, that we hope won't be dashed by Apple when the next version launches.
We will update this preview of OS X 10.11 as soon as we have more information. We are hoping that following the WWDC briefing we will be able to get our hands on the beta  version of the software so we can update this article fully.
OS X 10.11 will be the successor to OS X 10.10 Yosemite, so until we know what Californian location it will be named after we will refer to it as OS X 10.11.
It's not likely to launch until the autumn, but typically Apple will offer a preview of Yosemite at its Worldwide Developers Conference in June. There may be a demo version available shortly after for developers, and later in the summer a beta for members of the public lucky enough to make it onto Apple's beta testing scheme.
Final release data isn't likely to be until October, based on the past few years. When Apple does release it you can expect it to be a free update via the Mac App Store.
Design
Given that Yosemite was a massive design change, we aren't expecting a major redesign here, but we have heard that the San Francisco font that's used on the Apple Watch is making its way to the Mac in OS X 10.11. It sounds like Apple will use San Francisco rather than Helvetica Neue as the system font. This concerns us a bit because we wonder how legible a font that's been selected for its readability on a watch will be on a high-res display. It appears we aren't the only ones who are concerned, apparently, some Apple engineers are not fans of the new font either and fear it will not look great on non-Retina screens.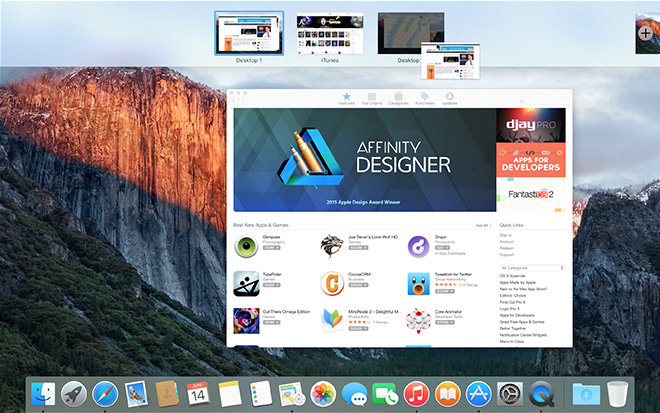 Stability
One major rumour is that the main focus of OS X 10.11 will be stability rather than new features. If this is the case this update will be akin to the Snow Leopard update, which built on Leopard with a focus on quality.
Given the issues and bugs that plagued the launch of Yosemite, we think this focus is a good idea. Hopefully Apple will fix many of the problems users had with Yosemite, and we trust we won't be subjected to the WiFi connection problems in early versions of Yosemite that made it impossible for some Mac users to even download the fix when it was issued because they couldn't get on a WiFi network to connect to the internet.
Security
Speaking of WiFi, apparently Apple is working on a new feature called Trusted WiFi that will arrive in OS X 10.11. Trusted WiFi will allow Macs and iOS devices to connect to trusted routers without requiring security measures. However, when you connect to a non-trusted router your data will be heavily encrypted. Apple is said to be testing its own apps and third-party apps to make sure that they still work when this feature is enabled which sounds like a sensible thing to do given the WiFi problems in Yosemite.
Another security measures that Apple is said to be developing is a new kernel-level security system called "rootless". This is designed to curb malware and will also protect your data and prevent others from accessing protected files.
There is one more security feature that Apple is said to be working on: iCloud Drive file encryption for apps is apparently being rearchitectured.
As a result of this focus on stability and security apparently some of the features that were planned for the upgrade will not arrive until 2016.
iCloud Drive update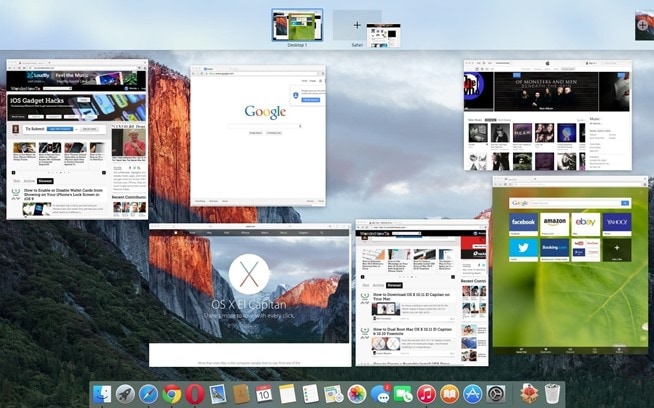 Apparently there are some back end changes to iCloud Drive on the way that should protect your data and also improve syncing and speed.
Apple is said to be moving some of its IMAP-based apps over to iCloud Drive. IMAP-based apps include Notes, Reminders, and Calendar and currently they use an IMAP-based back end for syncing content. Moving them all to iCloud Drive will allow Apple to improve communication and offer faster syncing between the apps. Security will also be improved because Apple will be able to offer end-to-end encryption for the data.
We hope the transition from IMAP to iCloud Drive will be simple for users, reports suggest users will just see a dialogue box offering to import the data.
Apple is also said to be upgrading its iCloud Drive servers in order to sustain the anticipated increase in usage. We hope that this upgrade will also put a stop to the too frequent iCloud outages.
Control Centre
Perhaps the biggest change in OS X 10.11, as far as consumers are concerned, will be the addition of Control Center to OS X. Control Centre was a feature rumored for OS X Yosemite, it was even seen in early betas of that software. It appears that Control Centre may finally find its way into the next version of OS X. If it does expect it to be something like the Mac Menu Bar, including music controls, Wi-Fi, and Bluetooth, as well as other features similar to the Control Center on iOS, like access to Do Not Disturb.
Apparently Control Center will be a pane that slides out from the left side of the display.
Swift
The other feature coming in OS X 10.11 that we are hearing about relates to Swift. Apple's said to be updating its programming language, which is apparently going to reach "Application Binary Interface (ABI) stability". This means that its code libraries will come pre-installed in the new Mac operating systems. That might sound boring to consumers, but what it means is that Swift applications will require less space.
Apple will apparently not be shipping Swift versions of its own applications this year, but the company is said to be planning to convert its own apps to Swift in 2016.
VERDICT
We can't possibly give a verdict yet as we don't have a crystal ball, but it looks like iOS X 10.11 will shape up to be a necessary update that will fix many of the issues that plagued Yosemite when it launched. Consumers may find it boring, but behind the scenes we hope Apple's tweaks will make a big differnce.
Comments
comments