We've seen 3D-printed clothing, cars and houses — and now Amsterdam is building an entire bridge from 3D-printed steel! Designed by MX3D and Joris Laarman, the revolutionary pedestrian bridge will be constructed by multi-axis industrial robots. In other architecture news, Dubai has given the green light for a fleet of floating luxury islands to be built in The World archipelago. One World Trade Center opened late last year — and now it looks like New York City's tallest building is about to get a new neighbor. Last week, Bjarke Ingels Group (BIG) unveiled a set of architectural renderings for Two World Trade Center, a 1,340-foot tower that will consist of a series of stacked boxes.
Students don't require much when it comes to housing — a place to rest their heads and a little room to stash books and clothes. With that in mind, CannonDesign's Yazdani Studio designed a tiny prefab sleeping pod for students. The entire unit measures just 55 square feet. If you need a little more space to stretch your legs, the French company Domespace has designed a gorgeous dome house that looks like a spaceship from the outside. The entire home can rotate with the press of a button, allowing its inhabitants to change their view and take full advantage of sun and shade. And a dazzling mirrored crystal cavern popped up in Sydney Harbor.
On the green transportation front, Elon Musk just announced that the Tesla Model X will arrive as early as this September. Inhabitat also took a test drive of the 2016 Volvo XC90 T8 plug-in hybrid, and came away impressed with the SUV's 59 MPGe rating. In othergreen tech news, engineers at Stanford University have developed a new type ofcomputer that operates using moving water droplets instead of electrons. Yes, you read that correctly. The revolutionary computer looks nothing like your typical laptop. And Dyson has developed a new LED light that will last for 37 years (if used for 12 hours per day).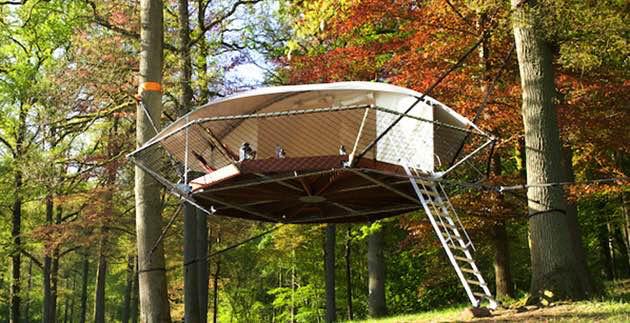 The free market is a major culprit when it comes to assigning blame for climate change, but private companies are beginning to step up to do their part to combat global warming. Retail giant IKEA is pledging €1 billion to fight climate change. The company will use that money to invest in renewable energy for developing nations. Google is also getting in on the action — according to reports, the tech giant is considering investingtens of millions of dollars to build Africa's largest wind power project. In other green energy news, a team of engineers showed how the United States can be powered by 100 percent renewable energy by the year 2050. GE has designed a new type of wind turbine with a dome-shaped addition to its front. The add-on, which looks sort of like a shield, helps it to generate 3 percent more energy than a traditional windmill. The UK just installed its first new electricity pylons in 90 years. The new pylons transport the same amount of power as the old ones, while giving the country's energy grid a visual upgrade.
A grad student at Wake Forest University designed a drone that is being used to track illegal logging in the Peruvian Amazon. In other nature news, a mysterious sinkhole has naturally developed into a gorgeous, leafy underground ecosystem in China, producing some of the most amazing photos we've seen. And if you've ever wanted to get a better look at koi fish, here's just the thing: The company Velda has designed a floating fish dome that enables fish to poke their heads above the surface of the water.
(engadget.com)
Comments
comments