The Good: The iHome iAVS16 is a functional clock with a USB charging port and near-full Alexa functionality, including music playback, traffic and weather, and — of course — alarms. It can also wake you up by playing a Spotify playlist, which Amazon's Echo devices still can't do.
The Bad: The build is bulky and cluttered with a clunky-looking display and an over-abundance of buttons. It doesn't support Alexa's ESP or calling and messaging features, and it doesn't currently support voice-activated Spotify playback.
The Bottom Line: At $150, this alarm clock doesn't feel like a smart buy for your bedside.
Let me start by being very clear about something: $150 is way, way too much to spend on an alarm clock.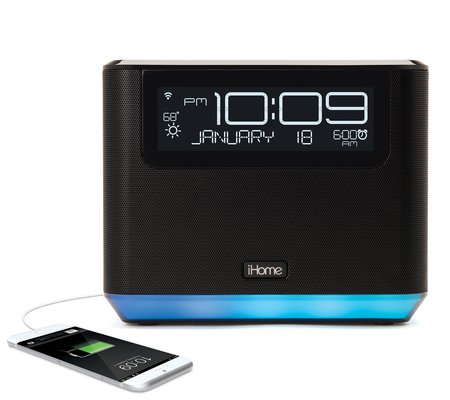 Now that we've gotten that out of the way, let me tell you all about iHome's new $150 alarm clock. It's called the iAVS16, and iHome will point out that it's not just an alarm clock, but a full-fledged Alexa device with Amazon's voice-activated virtual assistant built right in. Save for calling, messaging, and ESP, which makes it so only the Alexa device closest to you responds to your command, it can do everything the Amazon Echo can do. It's Alexa's brain transplanted into an alarm clock body.
If that pitch sounds a bit familiar, it's because Amazon has an Alexa alarm clock of its own in the works. That soon-to-be-released gadget, the $130 Echo Spot, costs a little less than the iAVS16, and unlike the iAVS16, it includes a touchscreen and a camera. That might sound like bad news for iHome, but I'd actually argue the opposite — plenty of folks who'd be interested in an Alexa alarm clock will likely prefer that it not keep a camera pointed at them while they sleep, thank you very much.
On top of that, the iAVS16 offers decent, full-size sound quality that, to my ear, sounds almost as good as the Echo, and certainly good enough for bedside listening. It'll even wake you up by playing a Spotify playlist — something the Echo still can't do. If it looked a little nicer, I might even call it a legitimate temptation. But at $150, it's just too pricey to recommend.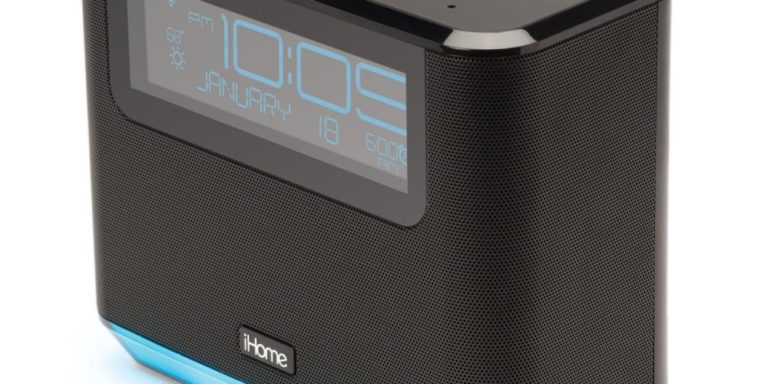 Design and features
The iAVS16's build is a bit bulky as far as alarm clocks go, especially considering that it doesn't include a dock for your phone. The size was necessary, I suppose, to give it full-sounding audio, but I would have gladly traded some of that fidelity in exchange for a design that gobbles up less of my nightstand's real estate — especially if that also meant a lower price.
The aesthetics leave a lot to be desired, too. With the time in large print surrounded by the date, the weather, the Wi-Fi status and your alarm info, it's a cluttered, inelegant display that doesn't do much to set itself apart from good-looking competitors like Beddi, or even from iHome's own, less-expensive alarm clocks.
Speaking of which, those cheaper iHome offerings include an alarm clock that doubles as a dock for the Amazon Echo Dot. I liked that product when I reviewed it, but thought that it was too expensive at $70. iHome has since marked it down to $50, which feels a lot more reasonable. At any rate, if you're already using an Echo Dot to wake you up in the morning, then that product would make a much more sensible upgrade.
Whereas that alternative includes no buttons at all, the iAVS16 has a whopping 14 buttons up top, including two programmable smart buttons that can trigger playlists or turn iHome smart plugs on and off. There's also a button to pair via Bluetooth, a button to put the clock into speakerphone mode, a full set of buttons for music playback, a separate, programmable button that's supposed to trigger multiple things at once when you wake up or settle in, a button to wake Alexa, a button to mute Alexa, a button to toggle the color-changing LEDs on the bottom of the clock, and, of course, the venerable snooze button.
Alarm clock power users might be thrilled by all of that, but it's more than most of us probably want or need. The fact that each of those buttons is backlit and can't be dimmed without also dimming the display irked me as well.
As far as the alarm goes, it's almost entirely Alexa based. Just say something like, "Alexa, set an alarm for 7 a.m. on weekdays" and she'll add it to the "Alarm & Timers" section of the Alexa app. When it goes off, you can mash the snooze button, or just grumble at Alexa to buzz off.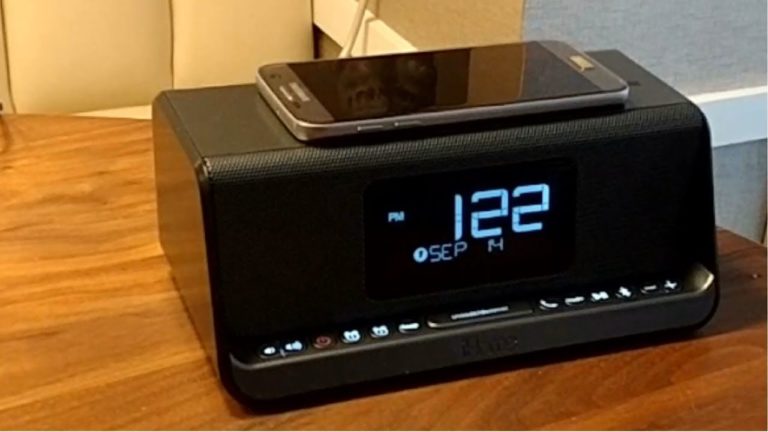 One cool thing: iHome's app lets you sync with your Spotify playlists, then trigger one of them in lieu of an alarm. It'll only play the song at the top of the list as opposed to playing one at random, but it's still a good option to have — and something that Amazon's Echo devices can't currently do.
That's not to say that the iAVS16 beats the Echo at its own game. Unlike the Echo, it can't call or message anyone, and, like most third-party Alexa gadgets, it lacks the Echo's "ESP" feature, which makes it so that only the Echo device closest to you responds to your command. That's probably not a huge issue for a bedroom gadget like the iAVS16, but if you're using multiple Echo devices throughout your home, it's still something to consider.
One other shortcoming: the iAVS16 doesn't currently support voice-activated Spotify playback. Instead, you'll need to open the Spotify app, then link playback with the clock via Spotify Connect. iHome says that it's just a temporary limitation, and that full, voice-activated Spotify support should arrive within the next few months.
The verdict
Like a lot of people, I already keep an Echo Dot by my bedside, so I can certainly see the appeal of this thing. I've grown used to telling Alexa to turn the lights out after crawling into bed and asking her for the day's traffic and weather when I wake up — but I also haven't gotten rid of my old alarm clock, because I still like being able to know the time without needing to ask for it.
That said, the $150 iAVS16 is more than I need and, I suspect, more than you need. I'd much rather just spend $50 on iHome's dock for the Echo Dot, which gives it a clock face and better sound quality. Even if I didn't have a Dot yet and needed to buy one, I'd still be saving $50, and I'd have full access to Spotify, ESP and Alexa's calling and messaging feature, all from an alarm clock that isn't as bulky or as clunky as the iAVS16.
(cnet.com, https://goo.gl/JJN3WR)
Comments
comments