OUR EARLY VERDICT
For those looking for a smartwatch which won't take over their wrist the Fossil Q Venture is a stylish proposition which gets the basics right.
FOR
Compact design suits smaller wrists
Solid, stylish premium build
Fully round display
AGAINST
Crown doesn't rotate
No heart rate monitor or GPS
No NFC for contactless payments
The Fossil Q Venture offers up a more style focused, and smaller smartwatch experience to its larger, more rugged sibling, the Q Explorist.
The duo are Fossil's third generation of Android Wear devices, as the company continues to be one of the few persevering with Google's wearable platform.
With a thinner 18mm strap and smaller display the Q Venture is suited to smaller wrists, although it won't look out of place on larger forearms either.
Fossil Q Venture price and release date
The Fossil Q Venture price starts at $255 (£259.99), and rises to $275 (£279.99) if you opt for the gold or rose gold model, making it the same price as the Explorist.
It's currently available for pre-order from Fossil's website, with the Q Venture release date set for September 24.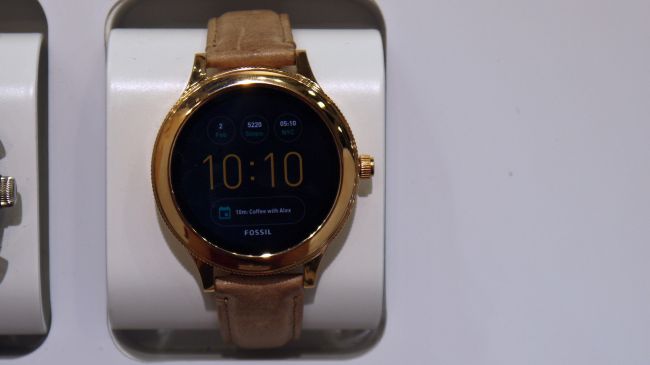 Design and display
The Fossil Q Venture has a 42mm diameter metal case which is 11.5mm thick, giving it a slender, stylish look that won't swamp smaller wrists.
It's a simple design, with a single crown button, which unfortunately doesn't rotate – so you'll have to use your finger on-screen to scroll lists.
It's a shame, especially given the smaller screen on the Q Venture, as because the crown doesn't rotate we found our fingers blocked a decent proportion of the display when moving through lists.
There's no heart rate monitor on the back (or GPS inside), which reduces its effectiveness as a fitness watch – but it can still track your steps.
You can also wear the Q Venture in the bath or shower, as with its IP67 rating it'll withstand being submerged for up to 30 minutes to a depth of 1 meter in fresh water.
The Q Venture boasts Fossil's first fully round display on a smartwatch, giving it a marked improvement over its predecessor, the Q Wander, as it's ditched the flat-tire screen that previous Fossil watches have had.
The OLED display is bright and clear, and while its smaller size (compared to the Explorist) means icons and text isn't as large here – it's still pretty easy to see what's going on.
Fossil also offers over 30 exclusive watch faces for its smartwatches, giving you a range of choice not available to Android Wear watches from other manufacturers.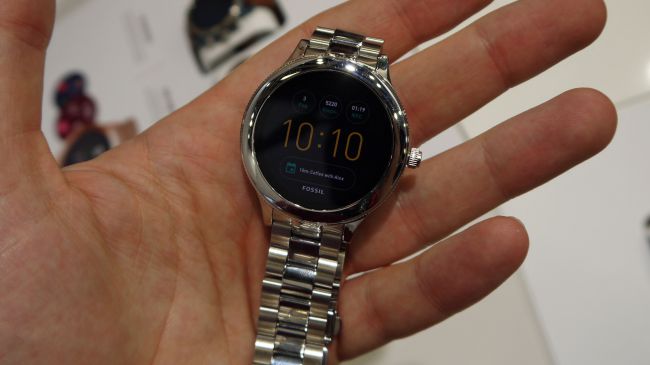 Performance and interface
In terms of power the Fossil Q Venture has the common Snapdragon 2100 chipset which we've seen in a number of rival smartwatches, along with 512MB of RAM.
It's more than enough to run Android Wear 2.0 smoothly on screen, with apps opening in good time and the interface easy to navigate – and a big improvement over the version 1.0.
There's 4GB of storage inside too, allowing you to save songs on the watch, pair it with a Bluetooth headset and leave the house without your phone while still enjoying your tunes.
The storage also comes in handy for downloading apps and games, which thanks to Android Wear 2.0 can all be downloaded directly from the watch thanks to its built in Wi-Fi connection.
Fossil claims the Q Venture offers 24 hours of battery life from a single charge, but that will depend on your usage and whether you opt to employ the always-on display.
In short though, a nightly charge will more than likely be needed, but with a wireless magnet connection it should at least be easy to top up.
We'd have liked to of seen NFC included inside the Q Venture so we could use it for contactless payments, but unfortunately this feature didn't make the cut.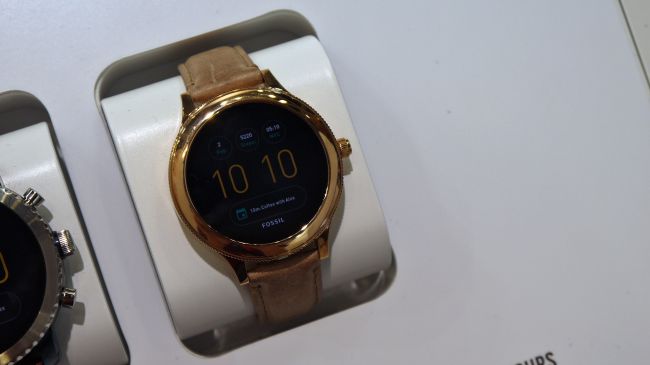 Early verdict
For those looking for a smartwatch which won't take over their wrist the Fossil Q Venture is a stylish proposition which gets the basics right.
It does miss some of the more advanced features, such as GPS, NFC and a heart rate monitor, but for a basic smartwatch experience it's a strong contender.
(techradar.com, https://goo.gl/XXiCFy)
Comments
comments