OUR VERDICT
The Fossil Q Venture is a sharp-looking, comfortable smartwatch with a great display and responsive processor, but fitness fans will miss GPS connectivity, while a heart rate monitor is becoming a necessity.
FOR
Nicely constructed
Great display and responsiveness
Solid battery life
AGAINST
No GPS, NFC or heart rate monitor
Squeaky strap links
Fixed bezel and crown
With the Fossil Q Venture smartwatch, the popular brand has reaffirmed its commitment to Google's wearable platform, putting out its third-generation devices – and its first to feature Android Wear 2.0, the most feature-rich revision of the wrist-worn OS.
At a fair price and with a solid construction, it's a worthy entry into the flailing Android Wear market, though the omission of a few key features may turn some diehard wearable fans away.
Fossil Q Venture price and availability
Starting RRP at £259 / $255 / AU$399 
Pricing varies depending on strap configuration and finish
Better deals already available at third-party resellers
First revealed in September 2017, the Fossil Q Venture is now on sale through Fossil's stores and online, as well as at third-party retailers.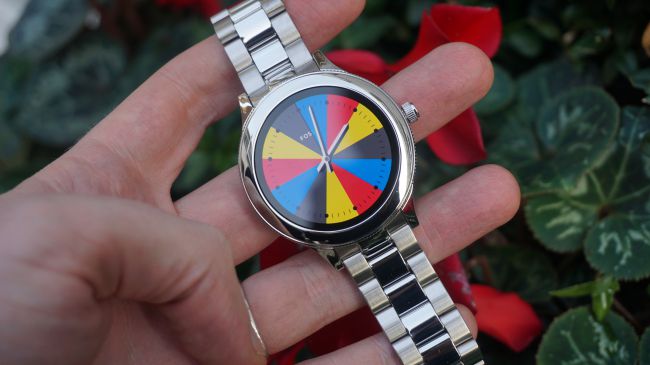 With a smart finish and attractive design, it's competitively priced against the competition, with prices starting at £259 / $255 / AU$399 if you pair the watch with a leather strap rather than the premium chain-link option. The rose gold finish pushes the price up a little more too.
With no 4G-equipped equivalent, beyond design your options are limited – but you can already knock a chunk off that entry price if you shop around with third-party sellers, making the Fossil Q Venture an even more tempting proposition.
Design
Lightweight, relatively compact design
Single button in crown, but no rotating bezel or crown
Well-suited to smaller wrists
Fossil has a heritage of delivering sleek watch designs at a relatively affordable price, and the Fossil Q Venture continues in that tradition.
The Fossil Q Venture opts for a round face design, with an unmarked bezel (rather than the sports-orientated numbered bezel that some smartwatches make use of). A single button sits on the right-hand side of the face, within the crown.
But that crown doesn't rotate, nor does the bezel. That means you're going to have to scroll through any lists with your fingers on the smartwatch's touchscreen, which could be a bit fiddly for those with chunkier digits.
However, plenty of other brands also take this approach, including Tag Heuer, Mont Blanc, Misfit and LG. So you're only looking at the Apple Watch 3 or Samsung Gear S3 if you want that functionality – and that'd be at the expense of the Android Wear 2.0 ecosystem.
It's a relatively compact design overall, making for a subtle, discreet smartwatch – one that, if paired with a reserved face, could easily pass as a traditional wristwatch.
With a 42mm face and being only 11.5mm thick, it's lightweight for a stainless steel watch, and you'll forget you're wearing it until you need it or get a notification, which is a good thing.
The one flourish on the smooth steel watch face is a thin textured ring around the outer edge of the face – again, thin enough to be subtle, present enough to be an attractive touch.
The 18mm strap can be changed, with Fossil offering leather and metal options. We removed a few links from the stainless steel strap we were provided for a better fit, but be warned – we endured a squeakiness in the strap when shaking our wrists that could frustrate if you're a regular wrist waggler.
Rated for IP67 water protection, you'll be able to take the Fossil Q Venture into a shower without any problems, while it'll also survive a dunking in 1 meter of fresh water for 30 minutes, should it slip into a puddle, pond or fall victim to a pedalo lake boating accident.
Charging is carried out over a small round magnetic puck, securing itself to the underside of the smartwatch for 'wireless' charging. It held firm throughout our charging sessions, so you shouldn't need to worry about it slipping off and waking up to find an uncharged smartwatch.
Display
A round-face for the first time in a Fossil smartwatch
42mm diameter case face
Rich OLED display
Previously, Fossil has opted for the dreaded "flat tire" approach to smartwatch displays, but with the Fossil Q Venture it finally brings a fully-rounded screen.
At 42mm diameter, it's a relatively small display for a smartwatch, but the clarity and the brightness of the screen mean that all text, notification icons and watch face elements remain legible, whatever the time of day.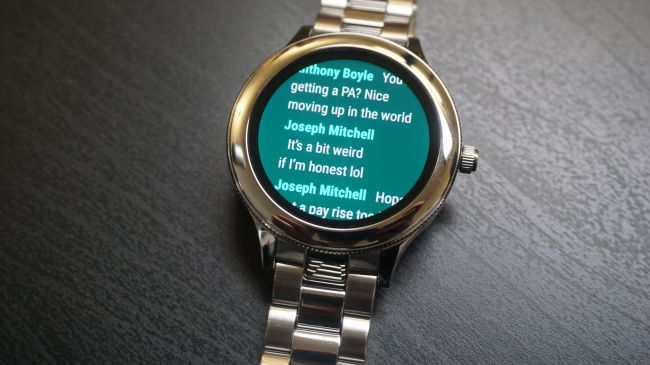 Whether fully lit or in its at-a-glance always-on low power / low brightness mode, the Q Venture was always easy to read, and never overly reflective, even in direct sunlight.
It's worth noting however that it's not quite an edge-to-edge display – a black ring separates the used screen real estate and the metal frame.
As it's quite compact you may find it at times a bit difficult to tap and select smaller icons. It's not a deal breaker, but it's here where an alternative control option, such as a rotating bezel or crown, would have been useful for those with bigger fingers.
As Android Wear 2.0 was designed with these design considerations in mind, it's a big opportunity missed.
Specs and interface
Responsive performance
No GPS, heart rate or NFC
On-watch app store options
The Fossil Q Venture packs in a Snapdragon 2100 processor, paired with 512MB of RAM. We were a little worried about that, as the processor in the past has been known to underperform (check it out in action on the Huawei Watch 2, for instance, where it was paired with a larger 768MB of RAM).
But, whether because it's not being overly stretched by bloat processes, or that it's been more finely tuned for this particular watch, that RAM / processor combo was perfectly responsive.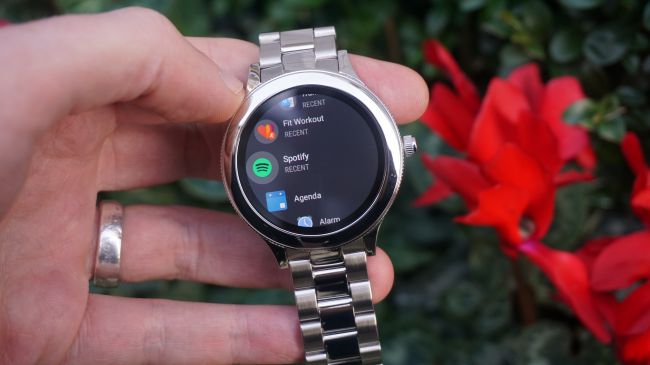 Whether flicking through lists, or playing wrist-based games like the pre-installed Bolt Bot, apps loaded quickly, and screens refreshed smoothly.
But while the processor specs impress, there are a few omitted elements that make the feature list a little less complete than it could (and arguably should) be.
First up is the lack of onboard GPS. While mapping apps can piggyback off a phone for this feature, it means you won't be able to get accurate navigation tips from apps or run route tracking without a phone being present.
The lack of a heart-rate monitor will affect the watch's usefulness for fitness fanatics, while there's also no NFC connectivity, making pairing wireless headphones a chore, and preventing the Fossil Q Venture from being useful as a payment device through Android Pay.
If you're familiar with Android Wear 2.0, you'll know what to expect from Fossil's Q Venture interface, as it's a very clean, vanilla take on the operating system. Aside from some Fossil-specific watch faces, some lightweight games and a cool build-your-own-watch-face app, it's very much Android Wear as Google intended it to be.
So, swiping in various directions on the face activates different functions – from notification views to connectivity options, while a firm press on the bezel button brings up a scrollable apps list. It takes a little getting used – it's a relatively limited control set, especially compared to your smartphone, and there can be some inconsistencies across apps. But given a little time with Android Wear 2.0 and you'll feel relatively comfortable navigating it.
You can also long press the button to trigger Google Assistant, letting you talk to the wearable to get Google's hands-free helper to answer questions, set timers and other simple requests. It worked surprisingly well, hearing my voice even among the din of a crowded place.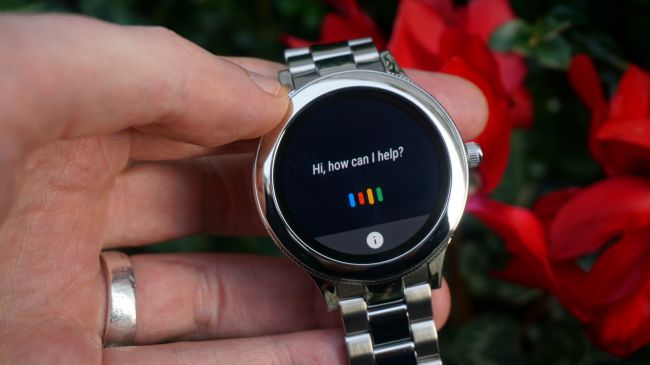 Android Wear 2.0 is a solid evolution of Google's wearable ambitions, going a step towards making all Android Wear devices more independent of their connected smartwatches – particularly if you've got a 4G-enabled smartwatch, which unfortunately the Fossil Q Venture is not.
But with 4GB of storage for downloading apps from the onboard store and sideloading your own music for phone-free playback, the Q Venture does have the means to survive a short separation from your smartphone.
The frustration for the most part lies with Android Wear 2.0 itself, rather than with Fossil's design then – too often you'll find yourself receiving a useful or interesting app notification, tapping it with the hope of interacting with it, and finding yourself prompted to open up the accompanying app on your smartphone instead.
If you've struggled to see the point in smartwatches, considering smartphones are capable of the majority of the wearables' functions, there will be little here to change your opinion.
The Fossil Q Venture will vibrate whenever you get a notification (from the apps you choose to receive them from, that is). But it felt a little bit weak for our liking – you may find yourself missing calls or important info if you're not careful, and we'd have been happy to ramp up its intensity at the expense of some battery life.
Compatibility
iPhone and Android supported
Requires Android 4.3 or above, and iPhone 5 or above iOS devices running at least iOS 9
No NFC means no tap-to-spend Android Pay features
The Fossil Q Venture will work best with an Android phone – so long as that phone is running Android 4.3 or above that is.
With an Android phone accompanying the wearable, you'll get the widest range of app support possible and, by virtue of a shared ecosystem, you're more likely to already be using the Google apps and services that underpin Android Wear on that other device.
That'll mean you'll seamlessly have access to shared calendar, contact lists and supported apps, in an interface that mirrors what you're already familiar with on your smartphone.
Just because it's running Android Wear, that doesn't mean iPhone fans can't enjoy the Fossil Q Venture too though. Provided you're packing an iPhone 5 or newer, running iOS 9 software or a more recent build, you'll be able to get the smartwatch paired.
However, note that you'll lose the ability to respond directly from the watch to some notifications, while Apple's first party services, such as iMessages, reserve their notification support for the Apple Watch, and battery life will likely be impacted
Whichever phone you're pairing it with, the lack of NFC will hurt. It means that core features of the Android Pay payment system, such as paying for items with a tap of a wearable, just won't be possible.
Connecting over Bluetooth 4.1, and making use of Wi-Fi 802.11 b/g/n, the Fossil Q Venture never lost connectivity our paired smart devices, and was useful in at least one occasion in helping us to locate a misplaced phone, despite it being quite a distance away. From the watch I was able to remotely call my handset and locate it – it had been inexplicably left in a wardrobe.
Fitness
No GPS
No heart rate monitor
Not suited to workouts
The Fossil Q Venture has clearly been designed with fashion rather than fitness in mind. It's design is lightweight and compact in terms of standard wristwatches, but its smooth metal finish isn't ruggedised for the rough and tumble of sporty pursuits. Likewise, its IP67 rating may be good for a quick shower, but it won't survive a session in the pool.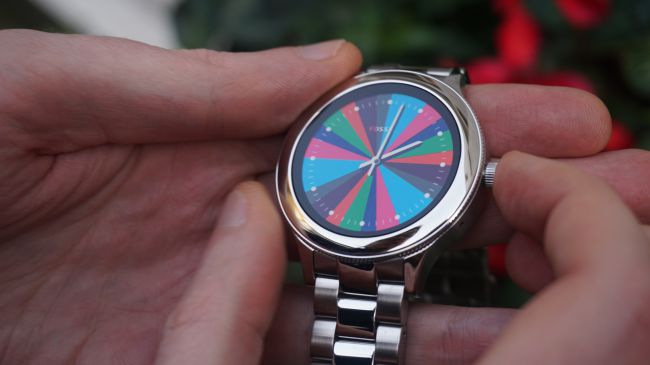 This extends to the devices connectivity and metric tracking options. With no GPS onboard you won't be able to get an accurate reading of your run routes and the higher-end features of some fitness-tracking apps, and the same goes for the lack of a heart-rate monitor. These are pretty standard fare these days, even in cheaper fitness-focussed devices, so the Fossil Q Venture is showing its intentions quite clearly in that respect.
But it's not devoid of fitness options, so long as you're not looking to go incredibly in-depth with your monitoring or readings.
Google Fit and Google Fit Workout come preinstalled, letting you keep an eye on steps and reps, with gyroscopes and accelerometers tracking progress within an acceptable margin of error. It was enough to highlight the days when we really should have put down the PlayStation pad and worked those muscles a little more, but wouldn't have been enough for us to have assessed my entire fitness schedule around.
Battery life
Magnetic wireless charger comes in the box
Charger secures firmly to the watch
Easily squeeze more than a day's usage out per charge
The Fossil Q Venture comes with its own magnetic charging unit for wireless power transfer. Simply plug the USB device into a power outlet, place the underside of the watch face on the charging base and… that's it.
You'll be juicing your smartwatch wirelessly without having to wrestle with a port, meaning that there are no unsightly seams or port covers present on the watch.
The magnetic puck held securely to the underside of the watch, meaning you'll need never worry that it'll slide off while charging, either.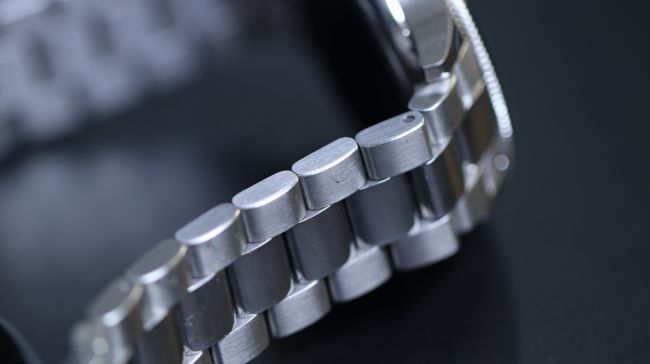 In terms of battery life, as with any always-on device your mileage will vary depending on what you're using it for.
For instance, on the day we first set the watch up (the day in which we most intensely downloaded updates, new apps and watch faces), it just about scraped through a 8 or so hours usage.
But that was an extraordinarily intensive session for the smartwatch, and every day since we've finished a working day with a comfortable amount of juice to spare. You won't quite get two days' use out of the Fossil Q Venture before needing a charge, but the company's quoted 24 hours average use feels conservative.
We reckon you'll sail past a day before desperately needing to dig out that wireless charger.
Verdict
It's attractive, its battery life impresses, but it's let down by some lacking fitness features. The Fossil Q Venture then is a little hard to pin down, in terms of exactly who it should appeal to. Is it for you, and should you be splashing the cash on this Android 2.0 wearable? Read on for our final verdict.
Who's it for?
With slick looks and only a light set of fitness features, this is certainly more of a fashion-orientated wearable than a fitness one. And with its compact size and subtle looks, it should suit a unisex audience, with a bevy of styles and strap options available at various prices.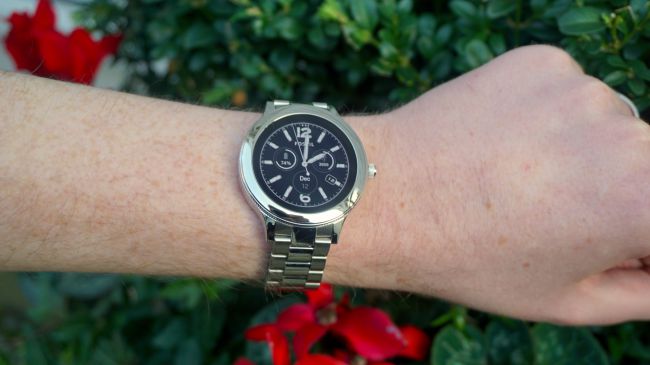 Just be aware that, when it comes to features at least, this is not the most complete wearable on the market. You'll need to look elsewhere for phone-free 4G connectivity, fitness tracking heart rate monitoring, and the convenience that NFC connectivity brings with it.
Should I buy it?
The Fossil Q Venture strikes a nice balance between comfort, subtle sizing, performance and price.
While there are more feature-rich devices on the market, they'll inevitably cost a higher amount, and won't look necessarily any better in the process. If you can forego every bell and whistle associated with the most tech-heavy wearables, the Fossil Q Venture is a stylish, comfortable and responsive smartwatch that's well worth your time – especially if you can find it at a third-party merchant at a reduced price.
(techradar.com, https://goo.gl/Lbg64p)
Comments
comments