Key Features
Review Price: £599/$750
10.5-inch HDR Super AMOLED display
Optional keyboard cover
Snapdragon 835, 4GB RAM, 64GB storage
Expandable via microSD
7300 mAh battery, USB-C, Fast Charge
Samsung Galaxy Tab S4 first look: Making Android tablets interesting again?
It's been some time since there was an Android tablet worth getting excited about. But a week before we see the Samsung Galaxy Note 9 debut, it's the Galaxy Tab S4 that could finally make tablets interesting again.
Samsung Galaxy Tab S4 price
Pricing starts at £599/$649 for the 64GB model, with an extra £50 netting you the LTE version. If you're in the US, expect to see the LTE version later in the year. The keyboard 'Book Cover' costs an additional £119/$149.
Samsung Galaxy Tab S4 release date
UK pre-orders for the Tab S4 will begin on August 9. Get in early and you'll bag the keyboard case for free. In the US, the tablet will be available from August 10.
Like the Samsung Galaxy Tab S3, the Tab S4 is aiming for the top. This is an expensive, high-end slate that wants to go head-to-head with the iPad Pro 10.5.
It has the skills to be a fantastic media-binging machine, but it actually wants to be far more than that. The addition of the optional £119/$149 keyboard (this will be free if you pre-order, which is a nice touch) opens up the Dex interface, presenting you with a device that looks and feels very much like a traditional laptop.
Dex was first introduced with the Samsung Galaxy S8 as a way of plugging the phone into a monitor via a £99 dock. Although a nice idea, all the parts required to make it work made it feel like more hassle than it was worth.
It's a different story in the Tab S4, although since Dex is primarily a windowed-interface, it has similar traits to Windows and Chrome OS. You can open tabs in resizable windows, there's a shortcuts bar at the bottom, and it makes much better use of the 10.5-inch display.
Switching back to the traditional Android home screen following a play-about in Dex felt like taking a step backwards.
While the Tab S3 was designed in a similar vein to an iPad, with a squat 4:3 aspect ratio, the S4 has a wider, 16:10 display. This makes for a longer, narrower tablet.
When docked in the keyboard, this makes complete sense; there's more space in which to play. Take it out of the keyboard, however, and it feels odd. This is a device primarily designed for use in landscape orientation and thus felt weird in portrait. It's simply too long and narrow to comfortably scroll through a web page or to read a book.
The display itself is simply gorgeous. After only a few minutes of watching an HDR demo video on the Super AMOLED panel, I was sold. Colours burst off the screen, blacks are pure; it's seriously immersive. While I'm a fan of the display on the iPad Pro, this might just be in another league.
If you've used any recent Samsung phone or tablet then you probably won't need me to tell you that this device is designed very well. The glass rear is smooth, with the curved sides making the tablet comfortable to hold. The bezel surrounding the display has been minimised, giving it a more modern look than most Android tablets.
One casualty of this new design, however, is the fingerprint scanning home button – it's been ditched in favour of an iris scanner.
This slick design doesn't necessarily continue to the keyboard cover, though. While the tablet is stylish and modern, the keyboard is certainly more business-like and functional.
Predominantly plastic, it sports a wrap-around folio-style cover to protect the screen when it isn't in use. The keys are a tad on the small side, but they offer far more travel than the iPad Pro's Smart Keyboard. £119 does seem steep for this keyboard case, especially since the tablet doesn't feel anywhere near as good without it.
At least Samsung includes the excellent S-Pen in the box. This stylus has also received a facelift: it's a little chunkier and easier to grip than before. It remains super-sensitive, packing 4096 levels of pressure-sensitivity; knocking out quick notes and doodles is great on that big display. Screen-off Memo makes a jump from the Note series, too, letting you scribble directly onto the display when it's off.
There's a dock available, too, which adds an ambient UI that will feed you weather and calendar appointments along with charging the Tab S4.
With its display and design, there's no doubt the Samsung Tab S4 is a high-end machine. Things aren't quite so clear with the rest of the specs, though.
Powering the device is last year's Snapdragon 835, along with 4GB RAM and 64GB of storage. For a product so focused on multitasking, it would have been nice to see 6GB RAM. Nevertheless, it still seemed perfectly fast during my short time with it, so maybe that will be a complete non-issue.
There's a 12-megapixel f/1.9 camera on the back and an 8-megapixel one up front. They'll likely get the job done, but don't expect anything special. Keeping the tablet going is a 7300mAh battery with Samsung's Adaptive Fast Charging tech too.
Samsung has partnered with Dolby for the audio, introducing Atmos into the four speakers. In theory, this sounds fantastic, since Atmos should give you a far more immersive sense of audio. In practice, however, it's simply a sound preset that boosts loudness.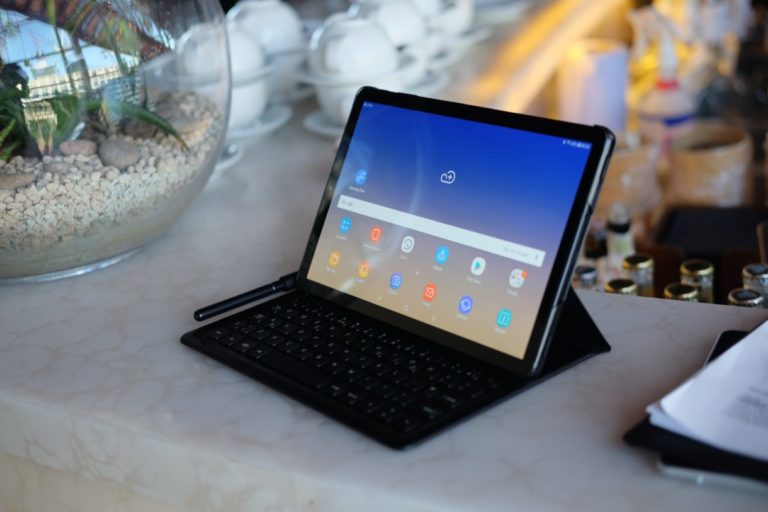 First impressions
Anything that brings some excitement back to Android tablets is welcome, and the Galaxy Tab S4 has plenty going for it. The screen is gorgeous, as is the elegant design. The Dex UI could also finally make Android worthwhile on a bigger screen.
There are still some queries, though. Is 4GB of RAM really enough for proper multitasking?. And, of course, there's the price. £599/$649 is at the top-end for an Android tablet, and if you add to this the £119/$149 keyboard, this is looking like a pretty pricey bit of kit.
(trustedreviews.com, https://goo.gl/LddE8M)
Comments
comments