KEY FEATURES
Snapdragon 820 CPU
4GB RAM
9.7-inch QXGA, Super AMOLED display
6000mAh battery
13-megapixel, 5-megapixel front cameras
Android 7.0 with Samsung Touchwiz OS
Manufacturer: Samsung
Review Price: to be confirmed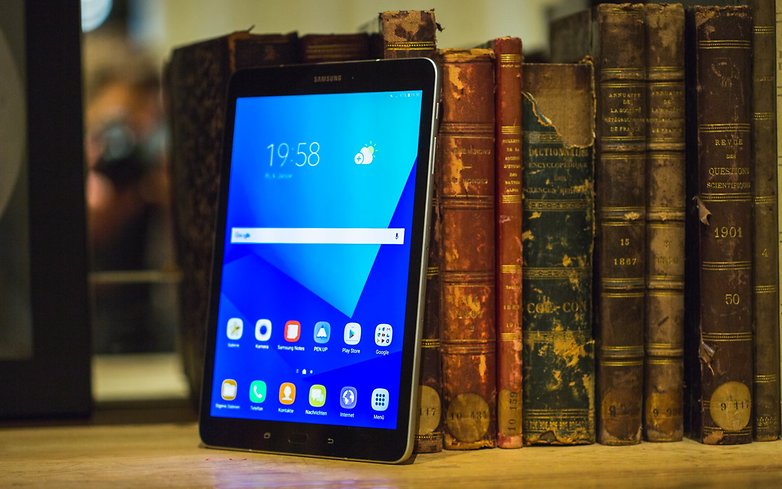 HANDS-ON WITH SAMSUNG'S LATEST FLAGSHIP ANDROID TABLET
Galaxy Tab S3 release date: 2017 (date to be confirmed)
Galaxy Tab S3 price: TBC
Android fans on the market for a tablet have had a tough time of it in recent years. Outside of the Pixel C and, now slightly dated, Nvidia Shield K1 they've had woefully little choice. Enter the Galaxy Tab S3, a premium Android Nougat tablet Samsung claims will meet satisfy everyone's needs.
The Galaxy Tab S3 is the follow on to Samsung's older Galaxy Tab S2, but it looks more like a blown up Galaxy S7. The tablet has a glass back and front that's neatly contained within a metal frame. Round the sides you'll find four speakers plus a microSD slot and USB C. The only design similarity between it and the S2 is the appearance of a physical home button on the tablet's front.
The combination of factors give the Tab S3 a nicely premium feel and better looking than its arch-rival, the Pixel C. Build quality felt solid but, as with all glass back devices, I'm not 100% convinced it'd survive anything more than a slight accidental drop or bump unscathed.
The appearance of an S Pen Stylus with the Galaxy Tab S3 is another welcome change. S Pens have been a staple part of Samsung Note series phablets and Windows tablets and in my mind are a key selling point. From what I've seen this remains the case on the Tab S3. Doodling in one of Samsung's Touchwiz painting apps, I found the S Pen was suitably reactive to changes in pressure and angle and enacted commands with minimal latency. The use of a rubber, as opposed to plastic tip also meant the pen felt a lot more like a traditional pen or pencil when taking notes in S Note.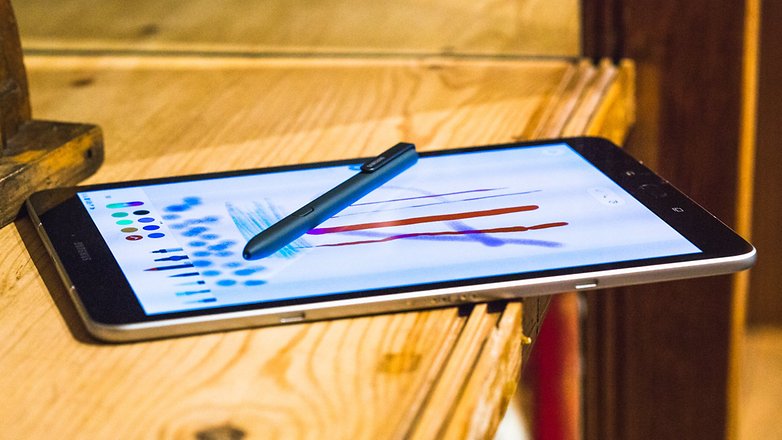 I didn't manage to get an exact quote how much of the Adobe RGB colour gamut, which is often used by artists and photographers, the screen covers, but my naked eye impressions were positive. The 9.7-inch QXGA resolution display looked super sharp during my hands on and the Super AMOLED tech ensured blacks were wonderfully inky. Colours looked a wee bit warm, but not obnoxiously so and the inclusion of screen colour calibration options in the settings menu should make it easy enough to fix the issue.
The screen also ticks all the right boxes for people looking for an entertainment tablet and is capable of playing HDR content. Though the amount of HDR content available for streaming is limited support, it's a welcome addition that will help future proof the tablet. Samsung claims the Tab S3's quad speaker setup will further aid the tablet's entertainment offering and is "one of the loudest and clearest seen on a tablet", but I didn't get a chance to check this during my demo.
Excited? You should be, but be warned I do have a few concerns about the S3. For starters, it runs on an older Qualcomm Snapdragon 820 chip. Paired with 4GB of RAM this means the device should be more than powerful enough for regular use and gaming – especially with support for the new Vulkan API – but it will impact its power efficiency. This, plus the tablet's slightly undersized 6000mAh battery leaves me concerned the Tab S3 may not have the best battery life. The Pixel C has a 9243mAh battery by comparison.
I'm also not completely sold on the tablet's software. TouchWiz has come on leaps and bounds since it was first introduced and now has significantly less needless UI changes and bloatware apps than competing skins, like Huawei's Emotion UI, but I still prefer a clean Android install. This is mainly because it makes it easier for companies to quickly release updates to new versions of Android and, despite Samsung saying otherwise, I can't help but think Touchwiz is the reason the tablet will launch running the 7.0, not latest 7.1, version of Android Nougat.
The optional keyboard cover is was also a little bit of a mixed bag during my hands-on. The cover was comfortable to type on, had nicely spread out reactive keys and, unlike the Pixel C's, doesn't require charging. But I'm not a fan of the magnetic connection system used. Using magnets on a stand and tablets back to set the sitting angle has never worked great on any device I've tested, such as the Huawei Matebook, and I wish more companies would invest in creating decent hinged systems, like the Pixel C's.
FIRST IMPRESSIONS
The Galaxy Tab S3 is one of the first exciting Android tablets I've seen in a long time. The device plays to Samsung's strengths and has a great looking display, alluring design and solid set of extra features, the best of which is the S Pen stylus.
My only concern is that it may also be repeating a couple of Samsung's past mistakes. The biggest of which are its slightly undersized battery and use of Samsung's Touchwiz skin.
(trustedreviews.com, https://goo.gl/ydezbf)
Comments
comments