Onda, after its much liked previous model like oBook, now, seems to be set to plunge into the market with low-cost products to reach all audiences.
The model that we spent time with, today, is the Onda V80 Plus. This small 8.0 inches tablet offers quite interesting features at an awfully low price under $95. Read this Onda V80 Plus review.
First Look – Onda V80 Plus Review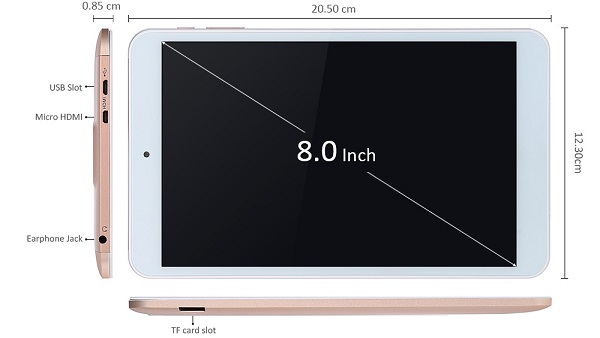 Equipped with 8.0 inch display with a resolution of of 1920 x 1200 pixels, Onda V80 is a small attractive tablet. The body is made of metal and the design does not have any flaw that merits considerations.
At the price range, it is perfectly a good design. Moreover, Onda boasts of its small 8.0 inch to enable convenient one hand operation while not drastically reducing the screen size. Onda V80 Plus has dimensions of 20.5 x 12.3 x 0.85 (cm).
In terms of hardware, it is powered by an Intel Cherry Trail Z8300 Quad-core 1.44 GHz processor with Intel HD Graphics(Gen8), accompanied by 2GB of RAM, 32 GB of internal storage and expandable memory using a microSD up to 128 GB capacity.
Have a look at the benchmark it obtained.
It also comes with two modest cameras both of 2MP each. We have not uploaded the pictures taken by the camera as they are quite ordinary low quality pictures suitable for keeping memories or normal shots when other better options are not available.
Amazingly, Onda V80 Plus also has the option of booting from any of the two Operating Systems(OS) – Windows10 Home or Android 5.1. It seems that Onda is targeting a wider users from both Windows and Android companions.
By default, during our test for Onda V80 Plus Review, it boots up in WIndows10. Thereafter, switching to Android is just a click of the icon available in it.
Although a good strategy, you do not need to be very happy at the 32GB of ROM as the actual value will considerably reduce with two Operating System pre-installed. Moreover, if you like to use, as it is provided, both Android and Windows systems with applications for each of them without which no considerable tasks can be performed.
Clicking and selecting were quite responsive which means a good screen and processor. Sliding too were without jerks or lags.
And we also did a little test with some of the most popular games during the Onda V80 Plus Review. During the tests, the tablet performed quite remarkably and it did well with about 30 frames.
Onda V80 Plus comes with a 3.2V, 4200 mAh battery which gives a satisfactory autonomy time of over a day of continuous normal use under good Wifi signal. And it will not last very long if you play games as it will drain power with the processing and display tasks.
Moreover, you will also find Office app supporting three programs – Woed, Excel and Powepoint which make it a major attraction. It can also very well be an office tool and entertainment. It alsoo boasts of Ultra High Definition video playback and it was, as per our Onda V80 Plus Review, well deserving.
Connectivity
Onda V80 Plus have Bluetooth, WiFi 802.11 b / g / n wireless, micro HDMI, micro USB and 3.5mm headphone connectivity. Unfortunately, it does not have GPS is installed in it. So to say, it is a very modest device with a low cost. It can be connected via micro USB with a keyboard and with the Windows10, can serve a mini desktop.
Specifications
Run through a quick scan on the product specifications.
Manufacturer
Onda
Type
Tablet
Operating Systems
Android 5.1 and Windows10 (Home)
Processor and GPU
Intel Cherry Trail Z8300 1.44 GHz, Intel HD Graphic(Gen8)
RAM, ROM
2GB, 32GB
External Memory
Expandable with upto 128 GB TF Card (Not Supplied)
WiFi
Yes, 802.11 b/g/n
Bluetooth
Yes
Screen
8.0 inches, IPS, Capacitive, 1920 x 1200 (WUXGA)
Camera
Dual – 2.0MP, 2.0MP
TF Card Slot
Yes, upto 128GB
Micro USB
Yes
Micro HDMI
Yes
Headphone Jack
Yes, 3.5mm
Media Format Supported

BMP, GIF, JPEG, PNG
AAC, AC-3, APE, DTS, FLAC, MP3, OGG, WAV, WMA
1080P, 4K, AVS, H.263,H.264,H.265, MP4, MPEG1, MPEG2,MPEG4, MVC, RMV, VC-1
Excel, PPT, DOC
PDF, Powerpoint, TXT, Word

Language

Widows10 – Pre installed with English and Chinese (Other Languages need to be downloaded)
Android 5.1 – Multilingual

Dimension and Weight
20.5 x 12.3 x 0.85 (cm), 325 grams
Package
Onda V80 Plus 8.0 Inch Tablet, USB Cable
Package
Conclusion
Obviously, Onda V80 Plus is not the jewel in the crown, but ti is indeed a good bet for those who want to go for a reputable manufacturer and a fair balance between the price and specifications on a low scale budget.
(xiaomitoday.com, http://goo.gl/jCHALB)
Comments
comments