Apple iPad Pro (2018): All of the latest news and rumours
Apple WWDC 2018 came and went without a mention of the 2018 iPad Pro models. While a launch wasn't expected, it's now over a year since Apple updated its professional tablet line. However, the developers' conference did bring a few hints as to what might be next, via iOS 12, while patent filings have also offered clues as to Apple's next steps. iPad Pro with Face ID and a notch, anyone?
Here's everything that's rumoured so far, along with a few fan-designed concepts that have given us a tantalising look at what form the tablet might end up taking…
iPad Pro 2018 specs and features
In recent years, Apple software betas have served up valuable clues about future products, and the newly-released iOS 12 beta is no different.
Developer Guilherme Rambo, noted for his eagle eye in such matters, has noticed the presence of Face ID settings hiding within the iOS 12 beta on his iPad Pro. There's a Face ID set up screen, which can't be actioned yet for obvious reasons. However, it's a pretty clear indication Apple may be looking to launch a future iPad Pro with the biometric security tech.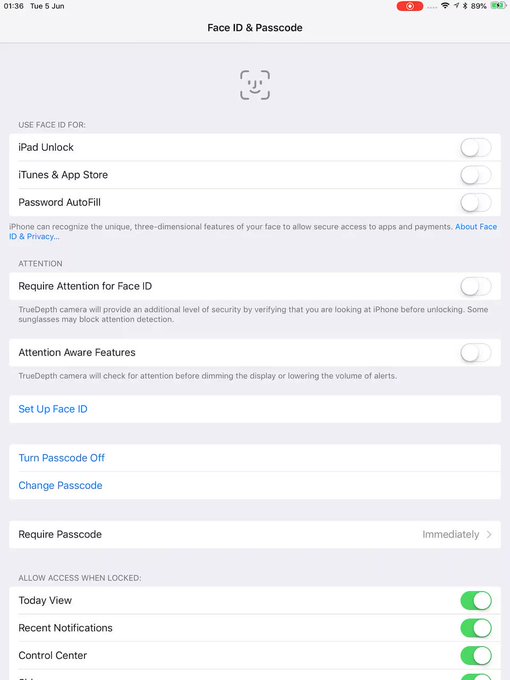 This may not be the only iPhone X innovation passed down to the next iPad Pro. If Face ID does arrive, Apple could sacrifice the Touch ID sensor, and ergo the Home button. That could mean an edge-to-edge display and (whisper it) a notch.
Is there any evidence of this? Well, perhaps. Twitter user Steven Sinovsky noted the clock has been moved from the centre of the status bar to the left hand side within the iOS 12 beta. Is this definitive proof? No. Does it point to a possible iPad Pro with a notch? For sure.
Concept designer Martin Hajek has already envisioned how a so-called 'iPad X' might look with a notch and Face ID tech. Isn't it pretty?
iPad Pro (2018) hardware and camera
If tradition is followed, we'd expect the iPad Pro 2019 to include an improved version of the A11 Bionic chip that appeared within the iPhone 8 and iPhone X range. We'd expect it to be called the A11X Bionic. Recent rumours have suggested this edition will be octa-core, compared to the hexa-core A11 processor in the iPhone X.
Cameras haven't always been the focus of the iPad Pro range, but given Apple is going all-in on AR, there's a chance the company boosts the real-world imagery iPad Pro users can see through the viewfinder. The last iPad Pro releases included a 12-megapixel rear-facing camera with a 7-megapixel selfie-cam. Perhaps there'll be a modest update here.
iPad Pro (2018) screen
Apple seems to have settled on 12.9-inch and 10.5-inch panels as the optimum size for the iPad Pro, so we'd expect a pair of new models retaining those specs. However, it might be time for Apple to boost that resolution a little bit. The iPad Pro currently has a 265 pixels per inch with 2224 x 1668 (10.5-inch) and 2732 x 2048 (12.9-inch).
Given the company is going all-in on 4K content through the iTunes Store, might it consider a full 4K panel, supporting HDR? High on the request list for iPad Pro fans might be an OLED screen, but given the potential impact on the price, as well as the current shortage, we'd say this might be long shot.
iPad Pro (2018) release date
Quite often with Apple products, we can point to certian times of the year when it likes to refresh its products, but there's no real pattern with the iPad Pro. Here's how Apple has scheduled the releases thus far
Original iPad Pro 12.9-inch − November 2015
iPad Pro 9.7-inch − March 2016
iPad Pro 12.9-inch (2nd-gen) and iPad Pro 10.5-inch − June 2017
Apple has already released a new version of its more basic 9.7-inch iPad this year with no sign of a new iPad Pro. Apple also failed to announced new iPad Pro hardware at the recent WWDC keynote in June.
So, given it's now over a year since the company refreshed the iPad Pro, it could happen at any time now. Apple's next major event is likely to be the next iPhone launch in September, so it's possible Apple will save the next Pro tablet until then.
iPad Pro (2018) price
The iPad Pro is way twice the price of the regular edition 9.7-inch iPad, and that's before you fork out for an Apple Pencil accessory.
The 10.5-inch model starts at $649/£619 while the 12.9-inch edition begins at $799/£769.
In all likelihood, Apple will maintain the prices for the rumoured 2018 edition, but it could even raise them if the tablet gains an iPhone X style design with Face ID tech. Regardless, we struggle to envision the profession tablet prices being lowered to foster greater adoption. If sterling slumps further against the dollar, Brits can expect another one of those lovely Brexit price hikes.
Apple Pencil 2
The iPad Pro 2018 is rumoured to be arriving alongside an Apple Pencil 2, a second generation of the highly advanced pressure-sensitive stylus designed with artists and creatives in mind. Recent rumours have suggested the new Pencil will be easier to attach to the iPad (perhaps via a magnetic clip), while patent filings have revealed Apple's work on a new tip and the addition of an eraser.
iPad Pro Concept
With so little information available, fans have stepped in with their own ideas about the direction the next iPad Pro should take.
One such concept from designer Álvaro Pabesio imagines the next generation of the tablet with an 11.9-inch bezel-less display and no home button.
Of course Face ID is present in the concept, and it also has dual rear cameras to bring its photography functionality in line with current high-end iPhones.
Finally, the designer has also reimagined the tablet's multi-tasking functionality by allowing it to run iPhone apps in a widow alongside full-screen iPad apps.
You can view the concepts below.
Image Credit: Álvaro Pabesio
(trustedreviews.com, http://bit.ly/2IzewZQ)
Comments
comments