Huawei's unveiled a trio of new flagship MediaPad M5 tablets, and boy do they look swish. Below you can get all the key details you need to know about the Huawei MediaPad M5 8.4, MediaPad M5 10.8 and MediaPad M5 Pro.
What are the Huawei MediaPad M5s?
The MediaPad M5 is a range of new tablets from Huawei, designed to take on the Samsung Galaxy Book and Apple iPad ranges.
There are basic 10.8-inch and 8.4-inch versions, plus a top-end 10.8-inch Pro variant which adds support for Huawei's new M Pen stylus. All of them are powered by Huawei's previous-generation Kirin 960, not its latest 970 and will run on Android Oreo skinned with Huawei's EMUI software.
You can see the three tablets full specs in the table below.
Huawei MediaPad M5 specs
| | | | |
| --- | --- | --- | --- |
| Tablet | MediaPad M5 8.4 | MediaPad M5 10.8 | MediaPad M5 Pro |
| Screen | 8.4-inch 2560 x1600 2k, IPS, 359ppi | 10.8-inch, 2560 x1600 2k screen, IPS, 280ppi | 10.8-inch,2560 x1600 2k screen, IPS, 280ppi |
| CPU | Kirin 960 | Kirin 960 | Kirin 960 |
| RAM | 4GB | 4GB | 4GB |
| Storage | 32GB/ 64GB/ 128GB | 32GB/ 64GB/ 128GB | 64GB/128GB1 |
| Quoted battery life (capacity not confirmed) | 11 hours 1080p video playback | 10 hours 1080p video playback | 10 hours 1080p video playback |
| Camera | 8-megapixel front, 13-megapixel rear | 8-megapixel front, 13-megapixel rear | 8-megapixel front, 13-megapixel rear |
| Battery | 5100 mAh | 7500 mAh | 7500 mAh |
| Ports | USB-C | USB-C | USB-C |
| Connectivity | Wi-Fi, Bluetooth, LTE | Wi-Fi, Bluetooth, LTE | Wi-Fi, Bluetooth, LTE |
| Colours | Gold and grey | Gold and grey | Gold and grey |
| Software | Android Oreo with EMUI 8.0 | Android Oreo with EMUI 8.0 | Android Oreo with EMUI 8.0 |
| M Pen Stylus support | No | No | Yes |
Huawei MediaPad M5 first look
Huawei designs are famous for borrowing elements from famous brands, like Apple and Samsung, and combining them to create something a little different. This remains the case with the MediaPad M5, which definitely takes some inspiration from Samsung Galaxy and Apple iPad Pro tablets – but that's not necessarily a bad thing.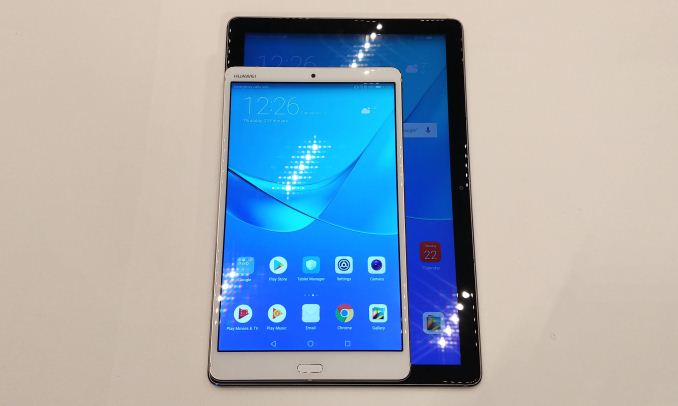 Picking up the Pro and 8.4 MediaPads, the two felt wonderfully premium. Both variants feature an aluminum chassis and 2.5D Gorilla Glass screen. The metal used feels a lot like the stellar alloy used in the Apple iPad and, though the Huawei rep couldn't confirm either versions' exact weight, they were perfectly comfortable to hold.
The rep's face of fury when I asked to drop-test them stopped me from checking their durability properly, but the metal felt like it could survive the odd accidental bump and scrape.
The 8.4-inch version in particular felt wonderfully lightweight and satchel-friendly. Having had an opening play, I can see it being a hit with the currently underserved small-form-factor Android tablet market. The 2560 x1600 resolution meant the tablet was wonderfully sharp, and the use of IPS gave it surprisingly wide viewing angles.
Personally I'm a little sad about the use of an IPS screen panel. IPS panels offer cleaner whites and have higher max brightness levels than competing OLED screens, but they can't max the contrast ratio, black level or rich colours of the OLED screens seen on competing tablets, such as the Galaxy Book. The screen also doesn't meet the mobile HDR standard.
That said, colours on the screen looked great during my demo. Reds and blues looked vibrant, without being oversaturated. They also appeared to be noticeably richer than competing IPS tablet screens I've tested. Huawei claims this due to its custom ClariVu enhancement tech, which apparently "offers a 20% improvement in picture quality" and is a key reason why the MediaPad M5 can display "clearer, brighter, crisper colours" than regular IPS screens. I'll need more time with all the tablets to confirm this, but my opening impressions were positive.
Couple this with the 8-inch MediaPad M5's seriously impressive speakers and I can see it being great for bedroom Netflix viewing and movie binges on long-haul flights. The 8-inch version features Harman Kardon-optimised dual speakers, with a custom virtual surround sound system by Huawei. The 10-inch and Pro versions have the same tech, but feature a more robust quad-speaker setup.
Playing a YouTube video, the speakers were loud enough to drown out the hussle and bussle of the demo room and, despite being in less than ideal testing conditions, sounded nicely detailed and dynamic.
Huawei promised a dedicated Gaming Mode that optimises the tablet to focus on gaming performance. This will further boost the MediaPad's entertainment chops, but I didn't get a chance to test it during my demo.
The only downside to the 8-inch version's design is that it doesn't support the custom keyboard cover Huawei's selling as an optional extra for the 10 and Pro variants of the MediaPad M5. The keyboard cover and M Pen Stylus make the Pro more like a productivity tool than the 8-inch, which seems like the more entertainment focused of the two.
The keyboard connects using a Pogo pin connection. When docked the tablet will reportedly launch a "Windows-esque" desktop view with file-management system and application window support.
Huawei didn't have a keyboard cover on hand to test with the Pro, but the pen performed pretty well. The M Pen stylus features 4096 pressure sensitivity levels and, from what I've seen, is more than accurate enough for basic notation and photo editing.
Despite running on the older Kirin 960 processor, the tablet didn't have any issues with me editing photos. I'll be interested to see how it performs with more rigorous, multi-layer digital painting when I get to fully review it.
My only issue with the MediaPad M5 range stems from its use of EMUI. I've never been a fan of the EMUI skin, which makes loads of superfluous changes to Android's UI and generally comes with more bloatware and duplicate applications than you can shake a stick at.
It's also a key reason many Huawei devices only get sporadic updates to newer Android versions, if at all. The fact that the Huawei rep couldn't confirm if any of the M5 models will be updated to future versions of Android compounded my concerns.
Huawei MediaPad M5 price
Price is another big question that wasn't answered during the press session. Huawei is apparently waiting until its MWC keynote to announce how much the new tablets will cost. We'll update this article with the information then.
Huawei MediaPad M5 release date
The same is true with the tablets' release date, though a spokesperson indicated that buyers won't have to wait long to buy the new MediaPad M5 models.
(trustedreviews.com, https://goo.gl/sm83cH)
Comments
comments