OUR EARLY VERDICT
The iPad 9.7 may not be the most innovative product Apple has ever created, but it looks to be a slight upgrade on the iPad Air 2 and make for a fantastic option at an even lower price than iPads of years past.
FOR
Cheaper price
Beautiful 9.7-inch screen
AGAINST
Thicker than the Air
Only A9 chipset
Innovating in the world of tablets is a difficult task right now, even for Apple. The iPad Pro brought about a new way of working and a variety of accessories to complement your 12.9-inch or smaller slate, but what if you don't want those features?
This new iPad is the device designed for you, with a premium spec, a great looking design and top of the range features, but at a lower price and without all the productivity extras.
It's much like the five star iPad Air 2 – the device it replaces in Apple's lineup – but there are a few key upgrades that make this an all round better tablet.
iPad 9.7 price and release date
Out now directly from Apple – other retailers to follow
Cheaper than iPad Air 2 at $329/£339/AU$469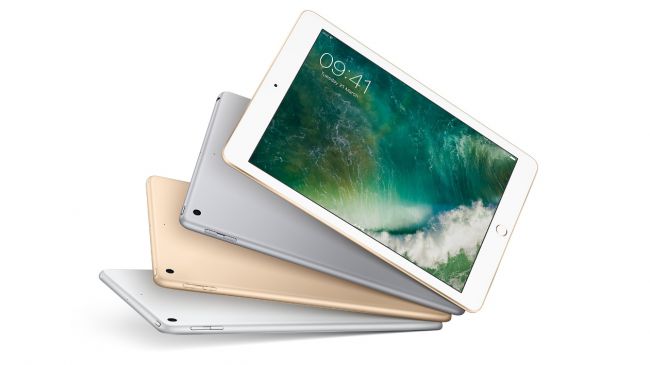 The new iPad is cheaper than the iPad Air 2 was when it was on sale through Apple's website. That's notable as affordable Apple products are hard to come by, especially when the iPhone only seems to raise in cost with each passing generation.
This new version of the iPad starts at $329/£339/AU$469 for the 32GB Wi-Fi model and goes all the way up to $559/£559/AU$799 if you want to get one with 128GB of storage and cellular connections.
There's no 256GB version of this latest iPad, so you're going to have to choose between 32GB or 128GB. You can buy this directly from Apple right now and we expect to see other retailers start to stock the iPad in the coming weeks.
Design and display
Similar design to previous iPads, but still looks great
Thicker and heavier than the iPad Air 2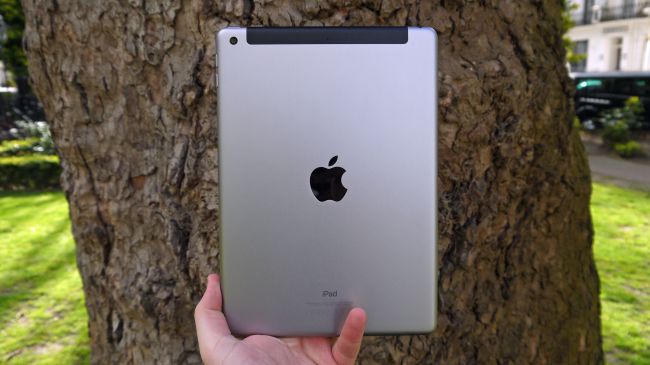 If you've used an iPad Air 2, you'll know what the design of the new iPad is like. This new version is a touch thicker than the Air 2, but that's barely noticeable considering it's still only 7.5mm thick, which makes it easy to hold in the hand.
It's only 469g, so if you plan to carry this device on your commute you should find it light enough to hold onto without any stress.
You may want to use two hands though, as at 240 x 169.5 x 7.5mm it's not particularly easy to grip onto with only one hand.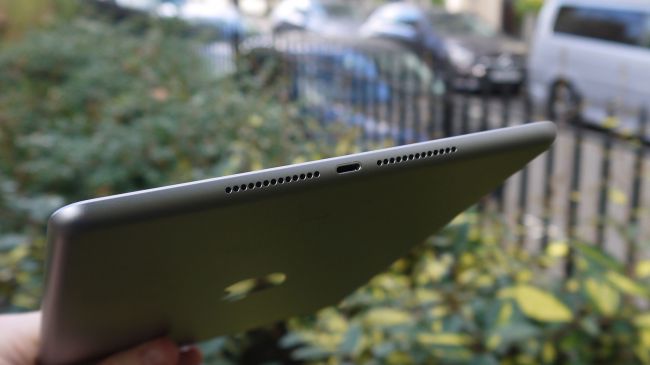 The back of the iPad has a metal body that feels smooth on your fingers but is still easy enough to grip. There's no denying the iPad is still the best looking tablet you can buy, and the rounded corners makes this a gorgeous device to hold.
We'd recommend buying a case to ensure it won't get scratched when putting it in your bag though.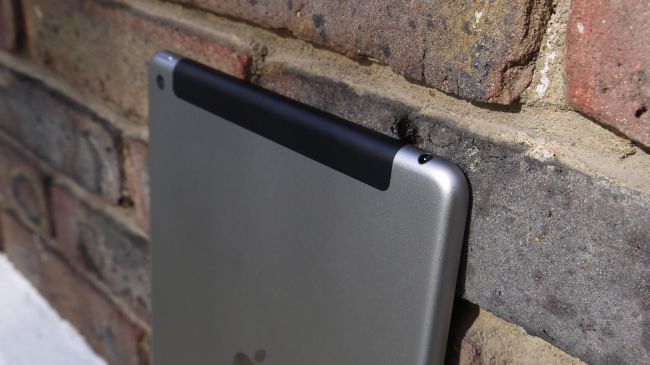 When it comes to color choices, the new iPad is available in gold, silver or space grey. Sadly Apple hasn't seen fit to include a new red version of the iPad to match the new brightly colored iPhone 7 and iPhone 7 Plus.
Just below the screen on the new iPad there's a home button that features Touch ID, so you can keep all your data securely stored away behind a fingerprint lock. It's not particularly easy to reach with your thumb though unless it's lying down, so we'd usually just use a passcode instead.
When it comes to the screen, the iPad has a 9.7-inch display with a resolution of 2048 x 1536. That gives you 264 pixels per inch, which is the same picture quality as either iPad Pro model.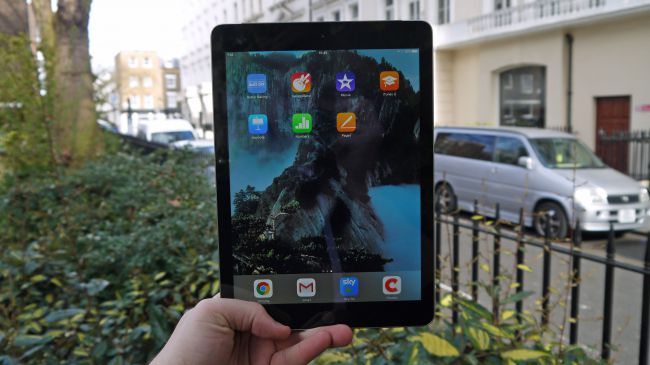 The picture on this iPad looks stunning, with a bright display also making everything we've watched look vibrant. This will be especially useful if you're planning to watch a lot of movies on your new tablet.
Specs
Under the hood of the new iPad there's an upgraded chipset, but it's not the top of the range offering we'd hoped to have from Apple.
It features the A9 chip alongside the M9 coprocessor, which is the same setup as we saw on the iPhone 6S. That's not something you should worry too much about though, as from our limited testing we found the new iPad to be particularly snappy and everything loaded quickly.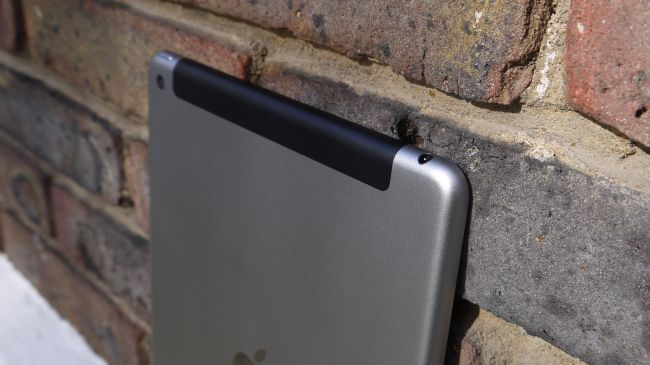 For connectivity, you have all the options such as Wi-Fi and Bluetooth that you'd hope for, but there's also a cellular version available if you want to be able to stream video while on the move.
The new iPad also runs iOS 10.2 software and is easily upgraded to the new iOS 10.3 software that launched a few days after the announcement.
We expect this to get some upgrades for the following few years as well and Apple is particularly skilled at getting new software onto all of its products at the same time, so you shouldn't be kept waiting for new versions of iOS.
If you're interested in the camera, know that there's an 8MP shooter on the back and a 1.2MP front-facing sensor for video calling and selfies. We've yet to test out either, but we'll be sure to take a look in our upcoming full review.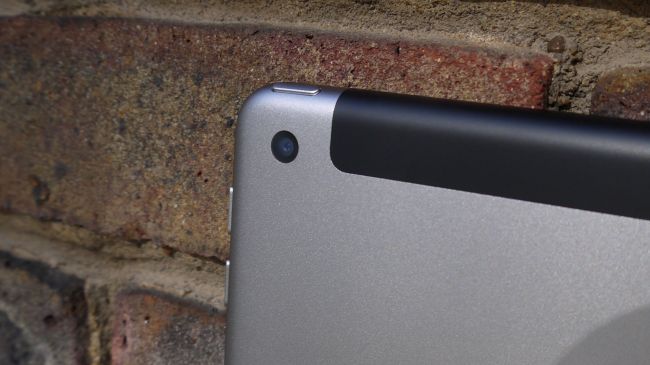 Battery is also an important aspect when it comes to your new tablet, but Apple doesn't reveal the size of its cells so we don't have much data on how long it can last just yet.
Apple has claimed that it can last for up to 10 hours of video watching or web browsing over Wi-Fi though, which is the same claim it makes for the iPad Pro 9.7, so life is likely to be similar.
In any case, you can be sure we'll extensively test this for our full review.
Early verdict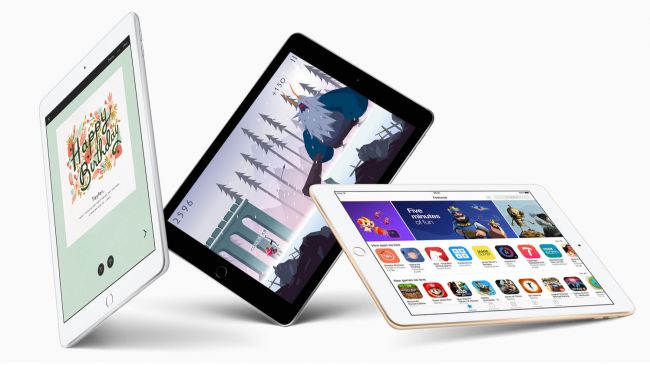 You won't want to buy this if you already own an iPad Air 2. It's very similar to that five star tablet from 2015 and the upgrades here are minimal.
But if you have an aging iPad or you're looking to buy your first iOS tablet, this could be a great device for you to start off with. That reduced price is a big highlight of the new iPad and almost everything that made the iPad Air 2 such a winner is on offer here, plus an upgraded chipset.
Be sure to check back for our full review of the iPad 9.7 very soon.
(techradar.com, https://goo.gl/W7zRcB)
Comments
comments