PROS
Decent keyboard
Super-sharp screen
Robust design
Killer performance and battery
CONS
Lack of optimised apps
No touchpad
Expensive
KEY FEATURES
Optional keyboard
Nvidia CPU
10.2-inch display
Android Marshmallow OS
Manufacturer: Google
Review Price: £479.00/$718.50
PIXEL C LONG-TERM REVIEW
When the Pixel C was released it was one of the only Android tablets worth buying. In 2017, for better or worse this remains the case. Despite being over a year old there haven't been any other decent premium Android tablets to hit the market.
Luckily the Pixel C has aged fairly well thanks to the arrival of Android Nougat. Nougat's new features massively improve Android's user experience on a tablet. The split-window mode and improved notifications are particular highlights.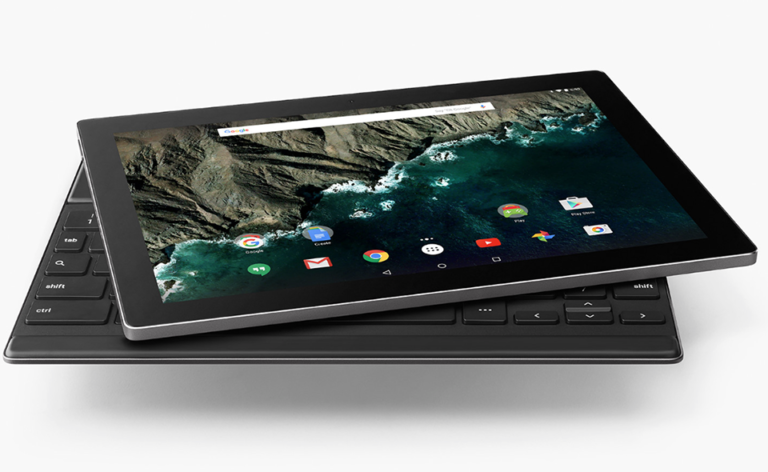 Multi-window support isn't anything new – Samsung added the feature to its TouchWiz skin many moons ago – but its appearance on Nougat is great nonetheless. This lets you open two applications at once on the Pixel by holding down the right-hand, on-screen square button.
The feature is a little hit and miss on third-party applications, which need to have code added to work in the new screen setting, but it's still very useful, as nearly all of Google's own apps have been optimised for it.
Since this addition I've found myself grabbing and using the Pixel C instead of a laptop when travelling. The improved battery life and the fact that I can have two apps opens is particularly useful for work. On regular occasions I've found myself writing articles at press events in Google Docs, while chatting with the Trusted team in Hangouts using the split-screen mode.
The expanded notifications system further streamlines the user experience. In Nougat the notifications are expandable. This means you can do things like replying to incoming messages and social media alerts from the notifications bar, without having to fully open the application. A drop-down menu also lets you expand notifications to get a list view of things like all your recent emails.
The additions again make the Pixel C feel a lot more like a hybrid device and a more valid option for students, or office workers looking for a truly portable backup laptop.
All this is great, but the behind-the-scenes upgrades are a little less useful on the Pixel C. The main changes in Android are a streamlined version of Doze, Vulkan support and the readdition of a JIT compiler.
Doze is a battery-saving feature introduced in Android Marshmallow that works to reduce power consumption by turning off anything but critical processes when the phone or tablet isn't being used. The new version in Nougat is, in theory, able to save power when the device is on the move by making it only access data in intervals. Given the fact that the Pixel C doesn't have a SIM slot, the feature doesn't make a blind bit of difference.
Vulkan support is awesome on paper, but again isn't directly relevant to the end user. Vulkan is a graphics API designed to replace OpenGL ES, which was used on older Android versions. It aims to make it easier for developers to make prettier-looking games that are less power intensive, by giving devs more granular controls over devices' hardware. This, in theory, means games should be able to access, or take better advantage of, the Pixel C's tech, but it doesn't have any direct impact on the tablet's overall performance.
The addition of a JIT compiler is more interesting, but again not really relevant to the Pixel C. The compiler changes how the OS installs, loads and runs apps. Specifically it makes it so Android compiles application data as and when it's needed, rather than doing so beforehand like an AOT compiler does. This sounds great, but on the Pixel I didn't notice any marked performance improvements. This is likely because the Pixel is already fairly powerful, featuring an Nvidia CPU and 3GB of RAM. The only time you'll notice a marked change in performance thanks to the shift is when using lower-powered devices, with less memory.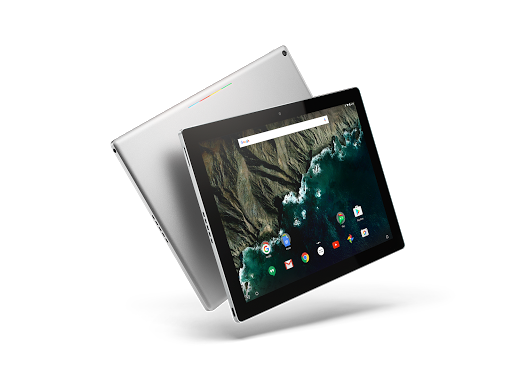 LONG-TERM VERDICT
The Pixel C has aged very well and remains the best Android tablet around, but I wouldn't recommend anyone buy it. Despite it having aged well, it's currently overpriced, with pricing starting at a hefty £479.
There aren't many rival devices out at the moment, but I expect we'll see a fresh wave of Android tablets from Lenovo and Samsung at MWC, which is right around the corner. I'd recommend waiting and seeing what the new tablets bring to the table before shelling out for a Pixel C.
WHAT IS THE GOOGLE PIXEL C?
Google's touting the Pixel C as "the most advanced Android tablet" ever made, and for good reason. It features a wealth of top-end hardware, including a powerful Nvidia X1 CPU, ultra-sharp 10.2-inch screen, and a latch-free docking mechanism that connects the Pixel C to an optional keyboard cover.
However, with Apple's iPad Pro and Microsoft's Surface Pro 4 already jostling for prosumers' interest, the Pixel C is facing pretty stiff competition.
Luckily, Google's description is on the money, and the Pixel C is one of the best Android tablets I've ever seen, if not the best – at least from a hardware perspective.
GOOGLE PIXEL C – DESIGN
The Pixel C is one of a select few devices actually built by, rather than for, Google, following on from the firm's previous Chromebook Pixel.
It aims to be "the ultimate Android tablet" for both work and play. Out of the box I can confirm it's a big step up compared to the HTC-made Nexus 9 – Google's other tablet. It's got a minimalist metal frame, with the only real design feature being a light line along part of its back.
The tablet's 517g weight means it's fairly comfortable to hold and suitably satchel-friendly, although its front edges are a little sharper than I'd like.
The anodised aluminium used to build the Pixel C's chassis also has a nice premium feel and left me suitably assured that it can survive the wear and tear expected of a daily-use tablet. Having accidentally dropped the Pixel C onto my flat's hardwood floor I can personally attest to its durability. (Sorry, Google.)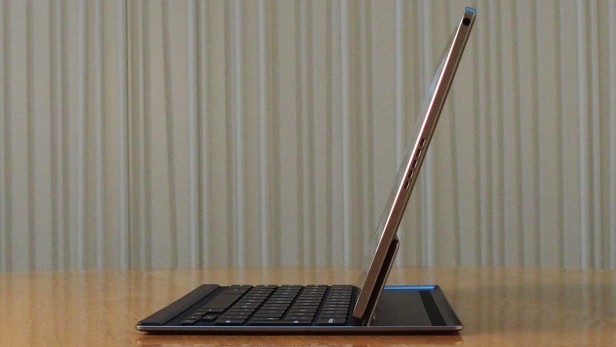 My review unit came bundled with the optional keyboard, which you can pick up for £119/$178.5. It connects to the tablet using a new magnetic docking mechanism that doesn't feature any fiddly hooks or latches.
All you have to do is hold the bottom of the tablet close to the keyboard and the two will snap together. This would be great if from there you could type away to your heart's content. Sadly that's not the case. Instead you have to pair the tablet and keyboard using Bluetooth.
This isn't a deal breaker – plenty of competing convertibles do exactly the same thing – but I'm a little sad that the docking mechanism isn't as simple as the Surface Pro 4's Type Cover or iPad Pro ones, which works the moment you attach them to the tablet.
The keyboard's occasional input lag, however, is a little harder to forgive. Once in a while the keyboard would stutter and ignore certain key presses, making typing on it a frustrating experience.
Outside these instances, as Android tablet keyboards go, the Pixel C's is very good. The keys feel a little squished together, though I don't see how Google could avoid this happening when you consider the Pixel C's 242 x 179 x 7mm dimensions. They also partially make up for their bunched-up layout by having great travel.
My only serious concern is that, like the iPad Pro's, the keyboard doesn't have a trackpad. However, with the ability to connect a Bluetooth mouse to this device, this is less of a problem for desk-based work, although still a concern when it's being used as a laptop.
GOOGLE PIXEL C – DISPLAY
The Pixel C comes loaded with a 10.2-inch display. This makes it one of the smaller convertible options on the market. The iPad Pro features a giant 12.9-inch screen, while the Surface Pro 4 packs a similarly large 12.3-inch display.
This may put off people looking for a bigger tablet, but again reinforces the Pixel C's travel-friendliness.
When it comes to overall screen quality, the Pixel C is excellent. The 2560 x 1800 resolution gives it an impressive 308ppi (pixels per inch) density. This ensures icons and text on the screen are universally sharp and never difficult to read, despite the tablet's compact dimensions.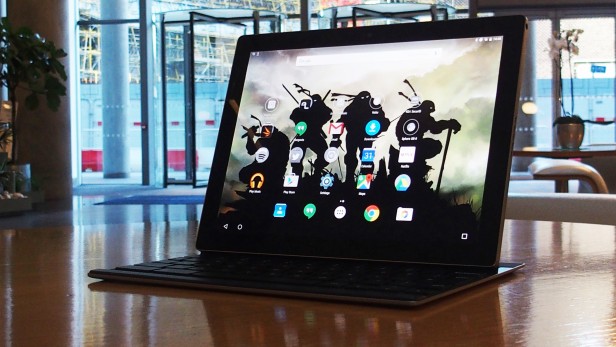 Google claims the screen covers all of the sRGB colour gamut, and has a reported 500 nits maximum brightness. I'd take this claim with a pinch of salt – I'm yet to see an Android tablet cover 100% of the sRGB colour gamut. But my naked eye impressions are positive.
Colours on the Pixel C don't look overcooked or too cool, as they do on many competing tablets. Viewing angles are also excellent and the tablet's maximum brightness is dazzling – to the point that I had to set it to 60% to comfortably use it.
The screen does have a tendency to become reflective when hit by direct sunlight, but this is an issue on nearly all the tablets I review.
GOOGLE PIXEL C – SOFTWARE
Unlike Google's last Chromebook Pixel, the Pixel C runs the Android 6.0 Marshmallow operating system, not Chrome OS.
This is a massive improvement as, despite Google's efforts, Chrome OS's reliance on cloud apps was a big hindrance and it never felt as developed as Android.
With Marshmallow on board, this restriction has been removed and buyers will have access to all the apps on the Play Store, making it better for both work and play.
My one concern is that most of the apps on Android haven't been optimised for the physical keyboard. Games don't let you use the arrow keys to control characters and many productivity apps still require touch input to work properly, which is an annoyance.
Hopefully this will change in the near future, as Google's confirmed it's working with developers to add keyboard controls to Android apps.
Used as a pure tablet, Android Marshmallow is as sweet as ever on the Pixel. The OS launched earlier this year alongside Google's Nexus 5X and Nexus 6P smartphones and comes loaded with a wealth of innovative new features. The best of these are enhanced privacy controls, a "Doze" battery-saving feature and improved Google Now functionality.
The privacy controls let you manage which apps can access your data, while Doze enables the Pixel C to detect when the tablet is inactive and slowing down, or shutting off unnecessary features to reduce power consumption. The upgraded Google Now functionality means you're able to access it within applications by holding down the home button.
Google's also designed the Pixel C to take advantage of Marshmallow's improved Now voice command features and has loaded the tablet with four far-field microphones.
The tech is similar to that seen on the Amazon Echo speaker and should radically improve the Pixel C's voice-recognition powers.
Utter the magic words "OK Google" and the Pixel C will be at your beck and call, even if it's on the other side of the room. Having tried to showcase Google Now's charms while filming a video in a noisy office, I can confirm the microphones work a treat.
However, Android still suffers from a few niggling issues that hamper the Pixel C's overall appeal. Multitasking still isn't up to scratch on Marshmallow and the lack of multi-window functionality rapidly begins to grate when using the Pixel C as a laptop. The dearth of optimised tablet apps in the Play Store is also still an ongoing pain.
This combination of factors makes the Pixel C occasionally feel like a great piece of hardware that's let down by unoptimised software.
GOOGLE PIXEL C – PERFORMANCE
The Pixel C is, on paper, a powerhouse Android tablet. A key selling point is its use of a quad-core Nvidia X1 processor, which is paired with a Maxwell GPU and 3GB of DDR4 memory.
The Pixel C benchmarks amazingly well. I couldn't get AnTuTu to run on it – which is likely due to its use of the atypical Nvidia CPU. But on the more general Geekbench benchmark test the Pixel C ran in with a 4,188 multi-core score. On the GPU-focused 3DMark Icestorm Unlimited and Slingshot tests the Pixel C finished with 41,400 and 2,856 scores respectively. These scores are some of the highest I've seen on an Android tablet.
By comparison, the Nexus 9 scored 3,562 points on Geekbench. Samsung's flagship Galaxy Tab S2 also fails to match the Pixel C's performance, scoring 3,562 on Geekbench and 19,306 on Icestorm Unlimited.
With real-world use the Pixel C's impressive benchmarks have generally rung true. The Pixel C opens applications in milliseconds and I'm yet to find a 3D game or task it can't run without stutter or chug. All in all you're not going to find better performance on any other Android tablet at the moment.
GOOGLE PIXEL C – BATTERY
Android tablets generally have poorer battery lives than iPads, due to Android OS's more intensive system demands. So I was surprised to find the Pixel C came close to matching the iPad Air 2's stellar battery life. The Pixel C's 34.2Wh battery dealt with demanding tasks, such as Netflix video streaming and gaming, better than I'd hoped.
Streaming video on Netflix and BBC iPlayer the tablet lost between 9-12% of its battery per hour. By Android tablet standards that's pretty good. I've tested tablets in the past that lose as much as 15-20% of their charge per hour when faced with the same test.
Playing demanding 3D games like Warhammer Quest, Shadow Run and Riptide GP2 the Pixel C discharged 15-18% of its battery, which again is well above average. Competing Android tablets I've test have lost as much as 20-25% of their charge when running games.
With everyday use the tablet's battery life is also excellent. Even with heavy use it always managed to last three full days with charge to spare.
Heavy use included regularly checking my social media feeds, browsing the web, playing an hour of games, streaming music to my Chromecast while cooking dinner and watching a couple of episodes of Jessica Jones before bed.
GOOGLE PIXEL C – CAMERA
Tablets' cameras are generally nothing to write home about. Past Android and iOS camera sensors have proven capable of taking, at best, usable photos.
The Pixel C doesn't reverse this trend. The rear 8-megapixel camera is reasonably good by tablet standards. Shots taken in regular light in the auto mode have fairly realistic colours, are crisp enough to share on social media and aren't over-sharpened.
The camera isn't bad by tablet standards
…but you wouldn't want to rely on it
However, they do have a tendency to look a little washed out and the sensor doesn't deal with mixed, or dim, lighting conditions all too well, with colours beginning to distort and background noise becoming an issue. This isn't a deal-breaker, as there isn't a tablet in the world with a camera that works well in low light.The front-facing 2-megapixel camera isn't going set the selfie world on fire, but is more than good enough for video calling on Skype and Hangouts.
GOOGLE PIXEL C – AUDIO
The Google Pixel C features twin stereo speakers that run along its left and right short sides. Watching content directly in front of the Pixel C the speakers are reasonably good by tablet standards.They don't match the maximum volume of Lenovo's top-notch Yoga Tab 3 Pro, which remains one of the best Android tablets for home entertainment, but they're more than loud enough for bedtime Netflix binging.The bass isn't the strongest I've heard from a tablet, but it's far from weak or weedy sounding. Gunfire during heated Daredevil scenes had suitable punch, and dialogue was clear and free of the muddy, or overly tinny quality I hear on cheaper Android tablets.I also didn't notice any distortion or noise creep in when I cranked the speakers' volume to maximum while playing classic punk and rock music.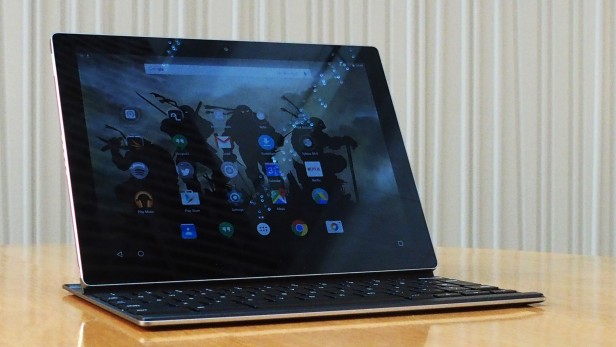 OTHER THINGS TO CONSIDER
Since my original review in October 2015, I have continued to use the Pixel C as my at-home tablet and the device I take to press events to make notes on, so I felt an update how it performs with regular use was worthwhile.First, despite the release of Android 6.0.1 for the Pixel C, I have personally found my complaint of delayed and laggy key presses has become slightly worse. It's not a deal-breaker of a problem, but it happens regularly enough – about once per typing session – to be an irritation.There have been improvements, too. Since my original review, I have been able to get a Bluetooth mouse to work on the Pixel C, which is very useful when working at a desk where precision control is key.Build-wise, there has been little in the way of nasty surprises. I can't say I've been the most careful owner of the Pixel C and it's picked up a few scrapes and scuffs, but generally speaking it's in good condition considering its workload. All the buttons still work and there isn't any annoying, ugly dirt sitting in the small joins between the screen and the chassis.Also worth mentioning is the next version of Android, 7.0 Nutella. If the features included in theAndroid N developer preview make it through to the final build for consumers, the Pixel C will benefit hugely, thanks to its multi-window support and better notifications system. Since this is a pure Google device, it'll be among the first devices to get the official update, which is a huge boon. When the next version of Android officially launches, I will update this review again with my impressions of the OS on on the Pixel C.
SHOULD I BUY THE GOOGLE PIXEL C?
The Pixel C is a technical marvel that easily outclasses competing Android tablets when it comes to processing prowess and battery life. If you want a top-end Android tablet that can double as a small laptop, the Pixel C is the only option worth considering.However, with pricing starting at £399 for the basic 32GB model and the keyboard costing a massive £119 extra, its perks come with a hefty upfront cost.Considering the lack of applications that need the Pixel C's raw muscle, there are better deals out there. The Nvidia Shield Tablet K1 costs a meagre £150 and is more than powerful enough to meet most people's gaming and entertainment needs.
VERDICT
The best Android tablet yet, but it's let down by a lack of software optimisation.
(trustedreviews.com, https://goo.gl/rqTxEo)
Comments
comments