OUR VERDICT
The Getac ZX70 is a very serviceable Android tablet in a tough water and dust-resistant skin. A few minor idiosyncrasies don't undermine what many field (and warehouse) workers should find a remarkably useful piece of equipment.
FOR
Tough
Great battery life
Useful factory installed options
AGAINST
Disappointing screen size and resolution
Low-resolution cameras
Proprietary charger
Most tablets don't last long in a harsh environment. Dust, water, vibration, heat and cold can all reduce their operating lifespan drastically.
Getac has looked to exploit this niche with its latest ZX70 Android tablet, designed to handle environmental extremes that would kill an Apple iPad in just a few minutes.
Depending on what options you take regarding memory and special features the ZX70 can cost more than £1,000 when configured.
A basic model with 2GB of RAM and 32GB of storage is £674 excluding VAT (£809 including VAT), and one with the 4G option is a whopping £794 excluding VAT (£953 inclusive of VAT).
Adding a Barcode Reader, ATEX/IECEx certification, more RAM, more storage or a UHF RFID Reader pushes the cost well above £1,000. Pricing in the US starts at around $1,000, and the tablet can also be found in Australia for less than the local RRP of AU$1,319.
Those prices might seem excessive to the majority of Android customers, but compared with many ruggedized laptops, the ZX70 looks like a bargain. Panasonic's Toughpad FZ-M1 as an example costs 50% more for the basic model.
For business users outfitting a warehouse, for example, the ZX70 is in the ballpark of what they'd be realistically budgeting for mobile computing devices.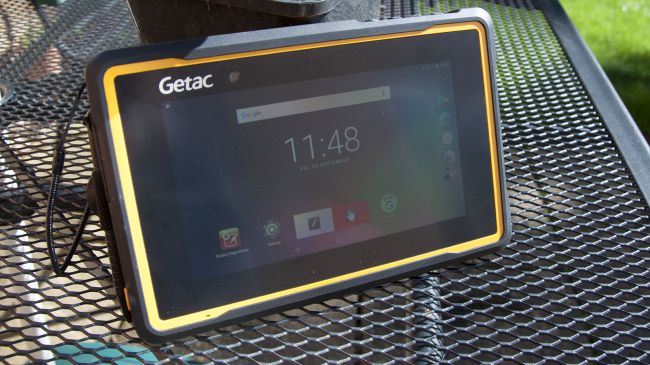 Design
We're not sure why anything designed to be used outdoors must be brightly colored, but the ZX70's black textured case with mustard yellow highlights isn't something you'd easily lose in the snow or a forest.
Designed by Getac to replace its existing Z710 design, the ZX70 has more processing power, a better screen, more RAM and a greater storage capacity than its predecessor.
The majority of 7-inch tablets have an outer skin that's either plastic or aluminum, whereas this one looks and feels distinctly different.
It's plastic, probably reinforced with glass fibre, with a rubberized overmold on a magnesium sub-frame. The back is heavily textured and has a slight depression in the centre making it easy to grip with either hand.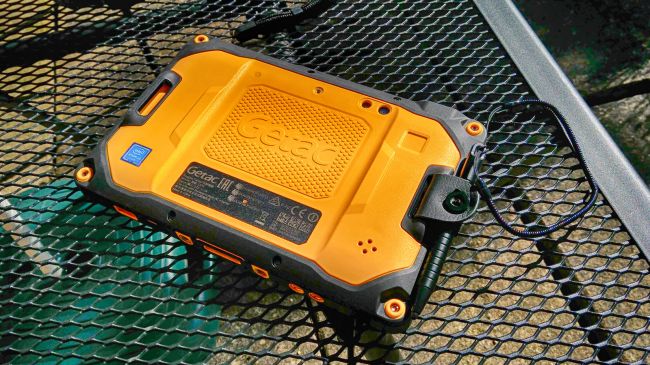 To the rear outer edges are two loops that could be used to strap the tablet to a backpack. Or, by default, one provides a location to keep the accompanying stylus while the other mounts a wrist strap.
It's easier to make selections with the stylus if you're wearing thick gloves, rather than using direct touch, though the screen is built to work with gloved hands also.
One excellent use of the yellow details is to highlight where all the ports are positioned around the edge, as there are plenty to find.
Along the bottom is a standard USB 2.0 port along with a microUSB connector, the latter being a client port that doesn't charge the tablet.
Other ports include optional RF antenna pass-through for GPS and WWAN, and a Pogo/JAE docking connector designed to work with peripherals that Getac has produced to support this device.
The DC power socket is located on the left, along with the headphone jack and a screw-held cover that protects both a microSD card and SIM card slots.
The top side has the power and volume controls, and a button to activate the optional laser barcode reader.
It's functionality over elegance all the way, but not detrimentally so.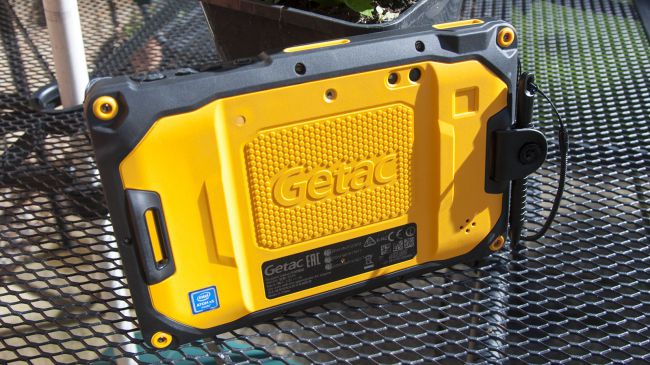 Made for abuse
Our first impression of the ZX70 was that it's designed more for an active lifestyle than being dumped on the lounge sofa. But exactly how tough is it?
According to Getac the ZX70 is certified for both MIL-STD-810G and IP67 standards, making it able to survive a 6-foot drop onto a hard surface and also making it dust and water resistant.
The IP67 certification means that it is water resistant, but not fully waterproof. The MIL-STD-810G tests were designed by the US military to judge the suitability of equipment for service deployment. However, technically no commercial organization or agency certifies compliance with STD-810G. Therefore, while the makers might have designed their products to comply with the requirements of STD-810G, only they judge if any particular device has met them and there are no approved testing methods at this time.
It's worth noting that some phone products, like the Samsung Galaxy S8, offer IP68 waterproof certification. Though even that device has limits for how deep and how long it can be submerged in water.
Getac claims this device has protection against full immersion down to a depth of 3-foot for 30 minutes, which is better than most Android tablets.
We sank ours in a bowl for 10 minutes, and it suffered no ill consequences. However, it's worth noting that it 'sank'. As a result, anyone wanting to take their device on a boating holiday, or similar, should attach a float, we'd strongly suggest.
An ATEX/IECEx certified version of the ZX70 is available as an option, for use in hazardous locations (i.e. one with a potentially explosive atmosphere, like a mine).
However, while this is constructed to survive inherently wet or dusty environments, and to accept a degree of rough handling, that doesn't make it indestructible.
Specifications
In understanding a product like the Getac ZX70, it's important to consider that the inside and outside represent two separate engineering exercises.
Where the outside is battle-hardened against adversity, the inside is not far removed from what you might expect from a typical notebook PC.
Inside, this tablet runs with an Intel Atom x5-Z8350 CPU clocked at 1.44GHz, with burst up to 1.92GHz. Here it is paired with 2GB of LPDDR3 RAM, expandable to 4GB, and depending on the model you get 32GB or 64GB of eMMC flash storage.
You can also extend the capacity through both the microSD card slot and the USB port, making the storage capacity effectively unlimited.
The review model came with 32GB storage, of which 21GB was left for the user after the Android OS and pre-installed apps had taken their share of space.
Whereas the core components of this tablet are the same as a pure notebook, many of the optional extras aren't subsystems that you'd normally find on an Android slate.
For example, most Android phones and tablets do have GPS, but the ZX70 has a high-resolution chip like those which DJI uses on its drones. The accuracy of this can be further enhanced with an external antenna connection, as can the WWAN capability.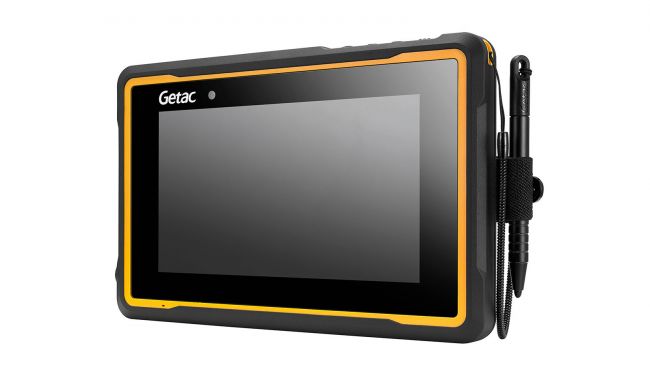 The review model also included 4G LTE connectivity and a laser scanner for collecting barcodes.
There is no HDMI out provided, though the optional docking station adds this feature.
The ZX70 came with Android 5.0 Lollipop pre-installed, but automatically elevated it to the ranks of Android Marshmallow 6.0.1.
That's two rungs below the current Android 8.0 Oreo flavor, but it's recent enough to ensure that most applications are happy to install and run. As Android experiences go, the ZX70 is workmanlike but unremarkable.
Except for a few special apps to access features, like one for the high-resolution GPS, it's almost stock Google from the launcher to the standard app suite.
Performance
Running GeekBench 4 and AnTuTu benchmarks revealed that Intel's Atom CPU wasn't the best choice for delivering raw oomph in terms of system performance. Scoring just 61,109 on AntuTu's test, that's 66% of what the Nvidia K1 Shield can achieve, and marginally less than Lenovo's recent P2 phone.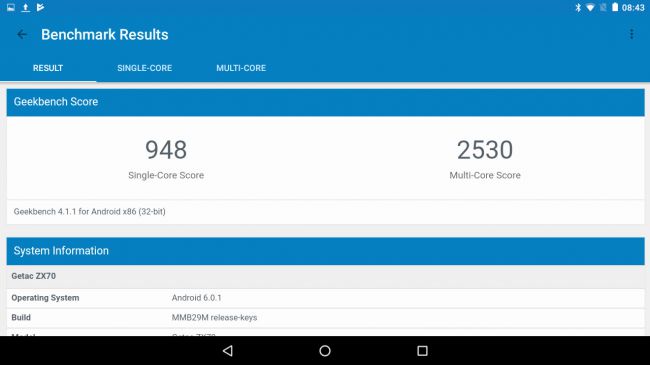 GeekBench 4 single-core hit 948 and the multi-core result was 2,530, neither of which is going to worry those companies pitching the fastest Android hardware.
Accepting that the ZX70 wasn't built to be a mobile gaming platform, we still feel it should have more grunt than the Atom provides.
The Intel Atom may well have also been a contributory factor in Getac including a massive 8400mAh battery. That's 25% or more capacity than many Android tablets and it helps give the ZX70 a decent operating lifespan.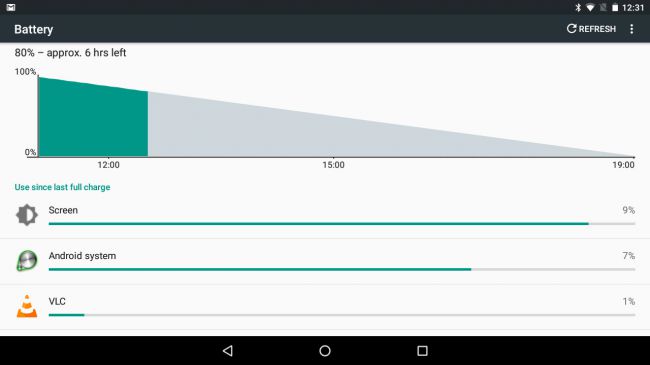 Performing the TechRadar battery test (playing a 90-minute video on full brightness from local storage), the battery dropped from 100% to only 80%. That would give the ZX80 a video playback life of close to 8 hours, and the ability to perform less challenging tasks for around 13-15 hours.
While video playback isn't a typical usage pattern for this device, it aptly demonstrates that depending on workload the ZX70 should be able to go a few days between charges if used wisely.
Occasional bumps along the road
One minor weakness of this design is the 7-inch IPS LumiBond capacitive multi-touch display. The 1280 x 720 resolution isn't great, and while it might be readable in even bright sunlight, compared with the display on a Shield K1 or iPad mini, it looks small and under-saturated.
For daylight viewing some compromises are acceptable, but the resolution should have been higher.
Sadly the cameras, front and rear, are in the realms of what budget phone users experienced at least three (or more) years ago. The 'better' rear camera is just 8 megapixels, and can only capture video in a maximum resolution of just 720p.
A better camera quality isn't a necessity here, but surely a sensor that can do 1080p video isn't excessive?
But of all the features that disappointed, the one that really stood out was Getac's decision to use a proprietary charger.
Most Android tablets are charged using either microUSB or Type-C, allowing the sharing of them between devices. These are also the connection technologies used by portable batteries and portable solar arrays.
Because of the unique charger, anyone taking this tablet away from civilization won't be able to recharge it unless they've got access to mains voltage.
EU laws don't allow phone makers to use proprietary power connectors, and the ZX70 reminds us of exactly why that's the case.
We liked
This tablet benefits from a genuinely rugged construction, built to handle harsh working environments and the most challenging conditions. While it will sink if dropped into deep water, it can handle shallow submersion and keep working.
Getac also bundled some great connectivity options on the ZX70, including 4G LTE and laser barcoding.
We disliked
Using an Atom CPU was a questionable choice as it doesn't deliver the performance that the latest ARM SoCs are capable of.
As this isn't a budget device, it deserved at least one decent quality camera that could capture 1080p video.
And finally, using a proprietary charger on a device meant to go anywhere is an unfortunate faux-pas.
Final verdict
For use in a warehouse or up a mountain, the Getac ZX70 is the perfect companion if you like your tablet technology to keep on working. However, this level of abuse resistance doesn't come cheap, and the underlying computing platform isn't cutting-edge.
(techradar.com, https://goo.gl/mAf8oV)
Comments
comments