Key Features
Review Price: £169.00/$253.5
Hands-free Alexa
Android with Fire OS 5
1080p screen
What is the Amazon Fire HD 10 (2017)?
This is an update to the existing Amazon Fire HD 10, a tablet that Amazon pitches as the one for entertainment. It's more of a face lift than a total makeover, but there have been quite a few updates everywhere, along with a better price/capacity ratio. If you want a tablet and you're looking to buy into the Amazon ecosystem, it would appear this is the time to do so
Most of the tweaks are on the inside, so don't expect much new when it comes to cosmetics. That's fine, since the last design is quite pleasant anyway. What you get is a slim slab with a nice soft-touch plastic at the back, available in Black, Marine Blue and Punch Red.
The bezel space is chunky enough to rest your thumbs on, but that's no great surprise. Tablets haven't yet caught up with smartphones when it comes to screen/body ratio.
Screen size is the same: it's still a 10.1 inch screen, although resolution has improved. It's gone from 1280×800 to full HD at 1920 x 1080, which gives you 224 pixels per inch where previously you had 149. Basically, the screen is sharper and clearer than ever.
On the inside, we're still looking at a quad-core processor, but the new one goes up to 1.8GHz, which is 30% faster than before. RAM has been doubled to 2GB. As for internal storage, the Fire HD 10 comes in 32GB and 64GB flavours. There is also an microSD card slot, which lets you expand this by an additional 256GB.
Battery life is is better too, going up from 8 hours to 10.
As for software tweaks, there's a new 'For You' section. which keeps tabs on your most recently used books, apps and games and comes up with recommendations. By far the most interesting addition is a hands-free version of Alexa, Amazon's voice assistant.
She's been around in Fire tablets for a while now, but this is the first time she's been hands-free, which means now you can talk to her just as you would with an Amazon Echo.
She does the same things as she would on an Echo. Naturally, you can ask for music, which Alexa pulls from Amazon Music or Spotify. You can also control compatible smart home devices such as Philips Hue lights or Hive thermostats, or check the weather, or make calendar entries. There are also elements of the Alexa found on the Fire TV, which lets you search for video content or pause and fast forward by voice.
Don't worry if you already have Alexa in your home in the form of Amazon Echo speakers. Alexa has ESP, or Echo Spatial Perception, which means only the device nearest to you will respond to your commands. If you're holding the tablet in your hands, you won't hear Alexa responding from the next room.
Eventually, you'll even be able to see outside your house just by using your voice: an update coming soon will give Alexa compatibility with smart home cameras from Nest, Arlo and Ring.
Early impressions
The new Amazon Fire HD 10 may not be a huge departure from the last one, but it's been upgraded where it counts. And crucially, the price hasn't gone up. The addition of a hands-free Alexa is a nice move, which will definitely make the humble tablet a more useful companion.
The new Amazon Fire HD 10 tablet will cost £149. You can preorder from today, and shipping starts on October 11. Carry on reading for our review of the previous HD 10. 
What is the Amazon Fire HD 10?
The Amazon Fire HD 10 is the big daddy of the new low-cost Fire tablet range. Slates this large have fallen out of favour now that every company out there seems to have made a great 8-inch tablet.
Be sure to check out the Fire HD 8 if you're after something smaller. Amazon says it thinks this larger version will be better for video, though, perhaps for those who don't want to watch soap X the rest of the family are currently simmering to on TV.
I can't imagine the Amazon Fire HD 10 fitting into a much techier scene. Its almost absurdly low screen resolution just doesn't cut it for eyes that have already gazed onto a bunch of tablets, killing the appeal of the extra screen space. At £169 (£179 without ads) it's not as though it costs pennies either.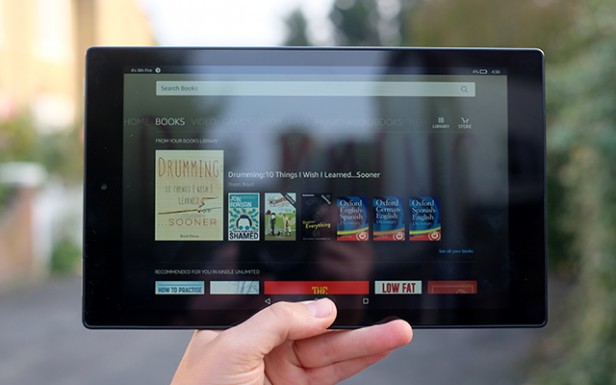 Amazon Fire HD 10: Design
The Amazon Fire HD 10 has a large footprint. These days a lot of the tablets I review are a few inches smaller than this, simply because they've proved more popular than the 'classic' 10.1-inch style seen here.
Use the Amazon Fire HD 10 for a few minutes and it's not hard to see why. 10-inch tablets are really too big to use on the train or bus without feeling silly.
If you're after a home tablet or among the lucky few to get a seat on the train every single morning, this tablet is at least very thin and light. It's just 7.7mm thick and weighs 432g. That's 5g lighter than the iPad Air 2.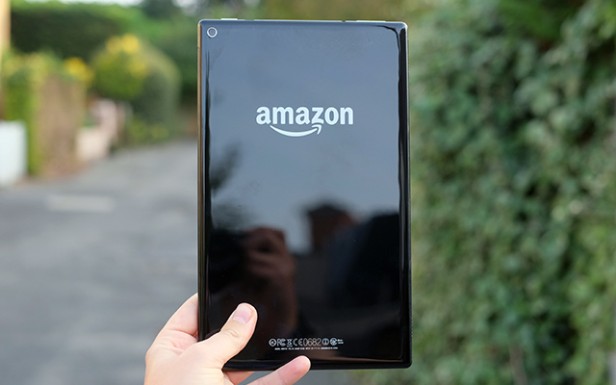 Why am I making these size criticisms when we might not say the same about an iPad Air 2? The Amazon Fire HD 10 is a widescreen tablet, with a 16:10 aspect. Large widescreen tablets always feels a bit awkward in portable terms, their shape and weight balance being that bit harder to manage than a large 4:3 tablet like the iPad Air 2.
In summary: Keep it at home.
The Amazon Fire HD 10 design seems to care at least as much about making the tablet easy to manufacture as trying to impress your fingers. It has some of the classic traits of cheapo no-brand tablets. All the controls and primary sockets are laid along one edge, the top one, for example.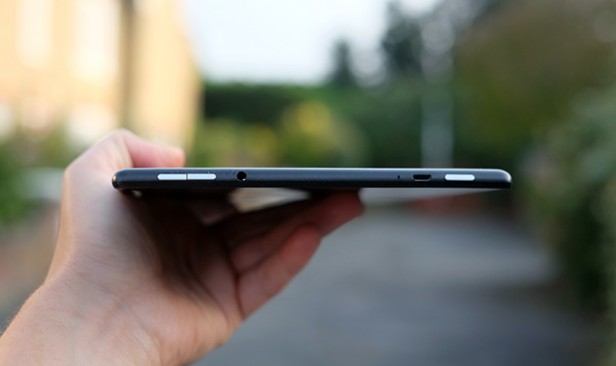 This helps reduce prodution costs, but it's not hugely practical in use. When held upright it means they're out of easy reach, and when held landscape it means your hand will always rest over either the power or volume buttons.
That whiff of budget compromise is a common theme here. While there's a metal frame inside the Amazon Fire HD 10 that helps stop it flexing — and under normal hand pressure it doesn't flex at all — on the outside it's covered in ultra-glossy plastic, aside from the textured sides.
As well as looking and feeling a bit cheap, the plastic picks up fingerprints readily and will do the same with scratches unless you're very careful. The difficult part to swallow here is that the Amazon Fire HD 10 is on the cusp of being a not-that-cheap tablet.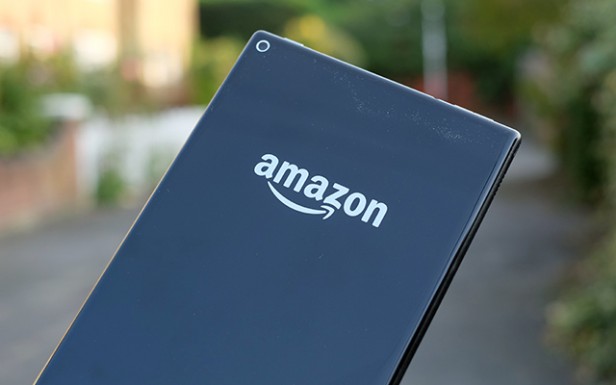 It costs at least £169.99 (16GB), creeping up to £209.99 if you want the 32GB version without 'special offers'. These are ads for Amazon content that appear when the tablet is in standby, but the screen isn't off entirely.
The upgrade to 32GB isn't a must, though, because there's a microSD slot on the Amazon Fire HD 10's side.
Amazon Fire HD 10: Screen
It would be easier to forgive the little ergonomic and 'feel' issues if the screen hadn't also been battered with the budget stick too. It's a 10.1-inch 1,280 x 800 pixel IPS LCD screen.
No prizes for guessing the main complaint: The resolution is extremely low for a tablet of this size and price. With 149ppi density, the blockiness is obvious. You don't need to be a tablet critic to notice it.
iPads haven't been this blocky since 2011.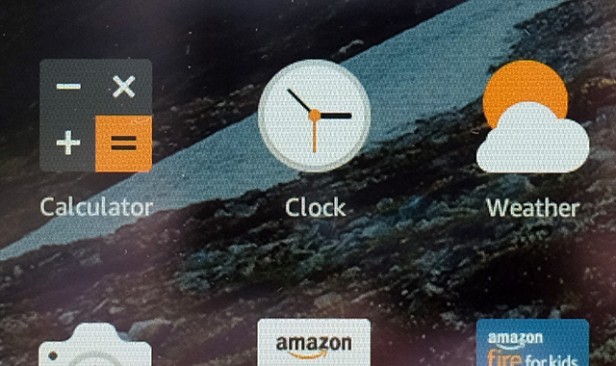 Other aspects of the Amazon Fire HD 10 display are a lot better. The IPS panel provides good viewing angles and the colours aren't too bad.
It almost seems misleading to talk about the positives too much, though, as the screen is characterised, even defined, but its low resolution.
The Amazon Fire HD 10 also lacks an ambient light sensor, meaning you have to manually adjust the brightness as needed. Most decent tablets have an Auto mode that alters the backlight intensity as needed. This one doesn't.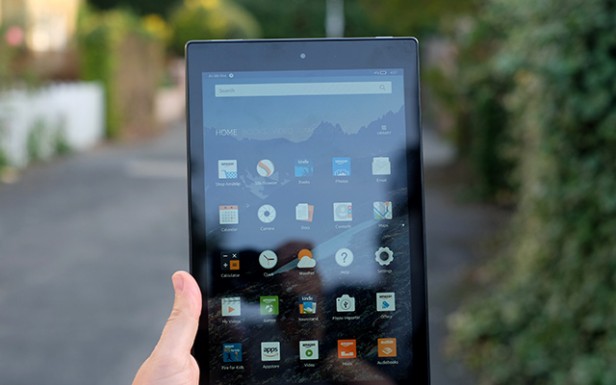 Amazon Fire HD 10: Features
Being a home tablet, the Amazon Fire HD 10 doesn't have many extra connectivity features either. There's no mobile internet option, and no NFC. I'm not too bothered about missing these.
It would have been nice if Amazon had added an IR transmitter, though. These are used in phones and tablets to let you control your Blu-ray player, TV and so on.
Amazon Fire HD 10: Software and Performance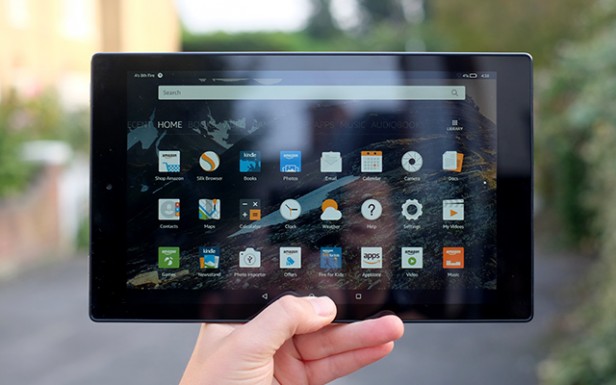 Like other Fire-series tablets, the Amazon Fire HD 10 is an Android tablet, but looks and feels quite unlike one. That's because it uses Fire OS on top, one of the most invasive custom Android skins ever devised.
It really only uses the core building blocks of Google's system, replacing everything else with custom Amazon parts.
The layout is different too. There's very little customisation available here. What you get is a series of homescreen-style pages, one for all the bits you have preinstalled and one for each of the main tablet content areas: Music, video, book, apps.
Unlike Android, Fire OS gives much more space to apps and content you might download than stuff you've already downloaded. It's out to get you downloading more stuff 24/7.
While Fire OS is often sold as an easy-to-use system for casual users, those who just want to use Netflix, Facebook and Chrome without being pelted with other apps would be much better off with a more conventional Android tablet.
As so much of what fills the Amazon Fire HD 10's pages needs to be downloaded and updated regularly, it tends to feel more sluggish than a regular tablet too. While lag is not catastrophic, performance regularly slows. And it quite simply often takes longer than normal to get from one part of the interface to another. Even at Fire OS version 5 it has a way to go. There's often keyboard lag, for example.
Operating systems should be all about getting you between applications quickly and intuitively. Fire OS is much closer to a virtual shop front that just happens to be peppered with apps you own.
That may sound harsh, but it's what Fire OS frequently feels like.
It's not all bad, though. Many of Amazon's services are very worthwhile. The Amazon Fire HD 10 lets you watch Amazon Prime Instant Video, the Netlix-a-like service that comes as part of an Amazon Prime subscription these days. And the latest addition to the Amazon family, Underground, is a worth a look too.
Underground is about getting you apps and games you can use without paying a penny, including in-app payments. It's a neat idea, but one you can try out without owning any Amazon hardware simply by downloading the Amazon Appstore on any Android device.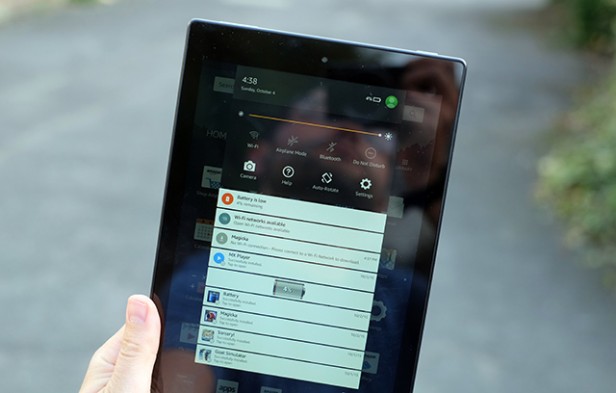 That's one other tricky thing about tablets like the Amazon Fire HD 10. Where you can, for the most part, get all of Amazon's services on a non-Fire tablet (bar Instant Video streaming), this tablet doesn't get you things like Google Play, Google Maps, Google Calendar and so on.
If you regularly use Google's app suite, you'll probably miss this.
If you're coming to the Amazon Fire HD 10 without any app preconceptions, there's quite a lot to like about the Amazon Appstore. Especially for cheapskates (we have a few at Trusted, so we're allowed to say that).
Despite being a little sluggish-feeling, the Amazon Fire HD 10 also has just enough power to handle relatively taxing games without fun-spoiling frame rate dips. It uses a Mediatek MT8135 CPU.
Mediatek is seen as a bit of a runt next to Qualcomm and its Snapdragon chips, but this chipset isn't too shabby, if not 100 per cent up-to-date. It's a 32-bit brain, but one with a slightly more interesting setup than the more popular Snapdragon 410.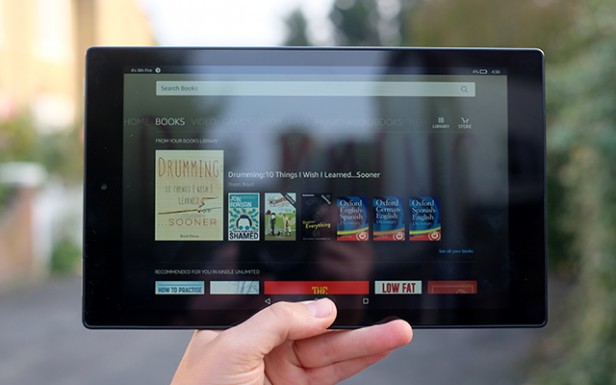 Rather than having four low-power cores, it has two high-power 1.5GHz Cortex-A15s and two Cortex-A9s. These are then paired with a PowerVR G6200 GPU.
This is not powerful. But it is powerful enough to run fairly challenging 3D games at the Amazon Fire HD 10's low 1,280 x 800 resolution. For a little perspective, this is the same resolution as the Fire HD 6, which also shares the same chipset. I liked that tablet because it was so small and so affordable. This one takes the same amount of dough and stretches it out way further, then asks for the best part of £200 for it.
I have some issues with this approach.
In benchmarks, the Fire 10 HD performs at the same level as the other new Fire HD tablets. It scores 1494 in Geekbench 3 and 10235 in 3DMark Ice Storm Unlimited. That's similar to a device running  Snapdragon 410, but way below a Nexus 9 or Samsung Gear S2 8.0. The Nexus 9 scores more than double the Geekbench 3 points, and, if you look long enough, can be picked up for a somewhat-similar price.
Amazon Fire HD 10: Camera
There are many great phone cameras out there these days, but still relatively few good tablet ones. The Amazon Fire HD 10 isn't out to change that.
It has a 5-megapixel camera on the back, without a flash, and a 2-megapixel one on the front. There's no special tech underneath, and predictably photo quality is fairly poor. If you can, stick with your phone camera.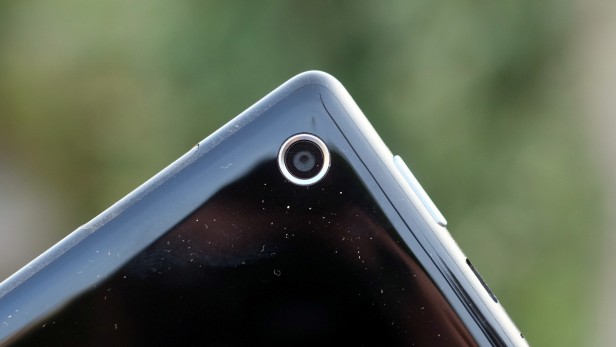 The Amazon Fire HD 10's camera software is a little smarter than the hardware, though. Not only is there an HDR mode, it'll also tell you when it thinks using it is necessary. And it's generally right too, requesting it whenever light conditions get challenging.
However, actually using HDR is very slow, making it seem a bit like you're taking an ultra-long exposure. Not only is it annoying, the photo won't look right if you can't keep your hands still.
These are poor cameras, but as ultra-mainstream tablets I understand why Amazon would feel it necessary to include some form of camera on both the front and back.
Amazon Fire HD 10: Battery Life
The camera's aren't much cop, but the battery life is better. Amazon says it should last up to eight hours off a charge, and that's actually a pretty conservative estimate.
When playing a locally-stored 720p video the Amazon Fire HD 10 lasts for 11.5 hours. This is a very low-stress test, though, so it's no wonder it outdoes Amazon's estimate.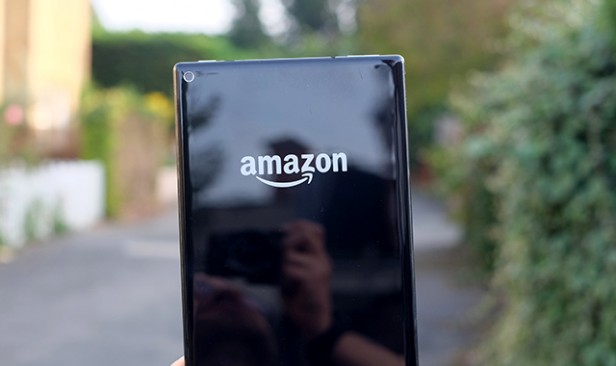 An hour's Netflix streaming over Wi-Fi knocks 12 per cent off the battery level, suggesting you'll get over eight hours of this sort of video streaming. I set the screen brightness level to around 50 per cent, which is enough to comfortably watch a movie indoors. This is a good result.
The hardest test I tried was 3D gaming. An hour lopped 28 per cent off the battery, suggesting you'll get just over 3.5 hours off a full charge.
All of these results are a bit better than the Amazon Fire HD 8, even though Amazon quotes the same 8-hour battery estimate for both of these tablets.
Amazon Fire HD 10: Sound Quality
Sound quality is better than some of the budgets-feeling parts of the Amazon Fire HD 10 might suggest too. There are are two speakers, both on the bottom edge of the tablet when its held in landscape orientation.
It's a good positioning for a tablet that has non-front-facing speakers. While sound quality isn't amazing, it is rather good for an entry-level tablet. It doesn't have that reedy-thin quality most cheap, thin tablets have, with a good bit of bulk in the lower frequencies that makes the tone much nicer to listen to.
As with battery life, sound seems a bit better than that of the Fire HD 8, but that's probably down to having a bit more room for the sound to move around internally rather than using different drivers.
Should I buy the Amazon Fire HD 10?
The Amazon Fire HD 10 doesn't make any moves that are going to cause people to send the thing back. The sound and battery life are a bit better than you'd expect, the screen is as advertised.
However, it's just not that good, especially when the price is creeping towards the mid-range zone where every single tablet out there offers a far, far better display. It's the screen resolution that puts me off the most. It's very pixellated.
There are other issues too. Performance is worse than that of a 'normal' Android tablet, the shape feels ungainly and not that versatile and the build, while strong enough, feels cheap.
It's a pretty weak combo, one that makes the Amazon Fire HD 10 feels like one of this year's lesser tablets.
Verdict
A very low-res tablet without a low-enough price to match.
(trustedreviews.com, https://goo.gl/3MPPb6)
Comments
comments