Pros
Large, sharp display
Versatile design
Reliable performance
Cons
Uncomfortable trackpoint
Poor selection of ports
Cheaper rivals available
Key Features: 12.5-inch, 1,920 x 1,080 display; Windows 10-ready; Intel Core M processor; 4GB RAM; Bluetooth 4.0; 802.11a/b/g/n Wi-Fi; 1.4kg
Manufacturer: Acer
What is the Acer Aspire Switch 12?
Most of us are now familiar with two-in-ones and convertibles, but Acer's tried to take versatility to a whole new level with the Aspire Switch 12. Marketed as a 'five-in-one', you can use it as a laptop and a tablet, though its detachable keyboard and versatile base offer even greater flexibility.
However, considering its competition, the Switch should be cheaper than it currently is. Its special design is certainly eye-catching, but performance and specs are in line with models that cost £100/$150 less.
Design
The Acer Aspire Switch 12 looks unlike any laptop you've ever seen.
While traditional laptops feature a base that juts out in front of the screen, the base of Acer's left-field creation sticks out from the back. It caused me a great deal of confusion when I first opened the box.
The Switch's special hinge also swings the screen the opposite way to what you'd normally expect. Instead of rotating so that the screen meets the keyboard, it goes the other way, leaving the display completely exposed. It's more flummoxing than cutting edge.
That's not all though. While half of the base is fixed to the display, the portion featuring the keyboard can be detached and re-attached to the Switch at the foot of the screen. You can do this through the use of dual magnetic connectors, which are solid and work slickly, though it's definitely a two-handed job.
Acer recommends using the Switch in five different modes. Three of these – pad, display and tent – cast the keyboard aside. Notebook and desktop, meanwhile, involve having the keyboard either attached to the front of the unit or detached but still connected via Bluetooth.
Weighing 1.4kg, the Switch is surprisingly hefty, despite measuring in at a sleek 16.5mm thin. As a tablet you'll do well to hold it for any more than 30 seconds, which is why the multi-functional base is so important, allowing you to prop it up on a table or your knees.
Form factor aside, the Switch isn't the most attractive laptop I've ever seen. Clad entirely in angular black plastic, it's pleasantly low-key but ordinary-looking. Quirkiness is provided in the bucket load by the weird hinge and keyboard, but Acer's not quite managed to crack the aesthetics brief.
The power button sits on the top side, though it's far too shallow for my liking, making it tricky to seek out with your fingers alone. Instead, you have to peer over the top just to double-check your finger's in the right place. There are fortunately no such problems with the protuberant Start and volume buttons, which are robust and click down with a pleasantly loud snap.
Most users will be able to squeeze it into a rucksack or messenger bag without any issues. Whether you'd want to, considering the screen is constantly open to the elements, is another matter.
 Screen and Speakers
Fortunately, as it's protected by Gorilla Glass, the Switch is capable of standing up to most everyday impacts. I spent a week carrying it around in my congested bag and I'm pleased to report that it survived the ordeal without suffering so much as a scratch.
Be prepared to brush it down on a regular basis though, since the display can't be covered up.
The 12.5-inch, 1,920 x 1,080 touchscreen is also generally impressive. With a pixel density of 176ppi, it's pleasantly sharp, narrowly beating off competition from the Toshiba Satellite Radius 11 (135ppi). It's still no match for the Asus Transformer Book T100 Chi (226ppi) though.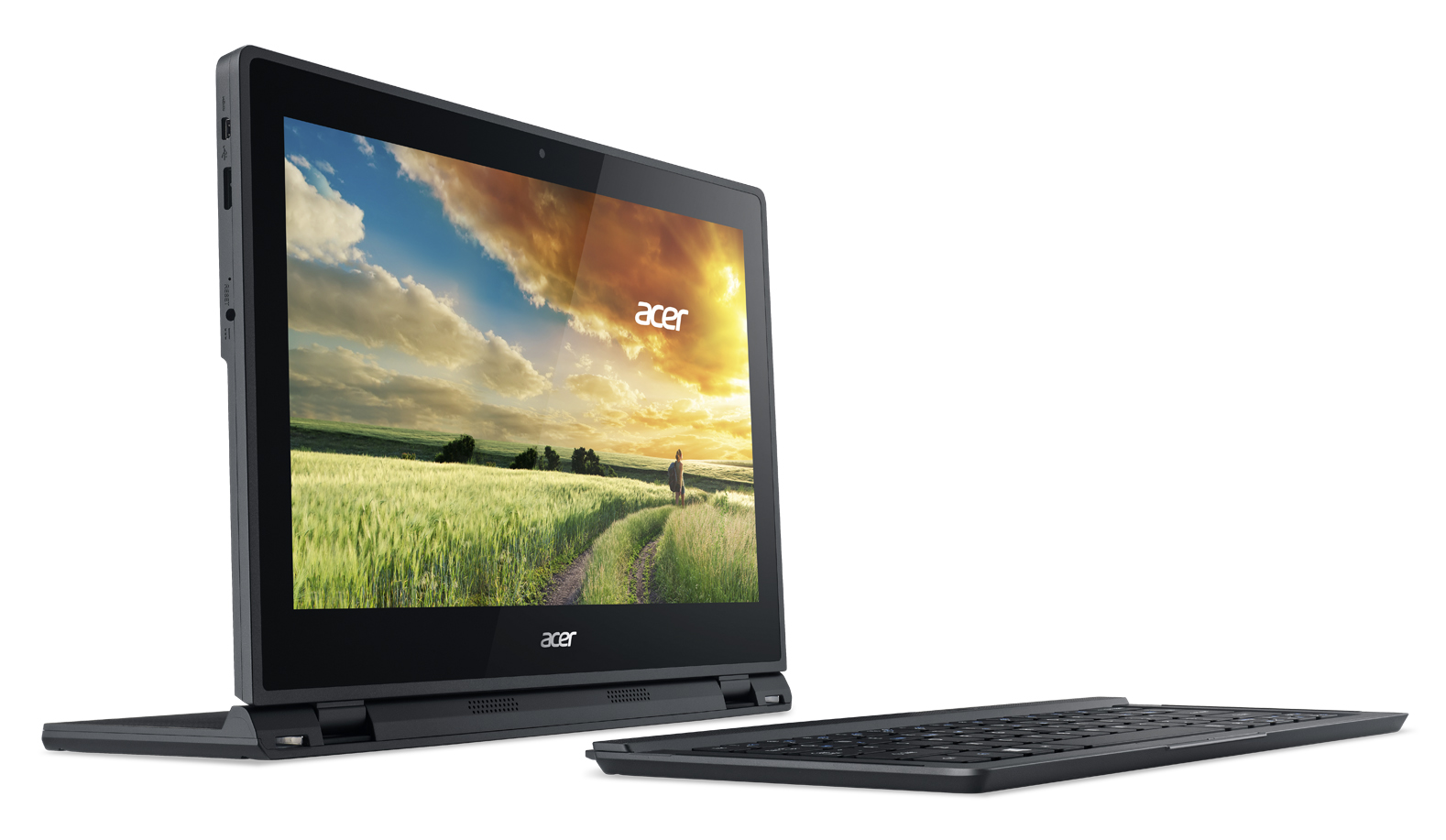 The anti-fingerprint coating successfully minimises the effects of greasy digits, while viewing angles are also generous, making the Switch a good laptop for watching movies on. The display is responsive too, reacting flawlessly to swipes and finger taps.
However, it's not all sunshine and rainbows. The most glaring issue with the display is brightness. You'll struggle to use the Switch outdoors on a sunny day because the maximum setting is poor.
As tends to be a problem with the majority of affordable laptops, colours also appear lifeless. Bright reds and greens are reduced to pale, washed out imitations of themselves, making vibrant pictures and movie scenes look dull.
On the other hand, there's plenty of life in the speakers. They're pleasingly loud, and since they're front-facing, sound good even when you place the Switch on a soft, muffling surface, like a bed. Still, audiophiles will still be best off investing in a good Bluetooth speaker.
Keyboard & Trackpoint
As there's no room for one on the detachable keyboard, Acer's done away with the trackpad, replacing it with a trackpoint. Unlike the ThinkPad series' iconic red nipple, Acer's concave version is stiff, shallow and as dark as the surrounding keys.
It delivers an awkward user experience, especially as there's no space on the keyboard to rest the base of your palm. You instead need to park your hand on your desktop, which sits at a level around a centimetre below the trackpoint. I often avoided the trackpoint completely, opting to use the touch display instead.
The left- and right-click buttons aren't a great deal better. They're small and sit flush with the surrounding plastic. Only their baby-smooth texture distinguishes them from the rest of the keyboard. Fiddly and uncomfortable.
Thankfully, it's not all bad. The keys are well-spaced, clearly labelled and, on the whole, large. They're a little on the shallow side, but still offer a satisfactory amount of travel.
Software
It runs Windows 8.1 out of the box, but the Switch is eligible for a free upgrade to Windows 10. It'll take the best part of a day to get hooked up to Microsoft's latest operating system, but the sacrifice is worth it.
Windows 10 delivers a far superior user experience to Windows 8.1, especially on touch-enabled devices. That's partly because there's both a traditional desktop mode and a tablet mode. The latter optimises the layout of the revamped Start Menu, spacing the tiles further apart to make it easier for your fingers to tap the right one. Simple, but definitely effective.
Virtual desktops are another welcome addition, as is Cortana. On those days when you're being an unstoppable, multi-tasking, super-efficient god, both features come in really handy.
As is unfortunately the norm with affordable PCs, the Switch comes pre-loaded with a significant lump of bloatware.
Ebay, Dropbox and Booking.com apps all come pre-installed, and all they do is transport you to the companies' respective websites. The good news is that you can easily delete them.
Performance & Connectivity
Though it costs around £100/$150 more, the performance of the Switch is in line with the Asus Transformer Book T100 Chi and Toshiba Satellite Radius 11.
Running a dual-core Intel Core M 5Y10a processor paired with 4GB of RAM, the Switch is built for casual use, such as word processing, browsing the internet and watching TV shows and movies.
Benchmark results back this up. In Geekbench 3, the Switch hit 2,765, placing it just behind the T100 Chi (3,076) and Radius 11 (3,692) in the speed stakes. The tables are turned in PCMark 7, with the Switch's 3,554 nudging it ahead of the Chi (2,657) and Radius (1,796).
Needless to say, benchmarks aren't everything, although I'm pleased to report that the Switch is reliable in everyday use. Performance is nice and zippy, and the rear only heats up slightly after prolonged use.
In terms of connectivity, the Switch squeezes in a microSD card slot, a USB 2.0 port and microHDMI. It also runs Bluetooth 4.0 and 802.11a/b/g/n standard Wi-Fi.
Battery Life
Oddly, Acer's website claims that the Switch 12 will last a maximum of six hours of a single charge. That's a pretty strict number, and one that I disagree with.
It kept going for just shy of seven hours through a mix of watching videos and browsing. That level of stamina comes as a pleasant surprise, putting both the Toshiba and Asus to shame. However, considering the dullness of the display, I'd prefer to see at least an extra hour on top of that seven-hour figure.
A 30-minute blast on the charger takes it up to 26%, while restoring it to full battery requires two and a half hours of patience.
Should I buy the Acer Aspire Switch 12?
It's a dependable, affordable machine, but I find it rather tough to recommend the Switch 12. After all, you can pick up the comparable Asus Transformer Book T100 Chi and Toshiba Satellite Radius 11 for £110/$165 less.
The extra cash essentially just gets you a funky, yet also questionable, design. Quirky as it may be, we're not convinced that too many people will be thrilled at the prospect of their screen forever being a collision away from serious damage. The lack of a second (or third) USB port is another annoyance, as are the awkward trackpoint and mouse keys.
Brightness aside, the display is good, as are the speakers and battery life. The ability to use the Switch 12 in multiple positions is, of course, central to its appeal too, though I'm not sure that's enough to earn it a recommendation.
Verdict
It's a solid performer, but there are cheaper alternatives on the market.
Scores In Detail
Battery Life : 

7

/10

Build Quality : 

6

/10

Design : 

8

/10

Features : 

7

/10

Heat & Noise : 

7

/10

Keyboard : 

7

/10

Performance : 

7

/10

Screen Quality : 

6

/10

Touchpad : 

4

/10

Value : 

7

/10
(trustedreviews.com)
Comments
comments