For those who enjoy the great outdoors, a lot of their time is spent hauling boats, trailers, jet skis, motorcycles and more. Yet, they also require enough room to hold the entire family in the vehicle. A high performance SUV with enough towing capacity to handle the job is a must. The market is filled with choices, but here are 15 that really top the charts in towing capacity, passenger seating and comfort.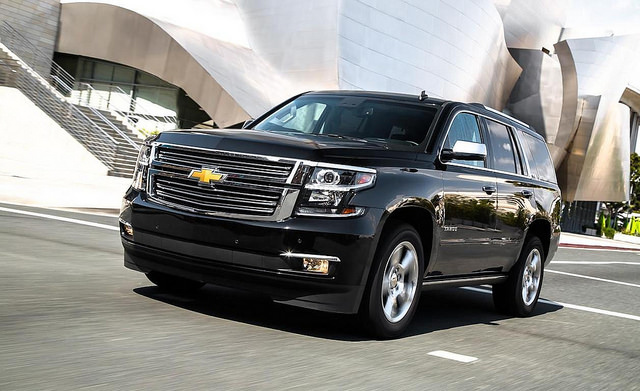 1. CHEVROLET TAHOE
This SUV with option tow package boasts up to 8,600 lbs. of towing capacity. It's built hold up to nine people. Plus, the 5.3-litter V8 engine can generate up to 355 horsepower 383 lb-ft of torque. This kind power is available for all styles of 2015 Tahoe. However, if you upgrade to the LT or LTZ edition the manufacturer throws in locking rear differential. That is great for added traction on the highway and off. The shock over coil suspension system offers a better ride and handling compared to past models. This is made possible in part by front springs that are 25 percent stiffer. Even when pulling a heavy load over bumpy ground, passengers shouldn't feel the road at all.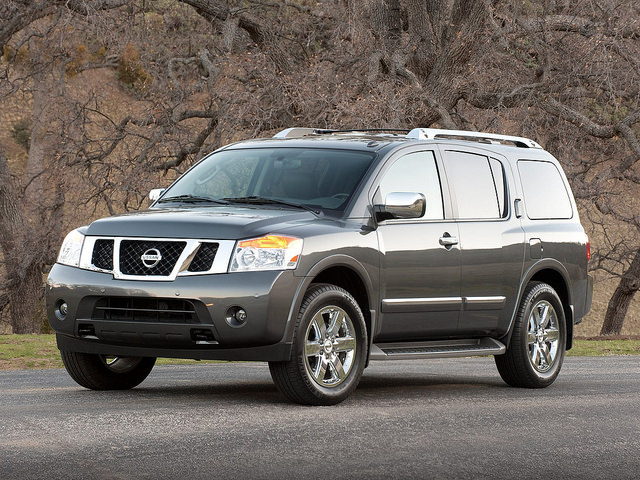 2. NISSAN ARMADA
Looking at a 2015 Nissan Armada is kind of like going back in time a few years, style-wise. It's narrow boxy exterior is paired with a more utilitarian interior lacking in many of the gadgets of a modern SUV. Despite this, the Armada is still a powerful, sturdy vehicle. The 9,000 lbs. towing capacity is made possible by a 5.6-liter V-8 engine. Owners get about 317 hp and 385 lb-ft of torque out of this one, which is a little less than other contemporary vehicles. As far as ride is concerned, up to eight passengers will feel little thanks to the independent rear suspension. Go for the four wheel drive and optional towing package.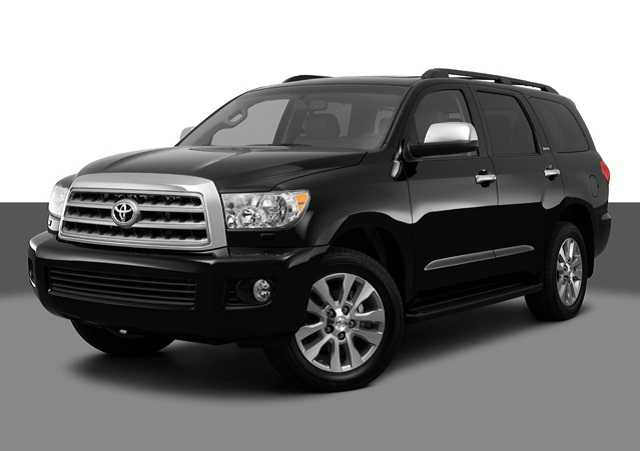 3. TOYOTA SEQUOIA
A large sport utility vehicle based on the Tundra truck platform, the 2015 Toyota Sequoia lives up to its namesake. It makes sense that the engine is also a large 5.7-liter V-8. Owners who choose the Platinum four wheel drive edition can get a massive 10,000 lbs. of towing capacity. Even the standard model provides something in the range of 7,100 to 7,400 lbs. of towing capacity. This monster also boasts a decent 381 hp and 401 lb-ft of torque for the standard model. It holds up to eight people and provides a comfortable ride with independent rears suspension. However, some report that the ride gets a little loose on uneven road.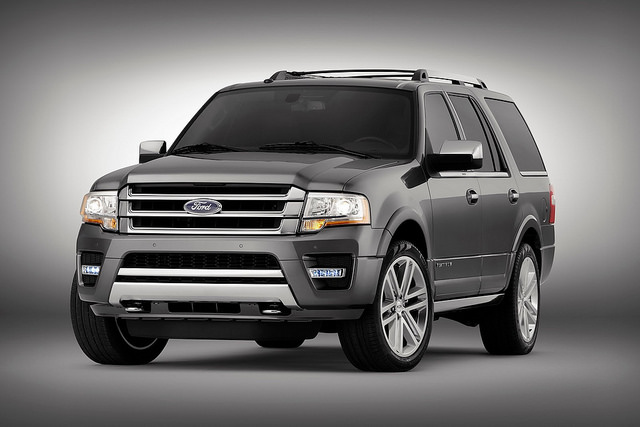 4. FORD EXPEDITION
The 2015 Ford Expedition is another heavy hitter. This beefy SUV provides up to 9,200 lbs. of towing capacity. This is a surprising amount of strength considering that it has a 3.5-liter EcoBoost V6 under the hood. The V6 engine does pack a lot of punch with 365 hp and 420 lb-ft of torque. Up to eight passengers can fit inside and there will still be plenty of storage room in the 19 cubic square feet of cargo space behind the third row seats. The independent rear suspension system helps absorb more road impacts than other arrangements. Get an optional four wheel drive in the full-size model and take that RV trailer on some off road adventures.

5. GMC ACADIA
The 2015 GMC Acadia is known for being more like a car than a towing machine. However, it does offer a respectable 5,200 lbs. capacity when owners choose the towing package. The 3.6-liter V-6 engine gives up about 288 hp and 270 lb-ft of torque. This is not a bad choice for someone who needs a family vehicle, but wants to take a small boat to the lake on weekends. With room for up to eight people, families can bring some friends too. It is available with an optional four wheel drive and an optional upgrade to the Denali edition. The Denali offers an "acoustic package" designed to help keep road noises down.
6. JEEP GRAND CHEROKEE
This wouldn't be a list of towing SUVs without the Jeep Grand Cherokee. This award-winning vehicle offers 7,400 lbs. of towing capacity in the 5.7-liter Hemi V-8 engine option. It provides about 360 hp and 390 lb-ft of torque. If drivers opt to stick with the standard 3.6-liter V-6 engine they can get about 290 hp. The Grand Cherokee has a number of upgrades and special editions to choose from, including the high performance SRT. It provides a nice 475 hp, but drops to about 7,200 lbs. of towing capacity. Up to five passengers will enjoy the ride on some very soft Natura leather trim seats. Get the four wheel drive to conquer those off-road adventures.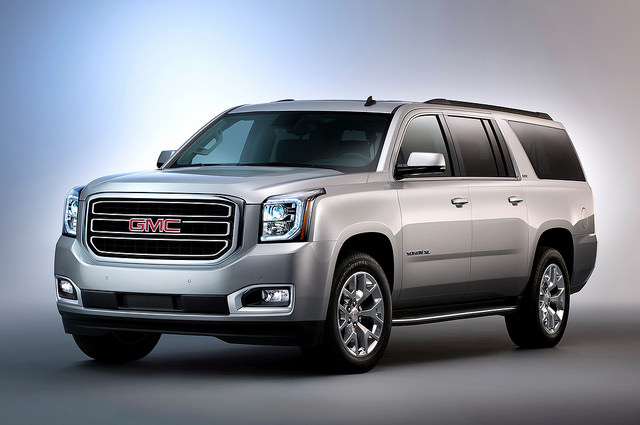 7. GMC YUKON
The 2015 GMC Yukon offers 8,500 lbs. of towing capacity. This is easily achieved with the optional 6.2-liter V-8 engine. This hefty engine provides 420 hp and 450 lb-ft of torque. The standard 5.3-liter V-8 engine boasts about 355 horsepower and 383 pound-feet of torque. Fit up to seven people in this with roomy second row bucket seats and third row seating. The Yukon is one of the luxurious models with soft touch sets, ambient lighting and touchscreen on the dashboard. Passengers can ride in style on those long road trips. It does take a lot of gas gaining about 16 miles to the gallon in the city and 23 mpg on the highway.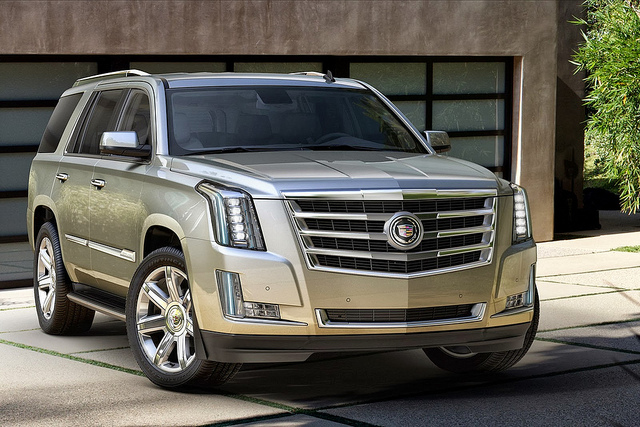 8. CADILLAC ESCALADE
This pricey SUV provides about 8,300 lbs of towing capacity. The engine is a 6.2-liter V-8 engine that brings about 420-horsepower and produces 460 lb-ft of torque. For the cost, drivers also get lots of goodies with this vehicle. Leather, suede and wood trim turn the interior into a road conquering palace. The front seats heat or cool as needed through the changing seasons. It's available in the rear wheel drive or four wheel drive options. The Escalade uses a running gear inspired by GM's full size trucks, so the rear wheel axle is very strong. It's pretty to look at but the mileage is about 15 mpg in the city and 22 mpg highway.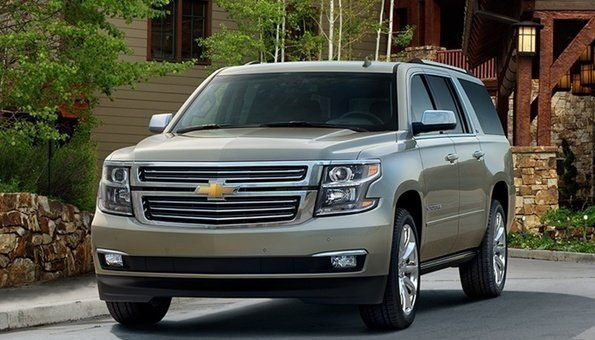 9. CHEVROLET SUBURBAN
One of the oldest models of SUV, the Suburban is still making waves on the road and off it. The 2015 year has a 5.3-liter V-8 engine, which happens to be the same as the Silverado. This engine pumps out 355 horsepower and 383 pound-feet of torque to help get things moving. Of course, the heavy-duty version of the Suburban has a 352-horsepower 6.0-liter V8 engine. It is available in both two wheel and four wheel drive. The towing capacity is a good 8,500 with the extra options. Owners can fit between four to seven people in the Chevrolet Suburban depending on whether or not the flat folding third row seats are in use.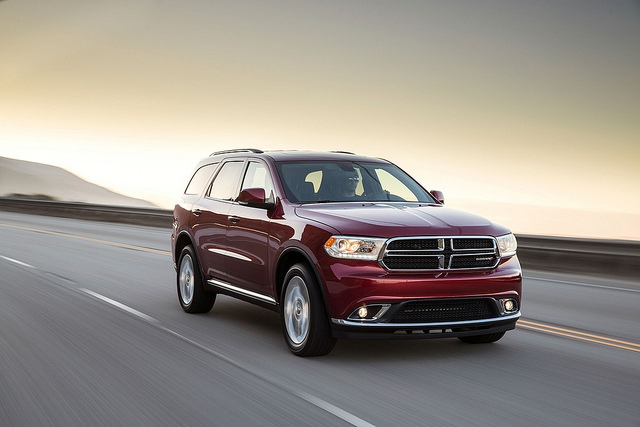 10. DODGE DURANGO
Upgrade to the optional 5.7-liter Hemi V-8 engine to make the most of this ride, rather than the standard 3.6-liter, 290 horsepower V-6 engine. The larger engine provides up to 7,400 lbs of towing capacity compared to 6,200 lbs. capacity for the 3.6 liter engine. The 5.7-liter engine provides 360 horsepower and 390 lb-ft of torque, which is right up there with other towing SUVs. The Durango offers a more rounded car-like appearance thanks to its unibody platform. This helps improve agility and makes steering a little more comfortable. Yet, it is still a big vehicle able to hold up to six people. Get even more by ordering the seven passenger Durango with four wheel drive.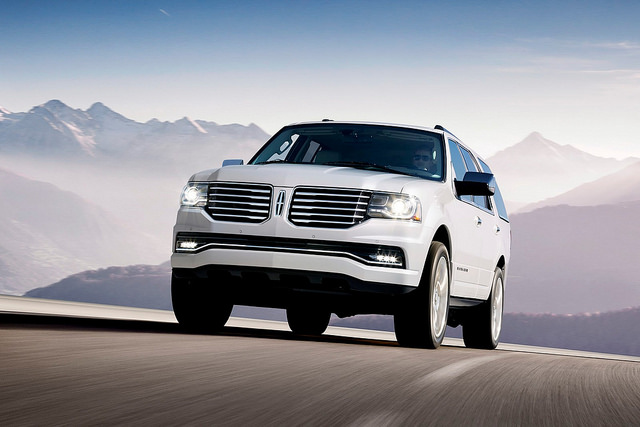 11. LINCOLN NAVIGATOR
Another car that looks like it drove out the past, the Lincoln Navigator still has a body reminiscent of early 2000s model SUVs. That doesn't mean it performs like an old car though. A rear wheel drive Navigator can tow up to 9,000 lbs and its four wheel drive version about 8,600 lbs. That is plenty of capacity for hauling big boats or trailers. Drivers have some fun with the 3.5 liter Twin Turbo Charged V6 Ecoboost engine. It offers 380 hp and 460 lb-ft of torque for towing or just carrying large loads. Speaking of, drivers can fit up to eight people in the Navigator and still have about 42 cubic feet of cargo space in the Navigator L.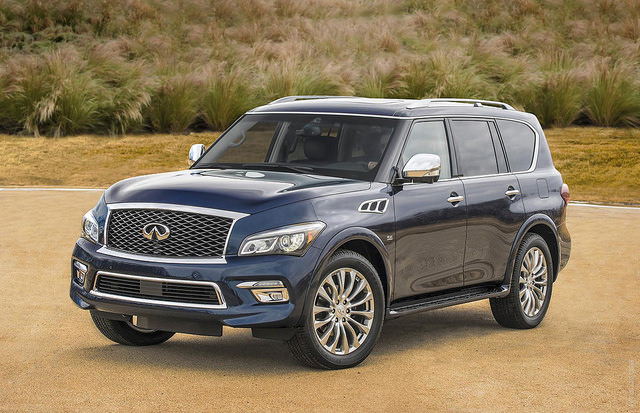 12. INFINITI QX80
As big as a boat, the 2016 Infiniti QX80 dominates the road and has a firm handle on towing. It can haul up to 8,600 lbs with a 5.6L V8 engine. The engine's horsepower is nothing to sneeze at offering 400 hp and it turns out 413 lb-ft of torque. Rich brown leather seats with silver contrast stitching give the interior of the Limited Edition a rich detail. Up to seven passengers can enjoy this and more, including all of the current technological necessities like Bluetooth, DVD player and Satellite ready. Store up to 95 cubic feet of cargo in the back when the third rear seat is folded down. The hill-start assist electronics and four wheel drive option make driving off road a cinch.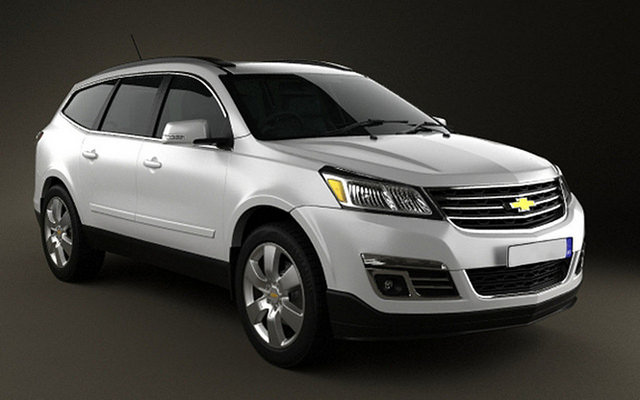 13. CHEVROLET TRAVERSE
The Chevrolet Traverse is closer to a passenger vehicle than some of the other SUVs listed. It has a lower profile and more rounded appearance. This vehicle will still haul quite a bit with its 5,200 lbs. towing capacity. A smaller 3.6-liter V6 engine gets between 281 and 288 hp with 270 lb-ft of torque. The Traverse is still a heavy SUV weighing in at about 5,000 lbs., so the Chevy Traverse won't have a lot of agility. This isn't too much of a problem for those using it to get around town and haul trailers to well-maintained campgrounds. Drivers can find the Traverse in a two wheel drive or four wheel drive configuration.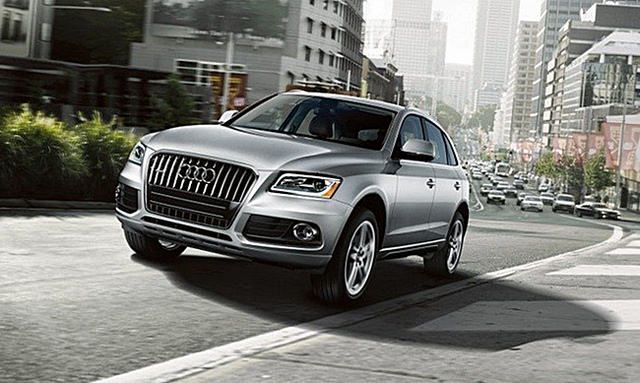 14. AUDI Q5
Go for the supercharged 3.0 liter V6 engine to get the most out of the Audi Q5 as a hauler. With the right engine under the hood, this crossover SUV can pull up to 4,400 lbs. behind it. The supercharged version of this car also puts out 272 hp with up to 428 lb-ft of torque. There are other engine options available including a hybrid that combines a lighter 2.0 liter 4-cylinder engine with batteries. However, these may not offer the same towing capacity or even maneuverability of the non-hybrid version. The Audi Q5 can hold up to five passengers with still more cargo room in the back. All wheel drive is standard on these vehicles.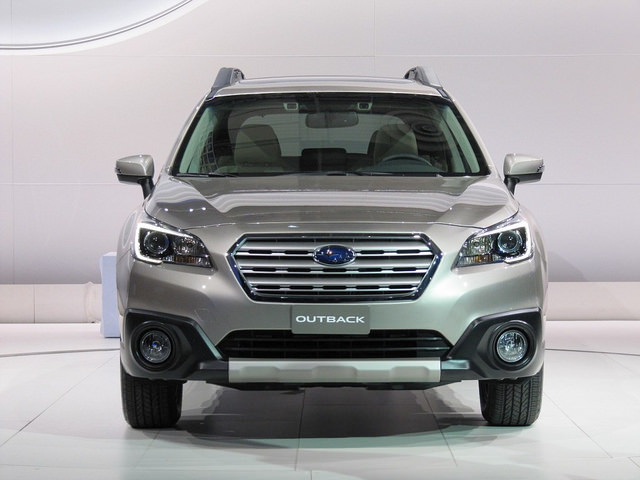 15. SUBARU OUTBACK
With a higher frame than other vehicles of a similar size, the 2015 Subaru Outback offers extra headroom for taller passengers and some more shoulder room. This sporty crossover SUV also makes for a nice little hauler with a 3,000 towing capacity. The 3.6-liter flat-6 engine gives 256 hp and 247 lb-ft of torque which is considerably less than other larger SUVs. The addition of permanent four wheel drive and a good 8.7 inches of ground clearance ensures that the Outback can get out on the trails. Drivers can also opt for Automatic or CVT, but alas no manual. Up to five passengers can ride in the Outback with a bit over 73 cubic feet of room for cargo.
(carophile.com, http://goo.gl/IvSn4c)
Comments
comments