Do you remember the exact moment that every manufacturer scrambled to add a high-riding SUV to their line-up? It was around the time the Nissan Qashqai started to become a runaway sales success and as a result, all sorts of bizarre shapes started to appear on forecourts.
Not content with simply creating a fun, quirky and stylish hatchback, Mini started to expand its model line-up in 2007, first with with the launch of the Clubman and then the larger Countryman in 2010.
The idea was to entice those families wanting a trendy small car but who also demanded the chunky body addenda, additional space and raised driving position afforded by rival SUVs.
It has always been a slightly odd proposition, because the Countryman isn't actually that spacious, the suspension isn't jacked-up enough to warrant any proper off-roading and, to some eyes, it's hideously ugly.
That said, it has proven a success with Mini owners looking to upgrade to a larger vehicle and the latest iteration is 20cm longer than its predecessor, increasing interior roominess and boot space, while the quality of the interior fittings has been vastly improved too.
Mini Cooper S Countryman (2017) review: Design
Although unmistakably a Mini Countryman, the latest model has undergone some pretty serious, if subtle, stylistic changes.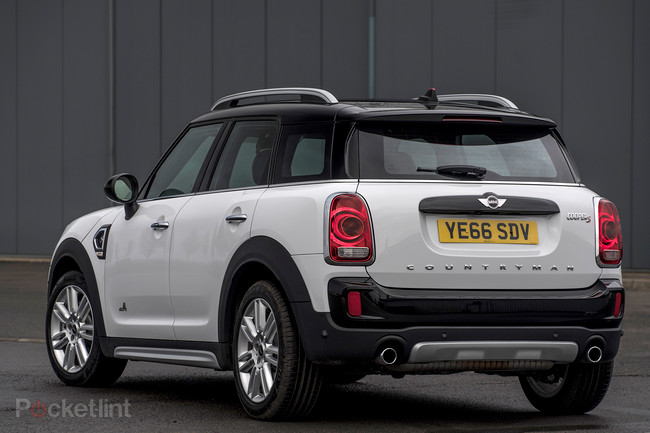 The elongated wheelbase and wider body give it a more imposing road presence, while a new hexagonal radiator grille, jewel-like additions to flanks and refreshed headlamps make it look more modern – but arguably don't do much to improve the overall aesthetic.
The dimensions still look a little awkward, like a Mini has eaten too much over Christmas, but the extra length and width make it look slightly less bulbous than the previous generation.
All new Countryman models come with roof rails as standard, giving it a more purposeful, almost outdoors-y appearance, while the addition of a neat Picnic Bench make it ideal for tailgate parties or taking off muddy wellies.
This foldout leather cushion comes part of an optional Comfort Access package (which also adds an electric tailgate) and sees a leather cushion appear from a compartment in the boot floor.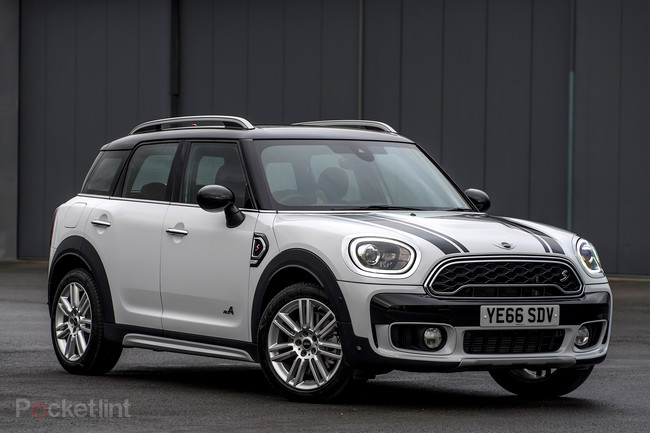 It neatly covers the top of the rear bumper and offers a nice place to sit out of the rain, or a comfortable pew for pulling on wellies or ski boots.
Mini Cooper S Countryman (2017) review: Interior and infotainment
Previous generation interiors, although quirky, were festooned with cheap plastics, budget cloths and basic infotainment systems. The latest iteration of Mini, however, has gone decidedly upmarket.
The interior of the Countryman Cooper S models driven here feature leather, electrically-adjustable seats, ambient lighting and stylish soft-touch materials covering the dash and surrounds.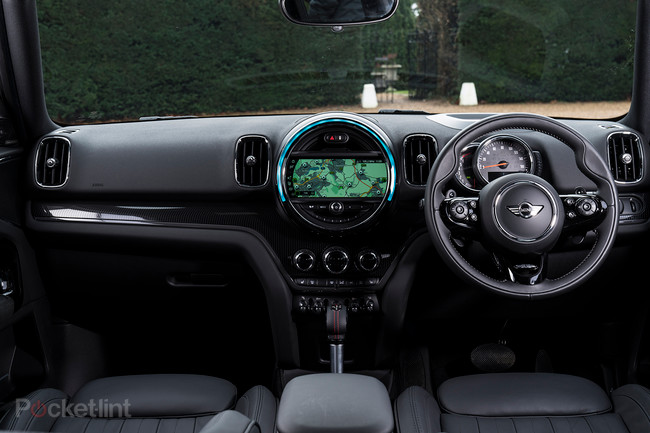 The infotainment system now resides in the infamous circular binnacle where the speedometer once lived and this Premier version features an 8.8-inch touchscreen for the first time, exclusive Harman Kardon speaker system and advanced navigation.
It all comes at an eye-watering cost but Mini's Connected Suite now goes beyond simple smartphone tethering for music and hands-free calls and offers a virtual assistant.
Sync the app and the system informs the driver of the optimum departure time based on calendar entries and current traffic data, for example. Regularly visited places can be saved to the sat nav system automatically and frequent routes are stored so the car can inform of any traffic delays.
There's more head, shoulder and legroom in the back, too, with the rear bench able to slide backwards and forwards to reveal more boot space or increase passenger comfort.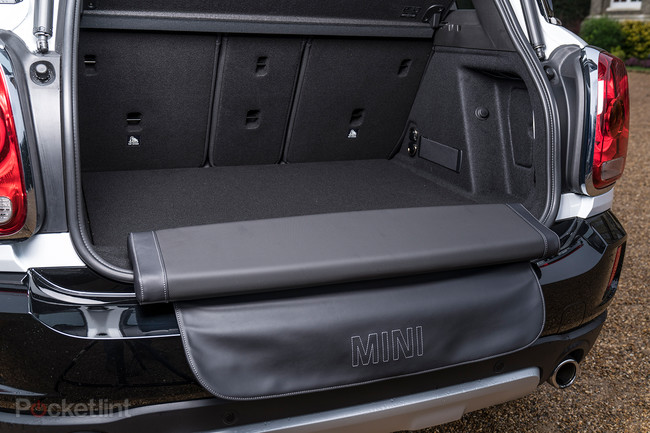 As a result, the boot boasts an extra 100-litres of space, which puts it on par with the Nissan Qashqai and will likely prove a big selling point for those looking to upgrade their Minis.
Mini Cooper S Countryman (2017) review: How does it drive?
It's difficult to pass judgement on slightly less fruity models, as the only engine available for our first drive was the nippy turbocharged 2.0-litre unit in the Cooper S (that develops 192bhp).
Acceleration is mildly exciting, with the vocal powerplant able to drag the Countryman from 0-62mph in 7.4-seconds when the smooth eight-speed auto 'box is specified.
Mini is fond of touting its go-kart handling abilities and the Countryman remains a fun little thing to throw into tight corners, although many will find the steering far too heavy and the suspension irritatingly firm.
Even with the expensive optional active dampers fitted, the Countryman we tested proved jarring across the broken B-roads that took up so much of the route and felt out of sorts with the soft SUV styling and raised ride height.
Most owners will want something comfy and forgiving in which to cruise the school run and longer motorway commutes but the Cooper S Countryman felt more like the marque's performance models – it's probably best sticking with the lower powered diesel and petrol offerings if this is to be an everyday runaround.
Mini's clever All4 all-wheel-drive system was also bolted onto the test car (possibly making it the most expensive Countryman in the world), which sees power automatically shifted between the front and rear axles depending on the circumstances.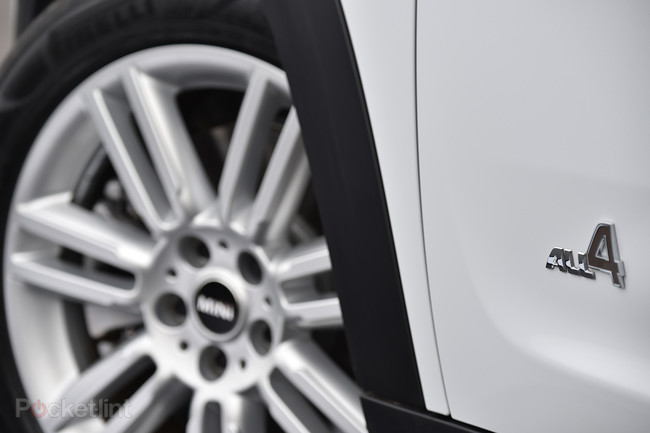 Under normal driving conditions, 100 per cent of the torque is transmitted to the front axle but more will be directed to the rear axle during cornering to reduce understeer. Similarly, if the system senses a wet of slippery surface, it will direct torque to the rear, sometimes as much as 100 per cent when a loss of grip occurs at the front.
First Impressions
It's glaringly obvious that Mini buyers flock towards the badge because it represents a certain sense of style and the latest model will impress with its modernised interior, sharper exterior styling and infotainment tweaks.
The increased roominess is also a big plus and the latest Countryman is on par with the Nissan Juke and Mazda CX-3 in terms of overall footprint but it still doesn't feel like a hugely practical family machine, especially given that even basic Cooper and Cooper D models cost more than much larger SUV rivals.
In addition, the Cooper S Countryman is just a niche too far in our book, lacking the giggles promised by the S badge and possessing a firm ride that jars with the bubbly SUV exterior.
That said, the suite of in-car technology on offer is impressive and the typical Mini quirkiness manifests itself in multiple areas.
(pocket-lint.com, https://goo.gl/Dfgi8S)
Comments
comments