Though you'll still see one occasionally on the streets, the Ford Ranger stopped being a thing in America back in 2011. That's when production shut down in St. Paul and the midsize pickup moved overseas. From 2012 on, folks in 180 countries around the world drove the various iterations of Ranger, which last got a total overhaul in 2015.
But that was then. At the 2018 Detroit Auto Show, Ford officially brought the Ranger back for American consumers. To the surprise of some, it differs in many regards from the wildly popular F-150. Gone is the awkward, boxy model that we last saw on the U.S. market during the recovery.
A far more refined truck will take its place starting early next year, and Ford hopes the updates will help grab market share from the industry's hot-selling midsize pickups. First, it has to impress consumers who forgot about it years ago. Here are 10 things to know about the 2019 Ford Ranger.
1. More steel than aluminum
2019 Ford Ranger | Ford
Unlike the Ford F-150, which sports an aluminum body, Ranger sports mostly steel in both frame and body. You will find aluminum on the hood, tailgate, and front-end fenders, but otherwise, consumers get old-fashioned steel. Ford media relations said Ranger will get the same punishment as the full-sized F-150 during testing, but the materials will be different.
Next: Your engine choice won't be tough to make.
2. The 2.3L EcoBoost is your sole engine option.
2019 Ford Ranger | Ford
You have five engine choices to sort through when you look at F-150, but with the Ranger, the decision is much simpler. Ford's 2.3-liter EcoBoost engine will be the only option on the table. This turbocharged, four-cylinder engine currently delivers 280 horsepower in the Explorer SUV, but it's unclear what Ranger's output will be. Expect something closer to the 310 horses offered in the 2018 EcoBoost Mustang.
Next: Plenty of torque will come standard.
3. Ranger's torque edge
2019 Ford Ranger | Ford
Going with the turbo engine should give Ranger the jump on torque in a class currently led by Nissan Frontier (281 pound-feet). With the same EcoBoost engine and 10-speed automatic transmission found in the all-new Expedition, Ford said its new midsize pickup will go toe-to-toe with Chevy Colorado and the rest of the segment, power-wise. Exact specs will follow later in 2018.
Next: America will get a unique version of Ranger.
4. A distinct look for North America
2019 Ford Ranger | Ford
Ford sells Ranger in dozens of large foreign markets, but the model it's bringing to North America will look different from the rest. Overall, you might say it sheds the Honda Ridgeline feel the of the foreign market model. Buyers will be able to sort through eight colors and two appearance packages (sport or chrome). Ranger will come in XL, XLT, and Lariat trims.
Next: Matching bed to cabin size
5. SuperCrew and SuperCab options
2019 Ford Ranger | Ford
When Ranger heads to production late in 2018, factories will deliver SuperCrew and SuperCab models to order. Truck consumers can choose a five-foot bed in the SuperCrew and a six-footer in the SuperCab. In either configuration, Ranger should be shorter than the length of a Colorado or Toyota Tacoma. That will make parking in the city easier when you're on the job.
Next: Taking Ranger to the trail
6. FX-4 Off-Road Packages
2019 Ford Ranger | Ford
Tacoma has TRD Pro options and Colorado gets the ZR2 treatment. For its part, Ranger has an optional FX4 package. Going this way gets you all-terrain tires, specially tuned shocks, a steel "bash plate" up front, and FX4 badges. The new TrailControl will offer a cruise control experience for the trail, automatically adjusting speeds between 1 and 20 miles per hour. Other upgrades, including terrain management, come with the package, too.
Next: It'll tow more than the competition.
7. Class-leading towing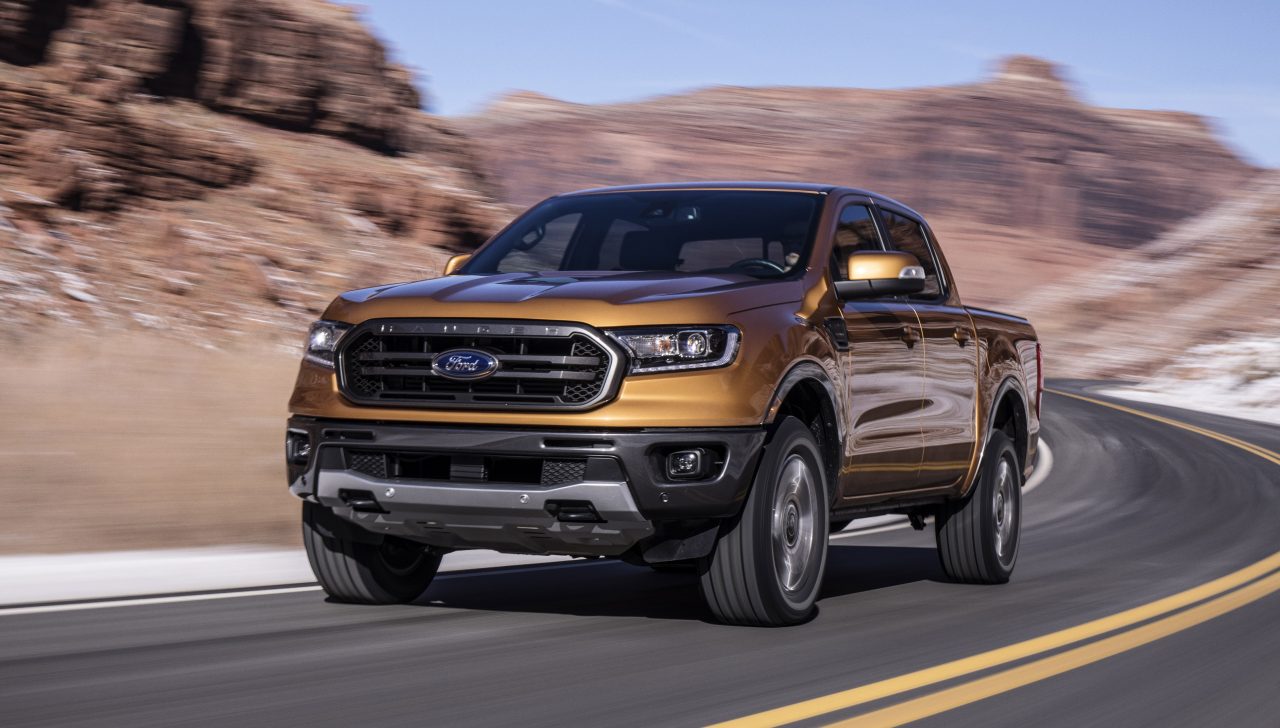 2019 Ford Ranger | Ford
The word from Ford is that the Ranger will top the segment in towing capacity, which means this truck will haul at least 7,700 lbs. We'll chalk that up to the EcoBoost's versatility, as it will have to outclass GM's diesel trucks. For now, Ford has no plans to offer a diesel Ranger, something it does overseas. If this towing prowess holds up, there would be no need. Fuel economy should be impressive as well.
Next: Ranger will get the same high-tech setup as other Ford trucks.
8. The modern tech treatment
2019 Ford Ranger | Ford
F-150 and Expedition drivers get the full high-tech treatment in 2018 models, and Ranger will deliver on the same counts. That means you can get SYNC 3, Apple CarPlay, Android Auto, Alexa, 10-device WiFi, and plenty of outlets/USB ports if you need them. It won't feel like a classic F-100 or even a 2010 Explorer, but you'll be connected.
Next: Ranger won't come from Minnesota anymore, but it will return to the Midwest. 
9. Production moves to Michigan.
2019 Ford Ranger | Ford
Though the original Ranger hailed from New Jersey, Kentucky, and Minnesota, the 2019 edition will come from Ford's Michigan Assembly Plant in Wayne. Originally slated to be the automaker's hub for Focus and other small cars, the plant will become the new home for the Ranger and the upcoming Ford Bronco, a nameplate that will be revived for 2020.
Next: It will be 2019 by the time you can pick up a Ranger.
10. Ford Ranger hits the market early 2019.
2019 Ford Ranger | Ford
The transformation of the Wayne operation from small-car factory to big truck plant will take much of 2018 and cost $850 million, Ford said. With that slog ahead, factory workers won't start on the Ranger until late in the year. This timeline puts the Ranger in dealerships by early 2019. After more than seven years off the market, the day can't come soon enough.
(cheatsheet.com, https://goo.gl/MCuzE9)
Comments
comments