If you're a gearhead looking for thrills and have $30 grand to spend on a used sports car, the world is your oyster. Late-model Corvettes, Porsches, and BMWs are all available, along with any number of well-preserved classic and exotic models. But if you're looking for a new sports car with that budget, your options may feel a lot more limited.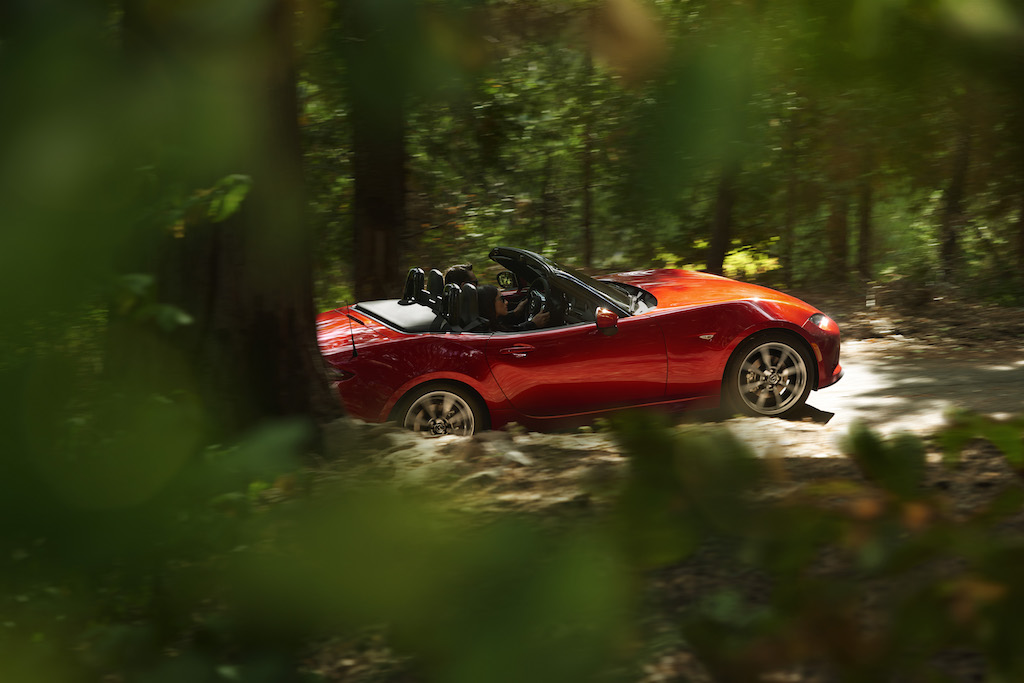 Fear not; you might not be able to afford that Corvette or big-block V8-powered cruiser you had your heart set on, but there are still plenty of cars out there that offer way more excitement and sex appeal than you'd expect from this price range. From diminutive hot hatches and muscle cars to world-class corner-carvers, there's something for everybody in this price bracket.
After much deliberation, we whittled our list of cars down to the eight you see here. Here are some of the sexiest sports cars you can get your hands on for less than $30,000.
1. Mazda Miata
We might as well get the obvious one out of the way first. For over 25 years, the Miata has been the conscience of the performance car world: a simple, affordable roadster that offers one of the most direct and connected driving experiences on the planet. Now in its fourth generation, the Miata is actually lighter than its predecessor. It also looks better than it has in years, has a targa-topped fastback model on the way, and is 2016's World Car of the Year. If you don't need a car with a back seat or trunk space, there really isn't any reason why you shouldn't buy one.
2. Toyota 86
Toyota is putting its long-suffering Scion brand to rest in America, which means its lone star — the FRS — will become the Toyota 86, just like it's known in the rest of the world. With a high-revving 205-horsepower engine, a healthy following in performance and custom circles, and some of the best handling in the world at any price, the 86 is one of the coolest cars on the road. We just wish people bought more of them.
3. Ford EcoBoost Mustang
Even five years ago, the idea of a four-cylinder muscle car was cringeworthy to any self-respecting gearhead. Then the EcoBoost Mustang came along, and everything changed. Paired with the Mustang's fully-independent suspension, the 310 horsepower, 320 pound-feet of torque turbocharged four makes for such an engaging drive that the V6 'Stang actually slotsbelow the four-banger in Ford's ponycar lineup. If you want to feel like Frank Bullitt and save at the pump, look no further than the EcoBoost.
4. Chevrolet Camaro LT
Fun fact: 25 years ago, the bog dog of the Camaro range was the Z-28, with its big 350 cubic inch V8 pumping out 245 horsepower. Today, the entry point for Chevy's all-new Camaro is a turbocharged 2.0-liter inline-four that cranks out 275 horses. With a stiffer chassis, muscular new sheetmetal, and great handling, the Camaro is one of the best sports cars you can get for under $30K, period. Its perfect all-American bruiser looks are just icing on the cake.
5. Nissan 370Z
The 370Z is seven years old now, and it's beginning to show its age. As a result, we wager you could go into any Nissan dealer right now and drive away in one for thousands less than its almost disqualifying $29,990 price tag. Age aside, Nissan's current (and maybe last) Z-Car offers a fantastic driving experience, with a 332-horsepower V6 sending power to its rear wheels. Plus, it carries on the Z tradition of offering a lot more style than its price tag should allow.
6. Jeep Wrangler
The Wrangler may seem like an odd choice for this list, but if it's good enough for Enzo Ferrari, it's good enough for us. The 285-horsepower Pentastar V6 makes the heavy off-roader quick enough, and with a removable top and doors, the Jeep offers a driving experience unlike anything else available stateside. Besides, with its timeless, all-American looks, it's got more presence than most cars three times its price.
7. Fiat 500 Abarth
Yes, the Fiat 500 isn't exactly for everyone. And yes, with a zero to 60 sprint at just under seven seconds, it's far from the fastest car on this list too. But it's a lot of fun for $22K, and if you close your eyes (don't do this while driving), the little Fiat is the sexiest sounding car to come out of Italy this side of the Alfa Romeo 4C.
8. Volkswagen GTI
The Volkswagen Golf is neither sexy nor a sports car, but the iconic GTI ($25,595) almost certainly is. Because when other "practical sports cars" veer into boy-racer territory with vents, wings, and spoilers (see: Subaru WRX, Ford Focus ST, Mitsubishi Evo X, et al), the GTI lets its performance do the talking. It doesn't need to shout; all it needs is a thin red stripe on the grille, a subtle aero kit, and its reputation for handling and speed in the corners that puts it in contention with cars 10 times its price for "best driver's car in the world." Supreme confidence. If that isn't sexy, we don't know what is.
(cheatsheet.com, http://goo.gl/E4BA6M)
Comments
comments