British heavyweight Norton Motorcycles aimed to bring Isle of Man TT performance to the public, and it seems as though it has managed to do just that with the V4 RR. Superbike performance and dead-sexy curves are the hallmarks of this ride, and while that's nothing new for Norton, there are plenty of details that set this ride apart from its usual fare. Carbon and Kevlar make an appearance with a 200-plus horsepower, V4 engine thrown into the mix for good measure, so yeah, this ain't your run-of-the-mill race-tribute piece — it has bona fide competitive DNA in its design — but neither is it a racebike made street legal, but something in between.
Design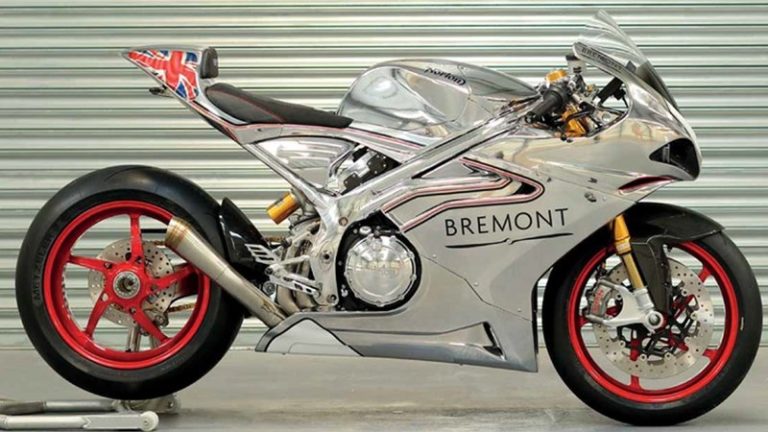 The Norton marque started out in 1898, and before long it was designing and producing its own engines in-house. From those meager beginnings the company contributed to the racing scene while performing its patriotic duty by producing units for use by the military during WWII. Norton has a long history with the Isle of Man race, and in fact it participated in the first TT ever held there in 1907. Here we are 110-years later with the Norton name still firmly entrenched in that world-famous competition. With that history in mind, one can't help but be aware that the bar is set fairly high for any Norton machine directly associated with the Isle of Man, so let's delve into this newest effort and see how well Norton upholds its reputation as a competitor to be reckoned with.
Norton's Guinea Pig (which is neither pork, nor from New Zealand…) was its SG5 TT racebike. Smelted and forged in the crucible that is the TT, the V4 RR represents the lessons learned on the way to David Johnson's blistering 131-mph average speed and seventh-place finish in last year's race. The factory is quick to point out that the V4 RR isn't just an SG5 with street-legalizing lights and a plateholder, but instead is a top-down standalone design that is simply based on that most race-tastic of rides.
Leading the way, and impossible to ignore, is the carbon-fiber bodywork that defines the look from nose to tail. The front fairing forms a blunt "alien queen" entry that houses the headlights like a pair of eyes set beneath the crown that is the speed screen. Carbon weave flows into the scoop of the engine cowl, but the fuel tank bump is a lie; fuel is actually stored beneath the seat, GP style, and is contained by a carbon-fiber, Kevlar-reinforced fuel tank.
Tank and saddle meet at the narrow waist with an abrupt rise to the streamlined tail section to help keep the pilot's butt where it belongs, and you can go ahead and forget about hauling a passenger, 'cause it ain't happening. The subframe tapers off to nothing with rail-thin turn signals and a tucked-away taillight to wrap up the street-legal gizzies. I gotta' say, I love how clean the ass end wound up, and am pleased that Norton left the ridiculous-looking mudguard fender off in favor of a hugger. Great move, guys.
Chassis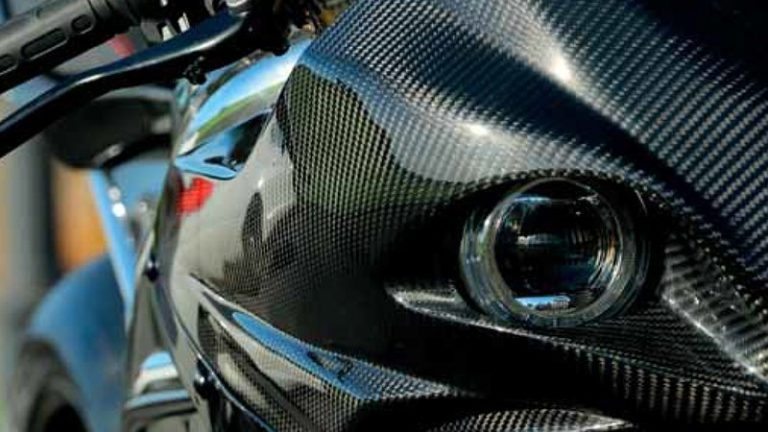 When you manage to produce an engine this powerful, you are loathe to waste any of those ponies by pushing around unnecessary weight, so it's no surprise that the factory went to great lengths when it designed the rest of the bike. Not only does the carbon-fiber construction aid in this, but the aluminum, twin-tube, shotgun frame works toward that end as well. It uses the engine as a stressed member to eliminate a portion of the tubing with cast outriggers and steering head to finish out the bones. The factory masterfully designed the frame with an adjustable swingarm pivot and steering head that allows you to dial in the geometry, but the RR rolls off the floor set at 23.9 degrees of rake with a steering damper to aid in stability by reducing kickback effort at the bars.
A one-sided swingarm articulates the rear wheel with a fully-adjustable Ohlins TTXGP Norton monoshock to tame and dampen the motion. Up front, a set of adjustable and inverted, Ohlins NIX30 forks work their magic with a billet tripletree for strength. Braking duties fall to the pair of 330 mm floating discs on the cast (or optional carbon if you prefer) wheel with radial-mount, Brembo Monobloc calipers to bind them. The rear wheel sports a 245 mm disc with a Brembo binder as well, and though the bike does come with some electronic fandanglery, ABS isn't part of the package. I support that decision, 'cause if you need ABS, then you don't need to be on this machine. 'Nuff said.
Drivetrain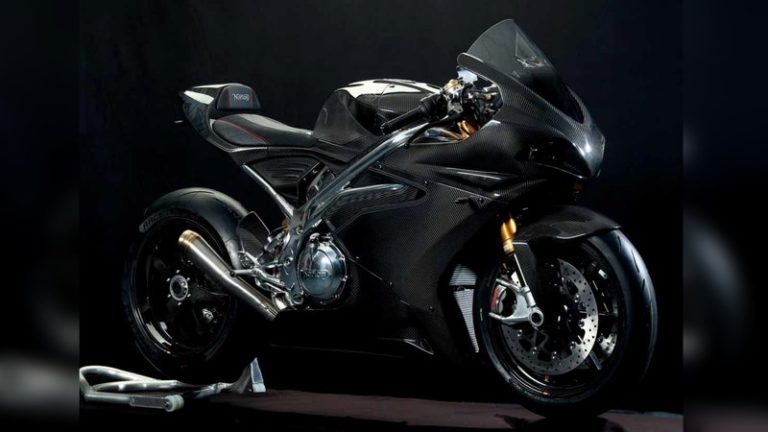 If you're going to include the name of the engine within the model name, it had better be something special. Norton doesn't disappoint with its all-new V4 engine. As the diabolically ingenious name suggests, it is, in fact, a four-banger set in a compact, 72-degree "V" configuration. Predictably oversquare, the V4 runs an 82 mm bore with a 56.8 mm stroke for a total displacement of 1,200 cc. Full Euro-4 emissions compliance is achieved in part by the electronic fuel injection with its nifty, constantly-variable intake funnels that adjust according to rpm.
Dual injectors within each combustion chamber deliver the fuel, and induction control falls to the ride-by-wire throttle system. The liquid-cooled mill uses chain-driven cams to time the valvetrain with ultra-light and super-tough titanium intake valves that reduce the reciprocating mass up top. Compression is clocked at a sizzling-hot 13.6-to-1 with knock sensors to help deal with the problems associated with such a high ratio.
A six-speed, cassette-style transmission crunches the ratios with a slipper clutch to prevent excessive backtorque and wheel hop. An auto-blipper and quick-shift feature joins the traction control, launch control and anti-moonshot feature to round out the electronic wizardry. No matter what your skill level may be, you will surely be grateful for any help you can get in managing the awesome power of the V4. Norton claims 200-plus horsepower at 12,500 rpm with 95.8 pound-feet of torque that comes on at 10 grand, so yeah, this isn't a bike for the faint of heart or low of skill; if it scares you, then you should be afraid.
Pricing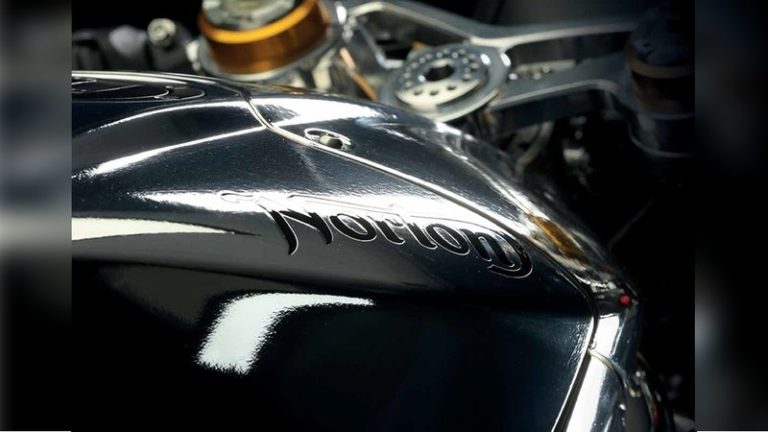 At the time of this writing, the pricing information for the North American market had yet to be released. However, based on the U.K. price and the current exchange rates, the base value here will be somewhere around $36,000 plus import tariffs. Sorry folks, but the ballpark is all you get today.
Competitors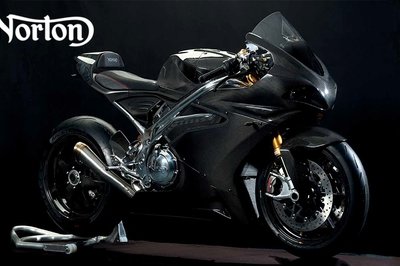 This is one Hell of a bike, and given its power, displacement and pricing, I had a very specific and narrow set of parameters with which to work. Luckily, Ducatiserved as a one-stop shop with its magnificent Panigale R. Not only does it meet all of the above, but it also enjoys a similar race-tastic reputation,so let's get to it.
Visually, the two are very similar, but that shouldn't come as a surprise considering the level at which these bikes perform, and that aerodynamics are, quite literally, reduced to a science. Well, to be fair, they're shaped alike, but that Terminator 2, liquid-silver paint favored by Norton makes it look more like an aircraft than a bike to mine eyes. Rather than building on a conventional frame (and I use that term loosely), Ducati instead endeavored to keep things light and strong by using a monocoque assembly with select carbon-fiber components instead. Ohlins makes a showing again by supplying the adjustable stems for the Panigale, and brakes are similar as well although Duc adds an ABS feature that some riders may appreciate. Duc boosts the fandanglery with Engine Braking Control, Traction Control, Wheelie Control and a Quick-Shift feature which brings it up to the standard set by Norton.
Both use a ride-by-wire system to manage the induction as well as the fuel-injection system, but the Panigale runs Ducati's 1,198 cc L-twin "Superquadro" instead of trying to shoehorn in a four-banger. The four-valve heads are actuated by Duc's signature Desmodromic valvetrain rather than the poppet-and-spring arrangement used by Norton, but the V4 RR still manages to turn more revs than the Panigale, so I'm not sure that high-maintenance system is really working for Duc in this instance. The Panigale brings 196-horsepower and 95 pound-feet of torque to the table, which is more than respectable, even though it falls just a skosh shy in both categories — at least as far as claimed figures go.
So who wins? I dunno. Maybe price will decide it once the figures come out, but for now, they're both stupid-fast bikes and stupid-fast riders and rider-wanna-bes will debate the merits of each, I'm sure.
He Said
"Wow! Norton certainly doesn't disappoint, even with the lofty expectations I had going into this project. I really like the Silver-Surfer paint job and overall looks, but the performance is what really does it for me. Caveat: not that I'm suggesting I have the skillset to manage such a beast, but a guy can dream, can't he? Best of all, it's a race-able bike that doesn't even flirt with the five- to six-figure price tag we see on some of the other race/road machines around right now."
She Said
My wife and fellow motorcycle writer, Allyn Hinton, says, "This is rather exciting, really. This V4 engine is an in-house build whereas previously they'd used Aprilia engines. They're limited edition in that the factory can make only so many in a year. It's a beautiful bike; way more than I can afford, but me, I'd rather ride a slow bike fast than have to be restricted to a speed limit on one of these beauties."
Specifications
| | |
| --- | --- |
| Engine: | |
| Engine type: | Norton 72-degree liquid-cooled V4, 1200cc. Chain-driven cams with idler gear for reduced engine height. Titanium inlet valves. Slipper clutch |
| Displacement: |  1200cc |
| Compression ratio: | 13.6:1 |
| Power: | 200bhp + @ 12,500rpm |
| Torque: | 130Nm @ 10,000rpm |
| Cooling system: |  Liquid-cooled |
| Bore x Stroke: | 82mm x 56.8mm |
| Fuel injection: | Electronic fuel-injection system. Constantly variable inlet tracts. 8-fuel injectors. Full drive-by-wire system independent of front and rear banks of cylinders for ultimate control and feel |
| Euro 4: | Full compliance including oil thermostat, knock sensors, secondary air injection and EVAP |
| Chassis: | |
| Type: | Aluminium twin tube shotgun chassis, cast outriggers and headstock, polished tubes. (tbc). Engine acts as a structural member |
| Adjustable geometry: | Chassis is fully-adjustable including swingarm pivot and adjustable rake angle. 23.9 degree steering head angle as standard set-up |
| Swingarm: | Braced and underslung single-sided cast swingarm. 570mm long, design developed in conjunction with SG5 TT race bike |
| Wheelbase: | 1430mm |
| Dry weight: | 179kg |
| Front suspension: | Ohlins NIX30 system front fork. Fully-adjustable |
| Rear suspension: | Ohlins TTXGP Norton bespoke fully-adjustable rear shock |
| Steering damper: | Ohlins damper |
| Fork yokes: | Billet machined |
| Wheels: | Forged Aluminium |
| Front brake: | 2 x 330mm full-floating discs. Radially-mounted Brembo monobloc calipers. Brembo discs and Brembo master cylinder |
| Rear brake: | Single 245mm disc. Brembo caliper and master cylinder |
| Electronic Equipment: | |
| Instruments: | Full-colour 7-inch HD display with multiple functions. Engine mode adjustability including: Road, Track, and Pro-Race |
| Quickshift: | Full quickshift system and auto down blipper |
| Electronic aids: | Multi-setting traction-control, wheelie control, launch control and cruise control. Uses six-axis Inertial Measurement Unit (IMU) |
| Built-in dataloggers: | Full data-logging capability including: lap times, max lean angle, max speed, max throttle and max braking force |
| Engine modes: | Road, Sport, Pro-Race |
| Ignition: | Keyless ignition system |
| Lighting: | Full LED lighting system including super bright low beam & high beam, angel eye DRLs, rear lamps and indicators |
| Styling: | |
| Bodywork: | Full carbon-fibre. |
| Fuel tank: | Underseat MotoGP-style 18-litre fuel tank is all carbon-fibre, with Kevlar reinforcement and chemically coated internally to meet fuel resistance standards |
| Footrests: | Forged footrests, footplates and carbon heel guard. Cast sprocket cover |
| Options: | Full titanium race system aftermarket tune, approx 8kg lighter and approx 10bhp+ as optional accessory – Note: Race exhaust not for road use; Chrome Race Replica bodywork; Carbon Fibre BST |
(topspeed.com, https://goo.gl/nRb79Y)
Comments
comments