Till what limit can the art on two wheels be extended to? Ask MV Agusta. Having made some of the most exotic Italian masterpieces on two wheels, MV has a tremendous history in terms of making some of the most beautiful looking motorcycles on the planet. And thankfully their lust is still going strong.
Some time back, MV Agusta created a special division called the Reparto Veicoli Speciali, or Special Vehicles Department, and handed them the task of creating the best MV Agusta machines that beam in terms of quality, research, performance and emotions. This division was joined by the San Marino Research Center Castiglioni (originally born as CRC, Cagiva Research Center) to work on the brand's Brutale Dragster 800 RRand come out with an evil looking motorcycle that will scare the daylights out of anything on the road.
STYLING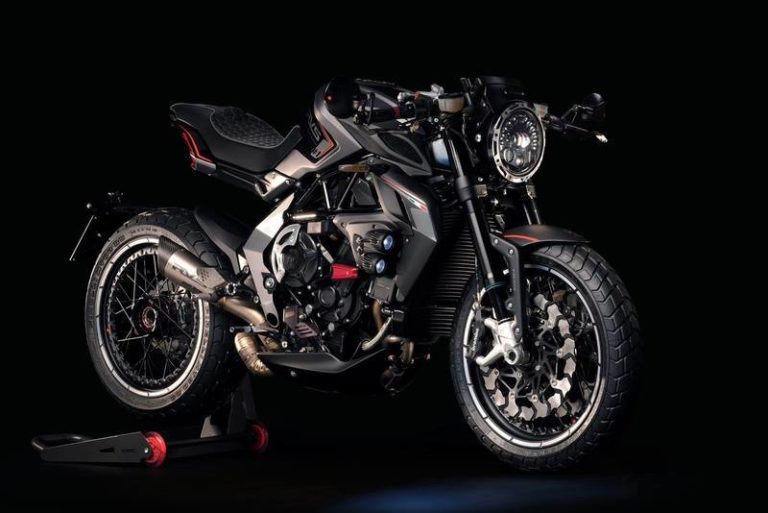 Born out of MV boss, Giovanni Castiglioni's dream sequence, the RVS "Limited Run" Division aimed at lowering production volumes and increase attention to special and premium models that are nothing but exclusivity. For their first project, they joined with the high-performance component design centre for the MV Agusta Group, CRC, to get out a mad looking motorcycle equipped to kill the competition in a very evil manner.
The RVS#1, aptly named, is based on the original Brutale 800 Dragster RR and is a stunning piece of entry by the house of Castiglioni's meant for a limited number audience who desire a hair-raising lustful experience. It will be completely hand-assembled 148 bhp monster unique with equipment, quality of component construction, design and performance.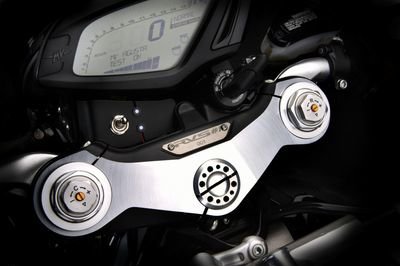 Designed straight out of a stealth bomber drawing board, this Italian gothic masterpiece falls right in line with what one would expect from the MV bloke's "Motorcycle Art". There are a zillion subtle touches that leave a mark of this 'special RVS edition' cadre like the milled RVS #1 logo into the surface, racing fuel cap, stitched "honeycomb" seat, moulded titanium plates around the tank, twin pod Spotlights on either side and those filled LED headlight units. They use an integrated inertial system illuminating the individual units based on lean angle and velocity. Fancy!
As obvious, this motorcycle gets dedicated CRC customised components including the dashboard support, footpeg units, engine protectors, bar end mirrors and racing handlebars with a specific clutch and braking systems incorporating Braking's Sunstar Batfly's brake discs that look like something from outer space. Even the wheels get customised Kineo spokes mounted with Pirelli MT 60 RS tyres.
There is a perfect interface between the rider and the motorcycle via the digital LCD panel and dashboard indicators that are also the point of interaction for the MVICS system (Motor & Vehicle Integrated Control System) all of which can be controlled by the rider's gut and will alone. The red-eyed skull insignia is visible on various parts of the motorcycle to remind you of what you will be hooning across.
"Designed straight out of a stealth bomber drawing board, this Italian gothic masterpiece falls right in line with what one would expect from the MV bloke's "Motorcycle Art"."
Overall Dimension
| Make Model | 2017 MV Agusta RVS#1 | Bimota Impeto |
| --- | --- | --- |
| Length | 82 in | 80.31 in |
| Width | 28.4 in | 33 in |
| Height | 44 in | 44.1 in |
| Wheelbase | 54.3 in | 56.2 in |
| Seat height | 31.89 in | 31.5 in |
| Wet weight | 352 lb | 390 lb |
| Fuel Tank | 4.39 gal | 4.22 gal |
POWERTRAIN
Talking about the engine, it is a blend of compact dimensions, light weight and incredible class leading performance. Based on MV's three-cylinder Brutale platform, it weighs just at 54 kg and this power mill can churn out around 150 bhp and 89 Nm of peak torque that is more of a revelation when you want to rip on a 160 kg bike. This is officially the most powerful bike within the MV three-cylinder range. Almost on the hyper sports territory.
The mechanical slipper clutch system takes power to the rear wheel through the cassette type, 6-speed gearbox. The higher compression ratio of 13.3:1 makes the rpm redline limit at 13500 to maintain reliability. All this is mated to an Eldor ECU, six injectors and full Mikuni ride-by-wire tech festival.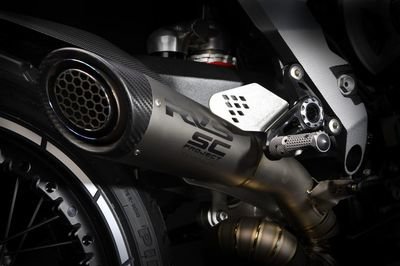 The bike is equipped with a Quickshifter EAS 2.0 that changes gears in a millionth of a millionth of a second. Okay, I'm exaggerating, But it's seriously quick. At the end, you get an exhilarating tune from the Titanium exhaust unit designed together with SC-Project.
It houses a counter rotating shaft which was exclusive to only MotoGP monsters. This makes the engine reduce inertia during quick directional changes and enhances engine balance to give the bike a better handling ability. This Agusta also gets a new specifically developed engine ride modes that alter the performance of the engine to suit the rider's requirements and tastes.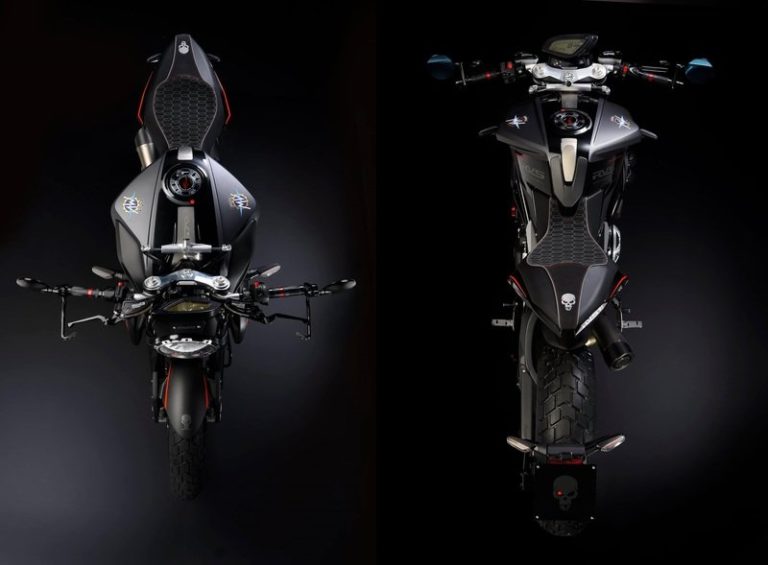 "This is officially the most powerful bike within the MV three-cylinder range. Almost on the hyper sports territory."
Engine Specification
| Make Model | 2017 MV Agusta RVS#1 | Bimota Impeto |
| --- | --- | --- |
| Capacity cc | 798 | 1198 |
| Bore/ Stroke mm | 79/54 | 106/6709 |
| Output | 150 bhp @ 12000 rpm | 160 bhp @ 9200 rpm |
| Torque | 89 lb-ft @ 6000 rpm | 95 ft-lb @ 8000 rpm |
| Type | Three cylinder, 4 stroke, 12 valve, DOHC | Ducati liquid cooled twin cylinder, 4 stroke L twin, 4 Valves per cylinder, desmodromic engine management |
| Clutch type | Wet, multi plate with slipper clutch | Wet- Multiplate with assist |
| Transmission | 6-speed with Quickshifter | 6-speed |
RIDE AND HANDLING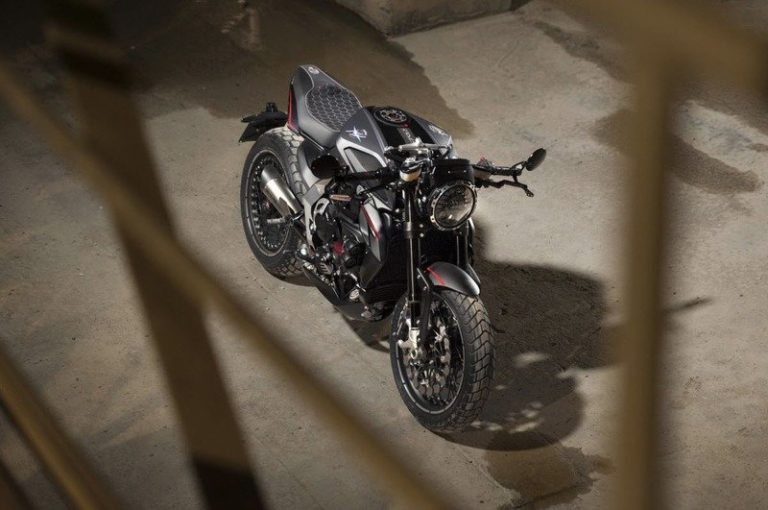 With all that titanium and carbon materials used, this RVS#1 has managed to lose a whopping 18 lb compared to the Dragster 800 RR and stands at just 352 lb. As astonishingly low as it gets, you are in for a surprise on how just that much weight loss will heighten the bike's riding experience on the whole.
The riding position is definitely very aggressive, and one should not have even the slightest doubt on the capability of attacking apexes with this. The stitched "honeycomb" seat is expressly designed for comfort and ergonomics.
A tubular steel trellis frame holds all this madness together and is enhanced with new aviation grade aluminium lateral plates. Riding on fully adjustable Marzocchi upside down fork at the front, it gets rebound-compression damping, and spring preload external with separate adjustment and at the rear is a fully adjustable Sachs suspension unit with spring preload adjustment mated to a single-sided aluminium swingarm.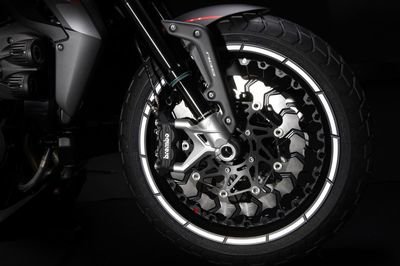 To stop the RC, twin Sunstar Batfly's brake discs at the front are clutched by Brembo four-piston radial callipers and with a two-piston Brembo calliper and 220mm disc out back aligned to hoon the savage force. Dual channel ABS is a standard issue equipment with Bosch 9 Plus system and RLM (Rear wheel Lift-up Mitigation).
You also get an eight-level traction control, that also includes a disengage option allowing you to either spin the wheels to glory or contrast it with the tranquillity of complete electronic intervention. This RVS#1 will be equipped with not one or two but four riding modes for you to exploit every breath of the bike's life offering complete freedom into adjusting the motor response, rev limiter, engine torque management, throttle sensitivity and engine braking.
Chassis Specifications
| Make Model | 2017 MV Agusta RVS#1 | Bimota Impeto |
| --- | --- | --- |
| Frame | ALS Steel tubular trellis with new aviation grade aluminium lateral plates | Steel trellis with milled aluminium plates |
| Suspension / Front | 43 mm USD Marzocchi telescopic hydraulic | Öhlins 43 mm upside down fork, rebound and compression damping |
| Suspension / Rear | Progressive Sachs, single shock | Öhlins mono shock adjustable in preload, in compression and rebound damping on single speed |
| Brakes / Front | Double floating 320 mm disc. Calliper: Brembo radial-type, with 4 pistons | Double disc 320 mm Brembo callipers four pistons, four separates pads, radial pump |
| Brakes / Rear | Single 220 mm disc. Calliper: Brembo with 2 pistons | Single Disc 220 mm, Brembo calliper 2 pistons |
| Tyres / Front | 120/70 – ZR 17 M/C (58 W) | 120/70 zr17 |
| Tyres / Rear | 200/50 – ZR 17 M/C (75 W) | 190/55 zr17 |
PRICE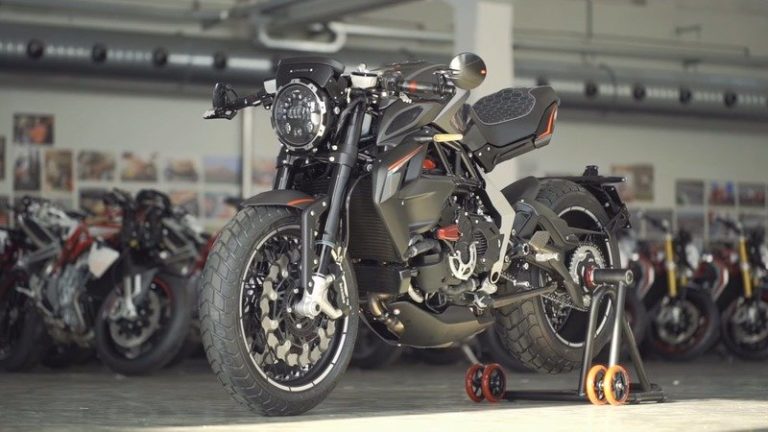 According to MV Agusta, this RVS#1 is a limited edition. "One man, One bike". The number of units, price and availability is yet to be confirmed. But if you have to know, we speculate it to be in the ballpark of $25k to $30k price tag.
| Make Model | 2017 MV Agusta RVS#1 | Bimota Impeto |
| --- | --- | --- |
| MSRP | $25000-$30000 | $38000 |
COMPETITION
When it comes to getting our viewers the right competition, we often mark our point. But for a limited edition, there is not much of a hue and cry situation; if you've not guessed it by now. Yet, we bring you another Italian company, Bimota that creates some of the finest looking motorcycles. And one such is the Impeto that uses Ducati's prancing horses.
Bimota Impeto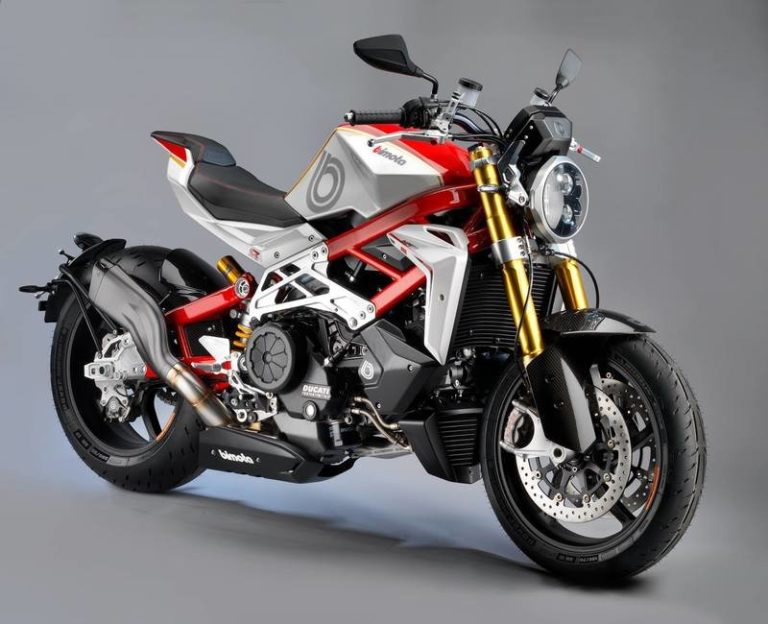 This is a supercharger capable machine from the less known Italian production house, Bimota. It has a hybrid design frame with CNC oval steel tubing mated to CNC-machined billet aluminium side plates. Ohlins 43mm front fork and twin and a rear swingarm fitted mono shock unit handle the suspension. 320mm rotors and monobloc radial-mount four-piston callipers at the front and a single piston at the rear have enough grunt to stop this menace.
The hyper-naked Impeto uses the 162bhp Testastretta engine from Ducati's Diavel, with an optional supercharger giving the 1198cc V-twin a boost in power and torque of 15-20%. The supercharger kit has been developed for Bimotas using Ducati liquid-cooled engines and turns the new Impeto into a 'true tyre burner'. The Impeto comes with ABS, ride-by-wire throttle and traction control, and can be offered with carbon fibre swingarm and frame tubes.
With the supercharger installed, horsepower jumps past 180, but more importantly, torque leaps to around 140 pound-feet of peak output. American buyers don't need to worry about pricing, as Bimota hasn't been distributed in the U.S. for a few years now.
VERDICT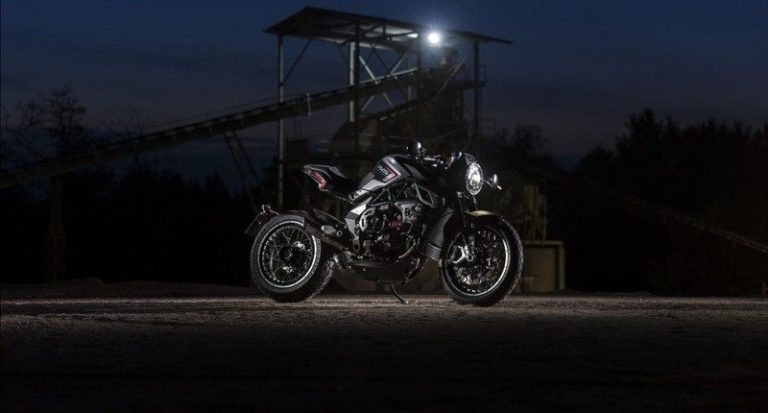 In a pursuit of exclusivity and sophistication, the chaps at MV Agusta with RVS and CRC have concocted an elixir that is sure to get you intoxicated with whatever it has to offer. The RVS#1 is basically the embodiment of passion and emotion turned into a dynamic machine that is the epitome of what is possible in the hands of these Italian artisans when it comes to design, engineering, quality of component construction and performance.
Looks like this strategy of limiting the production to make more use of the resources available to make higher-spec motorcycles of their famous two-wheelers is going ballistic. No doubt MV Agusta will soon reveal more details of the Reparto Veicoli Speciali projects, as well as giving more of a glimpse of the vehicles it is creating for the future. It is all about absolute individuality and with its pedigree for mind-bending performance, the RVS#1 makes it an experience in itself.
Premium custom components
Equipment list
Powertrain and Chassis combination
(topspeed.com, https://goo.gl/XN9XyR)
Comments
comments