HIGHS
Car-like ride quality and comfort
Tons of useful built-in features
Honda build quality
More contemporary look
LOWS
Poor infotainment controls
Transmission slow to respond to inputs
For Americans, the pickup truck is something of a sacred cow. There's a long-held set of conventions that many truck buyers consider obligatory – a body-on-frame platform is chief among them, along with purpose-built hardware like four wheel drive transfer cases and a solid rear axle.
Our voracious appetite for trucks caught the interest of Japanese automakers decades ago, but Toyota and Nissan have, for the most part, stayed close to the traditional playbook in hopes of luring buyers away from established standards offered by American nameplates.
But the truth is that for the vast majority of truck buyers, these designs are overkill for the kind of use their trucks see regularly, and that established formula has its own inherent drawbacks for everyday drivability.
When Honda first introduced the Ridgeline in 2005, they approached its design from a different perspective, focusing on offering the utility of a pickup with the ride comfort, ease of use, and efficiency of a car. It was a risky move, and the first generation Ridgeline proved to be somewhat polarizing to truck buyers both for its appearance and its car-like underpinnings.
But the clever design features found throughout the Ridgeline won it something of a cult following that kept the first generation pickup in production for nearly a decade. After more than a year off the market, Honda has returned to the fold with an all-new, second generation Ridgeline that builds upon the strengths of the original truck while addressing many of the issues that kept truck buyers at arm's length the first time around.
Revision, not reinvention
First things first: The 2017 Ridgeline is still a unibody pickup, and it's based on a front wheel drive chassis shared with the current generation Pilot crossover. However, the Ridgeline gets the strategic use of high strength steel throughout its chassis that the Pilot doesn't. For those who are rational enough to have not already dismissed this truck out of the gate, there's also a number of other improvements throughout the second generation Ridgeline.
Honda sought not only to bolster the truck's capability, but improve ride, handling, and aesthetics. That last one proved to be a deal breaker for a lot of folks, as the first generation Ridgeline's looks were considered awkward by many.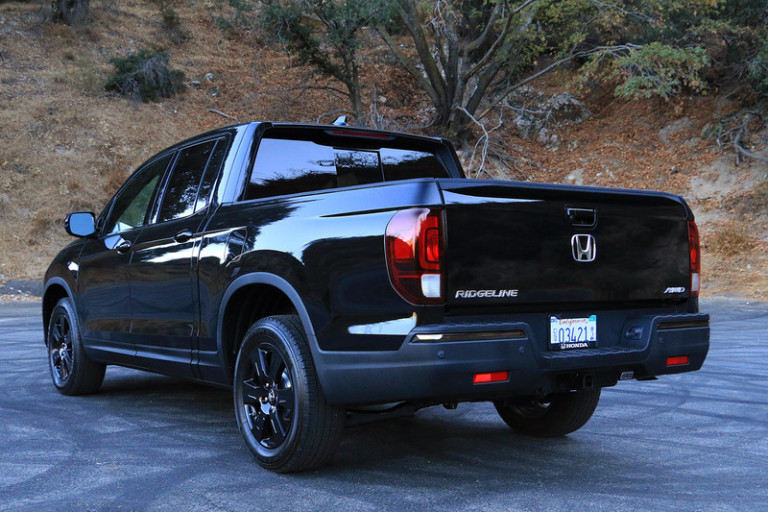 This time around Honda has chosen to go a more conventional route with the truck's bodywork. The much maligned buttresses between the top of the bed and the cab of the old model have been replaced by a more traditional truck bed that's four inches longer than before, and the tapered front end gives the Ridgeline a more contemporary look that's visually in line with rest of Honda's current offerings.
Motivating the new Ridgeline is a naturally aspirated, 3.5-liter SOHC V6 that makes 280 horsepower and 262 pound-feet of torque. It sends the power to the front wheels through a six-speed automatic as standard while all-wheel drive is optional. There's enough grunt on tap to get the truck to 60 miles per hour from a standstill reportedly almost two seconds faster than the previous model, but with a curb weight of over 4,500 pounds and transmission that's a bit slow to make decisions, its pace still falls short of anything resembling urgency.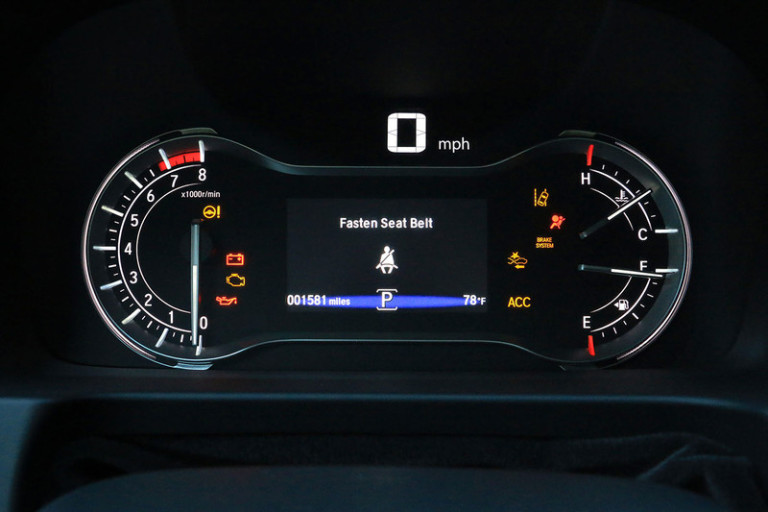 Real-world utility
Opting for all-wheel drive raises ground clearance from 7.3 inches to 7.9 and boosts the tow rating from 3,500 pounds to 5,000. Towing capacity is one place where traditional body-on-frame trucks have an advantage, as the Ridgeline AWD's 5,000 pound limit falls short of the class-leading Chevrolet Colorado V6 4×4 by one ton. But the tradeoffs for the Chevy's superior towing capacity are the ride quality and handling limitations of body-on-frame trucks. The Ridgeline in contrast, with its fully independent suspension, is far more comfortable and composed in operation when compared to mid-sized trucks of that ilk, whether on-road or off. It's substantially quieter too, and its quick, low-effort steering makes it feel more than a sedan than a pickup from the driver's seat.
Moreover, Honda also asserts that ninety percent of mid-sized truck buyers never actually tow anything with their pickups. So instead of focusing on maximizing functionality that may never be utilized, they've concentrated their efforts on features that Honda thinks these buyers will actually find useful.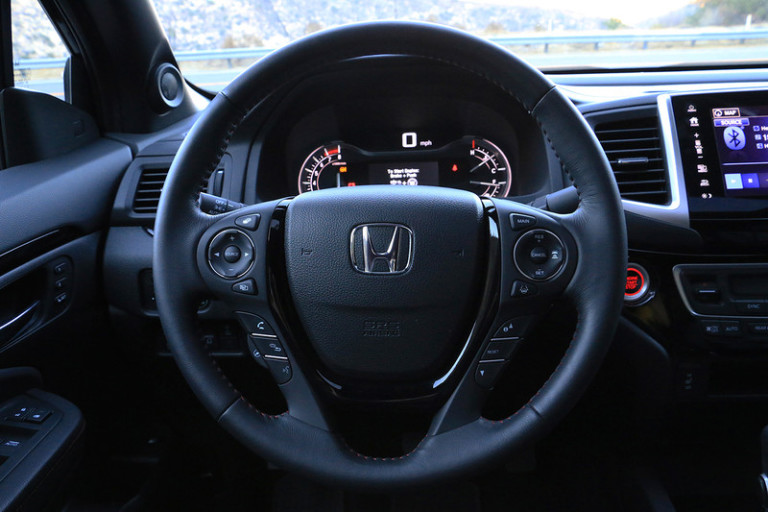 Take, for instance, the Ridgeline's bed. The liner is molded from a dent, scratch, and UV-resistant fiber-reinforced polymer so that it can handle not only the rigors of hauling, but also the abuse of sun exposure so the material won't be bleached out in just a few years' time.
The Ridgeline's heralded in-bed trunk makes a return in the second generation pickup, allowing for secured storage under the floor of the bed that also incorporates a drain plug at the bottom so it can also be used as an ice chest.
Adding to the Ridgeline's tailgating prowess is the Truck Bed Audio function which, as the name suggests, uses the Ridgeline's bed as an outdoor sound system. It might seem like a gimmicky feature at first, but in practice it sounds surprisingly good. Paired with the bed's additional features, like a 400w power outlet and a dual action tailgate that can swing either down or out, the Ridgeline might be the most versatile party-mobile on sale today, and Honda's betting on the notion that would-be owners will actually get some use out of these features.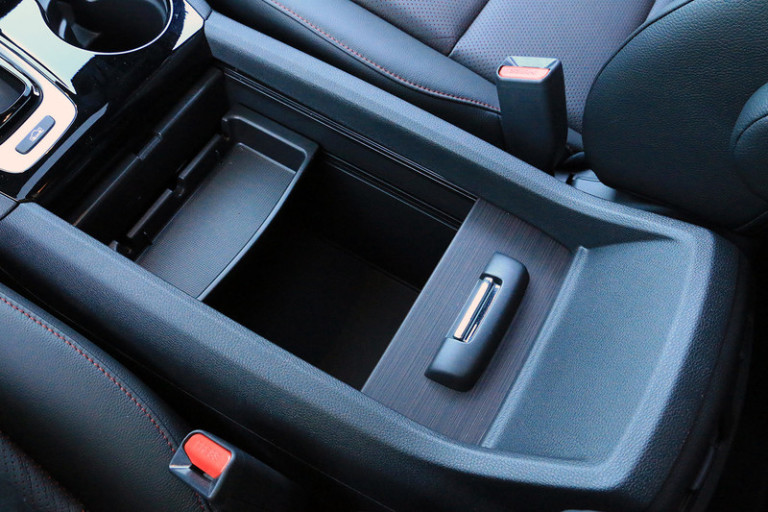 Head over heart
For many truck buyers, this purchase is just as much about credibility as it is about practicality. Separating ego from the equation can be a difficult task, as evidenced by the Toyota Tacoma's ten-to-one sales advantage over the outgoing Ridgeline.
Yet for those who place rationality above all else, Honda's approach with the Ridgeline can start to make a lot of sense in the right context, and this all-new model addresses a number of weaknesses found in the first generation truck while also improving upon its strengths.
Ultimately, the question of whether or not the new Ridgeline can turn around its sales numbers is, as they say, a battle for hearts and minds. Honda may be right about the intended purpose of pickups in comparison to their actual everyday use, and their strategy certainly makes sense both on paper and in practice.
But perception is a strong motivator in this segment, and those who look at their vehicle as a statement of purpose as much as a tool of locomotion may have a difficult time warming up to the Ridgeline. Still, with the crossover segment booming as buyers flock to car-like SUVs, the light-duty truck market seems more willing than ever to hear the Ridgeline out.
(digitaltrends.com, https://goo.gl/FncUQm)
Comments
comments