THE GOOD: Svelte looks encase a well-designed, quiet minivan with loads of thoughtful touches, including tops-in-class convenience features and advanced safety tech.
THE BAD: The transmission lacks manual downshift capability, while infotainment goes without Apple CarPlay and Android Auto.
THE BOTTOM LINE: Chrysler's clever Pacifica charges to the head of the carpool lane with the nicest interior and smart, family-minded technology.
I am not myself these days.
Ever since my Cleveland Cavaliers won the NBA National Championship in improbable and spectacular fashion last month, I find I'm more optimistic and increasingly willing to give people and situations the benefit of the doubt. I want to believe again.
It's even true with cars. Take this all-new 2017 Chrysler Pacifica, for example. Before the Cavs' historic win, I probably would've told you that this Pentastar is perhaps the nicest minivan I've yet driven. The best appointed. The quietest. The sharpest looking. The smartest in terms of safety and in-cabin tech.
It is, after all, all these things.
But I likely would've ended my review with a downer caveat about Chrysler's quality problems, of its history of producing vehicles that ultimately aren't as reliable as competitors. Blame years of boundless optimism, only to be beaten down repeatedly by the cold hand of futility in The Big Game. Rooting your entire life for Cleveland sports teams and enduring a 52-year championship drought will do that to a man.
In the face of such odds, it's often easier to encourage the more conservative, safer choice to avoid heartbreak — in the Pacifica's case, that would mean recommending a model from Honda, Toyota or perhaps Kia.
But I'm not going to do that here. Because in many ways, the Pacifica is substantially and demonstrably smarter than today's Odyssey, Sienna or Sedona. Instead, I'm going to mention Fiat Chrysler Automobiles' quality question mark as a small footnote instead of a conclusion. Why? Because I genuinely believe the Pacifica is worth pinning to the top of your family hauler consideration list.
It all starts with a new generation that's around 250 pounds lighter than its predecessor, yet its chassis is markedly stiffer than its Town & Country forebears. The good points continue with curvy bodywork that borders on sexy — at least for a minivan. And they're furthered by an evolution of the company's well-liked 3.6-liter Pentastar V-6 engine giving 287 horsepower and 262 pound-feet of torque — enough chutzpah to make this 4,300-pound minivan one of the quickest in its class. Even the standard nine-speed automatic that I've found occasionally undisciplined in vehicles like the Jeep Cherokee and Chrysler 200 seems to have reached new level of civility, with significantly less hunting between gears.
Take a trip
With a multi-purpose vehicle like a minivan, it takes a higher-than-normal number of miles to uncover all of its hidden triumphs and foibles, so I signed up this Pacifica Touring L Plus tester for a proper road trip. I got my family together, piled a mess of vacation gear inside, and motored from metro Detroit all the way to North Carolina's Outer Banks. It's a 1,700-mile round trip that's in my blood. I've been making this yearly migration every year of my life, like clockwork, and I've completed this trek in countless big SUVs, crossovers and minivans.
In other words, when it comes to assessing these big ol' kinschleppers, I know what works.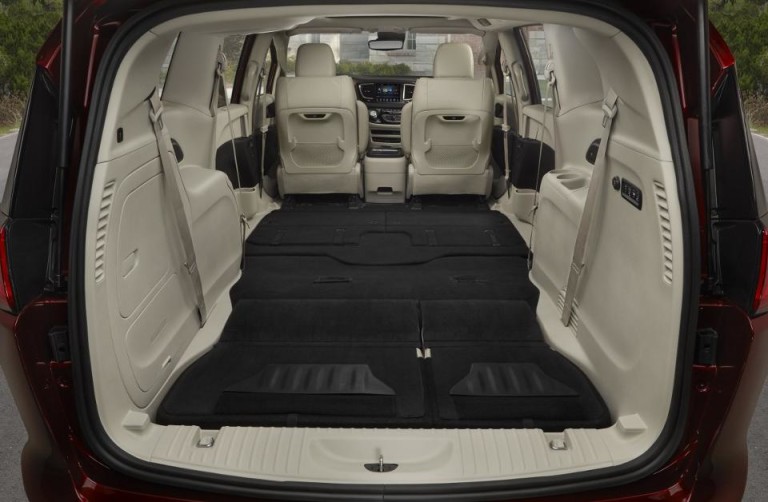 My secret OBX route is a great way to get the measure of the Pacifica and vehicles like it, not only because it tests cargo space, fuel economy and long-distance seat comfort, but also because it has ton of driving scenarios. The route runs through the flat, dull turnpike slog in Ohio to the mountains of Pennsylvania, the meandering backroad hills of West Virginia and on to the heat-soaked, bumper-to-bumper grind of summer beach traffic.
So what did I learn? The Pacifica is pretty much good at everything, and it's often great.
With a minivan, it's all about the interior, and thankfully, the Pacifica's exterior sleekness carries over to its cabin. Gobs of storage space and sensible ergonomics make nice with good-quality materials and unexpectedly premium flourishes such as a flush-mount, bezel-less center screen and cognac and toffee-colored trim.
A cabin built for cruising
Chrysler's old Town & Country was always a leader in terms of seating flexibility, and the new Pacifica handily carries the torch, with a second row that's now easier to stow in the floor wells thanks to a button that motors the front seats forward for clearance. The seats themselves have thicker padding for improved comfort, and all flipping and folding motions are counterbalanced and spring-loaded for easy maneuvering, even by young people. Those with baby seats will appreciate that Latch points are easy to locate.
Chrysler's well-regarded UConnect infotainment system returns with some updates, and its 8.4-inch touchscreen is nicely responsive, with a good selection of apps including things like Yelp and iHeartRadio. It may not have the Google Earth overlays found in some premium cars, but it does have neat features including a phone-like drag-and-drop menu bar and Siri Eyes Free. Niggles? While there's an optional Wi-Fi hotspot, it's oddly only 3G, and Apple CarPlay and Android Auto are not yet available. I could grouse about these issues more, but no other vehicle in the minivan segment includes these features anyhow.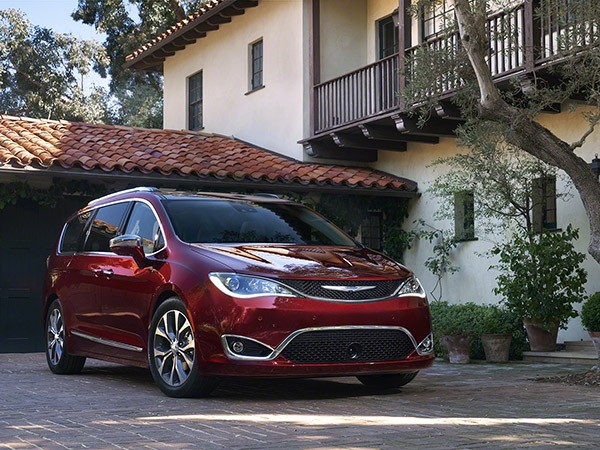 Two other easily correctable omissions?
First, there's no shift paddles or a rocker switch to manually select lower gears, so the transmission itself decides how much engine braking it thinks you want on long descents. All you can do is twist the rotary shifter to "L" and hope it guesses right. It generally does, but there were occasions on Pennsylvania's mountain roads where I wanted more engine braking and couldn't do anything about it.
Second, the lack of a physical button to directly activate the optional 360-degree low-speed camera is annoying. You shouldn't have to toggle through multiple screens to use this fundamental feature when parking nose-in (the function automatically pops up in reverse). What's more, the surround-view images aren't as crisp and distortion-free as rival systems from companies like Nissan.
Even with these minor oversights, the Pacifica's cabin is still the nicest in its class in terms of seating flexibility and material quality.
Smarter convenience and safety tech
This Pacifica also has the minivan segment's best selection of available convenience features, inside and out. I was able to strap a kayak up top thanks to the deployable integrated roof rack crossbars, and interior loading was made easier by the new foot-kick-to-open feature. Previously found on some SUVs, Chrysler has applied this tech not only to the rear hatch, but also to the sliding doors. And although my Pacifica didn't feature it, a central vacuum is available for corralling stray Cheerios.
Second-row occupants are well catered to space-wise, and they enjoy their own HVAC controls. My tech-addicted son appreciated the optional 10.2-inch screens' inclusion of HDMI inputs and 115-volt power outlet, which allowed him to dual-screen his laptop. And while he's too old for UConnect Theater's built-in games and the jetliner-like "Are We There Yet?" feature, I can see these apps as real sanity savers for pacifying young children.
Despite having the longest wheelbase in class, it's important to note that the Pacifica gives up space to key rivals from Honda and Toyota in certain metrics. The most noteworthy is cargo room, where this vehicle's behind-the-third-row storage space of 32.3 cubic feet is slightly undersized, and its all-seats-stowed rating of 140.5 cubic feet is down by a meaningful 8 to 10 cubes versus key rivals.
(cnet.com, https://goo.gl/BskTlj)
Comments
comments