Public demand for race-ready road bikes has never been higher, and the folks down at the Bayerische Motoren Werke are trying to take that momentum to the bank with its HP4 Race. Like many of its track-day competitors have recently done, BMW set about the business of mini-mass producing a bike that carries as much of its factory-team race gear as they are comfortable sharing with the world. However, the factory isn't risking much in this bid for a slice of the hardcore race-fan market with a limited-edition run of 750 hand-built units, so in addition to the obvious attraction of the technology and power we can add rarity to the curb appeal. Here we have a 215 horsepower engine pushing the world's first all carbon-fiber frame with a veritable alphabet soup of features that are surely indispensable for racers looking for an edge.
Design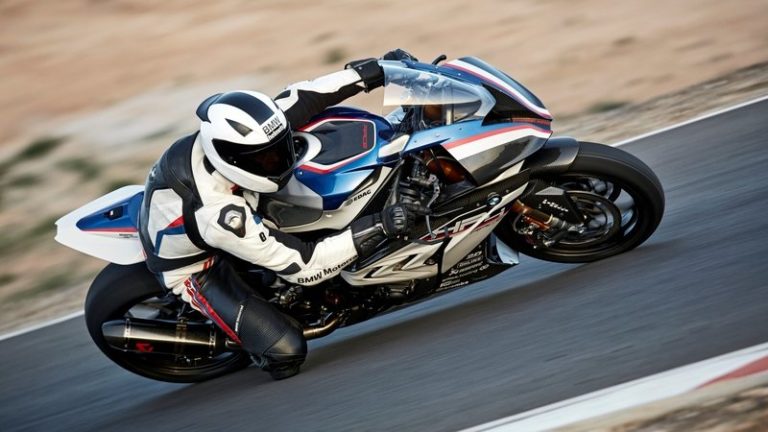 Given the nature and origin of this bike, it goes without saying that "form follows function" was the order of the day. A sharp lip at the leading edge of the fairing leads the way with a very low-profile windscreen up top and a wind-funnel cowling scoop below. Since this is built to be a dedicated closed-circuit bike, the factory wasted no time/space/weight on mounting a headlight; indeed, there are no lights anywhere on the entire bike lest you think this is some sort of road-ready race replica. It just ain't that kind of bike.
The vented engine cowling houses the radiator and hides most of the engine from view, and is designed to siphon off engine heat while producing as little drag-inducing interference with the slipstream as possible. Short, clip-on handbars pull the rider fully into the superman-jockey position while the tapered waist at the rear of the fuel tank leaves plenty of room for body English.
The subframe rises in the rear for an aggressive, nose-down stance, and it tapers to an aerodynamic point with enclosing panels underneath to further combat power-robbing drag. Naturally, we have no tail light housing or tag holder to worry about, so the ass end is clean as a whistle. At the dashboard we have a 2D cluster that displays all pertinent information in real time for the pilot while recording and storing a history track for later analysis.
Chassis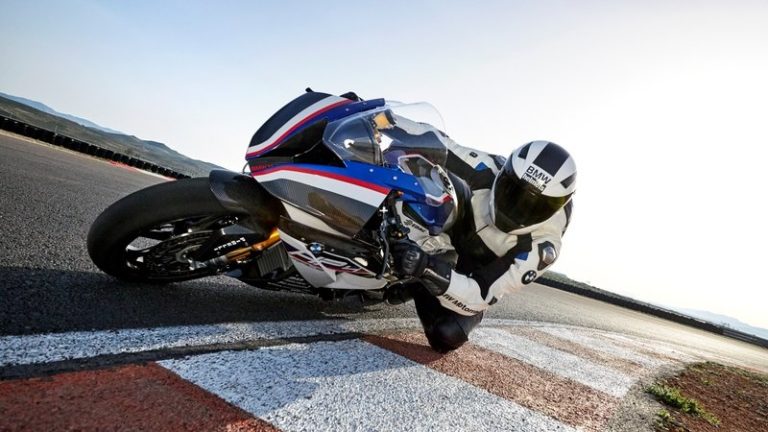 These bikes are special from the ground up. Beemer starts with a super-light, 17.19 pound carbon-fiber frame and then stiffens it with stressed-skin monocoque body panels. Though expensive to produce, the frame construction pays dividends at final weigh with a race-ready wet weight of only 377 pounds. Yeah, the power-to-weight ratio is looking pretty good right about now. Beemer went all out with the carbon-fiber possibilities by using it to lighten the 17-inch wheels as well for even more weight savings.
Pirelli supplies the Diabolo Superbike Slick SC2 tires with a 120/70 up front and a fat, 200/60 in back, and of course, they come with a "ZR" speed rating. The steering head comes set at 24.5-degrees from the factory, but it can be adjusted to plus-or-minus one degree in half-degree increments. Of course this gives us a variable trail figure that can swing from 3.74-inches to 4.4-inches long, so you can dial in the cornering abilities and feel quite a bit.
The swingarm pivot is likewise adjustable, as is the fork-bridge offset, so you can really shape the footprint of the bike to your preferences. Additionally, the pilot footpegs can be moved to any one of eight positions, so you have the ability to shape the rider's triangle quite a bit as well.
Suspension is top-shelf stuff with Öhlins products all around. First off, we have the adjustable SD052 steering damper to help you tame the kickback. Next, we have the FGR 300 Superbike World Cup fork that allows for quick front tire changes and provides the full range of suspension adjustments. Finally, the TTX 36 GP monoshock supports the rear end with the full adjustments to include spring preload as well as compression and rebound damping in both the low- and high-speed range. Rear-wheel articulation is managed by the welded-aluminum swingarm that comes built to withstand the forces of race day use while keeping unsprung weight low at the rear wheel.
Beemer serves up a big slice of "stop" with its choice of brakes. We have a trio of four-pot, titanium-piston, monoblock binders grabbing the twin, 320 mm front discs and single 200 mm rear disc, all courtesy of Brembo Racing. The RCS 19×18 handbrake pump comes with an adjustable lever for even more tune-ability and control.
Drivetrain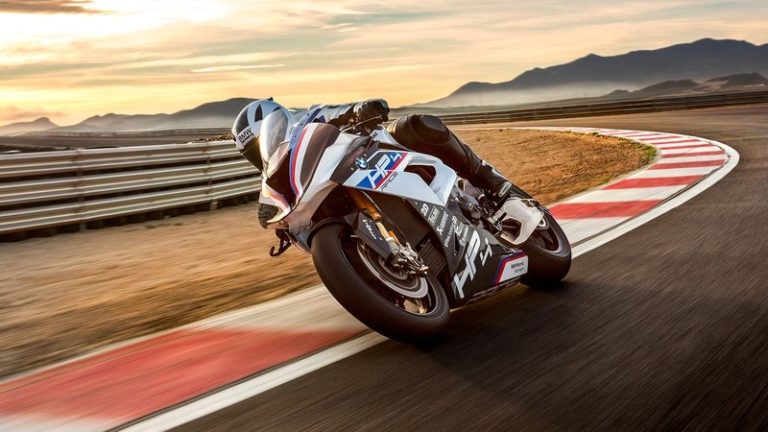 Beemer took its tried-and-true, S 1000 RR engine and souped it up to meet World Cup standards. Much of this soupage comes courtesy of the high-lift intake and exhaust cams that actuate the four-valve heads. The 999 cc capacity comes split across the inline-four configuration, and as you'd expect, compression is through the roof at 13.7 – 13.9-to-1. Oh well, you knew it took race gas before we ever started.
Decidedly oversquare, the mill runs an 80 mm bore and 49.7 mm stroke, and that short-stroke layout is where a lot of the 215 horsepower comes from. Naturally the torque numbers are going to fall off a bit, but at 88 pounds of grunt, even the torque metrics are respectable. Max power kicks in at an alarmingly high 13,900 rpm, and max torque comes on at an even 10 grand, so this is definitely an engine that likes to be wound up tight.
Beemer thoughtfully provides the tools needed to manage the beating heart. First up is the lean angle sensing Dynamic Traction Control that comes with four riding modes for variable levels of intervention. An engine brake function provides a variety of settings so you can control the amount of back torque, and like the traction control, it can be tailored on a gear-by-gear basis. We also have a wheelie control to prevent moonshots, a pit-lane speed limiter and Launch Control to round out the electronic wizardry. A six-speed gearbox and mechanical slipper clutch makes the final connection to the rear wheel.
Price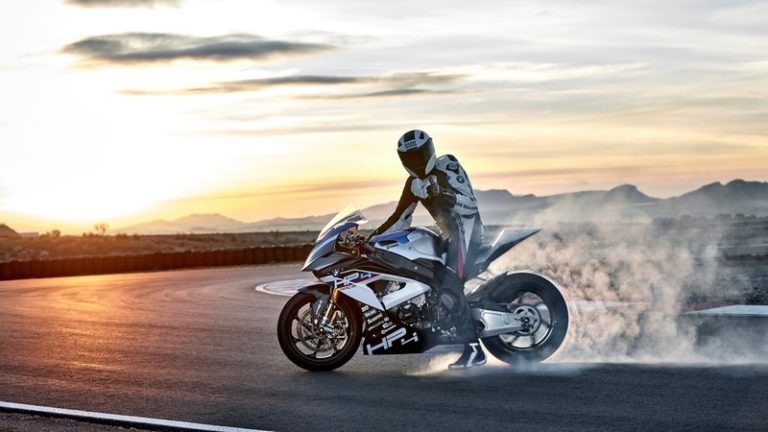 Not yet announced as of the time of this writing, but I expect it to be somewhere in the low six-figure bracket.
Competitors
There are a number of road-ready race replicas out there right now, but to compare apples to apples there was but one choice for me; the RC213V-S from Honda. Both of these rides come with windtunnel-tested body panels and fairings, and to be honest, aesthetics are really rather meaningless when you're looking at bikes of this caliber. One huge difference worth mentioning would be the fact that the Honda product comes with mirrors and the necessary lights for use on pubic roads. That opens it up to folks who may never look to get any closer to the racetrack than the parking lot.
Honda runs a fancy set of bones to be sure, but nothing close to the space-age tech in the carbon-fiber BMW skeleton. Fully adjustable, inverted front forks are a constant across the board, as are the Brembo brake products, so neither ride gets any real advantage here.
Honda takes a beating at the dyno. Don't get me wrong, the 101 ponies and 66 pounds o' grunt is respectable enough from a one-liter mill, but it's pushing 379 pounds dry versus 321 pounds dry with the carbon-fiber HP 4. Factor in the 215 horsepower from the Beemer mill and Honda is pretty much done. Granted, skill can make up for a lot, but we're talking about double the horsepower pushing much less weight here, and that gives the HP 4 Race a definite edge.
He Said
"Really cool stuff! Beemer gets Kudos for the bike itself, but I'm a'feared that making it a pure race bike that lacks the road-legal lighting will be kind of like shooting themselves in the foot since that cuts out all the wanna-be racers and hardest-of-hardcore race fanatics. Oh well, maybe Beemer will offer a road conversion kit with subsequent models. We'll see."
She Said
My wife and fellow motorcycle writer, Allyn Hinton, says, "I don't even know what to say about this bike. It's so far out of my league, it's intimidating just being near it. I'm just gonna stand back and observe from afar. It's like what you always wanted sex to be, but weren't brave enough to try it."
(topspeed.com, https://goo.gl/gNTZOp)
Comments
comments