It is a well-known phenomenon that as people get to a certain stage in life, they crave things from their youth. Frequently, this coincides with a certain amount of disposable income to indulge in such nostalgia. Over time, entire industries have sprung from this demand, and even designers among established businessescapitalize on this market.
The new for 2016, R nineT Scrambler from the Bayerische Motoren Werke(BMW Motorrad) seems to fall into just this sort of category. Based on a general design popular from the '50s all the way through the '70s, the Scrambler embodies the form of the original scramblers, while borrowing from the 1951 Beemer R 68.
The result is a ride that invokes nostalgia in those old enough to remember the originals and subsequent variants, but also appeals to a younger crowd who appreciates classic looks coupled with updated performance and more reliable technology than its antique predecessors. I say that with confidence since I fall into the latter group, and I am really digging this new-old ride, so join me for a dissection of this scrambler descendant as I try to determine how closely this apple fell to the tree.
Design
BMW cooked up the R nineT Scrambler with plenty of classic references. Note the 19-inch front wheel and fork gaiters up front, followed by the low fuel tank complete with race-tastic knee indentions and minimal saddle. The engine dominates the overall look and seems to push all other design aspects almost into the realm of afterthought, but since this is a Beemer, you can bet everything was calculated down to the millimeter.
Short-rise handlebars combine with the seat and footrest positions to put the rider in an aggressive, jockey position; perfect for attacking corners with extreme prejudice, but it also represents a compromise. One of the design features common amongst the modern dual-sport bikes is the ability to comfortably stand up on the pegs and maintain control of the bike. However, the rider triangle on the R nineT forces the rider into a "hands heavy" position that prevents any sort of subtlety with the steering. Still, that's a minor gripe, and it will only affect a small percentage of potential riders.
Upswept exhaust pipes keep the mufflers clear of terrain, and feed right into the datedpanache.
Chassis
Not all historical tie-ins are aesthetic in nature. Though there were some factory-made scramblers back in the day, many of them were purposefully-modded, homemade customs. BMW kept this in mind when laying out the frame. Tubular-steel modules bolt together to form the structure with the stressed engine as the keystone. A removable pillion strut offers a quick change from solo to two-up, but the real magic is in the modular nature of the frame that allows for radical customization possibilities.
Even with all its built-in character, the R nineT Scrambler is built to serve as a blank canvas for riders looking to truly express themselves through their rides. The 28.5-degreesteering head makes for 4.3 inches of trail and a nimble ride well in keeping with some of the earliest scrambler home-jobs built on street/ sport platforms.
A pair of four-pot, Brembo calipers pinch the 320 mm front brake discs, and BMW's own twin-pot caliper binds the 265 mm rear disc, all under the watchful eye of Beemer's proprietary ABS system. I would be remiss if I didn't mention that most dual-sports on the market come with some sort of feature that provides a number of ABS modes with different levels of intervention, and some allow the rear ABS to be deactivated entirely. No such features exist for the R nineT Scrambler that I have seen, which isn't a deal breaker. It just makes for a rawer ride and more direct connection between man and machine.
The same goes with the suspension. The factory slapped a set of 43 mm usd forks with just the bare minimum of the inner fork tube exposed. While this undoubtedly provides plenty of stiffness and stability under duress, I don't see any sort of variable suspension adjustments, leaving us with a one-ride-fits-all machine, at least up front.
A paralever on the single-sided, aluminum swingarm works with the coil-over monoshock to buoy the rear, and it does come with adjustable spring preload and rebound damping for a bit of flexibility. At 4.7 inches of wheel travel front and 5.5 inches on the rear, the suspension won't tolerate Supercross-style shenanigans very well, but that's okay; t'aint that kind of bike.
The deep-groove tires complete the rolling chassis and reveal the split personality of the Scrambler by their off-road grip and generous flats for maneuvers on civilized roads.
Drivetrain
Nothing says Beemer quite like those cylinder heads sticking out from each side, and the Scrambler carries that iconic look with its classic, air- and oil-cooled, flat-twin engine. The over-square engine runs with a 101 mm bore and 73 mm stroke for a total of 1,170 cc. Performance numbers are almost predictable. The mill cranks out 110 horsepower at 7,800 rpm and 88 pound-feet of torque at six grand, maintaining the torquey reputation of this configuration. Quad-valve heads with DOHC actuation control aspiration, and the electronic fuel injection manages the mix.
BMW stuffed the gearbox with six speeds worth of helical-cut gears for smooth and quiet engagement that gives you 52 mpg at 55 mph, and a top speed of 125+ mph.
Price
MSRP is $13,000 on the 2017 model and includes standard ABS. BMW offers a "Build Your Own" program that allows you to roll out with some "you" on your blank canvas.
Competitor
There are a handful of manufacturers jumping into the resurgent scrambler market, so I had plenty of choices for a competitor, and I settled on the Scrambler from Triumph , not so much for its similarities as its differences.
Visually, they both show dual-purpose capability with a competitive bent and a little dose of Mad Max for good measure. Both rides sport knee reliefs in the tank, but Triumph takes it a step further with a grip pad for the high-side knee. Practical, plus it just looks cool.
Triumph opted for a smaller engine on its Scrambler, and the 865 cc, air-cooled, parallel-twin mill produces 50.2 pound-feet of torque at 4,750 and 58.2 horsepower at 6,800. That's a sight lower than the Beemer's 88 pound-feet of torque and 110 horsepower, but to be expected given the 305 cc displacement difference. Triumph went with the good old chain drive, which may not be as sexy as BMW's shaft drive, but it is easy to adjust and maintain. All a matter of taste, I suppose.
No surprises in the sticker category either. Beemer rolls out its Scrambler for just about 13 grand, but the Triumph Scrambler falls well shy of 10k at $9,400, and suddenly the smaller engine doesn't seem like such a bad idea. This is within entry-level range, and expands the net downward for new Scrambler converts.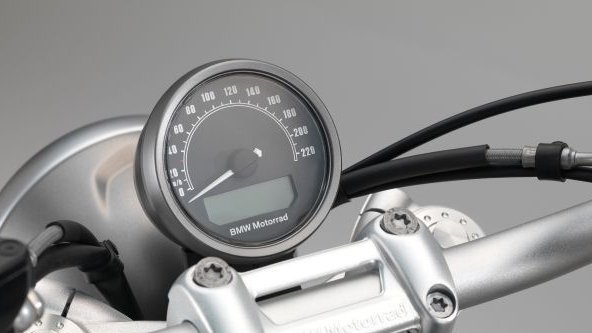 Experienced riders and riders with the budget for the Beemer will likely appreciate the increased power and torque delivery. Really, these bike almost compliment each other by covering different slices of this market segment, and between the two, there is something for everyone. Once again, it's all a matter of taste and needs.
He Said
"This ride seems to exude dogged determination to me, hence the Mad Max reference, something to give pursuit down the pavement one minute, and go tearing across the desert like a scalded dog the next. It carries that distinctive Beemer vibe with a liberal dose of devil-may-care and a historic soul. While I never quite made friends with the idea of having my rocker boxes and heads sticking out — it seems so vulnerable to me — I really like this ride. It has attitude, but not punky attitude, more like the supreme self-confidence borne of years of experience."
She Said
My wife and fellow writer, Allyn Hinton, says, "These scramblers are coming back in a big way — these precursors to dual-sport and adventure bikes. It's an on-road bike with off-road attitude for folks that didn't want the limitation of coloring inside the lines."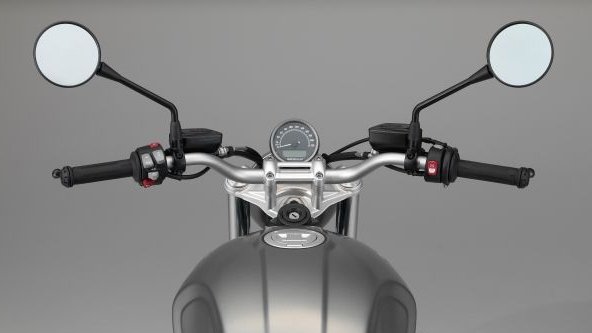 Specifications
Drivetrain:
Engine::
Air/Oil-Cooled Two-Cylinder DOHC Boxer, Four Valves per Cylinder
Displacement:
1,170 cc
Bore:
101 mm
Stroke:
73 mm
Maximum Horsepower:
110 Horsepower at 7,800 rpm
Maximum Torque:
88 Pound-Feet at 6,000 rpm
Compression:
12.0:1
Fuel Delivery:
50 mm Throttle Bodies
Engine Control:
BMS-MP
Exhaust:
Closed-Loop Three-Way Catalytic Converter
Alternator:
720 W
Clutch:
Hydraulically-Activated Dry Clutch
Transmission:
Constant-Mesh Six-Speed
Primary Ratio:
1.737
Final Drive:
Universal Shaft
Performance:
Fuel Economy:
44 mpg
0-60 mph:
3.5 seconds
Top speed:
124 mph
Chassis:
Frame:
Tubular Steel Space Frame, Engine Self-Supporting
Suspension, Front:
43 mm Inverted Telescopic Fork, 4.7-inch travel
Suspension, Rear:
BMW Paralever, 5.5-inch travel
Rake:
28.5 degrees
Trail:
4.3 inches
Brakes, Front:
Brembo, Hydraulic Dual 320 mm Disc
Brake, Rear:
Hydraulic Single 265 mm Disc
ABS:
BMW Motorrad ABS
Wheel, Front:
Cast Aluminum, 3.0 x 19 inches
Wheel, Rear:
Cast Aluminum, 4.5 x 17 inches
Tire, Front:
120/70 ZR19
Tire, Rear:
170/60 ZR17
Dimensions:
Length:
85.6 inches
Width (with Mirrors):
34.6 inches
Seat Height:
32.2 inches
Wheelbase:
60.1 inches
Details:
GVWR:
947 Pounds
Curb Weight:
485 Pounds
Fuel Tank Capacity:
4.5 Gallons
Recommended Fuel:
Premium Unleaded
Warranty:
One-Year Limited Warranty:
Color:
Monolith metallic matt
Price:
2017: $13,000
(topspeed.com, https://goo.gl/YXpme7)
Comments
comments