The Tuning Fork Company  makes a solid effort for a slice of the entry-level sportbike market with its YZF -R3. Yamaha had its work cut out for it 'cause this all-important market is hotly contested by nearly every other streetbike manufacturer in the world and the pressure is on to get brand-loyalty instilled in the incoming riders.
Engine displacement breaks the 300 cc mark with 40-plus horsepower and 20-plus pounds of torque, and at only 368 pounds wet, this is plenty of power for some cheap thrills on the road. The rest of the bike seems well put together at a glance, but today I am going to dig into the guts of the thing and see what all Yamaha has in store for us and how well it stacks up against similar models on the market right now.
Design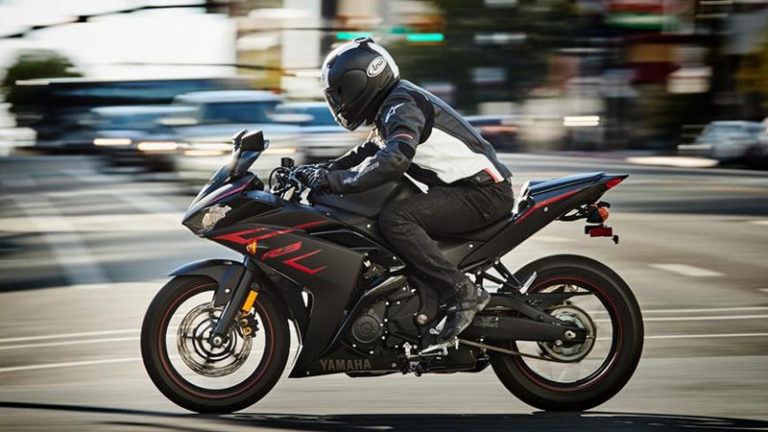 One of the things I like about the R3 is that it doesn't have that small-displacement bike look so prevalent among some of the competition, and the blended features from some of the other "R" models tie the bike well into the family tree. A pointy front fairing leads the way with a narrow windscreen and side-view mirror standoffs up top, and a scoop-shape engine cowling below. The cowling almost completely covers the engine with just a tiny glimpse of the cases, and it wanes to a point from the chin fairing back for plenty of cornering clearance.
There's very little rise or pullback in the bars and jockey-mount foot controls — a setup that encourages an aggressive, forward-leaning riding position but leaves room for a more casual, if not completely upright, upper body position. A sharp rise behind the rider's seat to the pillion serves to cup and contain the pilot, but the vestigial P-pad and subframe that quickly tapers off to nothing leaves the passenger seated right at the edge of disaster.
The taillight comes housed in the pointy rear end for a clean, angry-alien look, but then the bullet turn signals ruin it by sticking off the sides of the rear mudguard; a tiny flaw in an otherwise clean and well-planned machine.
Chassis
What the bike lacks in brute power, it makes up with crisp handling, and its behavior in the corners makes the YZF-R3 a lot of fun to ride even for experienced riders. A set of 41 mm, KYB front forks provide a plush, 5.1-inch ride that winds up feeling just a trifle soft for hard corners, and comes completely unadjustable so what you see is what you get.
What the bike lacks in brute power, it makes up with crisp handling…
The monoshock on the swingarm provides 4.9 inches of travel at the rear axle and comes with adjustable spring preload but no other adjustments. A steel diamond-type frame and swingarm form the skeleton, and lightweight, 17-inch, cast-aluminum wheels finish the rolling chassis. The "Y-spoke" design provides very little windage so they are stable in a crosswind and when passing through the pressure wave ahead of a big truck, for instance., and the low weight reduces the gyroscopic forces generated by the wheel which allows for nimble handling.
Rake and trail measure out at 25-degrees and 3.7-inches, respectively, and with only 54.3-inches between contact-patch centers, that contributes heavily to the agile nature of the ride. A two-pot, piston-and-anvil caliper bites a single, 298 mm front disc, and a one-pot caliper binds the 220 mm rear disc. If you think the brakes look insufficient on paper, consider the 368-pound wet weight and I think you'll agree that they are good enough, especially if you opt for the new-for-2017 ABS-equipped model.
Drivetrain
At the heart of this sporty ride is a rev-loving, two-cylinder, parallel-twin mill that delivers rather docile performance at lower rpms but comes alive when you get closer to the five-digit mark. A 68 mm bore and 44.1 mm stroke gives us a 321 cc total displacement with an 11.2-to-1 compression ratio. Dual over-head cams time the four-valve heads with lightweight, forged pistons in offset cylinders to reduce friction along the piston skirts.
As far as engine management goes, we have electronic fuel injection and a Transistor Controlled Ignition, but nothing in the way of traction control or variable riding modes. A six-speed transmission sends power to the rear wheel via chain drive, and surprisingly, couples to engine power through a standard, non-slipper clutch. I'm OK with making the kids learn how to properly feather the clutch and blip the throttle to rev match to prevent rear-wheel hop, but some of us appreciate the reduced effort needed to operate a slip-and-assist clutch.
What all this technical stuff boils down to is 21.8 pounds of grunt at 9,000 rpm backed up by 41.4 horsepower at 10,750 rpm with a top speed around 112 mph. Individual results may vary slightly. This is plenty fast enough for public roads, and though she's a bit of a dog coming out of the hole, things liven up considerably once you hit the torqueband and this, coupled with the nimble handling, makes the YZF-R3 loads of fun to ride.
Price
The non-ABS model in Matte Black or the Team Yamaha Blue will set you back $4,999, but the ABS-equipped version in Vivid White or Matte Black will set you back another three bills for a total of $5,299.
Competitor
Small displacement crotch rockets are fairly ubiquitous, but many of them suffer from boring designs that look like the designers knew they were making a disposable bike, so I wanted to find something with a similar fit and finish for a fair comparison. After looking at some rather depressing rides, I came around to Honda and felt the CBR 300R was a near-ideal match.
Both rides carry an abundance of body paneling that conceals the frame and most of the engine from view a la superbike  style, and the functional form of the cowling make both look like larger-displacement machines at a glance. Nose-down and tail-up, these two look ready for the closed circuit in spite of their engines that measure at around a half-a-pint. This is a huge selling point, and makes me feel like they might retain a fair resale value when/if you get ready to upgrade. The Yamaha is pretty sharp looking, but I have to admit I like the looks of the Honda a little better, and that's significant for a brand that I usually don't find very aesthetically pleasing. Honda's front forks come in a little smaller at 37 mm, but like Yamaha, offers nothing in the way of adjustment. Brakes are likewise similar, and both bikes come in a new-for-2017 ABS version for a premium.
Honda slips a bit in the engine department with a 286 cc mill opposed to the 321 cc plant in the Yamaha ride, and the size difference shows up in the performance. The CBR300R mill cranks out around 22 horsepower and 13 pounds of torque, depending on whose dyno you use, and though its a few pounds lighter at 357 pounds, the 41 ponies and 21.8 pounds from the YZF-R3 crushes the Red Rider. Top speed is greater on the Yammy as well at 112 mph with the Honda plodding along at about 90 mph, but still plenty fast for public roads.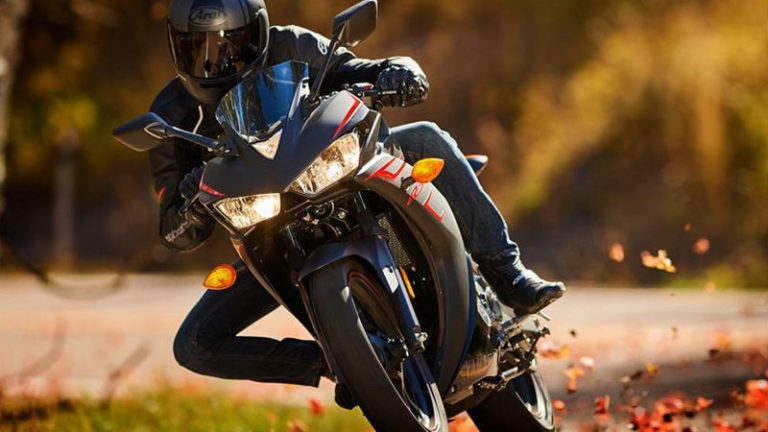 The Tuning Fork Company takes a beating at the till on the base model with its $4,999 MSRP versus $4,399 for a base CBR300R, but is cheaper with the ABS option with only $300 for the fancy brakes where Honda asks for $500 to upgrade. Not really much difference, but to someone pinching pennies it might be huge.
He Said
"Nice little trainer, and definitely better looking than some of the low-displacement bikes that follow a more naked layout and end up looking chintsey at best and unfinished at worst. Best of all, it allows one to ride a smaller displacement bike without said bike screaming 'look at me I'm a complete noobskillet!.' I expect riders will outgrow it quickly as their skill level builds up, but guys tired of stupidfast bikes and looking to downgrade should be able to make do with it as well."
She Said
My wife and fellow motorcycle writer, Allyn Hinton, says, "I disagree with my husband that folks will automatically want to upgrade when they feel comfortable with their skillset. These small displacement bikes are hot right now and there's not that many new riders to account for the growing market. They're fun bikes as commuters and for weekend jaunts. The YZF-R3 is a nice little bike with a seat height low enough to make it attractive for folks with short inseams that don't want a cruiser."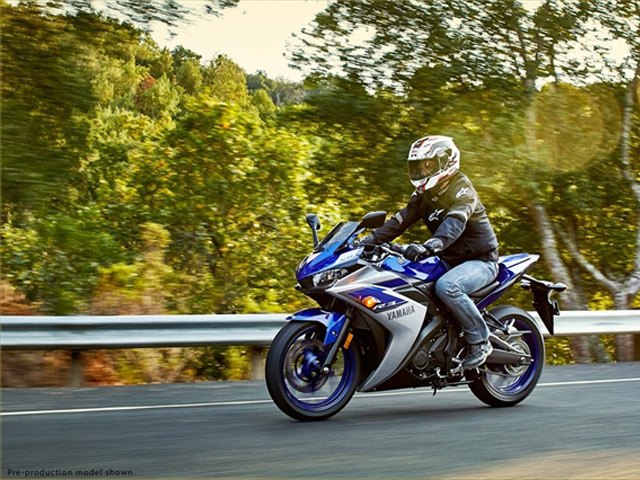 Specifications
| | |
| --- | --- |
| Engine & Drivetrain: | |
| Engine Type: | 321cc liquid-cooled, DOHC inline twin-cylinder; 8 valves |
| Bore x Stroke: | 68.0mm x 44.1mm |
| Compression Ratio: | 11.2:1 |
| Fuel Delivery: | Fuel injection |
| Ignition: | Digital TCI: Transistor Controlled Ignition |
| Transmission: | 6-speed, wet multiplate clutch |
| Final Drive: | Chain |
| Chassis: | |
| Suspension / Front: | 41mm KYB® telescopic fork; 5.1-in travel |
| Suspension / Rear: | KYB® single shock; 4.9-in travel |
| Brakes / Front: | 298mm hydraulic disc; ABS model available |
| Brakes / Rear: | 220mm hydraulic disc; ABS model available |
| Tires / Front: | 110/70-17 |
| Tires / Rear: | 140/70-17 |
| Dimensions: | |
| L x W x H: | 82.3 in x 28.3 in x 44.7 in |
| Seat Height: | 30.7 in |
| Wheelbase: | 54.3 in |
| Rake (Castor Angle): | 25.0° |
| Trail: | 3.7 in |
| Fuel Capacity: | 3.7 gal |
| Fuel Economy: | 56 mpg |
| Wet Weight: | 368 lb |
| Warranty: | 1 Year (Limited Factory Warranty) |
| Color & Price: | $4,999 – Matte Black, $4,999 – Team Yamaha Blue, $5,299 – ABS – Matte Black, $5,299 – ABS – Vivid White |
(topspeed.com, https://goo.gl/wnOMpL)
Comments
comments