Suzuki brings dual-sport capabilities to the entry-level sector with its DR200S. A heavy emphasis on off-road performance defines the overall look of the thing, and a 199 cc engine drives it over hill and dale as well as down the road with all the appropriate lighting for safety and legalities. The end result seems to be a functional, if plain, bike that provides a stable ride and moderate power with a humble overall bearing. A carry-over for the last few years, it hasn't changed much, but that's not necessarily a bad thing.
Design
I like to think of dual-sport bikes as the natural, next-step evolution of the Enduro class, which is itself a dual-surface machine, but while most enduros come off looking like a straight-up dirtbike with turn signals added almost as an afterthought, the dual-sport bikes are clearly next gen.
RWU forks completed with bellow gaiters and a large front wheel start things off in the most dirt-tastic of ways, and the tripletree-mount mudguard finishes off the leading edge with a very definite off-road look. The headlight can incorporates a flyscreen into the top for at least the suggestion of a little protection, and from there the upper lines slide down the camel-hump fuel tank to the bench seat in the swale between the tank and the slightly elevated ass end. That dip in the upper lines brings the seat height down to 33.3 inches unladen to allow for easier access to the ground when you need to dab, or put your feet down at a light.
A center-mount exhaust keeps the muffler tucked away under the subframe, out of the way where it won't get smacked by brush or prone to damage from being dropped, and let's face it, if you go off-road with it, it ain't a matter of if you drop it, but when.
The all-around standoff turn signals wrap things up, and the factory updated the taillight housing to what they term a "sleeker design," but actually looks rather blocky compared to the two previous years. In the end, we don't have a whole lot of flash, but that's ok, it ain't that kind of bike, but what we do have is plenty of function.
Chassis
Tubular steel members make up the single-downtube frame and subframe, and isn't necessarily built to keep weight to a minimum, but to provide strength and stability in its intended environment. A relatively low center of gravity and butt position contributes to this stability, and though the bike isn't as nimble as all that, it pivots well around the CoG for a modicum of agility. That's fine, 'cause this is neither a trials bike nor a supercross machine, and these attributes make for a kind, predictable ride.
Non-adjustable front forks support the front end while the coil-over rear monoshock comes with the usual preload adjustment. The fixed parameters up front deliver a fairly plush ride, and components at both ends give up 8.1 inches of travel at the axle, plenty for riding in uncivilized areas.
A single brake disc and hydraulic caliper slows the front wheel, but amazingly, Suzuki went the mechanical-drum route at the rear wheel. Granted, while this isn't unheard of with smaller rides and off-road surfaces only offer up so much traction to work with the brakes, I would be remiss if I didn't point out that this is a dual-sport which comes with the implication that it will see some road use. C'mon guys, it's the 21st century, let's try to act like it.
Dual-surface hoops cap the 21-inch laced front rim, and 18-inch rear, and they run a 70/100-21 and 100/90-18, respectively. In keeping with its off-road nature, the hangie-offie parts such as the brake pedal, shifter and mirror stems will fold up to the rear in the event of that inevitable dump.
Drivetrain
The beating heart is a diminutive, air-cooled thumper that pushes the DR200S up to 70 mph (individual results may vary). A 66 mm bore and 58.2 mm stroke leaves us with a slightly oversquare configuration with a 9.4-to-1 compression ratio, so you can expect to buy mid-grade to prevent pre-ignition/detonation.
Fuel-injected haters rejoice as we have a Mikuni carburetor that meters the mix with a simple cable-type throttle so there's no RbW here, just a simple and reliable mechanical control. Equally simple is the capacitor-discharge ignition system that works without any fandangled traction control or rider modes, a fact that makes it friendlier to diagnose and work on, even away from the house.
Suzuki added its proprietary composite electro-chemical material (SCEM) to the cylinder bore to reduce friction and wear, but failed to include its idle-control system which leaves this engine a little cold blooded coming out of the stable.
A five-speed transmission and rack-and-pinion clutch manages the ratios and a chain final drive completes the connection to the rear wheel. All tough stuff, and made to withstand the rigors of the off-road work.
Pricing
Not much has changed year-to-year, and the price is the same across the board at $4,499. At less than five grand, it's priced to move without hurting the wallet too badly, a desireable trait for an entry-level machine.
Competitors
The market is filling out nicely in this race to the bottom, but of the available products I decided I wanted to give the Tuning Fork company a crack at this Suzuki.Yamaha's XT250 fits the bill for overall looks with very similar flylines and the same type of clamp-mount front mudguard that the DR sports.
Present across the board is the steep drop at the back of the tank that gives the bikes their dual-sport panache, but the XT 250 carries much less rise in its subframe for a rather straight bench seat that does nothing to improve the aesthetics. Yami's suspension brackets Suzuki's 8.1 inches of travel with 8.9-inches up front and 7.1-inches in back, but come with the same (lack of) adjustments.
Obviously there is some variation on powerplant size, and the XT250 runs a 249 cc thumper that's just a skosh larger than Suzuki's mill. Unlike Suzuki, Yamaha opts for a more advanced induction control with an electronic fuel injection system. This is both a blessing and a curse, and call me old fashioned but I think I prefer the carb. Of course, I know how to work on and tune a carb, so I would prefer it since I don't have to have a scanner on me whenever I need to hop off and tweak something on-the-go. I leave it to you to decide which you prefer.
So far, all this could go either way depending on taste, but what isn't so subjective is the price tag. Suzuki picks up its biggest win here with its reasonable $4,499 sticker, but Yamaha is a little bit prouder at $5,199. Granted, its got a slightly bigger engine, but the $700 difference is significant at this level.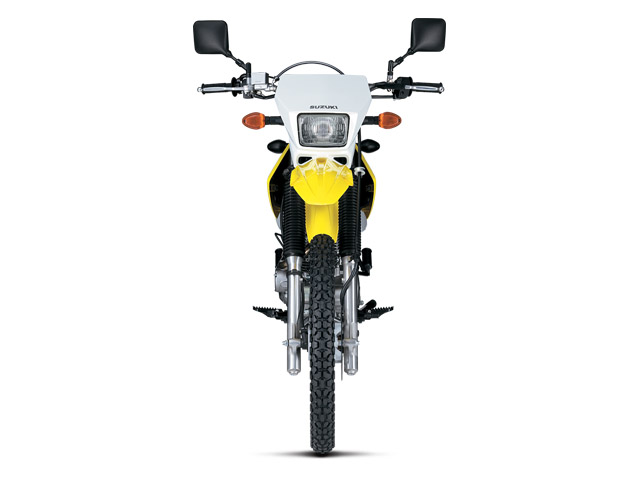 He Said
My husband and fellow motorcycle writer, TJ Hinton, says, "I'm a little too long in the tooth to be tearing around off-road on such a ride, but it still looks fun all the same. If anything, the biggest selling point with this ride is its simplicity, which to me means reliability and a reasonable expectation of being able to maintain, repair and tune the thing. I have to admit that engines like this are a dying breed because EPA regulations are slowly choking them out, but a bike that can teach you to ride as well as wrench is a solid first step to a well-rounded rider's skillset."
She Said
"Call me old-fashioned, but there is a certain amount of satisfaction in tinkering with a carburetor. Yes, fuel injection and all those fancy electronics are awesome, but I'm a bit old-school when it comes to the mechanical side of things. That aside, the DR200S is a spiffy little ride and I might even suggest it as a commuter along with being a weekend fun-ride."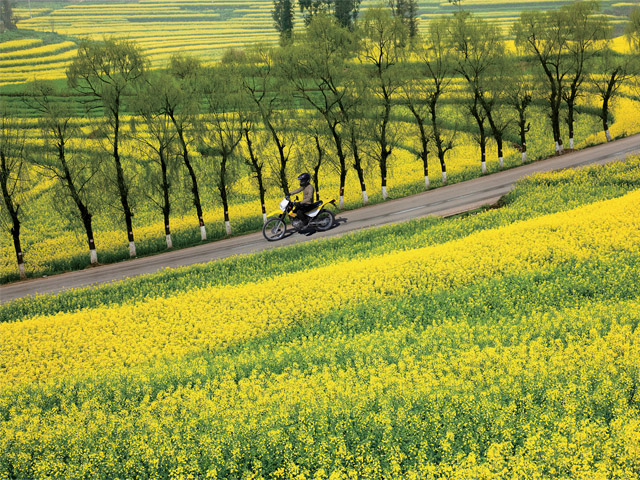 Specifications
| Engine: | |
| --- | --- |
| Engine: | 199cc, 4-stroke, air-cooled, SOHC |
| Bore x Stroke: | 66.0 mm x 58.2 mm (2.60 in x 2.29 in) |
| Compression Ratio: | 9.4 : 1 |
| Fuel System: | MIKUNI BST31SS, single |
| Starter: | Electric |
| Lubrication: | Wet sump |
| Drive Train: | |
| Transmission: | Wet multi-plate |
| Transmission: | 5-speed constant mesh |
| Final Drive: | Chain, DID525V9, 110 links |
| Chassis: | |
| Suspension Front: | Telescopic, coil spring, oil damped |
| Suspension Rear: | Link type, coil spring, oil damped |
| Brakes Front: | Disc brake |
| Brakes Rear: | Drum brake |
| Tires Front: | 70/100-21 M/C 44P, tube type |
| Tires Rear: | 100/90-18 M/C 56P, tube type |
| Fuel Tank Capacity: | 13.0 L (3.4 US gallons), 12.0 L (3.2 US gallons) CA model |
| Electrical: | |
| Ignition: | Electronic ignition (CDI) |
| Spark Plug: | NGK DR8EA or DENSO X24ESR-U |
| Headlight: | 12V 60/55W |
| Tail Light: | 12V 21/5W |
| Dimensions and Curb Weight: | |
| Overall Length: | 2155 mm (84.8 in) |
| Overall Width: | 805 mm (31.7 in) |
| Overall Height: | 1140 mm (44.9 in) |
| Wheelbase: | 1405 mm (55.3 in) |
| Ground Clearance: | 255 mm (10.0 in) |
| Seat Height: | 845 mm (33.3 in) |
| Curb Weight: | 126 kg (278 lbs) |
| Details: | |
| Warranty: | 12 month unlimited mileage limited warranty |
| Color: | Champion Yellow No. 2 / Solid Black |
(topspeed.com, https://goo.gl/1Xah42)
Comments
comments