Meccanica Verghera Agustaquickly made its mark on the motorcycle-racing world back in 1945 when it started producing motorcycles in post-war Italy. Legend has it that the brothers Agusta shifted from manufacturing airplanes to motorcycle both to save the jobs of the factory workers and to fund their own penchant for racing.
Over the years, MV Agusta has remained a rather small company with an over-sized footprint on the track, who in 2010 added the 1090 RR to the already decade-old Brutale family. Although the 1090 is available sans the "RR" through Canadian dealers, the factory restricted U.S. imports to the more race-tastic and powerful "RR" model for 2017. MV Agusta isn't a brand that gets a lot of recognition in the U.S. because reasons, so join me while I illustrate why it should.
Design
There aren't a lot of ambiguities with the "RR." The bike is open, honest, and can be taken at face value. In short, it absolutely screams Italian muscle bike, and is by no means an exercise in understatement. The fuel tank, seat and subframe look fairly complete and typical of other contemporary sportbikes , but just lower your gaze a bit and the naked ness becomes readily apparent.
First you will notice the exposed Trellis frame that MV Agusta painted bright red. After all, one should never be too subtle for one's audience. That one detail sets the tone for the rest of the bike. Stripped down to the bare essentials, the 1090 RR leaves nothing to the imagination, so what you see is what you get, and you can see everything.
All this leaves the bike looking mean, clean and ready for serious business with a post-modern, Mad Max vibe. Both taillights and turn signals come well planned out and molded in, and the daytime running lamp/headlight assembly adds to the charm of the bike with its curious configuration. No matter how you feel about seeing all the bits and pieces that make the engine go roundy-round, I can tell you that mechanics love having access to everything, and you will too if you do your own maintenance/light repairs.
Chassis
The Trellis frame sports a composite, bi-metal construction that uses chrome-molybdenum steel tubing for the main section with a pair of aluminum plates to support and reinforce the swingarm pivot with the mill completing the stressed-engine assembly. A single-sided swingarm completes the skeleton while keeping unsprung weight at the rear tire low, and it leaves us with an unimpeded view of the wheel from the right side. The job of taming the swingarm falls to a Sachs monoshock tucked away beneath the subframe, and the "RR" shock sports the usual spring-preload adjustment plus rebound damping and both high- and low-speed compression damping for complete control over the rear wheel action.
As sweet as that is, the front suspension by Marzocchi is even more impressive. One fork carries the compression damping adjuster while the other mounts the rebound damping adjuster, and both of the 50 mm, inverted forks come with adjustable spring preload for quick adjustments and complete control over ride quality. In keeping with its race-tastic tendencies, the front forks come complete with a quick-release mechanism for speedy removal of the front wheel, and unlike quick-release brake caliper pins, these are actually street legal.
Naturally, bikes with a lot of "go" also need loads of "stop," and MV Agusta doesn't disappoint. A pair of four-pot, Brembo Monobloc calipers bind the 320 mm discs up front, and a four-pot, Nissin caliper pinches the 210 mm rear disc. ABS protection falls to the Bosch 9 Plus system that comes switchable between street and race modes with rear-wheel lift-up mitigation (RLM) to help tame the forces associated with extreme braking maneuvers. Like I said, plenty of "stop" to go with the "go."
The preponderance of chassis components give the "RR" a compact, 56.61-inch wheelbase with 4.07 inches of trail for a good balance between quick flicks and stability at speed. Seat height is a trifle tall at 32.68-inches high, but that isn't unusual for bikes of this ilk, and part of that was necessary for the 5.91 inches of ground clearance needed for deep cornering. So fret not, oh fiery-eyed elbow-draggers, you can push the 1090 RR just as far as your bravery and riding condition will permit.
Drivetrain
As radical as the rest of the bike is, it's the beating heart that steals the show. The quattro cilindri (four cylinder) engine runs a decidedly over-square configuration with a 79 mm bore and 55 mm stroke for a total displacement of 1078 cc. Liquid cooling carries off the bulk of the waste heat, and the factory doubles down by adding a separate oil cooler to further protect the engine.
Dual over-head cams actuate the four valves in each head to really open the combustion chamber up and allow the engine to breathe freely. A Mikuni throttle body feeds the beast while an electronic, multi-point fuel injection meters the pusholine and an electronically controlled, induction-discharge ignition sets it all on fire. Compression is through the roof at 13-to-1, so you can forget about running anything less than premium champagne in the thing.
I may be wrong for it, but I generally expect Italian motors to punch above their weight, and the Brutale doesn't disappoint. The engineers managed to wring 73.7 pound-feet of torque at 10,100 rpm, backed up by 158 horsepower at a sphincter-tightening 11,900 rpm for a top speed of 164.5 mph. While I'm not sure I want to straddle anything that's wound up that much, I gotta' say that's some impressive numbers out of an engine that barely breaks one liter.
Much like the quick-release front wheel, the six-speed, constant-mesh gearbox comes with a race-ready, cassette-style gear cluster that can be quickly swapped out for another with different ratios trackside. This will never come up for the majority of riders, but it makes a nice conversation point. A hydraulic slip-and-assist clutch controls power flow from engine to tranny, and provides some anti-wheel hop protection when downshifting ahead of a corner.
Price
You can score a 2017 Brutale 1090 RR ABS for $19,298 MSRP — same price as last year — in a choice of two-tone paint schemes; Black Metallic/Avio Gray or Graphite Mettalic/Pearl Ice White. I can certainly think of a few combinations that would look better, but I will say these colors are much more palatable than some of the paint combos with which the earlier 1090s were burdened.
Competitor
Finding a direct competitor proved to be a little difficult. I considered the BMW S 1000 RRand struck it because it wasn't nearly naked enough. Next I looked at the Super Duke 1290 from KTM , and while it was plenty naked, the engine was a little too big for a fair head-to-head. Ultimately, I settled on another Italian stallion as it were, the Monster 1200 R from Ducati.
Naturally, both rides exude the grace, charm and function-driven form it seems you can only get from products out of Europe's boot. Minimal sheet metal provides little opportunity for the usual design features, and both bikes wear their nakedness like a three-piece suit. Typical of their class, both sport exposed Trellis frames that ultimately become part of the overall aesthetic appeal, but the sheet metal on the red Duc matches the red of the frame, and seems to visually tie it all together.
Chassis components are similar in that they are all top-shelf items. While MV Agusta runs on Marzocchi and Sachs products, Ducati opted for Öhlins front and rear. All of the above come fully adjustable. Brakes are likewise top-of-the-line, with ABS protection standard across the board. The Monster runs Brembo all the way around with massive, 330 mm front discs versus the Brutale with Brembo/Nissin calipers and slightly smaller, 320 mm dual discs. Not much to choose between the two, but the Monster has a reputation for having a slightly weak rear brake, and I know of no such complaints about the Brutale. There that is, for what it's worth.
Performance numbers illustrate the difference between four small cylinders and two big ones. The Ducati Testastretta L-Twin sports a few more cubes at 1,198.4 cc, just a skosh bigger than the 1,078 cc Brutale mill, but the real story lies with the dyno results. In typical fashion, the inline-four Brutale motor pushes out plenty of horsepower with 158 ponies, but torque hovers down in the mid-seventies at 73.75 pounds of grunt. Ducati falls off a bit in the horsepower department with 145 ponies, but makes it up with its 91.8 pound-feet of grunt.
At $18,695, the Monster 1200 R is just a bit less expensive than the Brutale with its $19,298 sticker. This represents an insignificant difference considering the nearly 20 K price on both, and is unlikely to make or break any deals. All I can say is, you're going to have to take a couple of test rides and decide for yourself.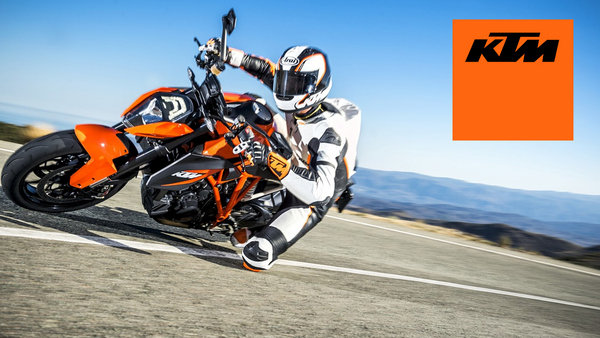 He Said
"Man, I love covering Italian sport/superbikes , and the Brutale was a lot of fun. Fast and clean, if not sleek, the Brutale "RR" is the epitome of a naked superbike. I wonder at not including rider modes to help less-than-race-quality rider stay alive long enough to learn to control the power contained within the mill. This bike is definitely a candidate for a noobie-rider mode that nerfs the power through the floor, and the lack thereof pushes the Brutale into experienced-riders-only country."
She Said
My wife and fellow motorcycle writer, Allyn Hinton, says, "This bike is a beast. It's the brutale in the Brutale line. Now, as my husband says, we're all in our own movie — meaning we are all looking at the world with different eyes and we each have our own priorities and goals. This bike is not in my movie. It's stupidfast, so if you're all about speed, this bike is on your radar. This is not for the unskilled rider. Now, that being said, there is plenty of torque available no matter what speed you're going. It's a heavy bike at a stand-still and at low speeds, so I feel like if you have to tippy-toe this because of the seat height, it'll be hard to handle in the parking lot. However, once you start moving,that weight seems to miraculously disappear. It's very flickable, and as you might assume, it just wants to go."
Specifications
ENGINE:
Type:
Four cylinder, 4 stroke, 16 valve
Timing system:
"D.O.H.C", radial valve
Total displacement:
1078 cm (65.78 cu. in.)
Compression ratio:
13:1
Starting:
Electric
Bore x stroke:
79 mm x 55 mm (3.1 in. x 2.2 in.)
Max. power – r.p.m. (at the crankshaft):
116.5 kW (158 hp) at 11900 r.p.m.
Max. torque – r.p.m.:
100 Nm (10.2 kgm) at 10100 r.p.m.
Cooling system:
Cooling with separated liquid and oil radiators
Engine management system:
Magneti Marelli IAW 5SM ignition – injection integrated system with Mikuni throttle body; induction discharge electronic ignition; sequential timed "Multipoint" electronic
injection
Clutch:
Wet, multi-disc with mechanical anti-surging device
Transmission:
Cassette style; six speed, constant mesh
Primary drive:
50/79
Gear ratio:
First gear:
Speed 13/38
Second gear:
Speed 16/34
Third gear:
Speed 18/32
Fourth gear:
Speed 20/30
Fifth gear:
Speed 22/29
Sixth gear:
Speed 19/23
Final drive ratio:
15/43
ELECTRICAL EQUIPMENT:
Voltage:
12 V
Alternator:
350 W at 5000 r.p.m.
Battery:
12 V – 8.6 Ah
DIMENSIONS AND WEIGHT:
Wheelbase:
1438 mm (56.61 in.)
Overall length:
2100 mm (82.68 in.)
Overall width:
780 mm (30.71 in.)
Saddle height:
830 mm (32.68 in.)
Min. ground clearance:
150 mm (5.91 in.)
Trail:
103,5 mm (4.07 in.)
Dry weight:
183 kg (403.5 lbs)
Fuel tank capacity:
23 l (6.07 U.S. gal.)
PERFORMANCE:
Maximum speed:
265.0 km/h (164.5 mph)
FRAME:
Type:
CrMo Steel tubular trellis ALS
Rear swing arm pivot plates material:
Aluminium alloy
FRONT SUSPENSION:
Type:
Marzocchi "UPSIDE – DOWN" telescopic hydraulic fork with external rebound, compression damping and spring preload adjusters
Fork dia.:
50 mm (1.97 in.)
Fork travel:
125 mm (4.92 in.)
REAR SUSPENSION:
Type:
Progressive, Sachs single shock absorber with rebound damping and spring preload adjustment
Single sided swing arm material:
Aluminium alloy
Wheel travel:
120 mm (4.72 in.)
BRAKES:
Front brake:
Double floating disc with Ø 320 mm (Ø 12.6 in.) diameter, with steel braking disc and aluminum flange
Front brake caliper:
Brembo radial-type with monobloc 4 pistons Ø 34 mm (Ø 1.34 in.)
Rear brake:
Single steel disc with Ø 210 mm (Ø 8.27 in.) dia.
Rear brake caliper:
Nissin with 4 pistons – Ø 25.4 mm (Ø 1.00 in.)
ABS System:
Bosch 9 Plus with RLM (Rear wheel Lift-up Mitigation)
WHEELS:
Front:
Material/size Aluminium alloy 3.50 " x 17 "
Rear:
Material/size Aluminium alloy 6.00 " x 17 "
TYRES:
Front:
120/70 – ZR 17 M/C (58 W)
Rear:
190/55 – ZR 17 M/C (75 W)
FAIRING:
Material:
Thermoplastic
DETAILS:
Colors:
Graphite Metallic/Pearl Ice White, Black Metallic/Avio Grey Metallic
Price:
$19,298
(topspeed.com, https://goo.gl/5JXGch)
Comments
comments