Adventure bikes are fairly ubiquitous these days, and Honda makes sure to get its share of that market segment with the entry-level-ish NC700X. Priced well below 10 grand with a rider-friendly engine, the NC700X can serve as a trainer bike for more serious on/off-road work, or as an affordable commuter in a strictly urban environment.
Naturally, as new genres develop the first developmentrace is to get something in the market that will establish a toehold, then the onus is on refining the product and looking for an edge in the resulting arms race as it were. The Red Rider engineers and designers cut their teeth on bigger/badder rides, and now are dropping back a bit to try and grab customers who aren't liable to ride across some African desert or some such. Join me as I take a look at this effort and see what lessons Honda learned on the big bikes, and what features made the jump downhill.
Design
They say that "adventure" is just hardship with an overdeveloped sense of self, and I've reached an age where I tend to agree with that assessment more and more. Having said that, it's really something of a misnomer; most "adventure" bikes are the two-wheel equivalent of soccer-mom SUVs that are never meant to see terrain rougher that one encounters in the grass median. So it is with the NC700X. Lest you think I'm being too critical, understand that I'm just making a point, and though this is not a baby Africa Twin, it is a spectacular commuter bike.
A fairly tall windshield together with the mid-size front fairing creates the pocket of protection, and vents in the windshield relieve the vacuum a bit to help reduce head buffeting. RWU forks mount a compact front fender between the blackout sliders with a vestigial bird's beak that gives the bike a bit of an off-road look, but little in the way of functionality— unless the function is to make it look like it's more dirt-tastic than it really is, in which case, mission accomplished Honda.
Moving aft we have bars with little rise or pullback to speak of ahead of the fuel-tank bump. I call it a bump because it isn't actually a tank at all, but a flip-open storage compartment capable of holding one full-face helmet. Although the "tank" is a lie, it describes the flylines that define the genre and looks natural enough till you notice the seam. In case you're wondering, the actual, 3.7-gallon fuel tank is below the rider's butt and the fill is underneath the flip-up pillion pad.
Large grab rails and a tucked-under taillight housing finish the tail with standoff turn signals on the rear mudguard. Flip-up passenger footpegs complete the ensemble for your human cargo, and the rider triangle puts the pilot's feet under his butt, but well below the jockey position so it's easy to comfortably control the bike from a standing position. Speaking of comfort, that's one quality you will hear over and over from riders, which is a good argument for using this ride as a commuter. Work is supposed to be tiring. Getting back and forth to work, not so much.
Chassis
A truss-type frame made of steel tubing makes up the bone structure with a steel, yoke-style, two-side swingarm that runs with a plain, but strong, rectangular cross section and straight arms. Steering head layout kicks the 41 mm forks out at a 27-degree angle with 4.3 inches of trail; numbers that provide a stable ride with ample slow-speed maneuverability. To keep the rear-end clean and center of gravity low, the designers tucked the rear monoshock away beneath the bike well out of sight. One has only to look at the suspension travel numbers to see the true intended purpose of the bike; the 5.4 inches up front and 5.9 inches in back are undeniably plush for urban-jungle work, but don't quite get into proper multi-surface ranges.
Cast rims mount the 17-inch hoops with a 120/70 and 160/60 on the front and rear, respectively. The struts and hoops hold the seat up at 32.7 inches off the ground which is high enough to put the shorter inseams on tiptoes, but the low center of gravity doesn't make it too terribly uncomfortable to manage the 474-pound wet weight, and anyone over 5-foot-9 or so should be able to flatfoot it with both feet, no problem.
A single, 320 mm, wave-cut disc and twin-pot binder slows the front wheel and a 240 mm disc and uni-pot caliper manages the rear with no brake mixing or ABS to complicate the works, at least on the "standard" model, but the DCT version does have ABS so if you feel you need that safety net, you gotta' go with the automatic transmission.
Drivetrain
Honda drives this little adventurer with a 670 cc parallel twin. Liquid cooling and PGM fuel injection help it meet EPA and CARB standards for universal use in the States. A 36 mm throttle body feeds the slightly undersquare beast with its 73 mm bore and 80 mm stroke, and the 10.7-to-1 compression ratio is warm enough to call for mid-grade pusholine, and a single over-head cam times the four valves in each combustion chamber. Simple, but effective.
Power delivery is friendly and predictable with a fairly symmetrical powerband that delivers around 50 horsepower at 6,250 rpm and 45 pounds of grunt at 4,750; another detail that makes it un-intimidating to ride with just enough mustard to make it fun for experienced riders.
We have a couple of options at the gearbox here folks. You can go the traditional route with the manual, six-speed transmission, or you can avail yourself of the twist-and-forget functionality provided by Honda's proprietary Dual Clutch Transmission that operates as a full-automatic tranny with the option of shifting via push button on the left switch housing. One neat thing with the push-button shifter is you don't have to roll off the throttle as you would a manual tranny, just peg it and go-go-go. Easy-peasy, and good for folks unable to manage the old clutch-and-toe setup on most full-size bikes out there for whatever reason. In case you were wondering; too lazy to shift is a viable reason. Wink, nudge.
Pricing
Score a standard NC700X for $7,699 in Candy Red or the DCT/ABS version for a mere six bills more at $8,299 for 2017. This comes with a 12-month, unlimited-mileage warranty that can be extended with Honda's Protection Plan program.
Competitors
Contests between established genres become more of a game of inches than yards, and so I picked one of Honda's traditional foes and went with the V-Strom 650 from Suzuki, a ride with more in common with the NC700X than not, so let's get started.
The V-Strom 650 borrows heavily from the look and layout of its bigger brother the V-Strom 1000, and fits well within the adventure-bike mold looks-wise. Suzuki's bird's beak fairing is a little more sincere than Honda's, and while the V-Strom's windscreen is a bit smaller, it's adjustable and will fit a wider range of body types and preferences. I realize aesthetics are subjective, but I prefer the softer lines of the V-Strom to the more angular Honda.
Suspension isn't terribly sophisticated on either ride, but Suzuki blessed the V-Strom with preload-adjustable, 43 mm front forks with rebound damping and preload adjustment in back as well. Better than nothin'. The V-Strom carries more serious brakes as well with a pair of 310 mm discs up front to go with the 260 mm in back, and ABS is available without being forced to bundle it with a transmission choice that many may not be on board with, as on the Honda.
So far, we have a bit of a tit-for-tat with a slight advantage to Suzuki, but the Red Riders take a beating when we look at the powerplants. Honda carries a few extra cubes at 670 cc versus the 645 cc V-Strom. Raw power numbers shows Suzuki's V-twin cranking out around 66 ponies with 44 pounds of grunt, around the same torque but 16 horsepower more than the Honda. Compounding Honda's problem is the fact that Suzuki runs its Dual Throttle Valve in the intake that moderates the difference between power supply and demand, and Suzuki's traction control and idle-speed control just adds insult to injury.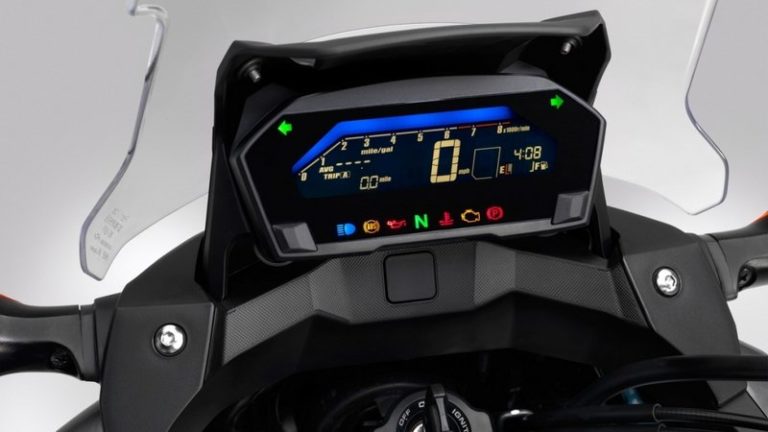 Honda gets a win at the till by the slimmest of margins by staying a bill below the V-Strom's approximate $8,399 tag (w/ABS). I say approximate because the 2017 price has yet to be released by Suzuki, but I'll bet you that price won't drift far if it goes anywhere at all.
He Said
"Damn, I really kind of liked this Honda until I compared it to the Suzuki. Funny how a little perspective can change things so drastically, ain't it? Still, there's nothing bad about the NC700X, and a lot to love, especially if you have need of an automatic transmission. It's easy to use, and a Hell of a lot cheaper than having a custom ride built to work around some physical problem that would otherwise prevent you from riding, so I'm down with it, regardless."
She Said
My wife and fellow motorcycle writer,
Allyn Hinton, says, "Honda calls this an adventure bike, but it doesn't fit my definition of what an adventure bike is. This isn't really off-road worthy. You can get hand guards in the accessory catalog, but there's no engine guard. You could put some knobbies on it and tweak the suspension, but it's never going to be more than a bike for modest dirt-road travel. That being said, it does make a decent tourer. The seat is comfortable and the rider triangle lends itself to long-distance riding. Add the hard saddle bags and top case and you have a decent tourer or a commuter, though if you live in a place where lane-splitting is legal, the panniers make the bike a little wide for such actions. Shifting with the DCT transmission is a little clunky at the low end, but once you get moving, it's not bad."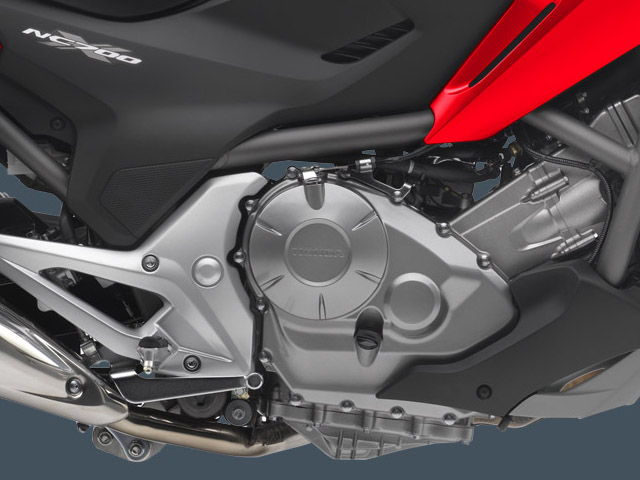 Specifications
| | |
| --- | --- |
| Engine Type: | 670cc liquid-cooled parallel-twin |
| Bore and Stroke: | 73.0mm x 80.0mm |
| Compression Ratio: | 10.7:1 |
| Induction: | PGM-FI; 36mm throttle body |
| Ignition: | Digital transistorized w/ electronic advance |
| Valve Train: | SOHC; four valves per cylinder |
| Final Drive: | Chain; 16T/43T |
| Starting: | Electric |
| Transmission: | 6-speed, (CN700X DCT: 6-speed Automatic DCT) |
| SUSPENSION: | |
| Front: | 41mm telescopic fork; 5.4 in. travel |
| Rear: | Pro-Link® single shock; 5.9 in. travel |
| BRAKES: | |
| Front: | Single 320mm disc w/ twin-piston caliper (NC700X DCT w/ ABS) |
| Rear: | Single 240mm disc w/ single-piston caliper(NC700X DCT w/ ABS) |
| TIRES: | |
| Front: | 120/70ZR-17 radial |
| Rear: | 160/60ZR-17 radial |
| Rake (Caster Angle): | 27º |
| Trail: | 110mm (4.3 in.) |
| Ground Clearance: | 6.5 in. |
| Seat Height: | 32.7 in. |
| Wheelbase: | 60.6 in. |
| DETAILS: | |
| Fuel Capacity: | 3.7 gal., including .8 gal. reserve |
| Curb Weight: | 474 lbs. (NC700X DCT: 500 lbs.) |
| Colors: | |
| 2015: | Red; Black |
| 2016: | Silver Metallic |
| 2017: | Candy Red |
| Price: | |
| 2015: | $7,799 (DCT/ABS $8,799) |
| 2016: | $7,499 (DCT/ABS $8,099) |
| 2017: | $7,699 (DCT/ABS $8,299) |
(topspeed.com, https://goo.gl/X5971A)
Comments
comments