The SuperLow line carries few changes into the '17 model year, and for the most part can be considered a direct carryover from 2016. Powered by the 883 cc Evolution engine, the XL 883L delivers modest performance and nimble handling. The slammed suspension puts the rider's butt close to the ground where even the shortest inseams can feel confident and in control with both feet down flat. While this ride isn't quite as entry level as the Street 500/750, it is the smallest of  Harley-Davidson's traditional designs and typically serves as a trainer bike for folks interested in air-cooled cruisers.
Design
No matter what changes get made for individual models, all Sportster models come with Harley's narrowest frame and front end, just as they have since the K-model introduced Harley's little sportbike to the world back in the early '50s. This leaves us with a fairly narrow bike with a skinny entry and exit, and an almost un-Sportsterlike profile by virtue of its squat rear end and fuel tank that doesn't quite lend the same lines as the classic peanut tank. If anything, the SuperLow looks more like a slightly miniaturized Super Glide; amazing how much difference a few small changes can make, isn't it?
A tapered solo seat rests at 27.4 inches off the ground, unladen, and a 180-pound rider will push that right on down to 25.5 inches high. That's pretty low for a family that has traditionally been fairly tall throughout its history, and almost as low as the discontinued Hugger line.
A riser-mount speedometer bundles an electronic display with an odometer/trip meter, engine diagnostic interface and idiot lights for low oil pressure and low fuel. Mid-mount controls and a pullback handlebar place the rider in a relaxed cruising position with the ability to lean forward and into the turns when you're feeling a little saucy.
Chassis
Mild-steel tubing makes up the double-downtube, double-cradle frame, and the factory takes its usual pragmatic approach with the frame serving only as a skeleton rather than part of the aesthetics; same with the swingarm that runs a traditional yoke with a rectangular cross-section for strength. Steering-head layout really cranks the forks out there with a 31.1-inch rake with 5.7 inches of trail and a 59.1-inch wheelbase. These numbers are indicative of a bike that prefers to go in a straight line, so you can expect it to be fairly stable at speed in spite of the short wheelbase but a trifle reluctant in the corners.
You can expect it to be fairly stable at speed in spite of the short wheelbase but a trifle reluctant in the corners.
Cast-alloy rims mount Michelin Scorcher "11" tires with a 120/70 ZR-18 up front and 150/60 ZR-17 in back. These tires are made to Harley-Davidson's specifications, and present a sporty profile with deep grooves meant to aid in water evacuation with a sticky rubber formula to boost overall traction. The cast-in, Bar-and-Shield logos serve no practical purpose, but they are kinda cool all the same.
A single, 300 mm disc and twin-pot caliper slows the front wheel with a 260 mm disc and the same caliper to bind the rear. ABS isn't included as part of the base-model equipment, but it is available as an option so you can have that extra safety net if you really want it. I still think it's better for the development of the skillset to learn on a non-ABS bike, but I do concede that it's probably safer with ABS.
Suspension is typical of budget-conscious bikes; the 39 mm, cartridge-type forks run as standard, right-way-up assemblies with fixed preload and damping values. Coil-over emulsion shocks support the rear end with only the most basic preload adjuster. Suspension travel at the axle measures out at 4.11 inches up front, but the rear only moves through a mere 2.13 inches, and represents the trade-off necessary to get that low rear end.
Drivetrain
At 30-years old, some may call the Evolution Sportster an "old" engine, and be that as it may, it's also a proven one, and a design that Harley has been perfecting since the mid '80s. The air-cooled mill runs the typical, 45-degree V-Twin configuration with a cast-in, five-speed transmission case integral with the engine cases. Power flows through the standard wet clutch, and a belt final drive carries the power to the pavement.
At 30-years old, some may call the Evolution Sportster an "old" engine, and be that as it may, it's also a proven one…
The undersquare bore and stroke measure out at 76.2 mm and 96.8 mm, respectively, and this layout delivers the kind of grunt we expect from a long-stroke engine with a total of 53.8 pound-feet of grunt at 3,750 rpm. An electronic, sequential-port fuel-injection system manages to wring 51 mpg out of the mill, but the SuperLow comes minus any sort of variable power delivery and now you can't even get a Super Tuner so expect this vanilla engine management system to remain adequate, if a bit bland.
Typical of the breed, a one-lobe cam actuates each of the external pushrods to time the two-valve heads, and the compression ratio is fairly mild at only 9-to-1 so you can get away with mid-grade fuel. All-in-all, a simple, reliable engine that produces enough power to make the bike fun for experienced riders but not so much as to make it unfriendly to new riders.
Price
The '16 SuperLow starts at $8,499 in Vivid Black — $250 over the 2015 price — and goes on up to $9,049 for the two-tone paint option. Buyers looking for a '17 model can tack on another bill to the base price across the board, and expect to pay $795 for the ABS and $395 for the security option no matter which year they choose. California buyers can also look forward to a $100 charge for their emissions package.
Competitor
I went hunting for a competitor, and it didn't take the Bolt's newly reincorporated Star cruiser line long to float to the top. In fact, the Bolt looks more like a traditional Sportster than the SuperLow, much to the credit of the designers who were looking to grab a slice of Harley's Sportster market, even though most of the illusion comes from the peanut-like tank on the Bolt. Beyond that, the V-twin engine and double-cradle frame keeps everything below the tank looking close enough to be cousins.
The Bolt sports slightly fatter front forks with 41 mm tubes versus the 39 mm tubes on the SuperLow, but both run a single-disc front brake and lack ABS on the base model. Overall, the suspension and brakes are a bit of a yawn on both rides, but that's to be expected on entry-level bikes like these.
Engines are also quite similar, and the V-twin layout of the Bolt's mill is no accident, it's meant to appeal to the younger American market. Both run air-cooled mills that leave the front end unspoiled by radiator or cowling, and neither come with any kind of fancy engine management or traction control.
Star puts pressure on Harley with its Bolt mill that puts out 59 pounds of grunt at three grand, while the XL plant only generates 53.8 pounds at 3,750 rpm. Granted, the Bolt enjoys a 59 cc displacement advantage, but frankly I didn't expect to see that much difference in output.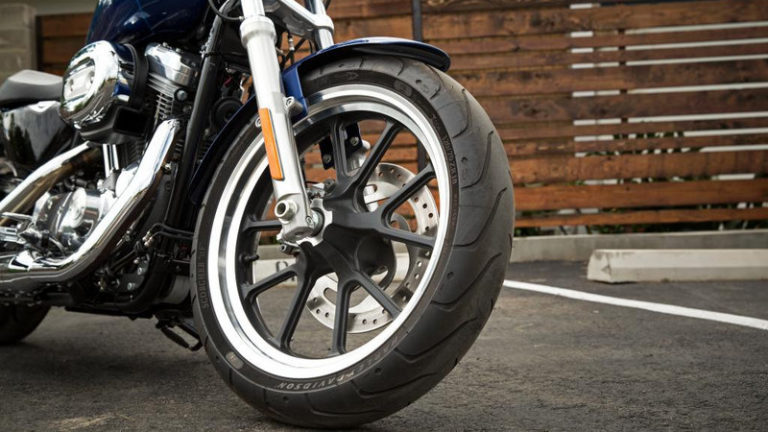 The Tuning Fork Company picks up another win over The Motor Company at the checkout counter. Harley starts out at $8,599 for the SuperLow, but Yamaha manages to keep the Bolt a tad lower at $7,999. Not a huge difference, but enough to entice buyers disinterested in the whole Harley brand name.
He Said
"I kind of like the XL 883L, but view it as almost a factory custom for its squat stance and raked front end. As always, I think it could look better with chromed and laced rims, but what wouldn't? At the end of the day, it's really just another Sportster design, but just not quite as exciting (or expensive) as the new Roadster .
She Said
For around town or even as a commuter, this is a nice bike.
My wife and fellow motorcycle writer, Allyn Hinton, says, "It's easy to see why this is considered an entry-level bike or even a "woman's" bike, though I really hate it when folks get caught up in those labels. Just because a bike has features and attributes that make it appealing to new folks or women, that doesn't mean it can't be a fun ride and a bike-of-choice for experienced riders, too. Low seat height, sure, I like that, but with only a 24-degree lean, you won't get too aggressive in the corners. For around town or even as a commuter, this is a nice bike."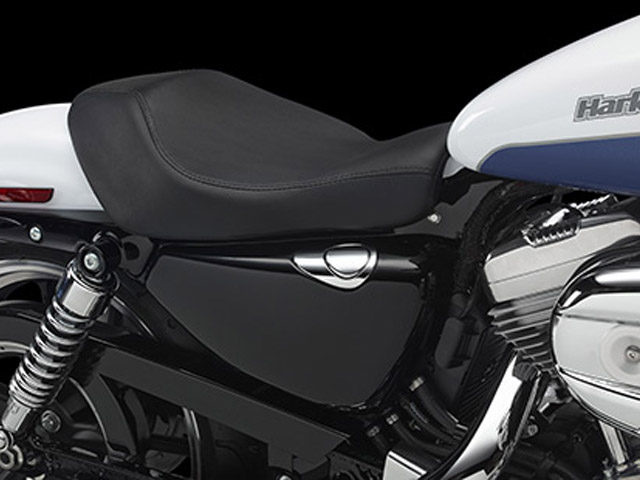 Specifications
| | |
| --- | --- |
| ENGINE: | |
| Engine: | Air-cooled, Evolution® |
| Valves: | Pushrod-operated, overhead valves with hydraulic, self-adjusting lifters; two valves per cylinder |
| Bore x Stroke: | 3 in. x 3.811 in. (76.2 mm x 96.8 mm) |
| Displacement: | 53.9 cu. in. (883 cc) |
| Compression Ratio: | 9:1 |
| Fuel System: | Electronic Sequential Port Fuel Injection (ESPFI) |
| Air Cleaner: | Paper cartridge type |
| Lubrication System: | Dry-sump |
| DRIVETRAIN: | |
| Primary Drive: | Chain, 34/57 ratio |
| Final Drive: | Belt, 29/68 ratio |
| Clutch: | Multi-plate, wet |
| Transmission: | 5-speed |
| Gear Ratios (overall)U.S. : | |
| 1st: | 10.41 |
| 2nd: | 7.436 |
| 3rd: | 5.531 |
| 4th: | 4.584 |
| 5th: | 3.931 |
| CHASSIS: | |
| Frame: | Mild steel, tubular frame; circular sections; cast junctions |
| Swingarm: | Mild steel, rectangular tube section, stamped junctions; MIG welded |
| Front Forks: | 39 mm Single Cartridge/Single Free Valve |
| Rear Shocks: | Dual Coil-Over; Threaded Preload Adjustment, Emulsion |
| Wheels: | Black, Split 5-Spoke with Machined Rim |
| Front: | 18 in. x 3.5 in. (457 mm x 89 mm) |
| Rear: | 17 in. x 4.5 in. (432 mm x 114 mm) |
| Brakes: | |
| Caliper Type: | Dual-piston front, dual-piston rear |
| Rotor Type (diameter x width): | Solid, uniform expansion rotors |
| Front: | 11.8 in. x .2 in. (300 mm x 5 mm) |
| Rear: | 10.24 in. x .28 in. (260.1 mm x 7.1 mm) |
| Anti-lock Braking System: | Optional |
| Suspension Travel: | |
| Front Wheel: | 4.11 in. (105 mm) |
| Rear Wheel: | 2.13 in. (54 mm) |
| PERFORMANCE: | |
| Engine Torque (per J1349) North America: | 53.8 ft. lb. @ 3750 RPM (73 Nm @ 3750 RPM) |
| Lean Angle (per J1168): | |
| Right: | 24.7° |
| Left: | 24.4° |
| Fuel Economy (Combined City/Hwy): | 51 mpg (4.6 L/100 km) |
| DIMENSIONS: | |
| Length: | 87.6 in. (2225 mm) |
| Overall Width: | 33.3 in. (845 mm) |
| Overall Height: | 44.7 in. (1135 mm) |
| Seat Height: | |
| Laden: | 25.5 in. (648 mm) |
| Unladen: | 27.4 in. (695 mm) |
| Ground Clearance: | 3.9 in. (100 mm) |
| Rake (steering head): | 31.1° |
| Fork Angle: | 29.6° |
| Trail: | 5.7 in. (145 mm) |
| Wheelbase: | 59.1 in. (1500 mm) |
| Tires (Michelin® Scorcher® "11" front and rear): | |
| Front – Scorcher® "11F": | 120/70 ZR-18 59W |
| Rear – Scorcher® "11": | 150/60 ZR-17 66W |
| Fuel Capacity: | 4.5 gal. (17 L) (warning light at approximately 1.0 gal.) |
| Oil Capacity (w/filter): | 2.8 qt. (2.6 L) |
| Transmission Capacity: | 1 qt. (.95 L) |
| Weight: | |
| As Shipped: | 537 lb. (244 kg) |
| In Running Order: | 565 lb. (256 kg) |
| Gross Vehicle Weight Rating: | 1000 lb. (454 kg) |
| Gross Axle Weight Rating: | |
| Front: | 339 lb. (154 kg) |
| Rear: | 661 lb. (300 kg) |
| ELECTRIC: | |
| Battery (per Battery Council International Rating): | Sealed lead acid, maintenance-free, 12V, 12 amp/hour, 200 cca |
| Charging: | Single-phase, 30-amp system (375W @13.5V, 2000 RPM, 405W max power @ 13.5V) |
| Starting: | 1.2 kW electric with solenoid shift starter motor engagement |
| Lights (as per country regulation): | |
| Headlamp (Quartz Halogen): | 55-watt low beam, 60-watt high beam |
| Tail/Stop Lights: | 8W/28W per lamp (5W/21W) |
| Indicator Lamps: | High beam, neutral, low oil pressure, turn signals, engine diagnostics, low fuel warning, low battery, security system (optional) |
| DETAILS: | |
| Warranty: | 24 months (unlimited mileage) |
| Model ID: | XL 883L |
| Colors: | |
| 2015: | Vivid Black, Brilliant Silver Pearl, Mysterious Red Sunglo/Blackened Cayenne Sunglo, White Hot Pearl/Blue Hot Pearl |
| 2016: | Vivid Black; Superior Blue, Velocity Red Sunglo, Crushed Ice Pearl/Frosted Teal Pearl |
| 2017: | Vivid Black with Med. Silver pinstripe, Superior Blue Blue, Crushed Ice Pearl/Frosted Teal Pearl with Gray pinstripe, Hard Candy Mystic Purple Flake |
| Price: | |
| 2015: | Vivid Black $8,249, Solids $8,599, Two-Tones $8,799 |
| 2016: | Vivid Black $8,499, Color $8,849, Two-Tone $9,049 |
| 2017: | Vivid Black $8,599, Color Option $8,949, Two-Tone Option $9,149, Hard Candy Color Option $9,049 |
(topspeed.com, https://goo.gl/kyxggW)
Comments
comments