There are all kinds of ways to pay compliments to friends who have obviously lost weight, but there's not much to say to those who have gotten bigger. Usually it's best to just say nothing, but we don't wish to be rude. So to our newest long-term tester, a 2014 Mini Cooper S, we say: Hola! Welcome! You're looking awfully, er, lush these days!
The newly maximized Mini is big for a reason. For its 2014 overhaul, it moved onto BMW's new UKL global front-drive platform, which soon will underpin a whole family of Mini and BMW vehicles, all of them larger thanthe Cooper hardtop. So the new Cooper, internally dubbed F56, had to stretch a bit as a compromise for its shared architecture. Park the new next to the outgoing R56 model (or especially next to BMW's original 2001–2006 R50), and the differences are dramatic. The new Cooper has become anything but mini.
Blasted by the Gigant-o-Ray
The length grows in this generation by 4.5 inches while the width expands by 1.7 inches.
That may not sound like much, but in an industry that sweats every millimeter, that's a double-barrel blast from the Gigant-o-Ray.
Your driveway may suddenly seem a lot smaller, but all of this, uh, blossoming is not without its benefits, especially to overall interior spaciousness (although there are still some ergonomic challenges in the cabin).
Not only is the platform new, the engine is, too. The 189-hp 2.0-liter turbo four-cylinder is the middle child of BMW's new expandable engine family, which uses a standardized 500-cc cylinder and simply stacks it, from the base Mini's transverse 1.5-liter three up to the longitudinal 3.0-liter inline-six. With all this newness in the '14 Mini Cooper, we were obliged to keep one for a while to see how this overhauled Mini stands up to longer scrutiny.
This Volcanic Orange example arrives for its 40,000-mile run as a fully loaded Cooper S with a proper six-speed manual. And by fully loaded, we literally mean it, because Mini offers a Fully Loaded option pack that wads up a bunch of other option groups, including the Premium, Sport, and Wired packages, into one big $4500 hit. It includes navigation, a sunroof, 18-inch wheels, LED headlights, and mongo connectivity options among its long list of amenities.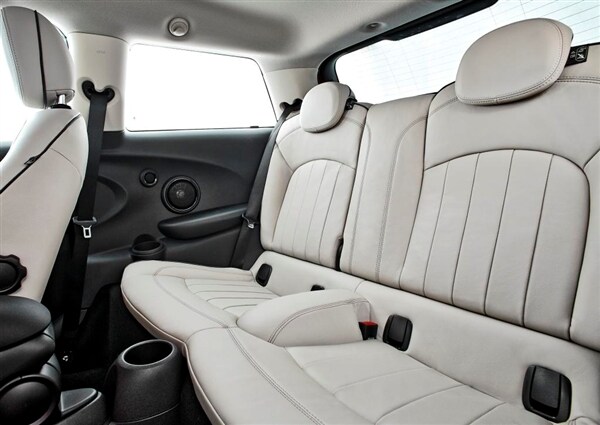 We also got a few nice-to-haves such as the fancier Cross Punch Carbon Black leather for $1500, the Cold Weather pack for $600, Dynamic Damper Control and a head-up display, each for $500, and a one-year subscription to satellite radio for $300. The rear spoiler, storage package with an adjustable rear cargo floor, and an anthracite-hued headliner each cost $250.
Crunching the Stats
Total: $33,795. That's a big price for what is, and despite all the recent swelling, still a small car. The initial test-track numbers, starting with the 2839-pound curb weight and the 6.6-second zero-to-60 run, do not show progress over a 2622-pound Cooper S we tested in 2007, which hit 60 in 6.2 seconds.
But it is still the early days of this new engine. As things loosen up, the times should come down, although perhaps not by enough to make the 2014 model any quicker than its predecessor. However, the new Mini's 0.91-g skidpad-grip figure shows real capability, and we look forward to exploiting it over the miles to come.
So far we've noticed that the maxi Mini is less of a toy than its predecessors and more of a grown-up car. The steering is still hyper-reactive compared with most cars', but the ride has mellowed out, at least over the milder bumps, and the Cooper's road presence feels more substantial. We're still learning the new ergonomics, but things such as conventionally placed window switches and the new giant super knob for the infotainment unit are helping. All the connectivity options and ease of use are already garnering praise from those who like to stream music from their phones.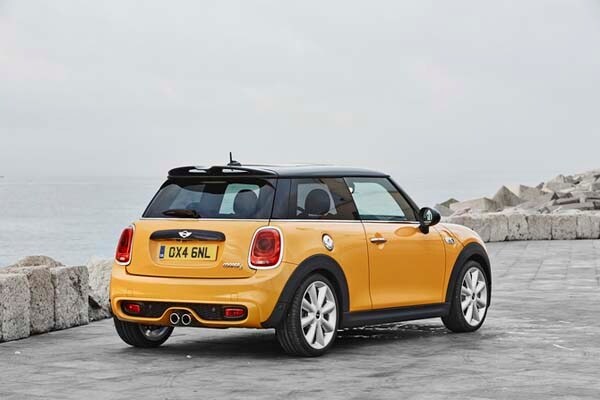 The Mini is now on the West Coast doing regular shuttles between Los Angeles and San Francisco, and it makes the dull miles between these metropolises melt fairly rapidly with a composed highway ride and a strong engine. So far, we're averaging 30 mpg from the long-stroke 2.0-liter, which is welcome considering the small, 11.6-gallon fuel tank.
There will be more maxi Mini observations to come as we keep you updated on the car's progress during its stay.
Months in Fleet: 2 months
Current Mileage: 6629 miles Average Fuel Economy: 30 mpg
Fuel Tank Size: 11.6 gallons Fuel Range: 345 miles
Service: $0 Normal Wear: $0 Repair: $0
WHAT WE LIKE
During our 25,000 miles with the Mini Cooper S Hardtop, we've come to respect its Germanic drivetrain, the slickest and smoothest ever installed in a Mini. Levels of vibration are way down—witness a steering wheel that quivers not at all at idle. In fact, all of us have at least once thought the engine had died when it was still happily idling. This 189-hp engine is willing, too, offering a big wallop of torque from as low as 1250 rpm, and its turbo machinations rarely announce themselves. With little trouble, the Mini will step off in second gear, and the fuel-savers among us are regularly short-shifting from first to third to sixth. The Getrag shifter offers a satisfying mechanical feel with crisp engagement, and the light clutch is so predictable that this car would be a candidate for beginners to learn the joys of manual shifting. All the way to its 6500-rpm redline, the engine is never buzzy, and we've often found ourselves cruising at freeway speeds without noticing that the car was still in fourth gear.
The Mini's steering is nicely weighted, perhaps a touch dull at low speeds, then maybe a little quick off-center at cruising velocities. It's informative, though, making it easy to place an inside front wheel on any little target of asphalt on any apex. Even though the steering here is admirable, any car with so truncated a wheelbase is likely to wander at speed, and the Mini does. Body motions can't be accused of wandering, however, because there aren't any.
Purists may eschew the automatic rev-matching system, but around town, especially when you're busy with traffic, it's quite a useful feature, smoothing the ride for passengers. And everyone has so far adored the faux carbon-fiber trim on the dash, until we told them that it cost an extra $1500.
This is the best Mini ever—less of a toy and more of a car. With 0.91 g of grip and a 6.6-second sprint to 60 mph, it's also the first Mini that can fulfill previously arguable claims that it's a sports car.
WHAT WE DON'T LIKE
 Our Mini's suspension is harsh. There's little wheel travel, and if a frost heave or pothole pushes through that initial neutral zone of compliance, the resulting impact will drive your noggin into the $250 anthracite headliner. A mouth guard might help. Part of the problem is the $500 optional 18-inch Dunlop Sport Maxx run-flats, which are noisy and too aggressive for this application. Wrote one editor, "With proper seismic equipment, I think it would be possible to produce a topographic map of the I-94 surface between Ann Arbor and Chicago." When the Mini was shod with its Bridgestone Blizzak winter shoes, complaints about the ride tapered.
Other beefs: There's still too much wind noise and tread roar, sometimes combining to mask the silky drivetrain. Although the Mini's observed fuel economy of 30 mpg is swell, the tank is small, at only 11.6 gallons. We'd sure appreciate an analog fuel gauge in place of the cheap-looking arcade of orange lights. Elsewhere in the cabin, the center armrest is poorly placed, sometimes interfering with shifting, and the $500 head-up display is unreadable if you're wearing polarized sunglasses.
It's telling that our Mini has been slow to accumulate miles, especially in the summer months when staff vacations are omnipresent. It offers limited storage, its ride is rigid, its cockpit is cramped, its switchgear is weird, and its bunker slit of a windshield impinges the view of the passing landscape. As such, the car is usually relegated to errand-hopper status. A lightweight errand-hopper, at 2839 pounds, but with a heavyweight sticker—$33,795 as tested.
WHAT WENT WRONG
 Our Mini's suspension began talking to us. A lot. Starting at 16,564 miles, an annoying "snap/click/gronk" manifested as we navigated the speed bumps in front of C/D's palatial headquarters. The dealer tightened a loose fuel-line bracket and cleaned a strut that was full of crud. But the noise continued. At 17,748 miles, the dealer replaced all of the suspension bolts and torqued the replacements to spec. The left anti-roll-bar link also was replaced, and so were both lower control arms. That seemed to do the trick until 18,824 miles, when the racket resumed. This time, the right lower control arm was replaced, as were both rear shocks. Finally, silence. All of that work cost us nothing.
At 15,766 miles, we also had an issue with the driver's seatback, which refused to stay in position. Its internal gears were judged to be stripped, so the seatback frame was replaced under warranty.
All this in addition to the oil leak at 10,960 miles, which we documented in our last update.
So. No damage to our wallets, but that's still a lot of to-and-fro turmoil in the span of 25,000 miles. And then, as if to add an exclamation mark, the OE wheels' center caps started falling off, although this might have been the fault of ravaged Montana tertiary roads, so we're inclined to let it pass. No such pass for the hatchback's rear parcel shelf, however, which rattled so fiercely that it's now enjoying its new home on a garage shelf. Finally, the Mini badge on the liftgate fell into the dirt. We glued the thing back on ourselves. Take that.
WHERE WE WENT
 Our "Halloween Special"—check out our Mini's "Volcanic Orange" and black livery—has twice visited northern Michigan; it cruised to the Chicago auto show; it made a cross-country trip via Las Vegas to California; it returned to Ann Arbor, then crossed most of the country again to dwell in Montana for four months; it ventured via ferry to Orcas Island, in Washington state; and it most recently idled up to the ticket counter of Tacoma's LeMay Museum for a fund-raising soirée.
Months in Fleet: 14 months
Current Mileage: 25, 060 miles Average Fuel Economy: 30 mpg
Fuel Tank Size: 11.6 gal Fuel Range: 350 miles
Service: $0 Normal Wear: $0 Repair: $0
Damage and Destruction: $0
(caranddriver.com)
Comments
comments