Finding the fastest car in the world is straightforward. You compare its top speed or rate of acceleration to others and crown the champion. Choosing the ugliest car is a different story: There are always people who see "tough" where others see "obnoxious." Likewise, folks might see "ambition" where you see "flatulent excess." We could go on all day about prettiness and subjectivity, but you get the picture.
There is no precise formula for being hideous. Automakers seem to fall into certain traps that lead to all-time offenders. For example, the Acura ZDX looks like someone painted an egg and put it on wheels. Where some have failed without curves, ZDX failed miserably with too many of them.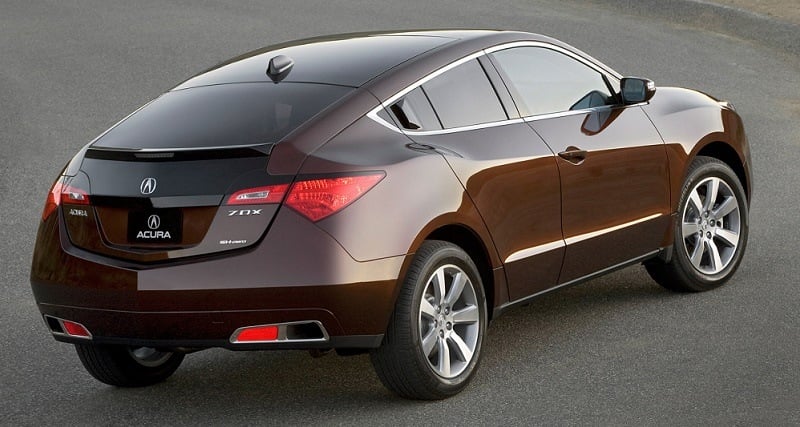 The egg-shaped Acura ZDX came close but failed to claim a spot among the ugliest vehicles in history | Acura
Still, given a century's worth of hideous vehicles to choose from, we couldn't include ZDX among the worst offenders. Nor could we find a place for contenders like the Chevy Caprice wagon from the early '90s or the modern Nissan Juke. Someday, somehow, we'll open the floodgates and bring in all the monsters from generations past. For now, here are the 13 ugliest cars of all time, ranked in no particular order.
1. Tatra T77A
The early Tatra was the first car serially built for its aerodynamic properties, so beauty was not its stated goal. Anyone who saw one — especially from the back — could see that right away. Later Tatras got even more hideous, but we're fine exposing the company's early visual tragedy, the rear-engine T77A. The stupid, protruding headlights are offensive, but this car's back end is a monstrosity. Meanwhile, the "your doors are about to fall off" look came standard, straight out of the factory.
2. Mitsuoka Orichi
It's not the paint job: Mitsuoka Orochi was always ugly, and always will be. Nonetheless, the Evangelion Edition's colors did highlight some of Orochi's worst features, like the bottom-feeder front and triangular hood vent. Look, Orochi was "a fashion supercar," so not everyone is going to comprehend the automaker's conception. Fortunately, they only produced 11 of this special edition, which started at $157,000.
3. Fiat Multipla
We're not sure why, but Fiat Multipla fills us with terror. Maybe it's because people sitting inside look like they've been confined to a plastic deathmobile without proper headlights. Its low front clearance and chopped ends enhance the "rollercoaster compartment on the highway" effect. We're not sure anyone ever tried the bulbous, Humpty Dumpty design like Multipla had, and no one ever should have. People like all sorts of cars, but we've never heard anyone defend Multipla based on style.
4. Nissan Cube
In its sales pitch for the Cube, Nissan referenced its "friendly front grille inspired by a bulldog wearing shades." You can't make this stuff up, folks. A few years back, Americans called it the second most embarrassing car on the road, likely for the meandering blob designers stuffed between two straight lines. If you're a fan of Veep, you know exactly why writers gave this car to Jonah Ryan (aka Tall McCartney). But everyone knows why another Veep character called it "a minecraft piece of shit."
5. Chevrolet Cavalier
There have been many dark ages in General Motors' long history, and the early 1990s were one of them. Exhibit A is the Chevrolet Cavalier of the era — a car so devoid of style it almost disappears. Whereas excessive ornamentation was the problem for American cars in the 1950s, cars like this represented the other end of the spectrum. Cavalier went so far out of its way not to offend anyone that it couldn't enchant anyone. Consumers who wanted to make it uglier could get the plastic (rubber?) trim running along the side in black.
6. 1961 Plymouth Valiant
The 1961 Plymouth Valiant looks stuck between cop car, a dandy's ride, and a flotation device. It compromised by being a boxy, slightly menacing boat with corny flares in front and back. Valiant did not take up as much physical space as some of the most obnoxious cars of the era (think: 1959 Dodge Coronet), but it made up for it with a spectacularly awful design. That took up whatever psychic space was left.
7. Pontiac Trans Sport
"Would you pull your Dust Buster up a few feet? You're blocking my driveway." We imagine these conversations took place in the early 1990s without anyone cracking a smile. Originally, Pontiac wowed the auto world with its Trans Sport concept of 1986. It sported gull-wing doors, removable bucket seats, and an all-glass roof. Once it went to production, it became impossibly dull and comically ugly. Worst of all, it couldn't hoover up any bits of cheap plastic it probably shed on the floor of the garage. Neither form nor function.
8. Coda electric sedan
The Coda electric sedan was so plain and cheap-looking it makes you wonder how anyone ever considered making it. But, hey, it was electric, so the kids in America would go nuts for it, right? Wrong: It sold 117 unitsbefore the company went bankrupt. To be fair, we could have called out the Hafei Saiao, the car on which Coda is based, rather than this frumpy EV. Then again, third-rate Chinese cars don't cost $37,250 — Coda's electric sedan did.
9. Pontiac Aztek
Grab your clown wig and hike up your baggy pants — the Pontiak Aztek has entered the building. It was only fitting that the most absurd cast of extras this side of a Fellini film welcomed the Aztek to the scene at the 2000 Detroit Auto Show. (It's the versatility, baby!) The car had so many ugly flourishes glued to the front end we could stop there. Yet Aztek was only getting started. Its side panels, which look like they'd been welded on backstage, never got more appealing in real life. In retrospect, it was a fitting end to a decade of Pontiac disasters, and a preview of more to come.
10. Yugo
Could a car cost $3,990 yet seem overpriced? Yugo answered the question in the affirmative with this laughingstock from the 1980s. It looked like a toy, drove (when running) like a rusty old bicycle, and had the lifespan of a mosquito. But we're focused on ugliness here, so we'll just point to the dollhouse side mirror and toaster-like grille. Soviet-era Yugoslavia did not win itself any car fans in America based on this entry.
11. 1978 Chrysler LeBaron
In the '90s, we mocked 1970s style relentlessly, and the '78 Chrysler LeBaron shows exactly why. This car takes the fake-luxury approach by slapping on shiny hubcaps and pretending hazards on top (innovation!) will make up for the hideous grille and fascia. Otherwise, you have one of the most boring and conservative American cars ever made — one which would take up three parking spaces today.
12. AMC Gremlin
You know expectations are low when you call your car "Gremlin." Even before Ghostbusters, the slimy mythical creatures were unpopular, and this 1970s AMC model successfully channeled that vibe. Its main offense was that of proportion. Gremlin is all nose and no tail. AMC designers made some beautiful cars over the years, but this one looked slapped together in a hurry from a cheap bin of parts.
13. Ford Edsel
Where others failed for not trying enough, Ford Edsel failed for trying way too hard. American car makers struggled mightily to avoid excess in the late 1950s, but Edsel consolidated the worst of the era in one vehicle. You can call out the car's absurd look at every angle, but its primary offense was the front. Some described the centerpiece as a cut lemon; others described it in more vulgar terms. But everyone agreed it was horrible.
(cheatsheet.com, https://goo.gl/eGWZJD)
Comments
comments