Should you buy new or used? For car shoppers, it's one of the eternal questions, but it's not all that simple. When we looked at vehicles that had the highest depreciation after just one year of ownership, many well-made cars and trucks were clear candidates to buy used. Dealing with a lightly owned model could save consumers as much as $20,000, and you only have to wait one year after they leave the dealership.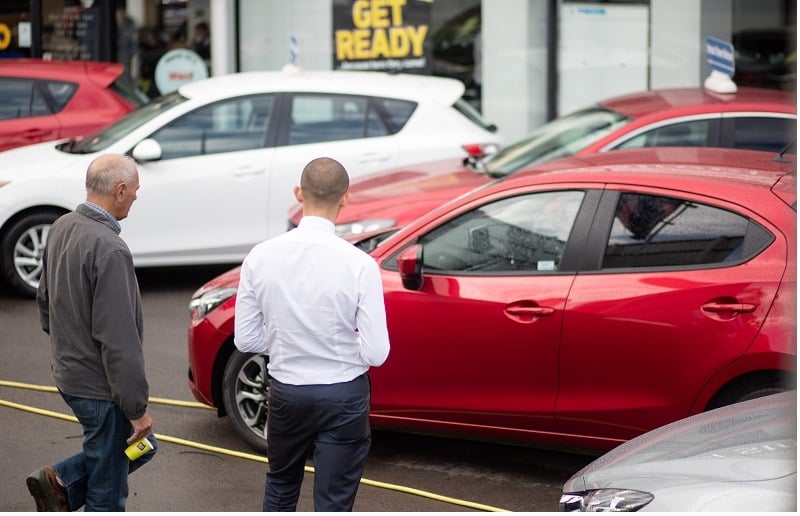 While pre-owned is the best call for a luxury sedan, there are many cars you should not buy used
However, some consumers simply refuse to deal with a car that's been in the hands of another owner. There might be concerns about how a previous owner handled oil changes and maintenance, not to mention the way they added options and made decisions about the interior. Buying new means you can mold the car in your style and personality.
You can still get great value on many cars and trucks by avoiding the used market. According to a study by iSeeCars.com, there might only be a 7% price difference after one year of ownership. Here are 10 models you can feel confident buying new.
10. Land Rover Range Rover
While luxury sedans like Mercedes C250 and Jaguar XF depreciate over 30% in just one year of ownership, luxury SUVs fared better in the study. Land Rover Range Rover lost just 10.6% of value in another owner's hands for 12 months. While that still adds up to $11,817 off the average sale price, consumers paying around six figures for this vehicle would be better off buying new.
9. Toyota Highlander
The 2017 Toyota Highlander impressed our Micah Wright in his first drive late in 2016, and the data shows there is no reason to wait to buy this model used. After one year of ownership, sellers only saw prices dip $4,131 (10.4%) on average. A consumer's best move would be to buy new.
8. Subaru Impreza
It is no coincidence Subaru owners are often satisfied, loyal customers. The auto brand continues growing its consumer base in the U.S., and that means higher demand and lower depreciation. In the case of Impreza, there is little evidence you will save by buying used, especially after one year. Depreciation held at 10.3% ($2,321) in the iSeeCars study.
7. Subaru WRX
So you want to increase the fun factor with a Subaru WRX? Our advice is to build the car of your dreams in a dealership rather than settling for a late-model-year version on the used market. After 12 months in the hands of a new owner, WRX only dipped 9.2% on the secondhand market. For an average of $3,048 more, consumers can buy a custom car new.
6. Subaru XV Crosstrek
According to iSeeCars.com CEO Phong Ly, "Subaru as a brand [is] currently in high demand with buyers," and that means lower depreciation. XV Crosstrek owners who sold after 12 months of ownership saw an average of $2,393 (9.2%) difference from the new-car price. For a car known for its safety and dependability, it's a small premium to pay.
5. Nissan Frontier
Along with SUVs and popular sedans, pickup trucks have enjoyed low depreciation with gas prices holding steady. According to iSeeCars data, owners who sold their Frontiers after a year saw just 8.8% depreciation. On a model that starts below $20,000, used buyers save an average of $2,415. Buying new is a much better plan of attack with the Frontier.
4. Honda Fit
If one car stands out on this list, Honda Fit would be it. The tiny, fun-to-drive sedan boasts impressive cargo space at a low sticker price, and there's no reason to buy used. According to iSeeCars data, Fit owners saw prices drop just 8.8% when turning to sell after a year. Used buyers saw an average of $1,495 come off the dealer price by choosing pre-owned.
3. GMC Canyon
GM's midsize trucks have been very popular since their re-entry on the U.S. market. In the GMC Canyon, consumers find an option that holds its value well after leaving a dealer's lot. Canyons showed a dip in value of just 8.1% one year from the date of the original owner purchase. At an average of $2,860, the rationale for buying used is pretty thin.
2. Jeep Wrangler Unlimited
There's no question Jeep owners love their Jeeps. Despite being fraught with safety risks and a 100% risk for recalls, these trail dominators have an audience that will never abandon them. To pry a Wrangler Unlimited a year after the original owner bought one, you'd have to pay about 92% of the original sticker price. Why not invest the $3,076 and break yours in on a favorite trail? Seems like a small price to pay for a decade or so of thrills.
1. Chevrolet Colorado
Among the top 10 cars and trucks that held their value best after 12 months, none could match the Chevrolet Colorado. The bow-tie brand's midsize pickup was the only one that depreciated less than 8%, and it beat the standard by a lot. After a year in a new owner's hand, Colorado fetched 93% of its purchase price on the used market. Original owners only saw an average of 7% ($2,311) get knocked off the sticker price.
(cheatsheet.com, https://goo.gl/PKepAC)
Comments
comments