PROS
Metal chassis makes it feel more expensive than it is
Decent screen
Above average battery life
CONS
Runs dead Cyanogen OS
Camera isn't very good
KEY FEATURES
5.2-inch Full HD (424ppi) IPS display
Qualcomm Snapdragon 430 CPU
3GB RAM
32GB storage
3,010mAh battery
NFC
USB Type-C
Manufacturer: Wileyfox
WHAT IS THE WILEYFOX SWIFT 2 X?
The Swift 2 X is British upstart Wileyfox's current flagship smartphone, sitting above the firm's slightly cheaper Swift 2. For the extra cash buyers get NFC, an improved screen and upgraded camera.
On paper this makes it a valid rival to Motorola's Moto G4 and Moto G4 Plus, which were TrustedReviews' recommended affordable phones last year. For the most part, the Swift 2 X is a great handset. However, issues with its unsupported Cyanogen software and underpowered CPU make it fall short of true smartphone greatness.
DESIGN
The Swift 2 X looks all but identical to its cheaper sibling, the Wileyfox Swift 2 – but this isn't a bad thing. The design appears to be a mix between an old HTC One and a Huawei Nova, featuring a slightly curved metal back, chamfered edges and a 2.5D glass front. The combination ensures the Swift 2 X is suitably comfortable to hold and makes it feel significantly more expensive than it actually is.
In addition, Wileyfox has done an excellent job of ensuring the phone ticks all the right usability boxes too, adding a rear-facing fingerprint scanner and the newer USB Type-C charging port.
The fingerprint scanner is often left off budget handsets; it's doubly useful since it can be used to approve Android Pay transactions – which, thanks to the inclusion of NFC, is supported by the Swift 2 X.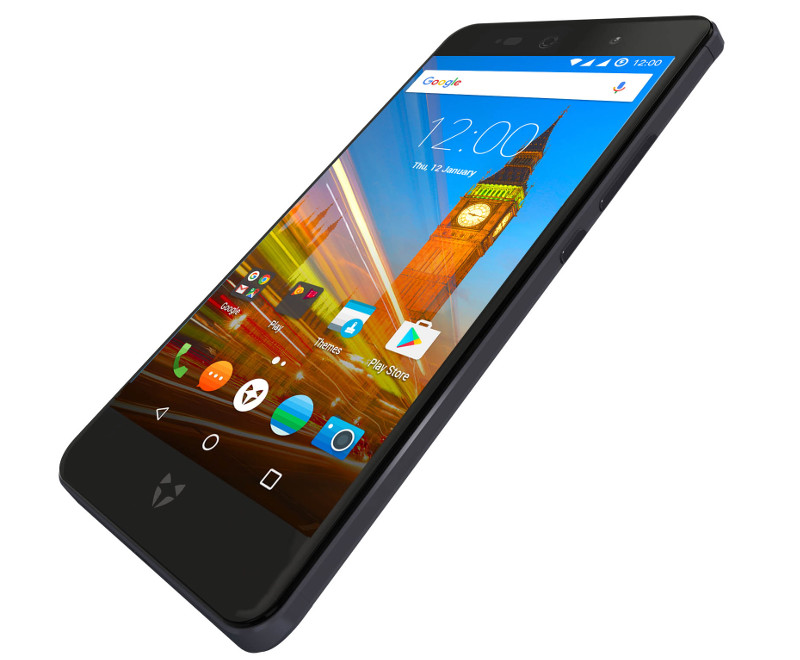 The scanner works a treat and, bar a few instances when using the phone in drizzle, it accurately read my fingerprint pretty much every time. The inclusion of a microSD slot is another welcome addition that makes it quick and easy to upgrade the phone's built-in 32GB of storage.
Build quality is generally good, but not on a par with the Moto G4. The Swift 2 X is sturdy enough to survive the odd drop – it survived an accidental encounter with my kitchen floor. However, the metal housing is a fingerprint magnet and prone to picking up scratches. In addition, the metal rear also suffers a significant amount of flex, which makes me nervous it may dent easily if met with even moderate force.

DISPLAY
One of the Swift 2's biggest drawbacks was its use of a 720p panel, which made it feel like a throwback to 2012, when 1080p screens were still considered a luxury. Luckily, Wileyfox has upgraded the Swift 2 X's 5.2-inch screen to a 1080p Full HD resolution.
This may at first appear insignificant, but it means this Wileyfox handset matches the specs of its key rival, the Moto G4 Plus. In real world use I found that the screen is one of the best I've seen on a phone in this price bracket.
The IPS LCD tech means whites are wonderfully clean, even when compared to the screens of more expensive handsets, such as the Huawei Nova and Alcatel Idol 4S.
Colours appear a little warm for my liking and, as a result of the use of IPS, blacks aren't as inky as more expensive phones, which tend to favour AMOLED panels. For the money, however, you aren't going to get better.
SOFTWARE
The Swift 2 X runs Android 6.0.1 with Cyanogen OS overlaid. Cyanogen is an Android skin designed to offer users improved security and increased customisation options. Key features included a custom theme store, slightly more granular controls over app permissions, plus a number of minor UI tweaks, such as the ability to arrange apps alphabetically in the app tray.
I was never a big fan of the OS, since it generally felt buggy, and delayed how quickly devices running it could be upgraded to newer versions of Android. In the past, I've cut Wileyfox some slack for using it, as Cyanogen has a fairly significant fan base in the modding community.
This time, however, I can't do that. In December last year, Cyanogen closed shop and announced it would be cutting software support for the OS – meaning users will no longer get official performance fixes or security patches.
A Wileyfox spokesman at the 2 X's London launch told me the company has a team internally offering support for the OS, and promised all of the company's phones, including older models, will be upgraded to Android Nougat at an unspecified point in Q1 this year. But until that update happens, the use of Cyanogen is a big black mark against the Swift 2 X.
PERFORMANCE
The Swift 2 X uses the same Qualcomm Snapdragon 430 CPU as the basic Swift. This, paired with an Adreno 505 GPU and 3GB of RAM, means that the Swift 2 X isn't a powerhouse device. The Snapdragon 430 in the basic Swift 2, which features a less demanding 720p screen, sometimes feels a little slow, so the fact that Wileyfox hasn't put a faster component in the 2 X is disappointing.
With real world use I didn't notice an serious performance issues, however. Navigating menus was generally a smooth, judder-free experience, and apps usually opened within milliseconds. On occasion the handset did stall when multiple applications were open at once, but that's to be expected on an affordable handset.
Gaming performance is noticeably better than that offered by super-cheap phones, such as the Moto E and HTC Desire 530. 3D games such as Riptide GP2 play without too many frame rate drops, although load times take noticeably longer than even moderately more expensive phones running the Snapdragon 625 CPU.
The Swift 2 X performed better than expected during TrustedReviews' synthetic benchmarks. On AnTuTu, which offers a general gauge of a phone's performance, the Swift 2 X scored 46,937 – which is reasonable by budget phone standards. By comparison, the ZTE Axon Mini scored 36,951 and the Honor 5X 29,347 in the same test.
On the gaming-focused 3DMark Ice Storm Unlimited test, the Wileyfox scored 9,547. Again, this isn't bad for a £219 phone. The 616-powered Honor 5X achieved 7,622. The increase is likely down to the use of an Adreno 505 GPU, which is actually more powerful than the one used in the Snapdragon 617.
The phone's microphones and speakers are powerful enough for taking and making calls. Even walking around a busy London street I was able to hear the person on the other end of the line. The mic does struggle a little when you try and use the Swift 2 X as a speaker phone in areas where there's background noise, but that's a common issue on pretty much all phones.
CAMERA
On fist appearance, the 16-megapixel primary camera with phase-detection autofocus (PDAF) and 8-megapixel front camera match the Moto G4 Plus' specs. However, the use of a Samsung S5K3P3 sensor on the rear camera actually puts it a few rungs below its arch-rival, which uses an OmniVision OV16860 sensor.
In real-world use, the Swift 2 X's rear camera isn't great. The autofocus is fast but it doesn't always lock on to the subject, and there are definite issues with noise in even moderately dim conditions. Photos taken in low light are universally out of focus, suffer from noise and feature woefully unbalanced contrast levels.
Photo modes are also limited to basic auto, panorama and hyperlapse, and there are close to no manual controls for the camera's settings.
These are issues I experience on pretty much all affordable handsets and, being fair to Wileyfox, the Swift 2 X's rear camera works okay in regular light. They aren't the sharpest around, and I definitely noticed some haze around the edges of close-up shots, but colours look reasonably realistic and photos aren't oversharpened. Blown up images and you'll definitely notice some noise, but such images are more than good enough for sharing on social media.
Video is a mixed bag as the lack of any form of stabilisation means close to all footage shot on the Swift 2 X without a tripod is a shaky mess. The mic also struggles with background noise, which means you can sometimes struggle to hear what people are saying on captured footage.
Autofocus isn't the best
And photos can look hazy
Low-light performance is disappointing
It's a similar story with the 8-megapixel front camera. In regular light the camera can take a decent-ish selfie, but it all but falls apart in low light. For video calling it's fine, although the front mic feels a little underpowered. On a couple of occasions, people on the other end of the line struggled to discern what I was saying, particularly when making the call from areas with background noise.
BATTERY
Battery life is one area in which the Wileyfox Swift 2 X performs well. The 3,010mAh battery manages to last at least one and a half days off a single charge with average use.
Average use entails listening to music on the way to and from work, regularly checking my social media and email feeds, watching a few YouTube videos over lunch, taking and making a few calls, plus half an hour's gaming at the end of the day.
Most competing phones I test generally struggle to make it more than a full day, even those at the affordable end of the market, which generally favour low-powered CPUs.
The addition of Qualcomm's Quick Charge 3.0 tech means the battery regains its charge fairly fast. I usually get between 12-16% extra juice off a 15-minute charge. The only downside is that the Wileyfox Swift 2 X doesn't come with a charger, so you'll have to invest in a compatible plug if you don't already have one.
The Swift 2 X also dealt with intensive tasks such as video streaming and gaming fairly well. Streaming Netflix with the screen brightness at 75%, the phone lost between 8-12% of its charge per hour.
Most of the phones I test discharge at least 10% per hour running the same test. Gaming was a slightly bigger drain. Running demanding titles such as Riptide GP, the Swift 2 X lost between 14-18% of its charge every hour.
SHOULD I BUY THE WILEYFOX SWIFT 2 X?
If you're looking for a well-built smartphone that won't break the bank, the Wileyfox Swift 2 X is worth a look. The metal chassis makes the phone feel more expensive than it is and the screen is excellent when you consider the Swift 2 X's price. I'd definitely recommend the 2 X over the basic Wileyfox Swift 2.
There are a few flies in the ointment, however. The Snapdragon processor is fine for general use but will struggle with demanding tasks, such as multiple tab web browsing. In addition, the 16-megapixel camera feels very basic and offers poor performance, even by affordable phone standards. I'm also concerned about the Swift 2 X's use of Cyanogen OS, which currently doesn't have any official developer support.
This combination of factors mean the Moto G4 Plus remains a better choice, despite being close to the end of its product lifecycle.
VERDICT
A swish-looking smartphone that will meet light users' needs, but don't expect much from the camera.
(trustedreviews.com, https://goo.gl/vsTxBK)
Comments
comments