Back at Mobile World Congress 2018 we saw a concept phone that Vivo (the Chinese manufacturer that's little known in Europe) was working on. The Apex, as it was called then, seemed like a far-flung concept phone from the future.
Yet here we are in Shanghai, just four months after MWC, at the launch event for the Vivo NEX. This device embodies much of the technology first shown in the Apex – an under-the-screen fingerprint scanner and pop-up front-facing camera to allow for near bezel-free design – in fully fledged launch format.
Is the Vivo NEX a glimpse at the future of smartphones? It won't be launching outside of China just yet, but with the company keen to show off its hardware and future-thinking features, we suspect that these kind of innovations will crack the whip to get others to compete.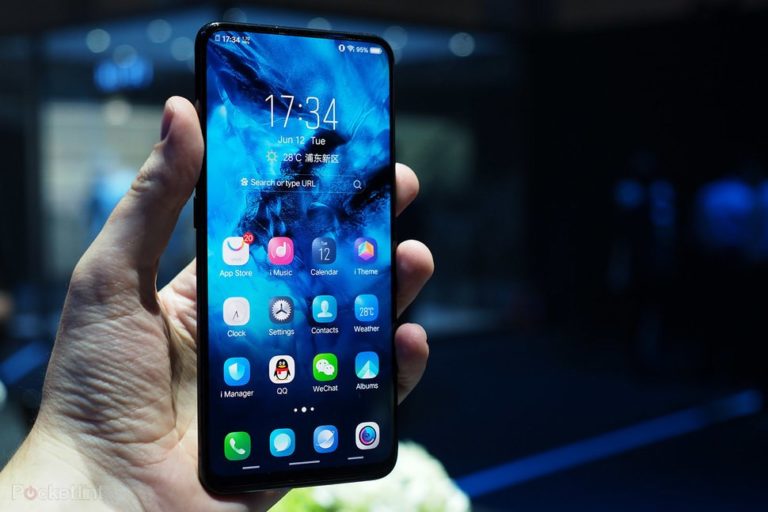 Design
Near bezel-free design, over 91% screen-to-body ratio
Under-the-screen fingerprint scanner
Black and Red colour options
162 × 77 × 7.98mm; 199g
3.5mm headphone jack
The most striking thing about the Vivo NEX is its almost ridiculous absence of bezel. We've never seen a phone with greater screen-to-body ratio than this device, with the manufacturer claiming that 91.24 per cent of the phone's front is all screen, screen, screen. You only need to look at our pictures to know that's not far-fetched at all.
We have the black model in hand, but there's also a red option if you're looking for something with a bit more pizazz. The NEX follows the cues of many current flagships in terms of design, with a glass rear that uses holographic laser etching technology to give the surface a quirky and interesting look. Catch it against directional lighting and there's a rainbow-colour refraction that catches in the design. However, despite being glass, there's no wireless charging on offer here.
One of the NEX's most stand-out features is its incorporation of an under-the-screen fingerprint scanner. Much like that found in the Porsche Design Huawei Mate RS, the Vivo's scanner impresses on principle. It's like that phone feature you didn't know you'd be getting so soon. It also means minimal bottom edge bezel, which is a significant part of its point in the NEX's design.
That said, however, the functionality of this fingerprint scanner isn't as good as optical ones found elsewhere. Yes, this is Vivo's third-generation implementation of the technology, making it an upgrade from the company's X21, but implementing a physical scanner on the rear would likely have been more practical. It certainly won't fail to impress your mates, but we're more interested in the future of how rapid to respond this technology will become. Right now it's ok, it's fine, it works, but it's not the greatest implementation of a scanner (even if the unlock animation is very cool).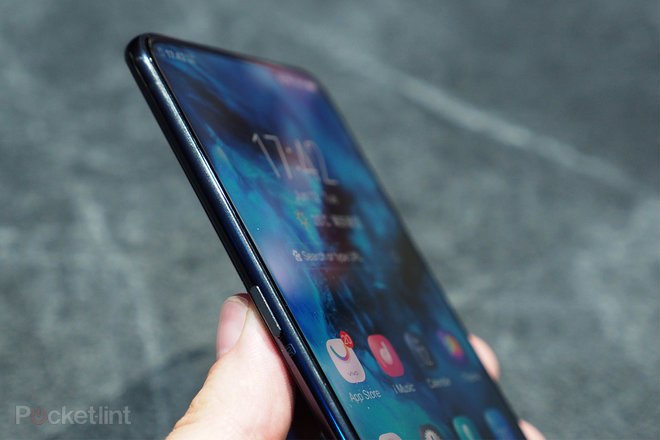 Screen
19:9 aspect ratio 'Ultra FullView' 6.59-inch Full HD+
Super AMOLED display (2160 x 1080 pixels), P3 colour gamut
As there's so little bezel, the NEX can afford to offer a huge screen too. The 6.59-inch 'Ultra FullView' panel may sound like an unweildly behemoth, but it's no wider than a Google Pixel XL 2 and barely any taller. That means it's no problem for holding one-handed at all.
The screen itself is an AMOLED panel, so that means rich blacks. However, while the brightness and colour pops more than the Google Pixel XL 2, which we side-by-sided the phone with, the Vivo can't match the Porsche Design Huawei Mate RS's OLED screen, which we also had in tow for comparison.
In terms of resolution, Vivo has been savvy in not over-doing the pixel count, with a Full HD+ panel. Any more and we suspect the battery would take a hit (like the Mate RS does). Besides, even at this larger-than-6in scale, there's ample detail on screen to our eyes.
With so little bezel, however, what of the sound quality? Here's where Screen SoundCasting technology comes into play, producing screen vibrations to make the whole device acts as a speaker. It reallty works, too, just as we said of the Apex concept phone.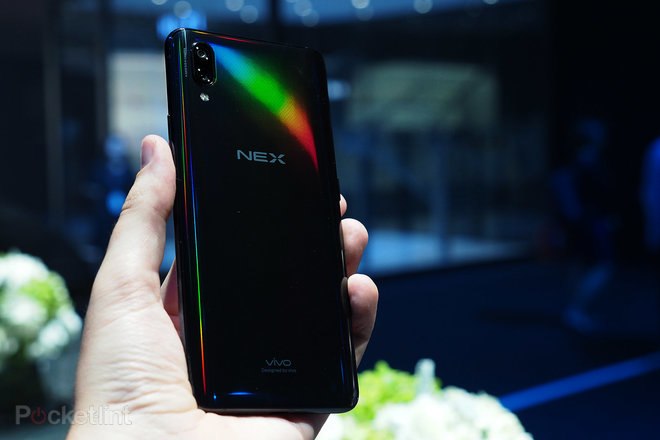 Software
Funtouch OS 4.0 (Based on Android 8.1)
No EU/US launch date set (so no Google Play)
Before we touch upon the phone's innards, let's get the elephant in the room out of the way: as a China-only device for now, there's no Google Play available here (we'll be looking to crack the device later down the line to use it as normal in Blighty to see how it fares).
So, in its launch guise, Vivo delivers Funtouch OS 4.0, which, despite being based on Android 8.1, is nothing much like Android proper. The lack of the typical trio of Android softkeys might be fine for a Chinese audience, but it's a hurdle that other territories will struggle with (not that they'll have to, given availability).
However, Funtouch OS is an interesting viewpoint into the different way a device can operate. The bottom of the screen has designated left and right swipe-up commands, used to open the settings shade and 'go back', respectively. A swipe up in the middle shows current open apps. Swiping from the top of the device opens a settings search bar and notifications.
In addition, Vivo has its own voice-assistant, Jovi. And while that makes us think of a certain rock superstar (Livin' On A Prayer is going around in loops right now), it hits more bum notes than we'd like because, well, we don't speak Mandarin or Cantonese and it doesn't understand our "Hello Jovi" tones. Oh well. For a Chinese audience its complex contextual understanding ought to make it a capable assistant, though.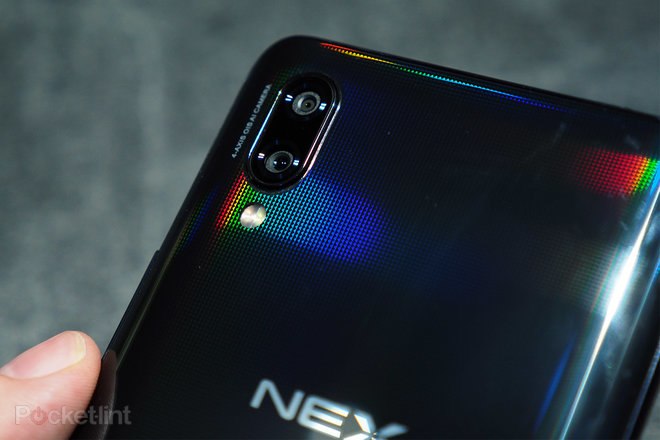 Hardware
Qualcomm Snapdragon 845, 8GB RAM
256GB storage as standard, no microSD
4000mAh battery, USB-C fast charging
In terms of hardware, however, the Vivo NEX comes out all guns blazing. It combines a Qualcomm Snapdragon 845 processor with 8GB RAM for the equal most powerful solution on the market right now.
Add in 256GB of storage as standard and you'll never be short of space for files and goodies either. There's no microSD card slot, however, so if you are really that storage happy then hard luck.
Without Google Play we've not been able to run the ususal set of tests and use apps as we would to see how the device functions. That's something we'll be doing in the future once the handset is adapted to our needs.
When it comes to battery, the NEX has a 4,000mAh cell under the hood, which is a high capacity. That's not dissimilar from what Huawei is offering at its top-end. And with the sensible screen resolution, we suspect the Vivo will last well beyond a day's use without issue, despite that ultra-powerful processor.
If it does run low on charge then there's fast-charging via USB-C. We plugged the handset in the moment we received it, after which it confirmed 'Dual-engine quick charge' was operational. Within 20 minutes we added 40 per cent to the battery, making it pretty quick – just not Oppo Find X ultra-quick.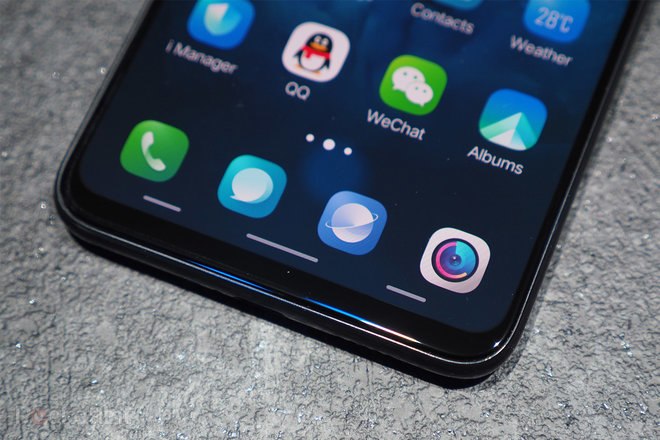 Cameras
8MP f/2.0 'Elevating Front Camera'
12MP f/1.8 & 5MP f/2.4 dual rear cameras
4-axis optical image stabilisation (OIS)
Dual Pixel Sensor for enhanced light gathering quality
Here's a feature that'll get everyone talking: as there's no space for a front-facing camera due to the tiny bezel, the NEX has a mechanical pop-up camera camera which engages the moment you click the selfie camera within the Camera app.
We could watch that camera move in and out of its enclosure oh so many times, as it's a very fun feature indeed. It also avoids the absurd solution of a bottom-edge camera, as found on the Xiaomi Mi Mix 2S, for example, which is ripe for enhancing those double chins.
The NEX's rear combines a 12- and 5-megapixel dual camera setup, which is increasingly typical for phones. The lower-resolution sensor's information can be used for depth data, which means it can produce blurred background effects (bokeh) for its Portrait mode, which has become a fan favourite the world over after Apple's popularisation of the mode.
In the NEX, the functionality of Portrait mode is rather similar to the top-end Huawei P20 Pro. The Vivo also offers an f/0.95 maximum software-based aperture, which is selected and adjusted by an on-screen slider. Automatic facial recognition ensures focus in the right place, while the background and foreground blurs away to dramatic effect. It's got just as many bugs with adept edge detection as any other manufacturer's implementation of this feature, as none have got it right just yet, but it's what the people want and it's fun to have on board. There are other modes, too, from Beauty to Pro, to cover all bases.
As for the main sensor, its 12MP is brought direct from Sony, meaning a larger-than-average pixel size for better light-gathering properties. Autofocus is adept, too, while artificial intelligence handles automatic scene recognition (out of 17 available modes) for the best possible picture each and every time – similar to, say, the Honor 10. Overall, it's a decent camera innings to match its flagship specification elsewhere.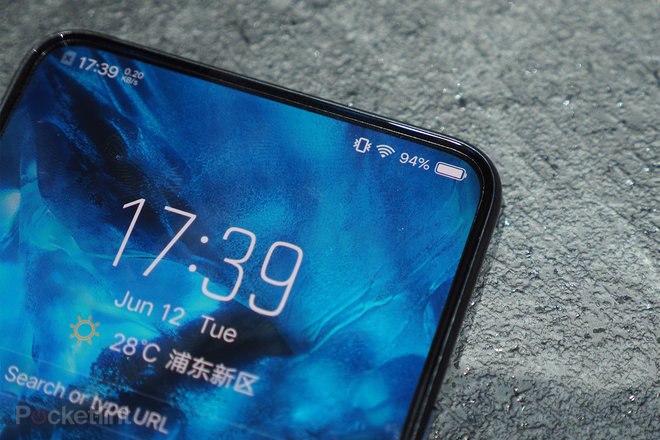 First Impressions
The Vivo NEX is an innovative glimpse into the future technologies that we're likely to see appear into flagship handsets in the coming months and years. That the Chinese company turned around a prototype to fully fledged launch product in such a short period of time is testament to its drive.
No, the NEX isn't going to be available outside of China at launch, and its Funtouch OS is far too restrictive for a western audience at this moment in time. But that's by the by. We're not reviewing this phone as one we're going to own (not yet, anyway, as we'll crack the device and load it with Android proper, Google Play and all), rather the outsider that's muscling in on the currently well-defined territory which Apple, Samsung, et al, dominates.
In summary: we've never seen a phone with less bezel, making the Vivo NEX look stunning in the hand. It's not as huge as its 6.59-inch screen may suggest either, thanks to an interesting and innovative design that doesn't compromise quality. Oh, and that pop-up selfie camera is one of the coolest things we've ever seen on a phone. How about that for impress-your-friends points?
The Vivo NEX will go on sale at 4498¥ in China (which roughly translates as £525 / €595 / $825).
(pocket-lint.com, https://goo.gl/4WL8DE)
Comments
comments