Flagship smartphones might grab the headlines, but not everyone wants to spend big bucks on a new smartphone. In fact, the majority of smartphone sales are still driven by the budget market with almost 60 per cent of all Android smartphone shipments consisting of sub-$US200 handsets, according to IDC.
Until recently, low cost has equalled poor quality in the smartphone space. However, as manufacturers continue to push the envelope in the premium end of the market, the trickle-down effect of technology has resulted in better-quality smartphones at the low end.
One of the most popular budget Android smartphones released last year was the Moto E and now Motorola is at it again with a refresh that brings to the table 4G, a bump up to 8GB of internal storage (expandable to 40GB via microSD card), a more powerful quad-core processor, larger capacity battery and a slightly bigger 4.5-inch display. It also retains dual-SIM card support, splash-proof coating and the easy one-handed operation of its predecessor.
These additions coupled with a plummeting Australian dollar have meant that the asking price has gone up to $249, making it $70 more expensive than the previous model. So do the improvements justify the slightly higher price tag?
Despite its budget pricing, the Moto E doesn't feel cheap in the hand. It's still made of plastic as opposed to the metal unibody construction that populates the top-end of the market, but it has a nice solid feel to it akin to how BlackBerry phones used to feel back in their heyday.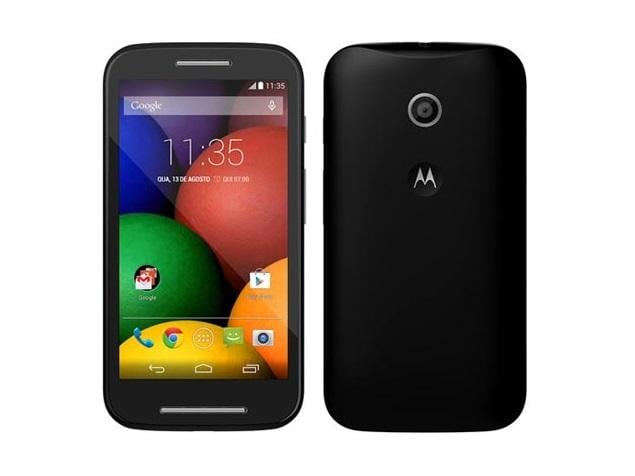 It lacks a removable back cover so you can't swap out batteries, but most won't need to as we easily got through a full day of heavy use with 25 per cent of juice still left over. Expect to get two days or more runtime under normal use. Of course, with any budget smartphone there are always compromises and in the Moto E's case it's in the display and camera.
The LCD display resolution stands at a paltry 960 x 540 (qHD) resolution, which means that text and images aren't as sharp. Admittedly, you're only going to notice the difference in clarity if you're downgrading from a premium smartphone and it probably won't even register to people upgrading from other cheap handsets or buying their first smartphone.
What you will notice is the poor screen visibility under sunny conditions. It's a bright, colourful display that copes well indoors, but the smallest amount of sunlight makes it hard to see anything on the screen.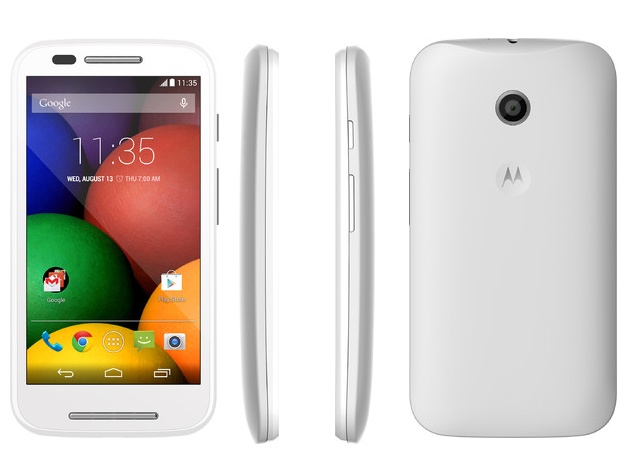 Budget smartphones and great cameras rarely go hand in hand and the Moto E is no exception. Motorola has added some improvements such as 720p video recording and the addition of a front-facing camera, but selfie addicts and regular video callers should look elsewhere as the 0.3-megapixel (VGA) front-facing camera looks terrible.
Motorola's flavour of Android has always been a fan favourite and the company continues the tradition here with a close to stock Android experience devoid of any bloatware. There are a few custom Moto additions, but these are genuinely useful. Active Display, for instance, automatically lights up notifications onscreen whenever you rock the handset or pick it up and the double twist gesture that launches the camera almost instantly has been brought across from other Motorola handsets.
The Moto E now boasts a quad-core Snapdragon 410 processor making it technically more powerful than Motorola's next model up, the Moto G. However, the phone feels slower with a ­noticeable half-second delay under the finger. We found that it was fine at accomplishing a single task like watching videos or browsing through music on Spotify, but once we started to multitask between multiple apps with Google Play downloads going on in the background, performance started to stutter.
Performance did pick up after a few days, but the user experience never felt snappy. While a certain amount of slowdown is acceptable for a phone in this price range, we're still holding out hope that Motorola can rectify performance issues through future software updates.
Despite the slight price hike, the Moto E still offers plenty of bang for your buck. It's one of the few budget phones on the market to support dual-SIM cards and 4G. Battery life is exceptional as is the clean software experience, while the relatively small form factor and solid construction also make the Moto E a joy to hold.
That said, it's not without some issues. Performance isn't quite as fast or smooth as we would like it to be and the camera is underwhelming, though to be fair, it's par for the course at this price point.
While Motorola isn't quite the value proposition it once was, the improvements make the new Moto E one of the best sub-$250 Android smartphones you can buy in Australia right now.
(theaustralian.com.au)
Comments
comments