If you are reading our posts regularly you must have heard about Umi. Umi is a smartphone company that manufacture good quality products. We have reviewed various Umi smartphones, you should also take a look at them. Today, we are here with Umi Max – An android 6.0 4G phablet and it is available for pre-sale at Everbuying.net at just $169.99. With such price, users expect more and trust me you get what you can expect from a smartphone under this budget. Umi Max is the second most expensive smartphone of the brand and gives a tough fight to Umi Super with a tag of $200(Under a Sale).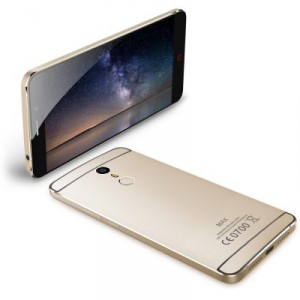 Umi Max is 5.5-inch 4G phablet that comes with the latest android 6.0 out of the box. It is a dual sim phablet that is equipped with the latest mediaTek Helio P10 octa-core processor. Umi max also features 2nd generation microarray fingerprint sensor for faster touch access. And the best part in the device is its 'Breathing Notification'.  There's a notification light at the front that it is fully customizable to set different colours for different notifications. There are other features as well that also will surely catch your eye once you get a hold of Umi Max.
Now let's take a deep look at the features of the Umi Max and check if its worth its price?
Basic Specifications
RAM +ROM : 3GB RAM +16GB ROM
External memory: TF card up to 256GB (not included)
Camera: 13MP rear with Dual flash + 5MP front
Screen resolution: 1280 x 720 (HD 720)
Design and Display
After reviewing many Umi smartphones, you can take it as a fact from me that Umi smartphones have a great design and build quality. Even its low budget devices have amazing design and premium looks. Umi Max is tagged as "World of Beauty – Power and Soul" and has a great metal unibody design. Being a large screen device it is quite handy when held into the hand.
At the bottom of the device, you get a Type-C USB port that provides great convenience in inserting the cable. Furthermore, you can charge the phone and transmit data at the same time. Also, it contains an inbuilt soundcard that enhances the quality of music output to make it studio-grade. Being a 5.5-inch smartphone it does weigh only 185 grammes. Here are the complete dimensions of the phone:
Product size: 15.08 x 7.50 x 0.85 cm / 5.94 x 2.95 x 0.33 inches
Product weight: 0.185 kg
Now talking about the display of Umi Max, Umi Max comes with a 5.5-inch 2.5D arc screen. With a resolution of 1980 x 1080, it is able to generate great quality vibrant colours. hence you can play high-end graphic games and watch HD videos without any worry. In addition to this, the screen is protected by Corning Gorilla Glass 3 protection. And that's a plus point for the device as most of the other  brands are not providing you with the screen protection.
Performance
As already discussed, Umi Max is powered by a mediaTek Helio P10 octa-core processor. And it is the same processor present in Umi super. The 2.0 GHz processor boost up the phone's speed to a great level. With the presence of Mail-T860 GPU, you can enjoy watching HD videos and heavy gaming with so much ease. The stunning visual experience you'll get playing games will leave you immersed in the game. Also, switching between apps is amazingly quick and the phone will not lag at all.
Talking about the storage in the Umi Max, there's no lack of it at all. The smartphone comes with ultra-large 3Gb RAM that can easily handle all situations and is enough to perform incredibly fast. Furthermore, it has an internal storage space of 16GB that can be expanded up to 256GB. And yes, you read that right. But the device doesn't have OTG support and that might work as a disadvantage for the device. As according to me, I personally prefer smartphones with OTG support.
Don't get disappointed as Umi Max comes with the second generation Microarray 3-D fingerprint sensor. It takes the device to another level with its amazing speed. It takes only 0.1 seconds to unlock the device and that is way faster than keeping patterns or passwords.
Camera and Battery
If you a camera lover you'll just love this device. The Umi Max comes with a Panasonic 13MP high-speed rear camera that enables you to capture your life's moments into images. The rear camera has special features like a dual flashlight, touch focus and autofocus that altogether enhance your photography experience. Nowadays people take more pictures on a smartphone than they take calls. Thus, you need a phone with a great camera. Umi Max also has a 5MP front-facing camera for taking selfies and attending video calls.
All the features in a smartphone are of no use to you if you can't access or enjoy them for quite some time. Hence, your smartphone should contain a battery with a capacity large enough to let you enjoy all features for at least 5-6 hours. Umi Max is powered by a 4000mAh Sony battery to provide long lasting performance. 4000mAh is more than enough to provide at least six hours of continuous heavy usage. I hope that's enough, as a phone with more battery must be termed as a power bank itself. If you are a battery lover, you can see Oukitel k10000 with a humongous 10000mAh battery.
Final Verdict
All good and bad of the smartphone has been discussed and now it's time decide whether the device is worth of its price tag? According to me If you looking for a decent metal body smartphone with great features including a fingerprint sensor, it is just the right device for you. The phone contains all features that one might expect in the price range. You just have to compromise with the OTG support and if you can do that it's the best phones in the class.
(kickiteasy.com, http://goo.gl/i8vlZt)
Comments
comments