Tough, Rugged & Waterproof Smartphones that'll Survive the Apocalypse
If you're looking for a smartphone that will survive the apocalypse in extreme conditions, then you've come to the right place.
Whether your definition of extreme is the desert heat, being dropped, surviving underwater or being sealed from dust and dirt… There's a rugged phone out there for you!
I've put together this list of the toughest smartphones that you can get your hands on in 2018. I've also eliminated any smartphones that don't meet modern smartphone performance standards including at least 3GB of RAM, 32GB of onboard storage and a HD Display.
Don't worry though, the second part of this extreme smartphones list covers some less powerful budget options that are still tough, waterproof & rugged.
Have I missed your apocalyptic ready phone off the list? Comment below, or get in touch and… if it's tough enough? I'll add it to our rugged smartphone list!
Don't know an IP rating is? Don't worry, I've explained each of the common smartphone IP ratings at the end of this article.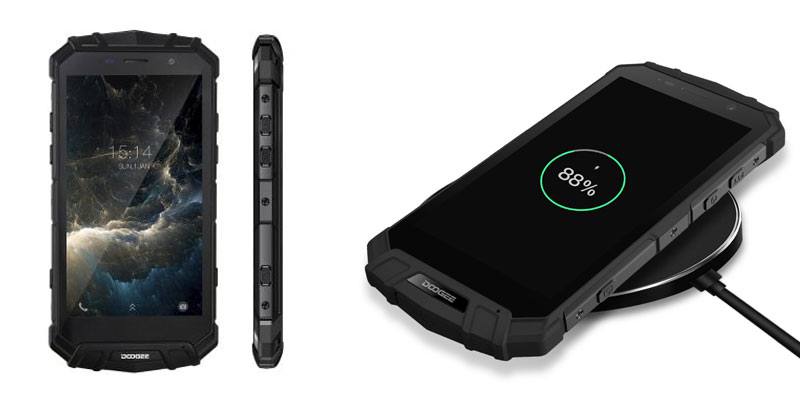 Doogee S60 – Armoured Titan!
While the T5 above tries to disguise its rough credentials, the Doogee S60 wears them proudly! Available in Black, Gold & Silver the S60 holds nothing back when it comes to features.
Included are NFC, Wireless Fast Charging, a Fingerprint reader, SD Card support, Gorilla Glass 5, 6GB's of RAM and whopping 5580mAh battery! It also features a 21MP Sony IMX230 rear camera lens making it a very capable phone for shutterbugs!
Competing head-to-head with the Ulefone Armour 2 below, the Doogee S60 is re-inventing the tough phone market, changing our perceptions of clunky passable smartphones to flagship devices wrapped in armour!
The S60 is definitely a phone you should consider for your tough phone shortlist as Doogeehave been making reliable devices for years.
Rugged Credentials: IP68 Rating, Dust Proof, Metal / Dense Polycarbonate Body. Check out the GearBest link below to see a video of their rugged tests!
Tech Specs: 5.2 inch IPS LED 1920×1080, Gorilla Glass 5, 424 PPI, MediaTek Helio P25, 6GB RAM, 64GB Storage, 5580mAh (Fast Charge + Wireless Charging), 21MP Sony IMX230 Camera, Android 7.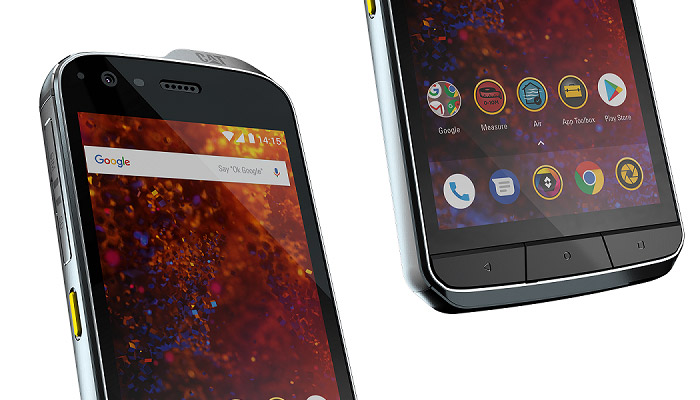 Caterpillar CAT S61
The CAT S61 most likely won't be your rugged smartphones choice, but, I've added it to this list anyway as it's awesome. Why? because it's the first camera to feature as full-blown thermal imaging camera sensor
The successor to the CAT 60, the CAT 61 boasts a thermal imaging sensor capable twice as powerful measuring up to 400 degrees which will now output HD image data. It also includes an air quality sensor that measures VOCs.
It's a pretty niche requirement but will be super useful in lots of trade professions.
It's not just a fancy thermal camera either; it also comes 1.8 meter drop protected thanks to a strengthened die-cast frame plus it can be left underwater at depths of 3 metres for up to an hour. The screen uses Gorilla Glass 5 that is certified to work in wet conditions.
Unless you need the thermal imaging, there are better value choices out there, but the downside is that you won't get to re-enact any scenes from Predator. : (
Tough Credentials: IP68 Rating, Dust Proof, Drop-proof to 1.8m, 3 metres for 60 minutes water submersion, MIL-SPEC 810G, Operating Temp: -25°C to 55°C, Category 4 vibration, Thermal imaging camera, Laser Measure.
Tech Specs: 5.2″ 1920×1080, Gorilla Glass 5, 312 PPI, Snapdragon 630 CPU, 4GB RAM, 64GB Storage, 4500mAh (Quick Charge 3.0), NFC, 13MP Camera + Thermal Imaging Cam FLIR, GPS x 4 (GLONASS, GPS, aGPS, Beidou), Android 7 Oreo (Upgrade to P).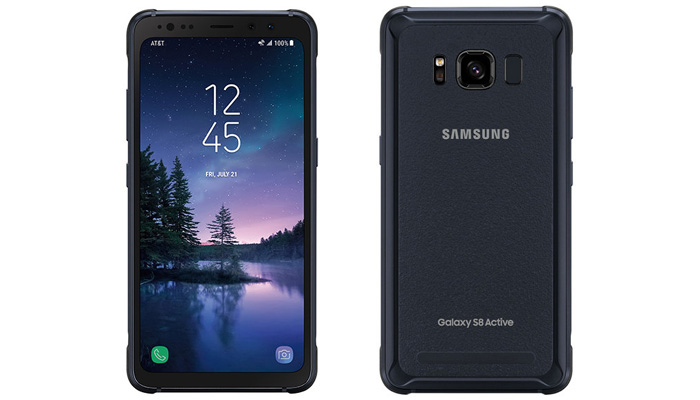 Galaxy S8 Active
If you hadn't heard, Samsung's Flagship devices are also released in a tough rugged version called the Samsung Galaxy Active. You might find it hard to get your hands on the Galaxy S8 Active though, as Samsung has partnered with American network AT&T to release it exclusively.
If you're lucky enough, you can find unlocked Galaxy S8 Actives on sites like eBay.
The Active version of the Galaxy S8 does away with the curved infinity display in place of a flat screen. It has rubberised corners to protect it from drops, has a shatter resistant screen and ups the waterproofing to 50 minutes at 1 metre depth.
In terms of hardware, we also see a jump in battery size up to 4000mAh. Overall, it's not a huge jump from the original and you might be better off getting a case like this from Amazon for the standard Galaxy S8 instead.
You will be adding more bulk compared to the Galaxy S8 Active, but you can always switch it for a smaller case or take it off completely when you don't need the extra protection.
Tough Credentials: IP68 Rating, Dust Proof, 30 minutes water submersion at 1.5m, shatter resistant (5 feet flat surface)
Tech Specs: 5.8″ Super AMOLED 2560×1440, Gorilla Glass 4, 577 PPI, Qualcomm Snapdragon 835, 4GB RAM, 64GB Storage, 4000mAh (Fast & Wireless), 12MP (high-end) Camera, Android 7 (upgradable to 8).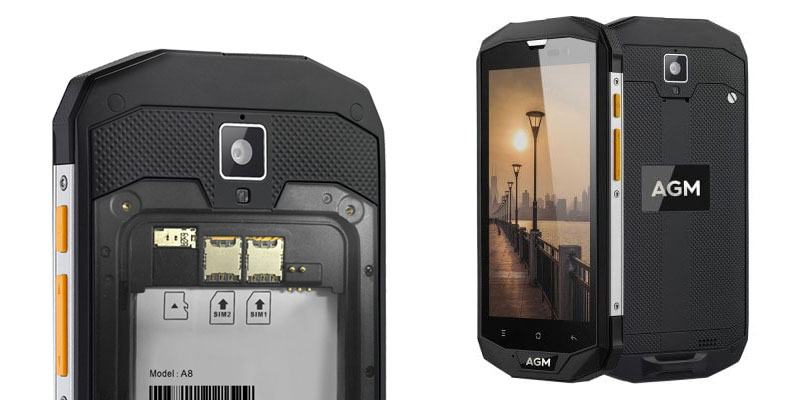 AGM A8
AGM are a dedicated rugged phone manufacturer with the AGM A8 being their mid-range offering. It's fully waterproof IP68 rated as well as being drop-proofed to 1.5 metre and has Gorilla Glass 3 protecting the 720P display. AGM also sell their own 9H Glass Screen protectors for even more protection.
The AGM A8 certainly chooses function over style as, when it comes to weight, it comes in at a hefty 247 grams. In terms of hardware, the little 5 inch A8 comes with a Qualcomm Snapdragon 410, 4GB's of RAM and a healthy 4050mAh battery that will keep the phone easily running into day two.
It's Android 7 straight out of the box and in terms of connectivity, you can choose either an EU version or US version for full network coverage. There's also the option to choose between either the 3GB or 4GB RAM version for those looking for some extra grunt.
Tough Credentials: IP68 Rating, Dust Proof, Drop-proof to 1.5m, Waterproof to a depth of 1.2 metres for 1 hour and 30 minutes, Operating Temp: -40°C to 80°C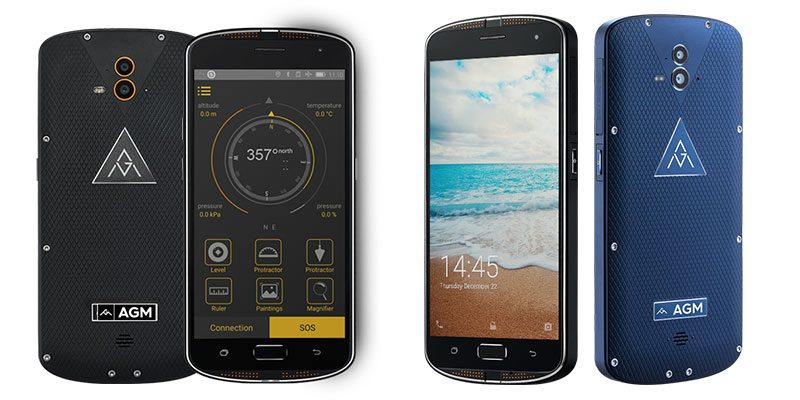 AGM X1
The AGM X1 beautifully combines style and rugged credentials featuring a Full-HD 5.5″ AMOLED Screen as well as being fully waterproof with a military grade GPS system. It isn't as tough as its little brother the AGM A8 but it looks and behaves much more like a traditional flagship Android phone.
Having a Snapdragon 617 CPU, 4GB of RAM, great GPS and massive 5400mAh battery means the X1 is the perfect outdoor phone for longer hikes or trips. The AMOLED display will also make it easier to view the screen in sunny conditions thanks to the increased contrast.
Where the X1 really shines, is that it's one of the first rugged phones to feature a dual rear-lens camera setup. This will allow you to take those cool bokeh shots on your adventures without having to carry a dedicated camera. AGM has also made the fingerprint reader on the X1 waterproof making use of the phone in wet conditions much easier.
Update: The AGM X2 is now available to purchase! But it ain't nowhere near as pretty!
Tough Credentials: IP68 Rating, Dust Proof, 1.5 Metres for 30 minutes water submersion, waterproof fingerprint reader, Military Grade GPS (GPS, A-GPS, Glonass and BDS)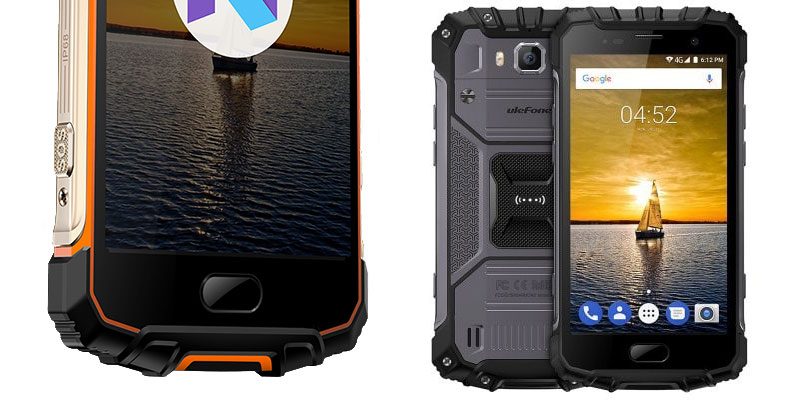 Ulefone ARMOR 2
After the success of the original Ulefone ARMOR comes the newly released Ulefone ARMOR 2. It's quite a big upgrade over the original (see further down) and now features double the RAM at 6GB, double the storage at 64GB and the much faster Helio P25 CPU.
You can think of the Ulefone Armor 2 as the Amor 1's big brother that is tougher, will last longer, is faster, has a better display… but… weighs an extra 70 grams (270 grams total). My only concern with the Armor 2 is that it looks a lot like a Walkie Talkie. In the world of survival phones that's gotta be a good thing though, right?
The Armor 2 is truly the outdoor persons best friend. It doesn't compromise on performance and offers everything you would want from a rugged smartphone. Ulefone doesn't mention any specific drop-proofing but with the sizes of those corner defences, I wouldn't be too worried.
Tough Credentials: IP68 Rating, Dust Proof, Waterproof to 1.5 Metres for 1 hour, Operating Temp: -40°C to 80°C, Dedicated SOS Button,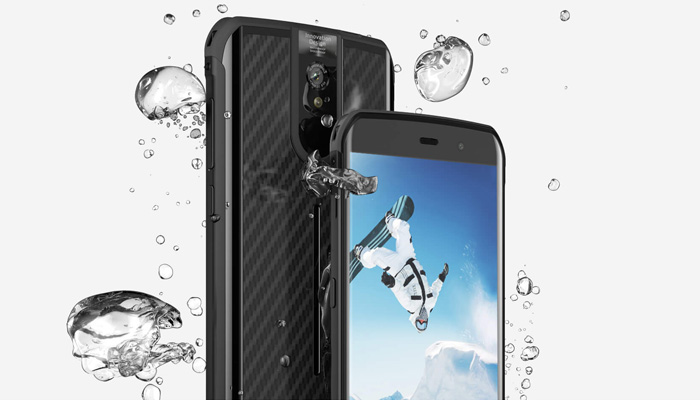 Vernee Active – Tough but discreet
The Vernee Active offers an IP68 waterproof rating, reinforced corners to protect from drops and an extra-strong construction all while managing to look like a regular smartphone. Impressive!
At only 189 grams and 11.2mm thick, the 5.5″ Vernee Active could easily be mistaken for a regular smartphone.
You won't be getting huge amount of battery life like some of the option in this list, but, the 4200mAh is more than enough to last a whole day with some to spare. Performance won't be an issue either as the Helio P25 is a capable chip and it's backed up by very healthy amounts of storage & RAM.
Want to game in the rain? The Vernee Active won't let you down!
There is one downside though, it's still running Android 7 and hasn't got a clear upgrade path to Android 8.
Rugged Credentials: IP68 Waterproof Rating (1.5m for 30 minutes), Kevlar + Aluminium Alloy frame + TPU drop protection, -30 to 60 degrees operating temps,
Tech Specs: 5.5 inch LED 1920×1080, Gorilla Glass, 401 PPI, MediaTek Helio P25, 6GB RAM, 128GB Storage, 4200mAh (Fast Charge), 16MP + 8MP Dual Sony Cameras, NFC, Android 7.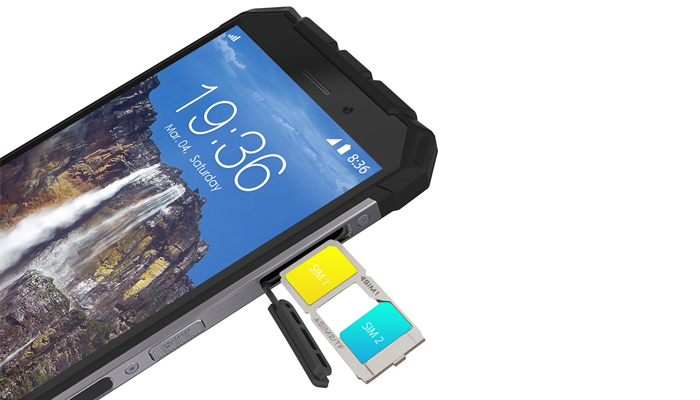 Ulefone Armor X – Budget Defender
The Ulefone Armor X fails on our minimum specs requirement, but I've included it anyway! Why?
The Ulefone Armor X is a very attractive budget rugged smartphone package. It covers the basics like IP68 waterproofing, NFC + Wireless charging and comes with the latest Android 8.1 OS.
For light Android users who need the extra protection of a rugged smartphone, the Ulefone Armor X is an excellent choice… but… it does have its cons.
The MediaTek 6739 is a very budget processor. This is great for battery life, but not fantastic for running any intensive apps. The included 16GB storage is frugal for even budget smartphones in 2018, although in fairness, there's an sd card port available.
In terms of dimensions, it's 13.9mm thick and weighs 256 grams. This might sound big and heavy but let's remember the impressive 5500mAh battery.
Rugged Credentials: IP68 Waterproof Rating (1.5m for 60 minutes), 1.2m drop protection, -40 to 80 degrees operating temps,
Tech Specs: 5.5 inch LED 1440×720, 293 PPI, Gorilla Glass, MediaTek 6739 (quad-core), 2GB RAM, 16GB Storage, 5500mAh (Fast Charge + Wireless Charge), 13MP(IP) + 5MP Dual Cameras, NFC, Android 8.1.
BlackView BV9000 Pro
Blackview are on a roll and with the success of the BV8000, the BV9000 is nearly here! Featuring a 18:9 slimline display aspect ratio, the newer Helio P25 CPU and double the storage they're onto a good start.
There's no mention of who they've sourced the display from this time around but hopefully they've not opted for a cheaper display as the Sharp panel found in the BV8000 is impressive. Also, as the display resolution has lowered to 720×1440 and the screen size has jumped to 5.7″ and the  overall pixel count (PPI) has lowered considerably. It's a drop from 441 (BV8000 Pro) to a measly 282 (BV9000 Pro).
For now, it seems you're getting a much better deal with the Blackview BV8000. Check it out below.
Tough Credentials: IP68 Rating, Military Level Dust, Shock & Water Proof, Gorilla Glass 5
Tech Specs: 5.7″ 720×1440, Gorilla Glass 3, 282 PPI, Helio P25 CPU, 6GB RAM, 128GB Storage, 4180mAh (Fast Charge), NFC Capable, OV 13 + 5MP Rear Camera, Android 7.1
BlackView BV8000 Pro
Blackview are no strangers to making waterproof rugged smartphones with their latest being the Blackview BV8000 Pro. It comes with lots of high-end features such as NFC, Full-HD screen, 6GB of RAM, 64GB of storage (expandable 256GB) and great gaming performance.
The BV8000 Pro is tested to altitudes of 5000 metres and will survive underwater for up to an hour at depths of 1 metre or less. Unusually, the fingerprint reader is placed on the side of the device which makes unlocking much easier with one hand.
The Blackview BV8000 Pro is a true contender to the Ulefone Armor 2 having the added benefit of a 16MP Samsung rear camera. It runs on Android 7 and also comes with dual-SIM functionality making it a great choice for travelling.
Tough Credentials: IP68 Rating, Dust Proof, 60 minutes water submersion at 1m, -15-55 degrees, 95% Humidity, 5000m altitude.
Tech Specs: 5″ Sharp IZGO IPS 1920×1080, Gorilla Glass 3, 441 PPI, Helio P20 CPU,  Samsung 6GB RAM,  Samsung 64GB Storage, 4180mAh (Fast Charge), NFC Capable, Samsung 16MP Camera, Android 7.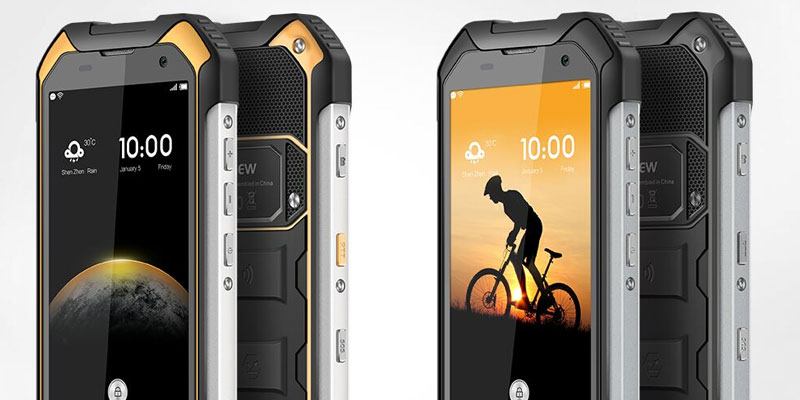 BlackView BV6000
Little brother to the BV8000 is the more wallet-friendly Blackview BV6000. It comes with the same Dust, Scratch & Water Protection (IP68 rating) but has a lower resolution, smaller display and uses the older (but still capable) Helio P10 CPU.
It has NFC as standard and a 4500mAh battery to keep you going off-grid for days. Also included is a dedicated atmosphere pressure sensor located next to the 1.5mm headphone jack. Even though it's an older Blackview model, the BV6000 still comes with Android 7, 3GB of RAM and 32GB of onboard storage.
When you look at the low price tag of the BV6000 is starts to look like a wise rugged smartphone buy.
Tough Credentials: IP68 Rating, Dust Proof, Waterproof, -15-55 degrees operation temp, 95% Humidity, 5000m altitude.
Tech Specs: 4.7″ IPS 720×1280, Gorilla Glass 3, 312 PPI, Helio P10 CPU, 3GB RAM, 32GB Storage, 4500mAh (Fast Charge), NFC Capable, 13MP OV Rear Camera, Android 7.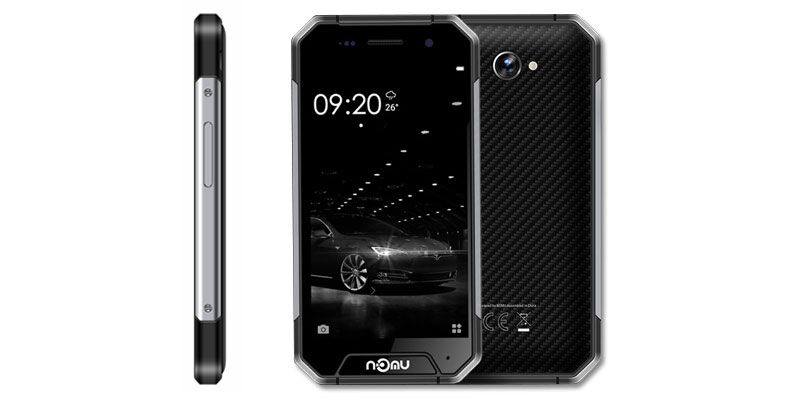 Nomu S30 Mini
Nomu's latest rugged smartphone is the Nomu S30 Mini. Featuring the latest version of Android and decent budget specs it's a real contender for those looking for a budget tough device.
The S30 mini comes with drop protection to 1.5 metres and will survive underwater for 30 minutes at 1.5 metres depth. The screen is on the small size at 4.7 inches but when this combined with the 720×1280 resolution display it will push the 3000mAh battery further. You'll easily get a full day of heavy use and 2 days light use.
Working temps aren't as flexible as other rugged phones on this list but not having to worry about covering the ports is a bonus. The S30 Mini is a tough phone that's definitely worth checking out in the budget end of the market.
Tough Credentials: IP68 Rating, Dust Proof, Drop-proof to 1.2m,  1.5 Metres for 30 minutes water submersion, Waterproof USB port, Operating Temp: -20°C to 55°C, Titanium Alloy frame, Carbon Fibre battery cover.
Tech Specs: 4.7″ 720×1280, Gorilla Glass 3, 312 PPI, MediaTek 6737T Quad-core CPU, 3GB RAM, 32GB Storage, 3000mAh (Quick charge), 8MP Sony IMX219 Camera, Android 7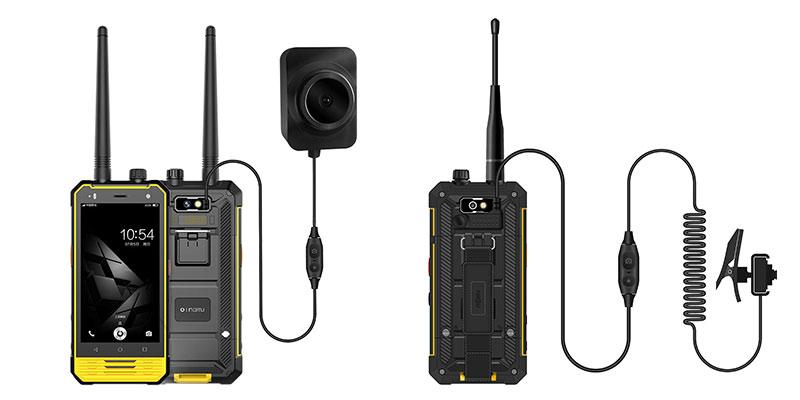 Go Go Gadget Nomu T18
I don't think the average consumer is the Nomu T18's target market, but hey, I'm sure preppers our there will be thankful for the Go Go Gadget Smartphone! But… when we take away the Nomu T18's quirky attachments it's a pretty average Android device that comes with budget performance, so bear this in mind.
The rugged benefits of the Nomu T18 is that it's military certified drop tested as well as having an IP68 dust and waterproof rating. It also comes with a metal frame covered in high-performance German Bayer shock protection rubber.
But… when we look at those attachments: Radio Antenna and Action Camera, the T18 is certainly offering something new to the tough smartphone market. Having a phone that'll still work even when there's no signal around is cool / useful but the camera attachment function seems odd. Maybe if it's fireproof it'll win me over (and a few firemen) but I'll stick with the GoPro for now.
Tough Credentials: IP68 Rating, Waterproof + Dust Proof, MIL-STD-810G Drop-test Certified, Titanium / Aluminium Alloy Frame, Rubber Protection, Walkie Talkie Attachment (Max 5KM / VHF 144-148MHz + UHF 430-440MHz), External Camera Attachment.
Budget Tough & Rugged Phones with Lower Specs / Performance
All the tough and rugged phones above come with decent performance, a minimum of 3GB of RAM and 32GB of Storage. With the list above, you're getting the latest & greatest smartphones that won't disappoint. Below, I've put together some alternative tough & rugged smartphones that might still be worth your attention and have very attractive price tags to match.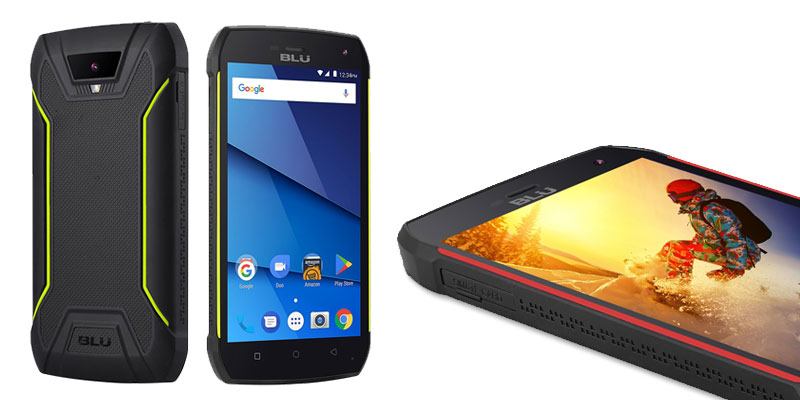 Blu Tank Extreme Pro
What the Blu Tank Extreme Pro lacks in terms of raw performance and specs it makes up for in toughness. The completely rubberised phone certainly looks the part and has military grade drop protection built in.
The 4300mAh battery combined with the smaller screen will see the Blu Tank Extreme Pro last well into the second day and comes with quick-charge 2.0 fast charging to top up on the fly.
Tough Credentials: IP68 Rating, Dust Proof, Drop-proof to 1.5m,  1.5 metres for 30 minutes water submersion, MIL-SPEC 810G, Operating Temp: -25°C to 55°C, Category 4 vibration.
Tech Specs: 4.7″ 720×1280, Gorilla Glass 3, 312 PPI, MediaTek MT6737T (quad-core) CPU, 2GB RAM,  32GB Storage, 4300mAh (Quick Charge 2.0), NFC, 13MP Camera, Android 7
Smartphone Waterproof / Dustproof Ratings Explained (IP Rating)
I'm going to explain the most common IP ratings that you find in modern smartphones. IP56, IP57, IP58, IP66, IP67 & IP68.
The first number in the IP rating refers to intrusion. Anything solid that might try to get inside a device like dust, sand and dirt.
IP5* stands for protected. Dust may enter the device but can not interfere the operation of the device.
IP6* stands for sealed. No solids can enter the device.
The second number stands for the liquid rating of the device.
IP*6 is protected from high-pressure water jets.
IP*7 is protected water immersion up to 1 metre.
IP*8 is protected water immersion to manufacturers specifications.
Your best bet is to choose a phone that has an IP68 rating and then check with the manufacturer as to how deep and for how the long the smartphone is rated for underwater.
(review-hub.co.uk, http://bit.ly/2GaHOgp)
Comments
comments