1. Introduction, specs, unboxing
Xperia XZ2 & XZ2 Compact
Introduction
It's no secret that Sony is undergoing some substantial changes, with more likely still ahead on the company roadmap. While we can't exactly say for sure how the recently-announced, upcoming CEO change will trickle down to other management positions, as well as products and design directions in particular divisions, like Sony Mobile, it is pretty clear that the company is already morphing.
You don't really have to look any further than the new Xperia XZ2 and its little Compact sibling for proof that Sony is evolving even if slowly. The 2018 flagship is different in a number of ways, some of which more controversial than others.
Sony Xperia XZ2 Specs
Body: Aluminum frame, Gorilla Glass 5 back and front; IP65/68; 153 x 72 x 11.1mm, 198g.
Screen: 5.7-inch, 18:9, FHD+ IPS LCD, HDR, 424 PPI
Rear Camera: 19MP, 1/2.3″ Sony IMX400 camera, f/2.0 lens, predictive hybrid laser/phase detection/contrast AF, burst AF, IR sensor for white balance, LED flash, dedicated hardware shutter key, BIONZ for mobile image-processing engine; ISO 12,800
Video Recording: 4K video recording @30fps, HDR video up to 4K, 1080p @60fps, 1080p @960fps, 720p @960fps, Steady Shot; Stereo audio recording; Predictive capture; ISO 4000
Front Camera: 5MP, 1/5″ Exmor RS for mobile, 23mm wide angle lens, 90-degree FOV, f/2.2; 1080p video
Chipset: Qualcomm Snapdragon 845, Kryo 385 (8x custom Cortex-A75 @ up to 2.8GHz), Adreno 630GPU
Memory: 4GB RAM, 64GB UFS + microSD (up to 400GB)
OS: Android 8.0 Oreo
Battery: 3180mAh; Quick Charge 3.0; Wireless Charge (QI)
Connectivity: Hybrid dual SIM (4G), 4G VoLTE, 5CA LTE Cat.18, 4×4 MIMO, dual-band Wi-Fi 802.11ac, Bluetooth 5.0, GPS/GLONASS, NFC, USB 3.1 Type-C
Audio: Dynamic vibration system, High-res audio, DSEE HX, LDAC, Stereo speakers with S-Force surround, aptX HD audio
Misc: Fingerprint sensor, 3D creator scan with back and front cameras, SDR to HDR video upconversion
Whether or not the new design appeals to you is clearly a matter of personal taste and something we can't really weigh in on. It is equally hard to say with certainty, if it is better than Sony's designs of old. What we can and intend to do, however, is provide an in-depth look on the new "Ambient Flow" concept, the changes, omissions and additions it brought about and hopefully help you build an opinion from there.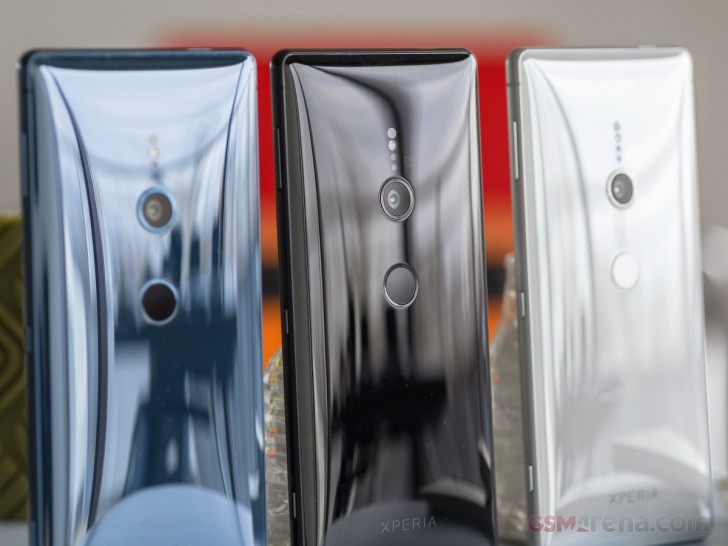 The same goes for the performance of the Xperia XZ2. Having a decked-out specs sheet is one thing, but actually building a good experience around it poses a whole other set of challenges. Stick around as we dig deeper into all matters, Xperia XZ2.
Unboxing
But, before we get into any of the more serious aspects, let's see the first impression the Xperia XZ2 makes. The box it ships in is nothing too fancy, but rather just sturdy and functional enough to get the logistics job done right. We've always been proponents of this approach, over fancy packages, that add additional cost and then gather dust in a drawer.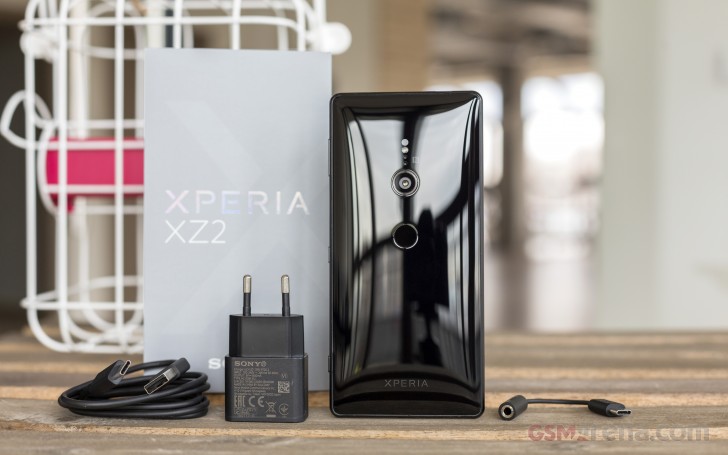 Sony's box of choice is a two-piece affair, made of sturdy printed cardboard – toned-down colors, nothing too extravagant. Still the internals feature nifty plastic trays to hold everything securely in place.
In terms of accessories, you get a fairly compact wall charger and a USB cable to go with it. As promised, Sony is also bundling a Type-C to 3.5mm adapter, to make up for going down the Apple road and ditching the audio jack.
Our review unit only came with a basic adapter, but Sony did promise it would include a more versatile Y-style splitter in retail boxes, so users charge and listen at the same time. Also, given the company's track record and ever-growing assortment of audio accessories, you can likely expect to find the Xperia XZ2 bundled with a pair of headphones on many markets, for a better deal.
We only wish the provided charger was QuickCharge-enabled. If you are after a quick charger, quick might have to buy one separately. That being said, some extra digging revealed that the accessory package for both the XZ2 and the XZ2 Compact will vary quite a bit from market to market. Many will be receiving a Quick Charge 3 unit in the box. You can also expect to find a pair of Sony MH750 headphones. Check with your retailer of choice for some first-hand information.
2. 360-degree view, design and hardware overview
Sony Xperia XZ2 360-degree view
No point really beating about the bush here – Sony is threading pretty boldly into new territory with the Xperia XZ2. So much so, that it can't even stand upright on its own, next to its Xperia predecessors. Joking aside, however, devices like the Xperia XA2 and XA2 Ultra kind of hinted that Sony is looking into a curvier aesthetic, even if they didn't suggest a change as striking as the XZ2 and XZ2 Compact.
And even with all the changes in place, the XZ2 still has a certain Sony aesthetic. Hats off to the design team for that achievement. The Japanese giant has always put great emphasis on its design language and philosophy. This new evolutionary stem is titled "Ambient Flow".
Despite all the differences, under close examination, it isn't really a radically new aesthetic and still keeps some strong ties with the "Loop Surface" and the "Omni Balance" concepts before it.
For one, symmetry is still at the core of the design. In fact, probably now more than ever, with the camera module, additional sensors, flash and the rear-mounted fingerprint reader aligned neatly along the central axis of the curved back.
The attention to durability is also intact, with Sony going through the effort of certifying the Xperia XZ2 against both the IP65 and IP68 standards. The aluminum frame feels really sturdy and Sony claims excellent anti-twist and bend characteristics.
Design and hardware overview
Let's kick the tour off around back – probably the most distinctive feature in Sony's new "Ambient Flow" design. The arch on the Xperia XZ2 is not nearly as pronounced as the one on the XZ2 Compact, but it is still quite a novelty in the Sony world. The slope is not limited to one axis either – the back actually comes down on all sides. We have to admit, the way glass transitions into the metal frame makes for an eye-catching appearance. The only real complaint we have in terms of aesthetics and it's a nitpicky one, is the way the back tapers into the frame of the phones, leaving a distinct edge, which you can feel with your finger.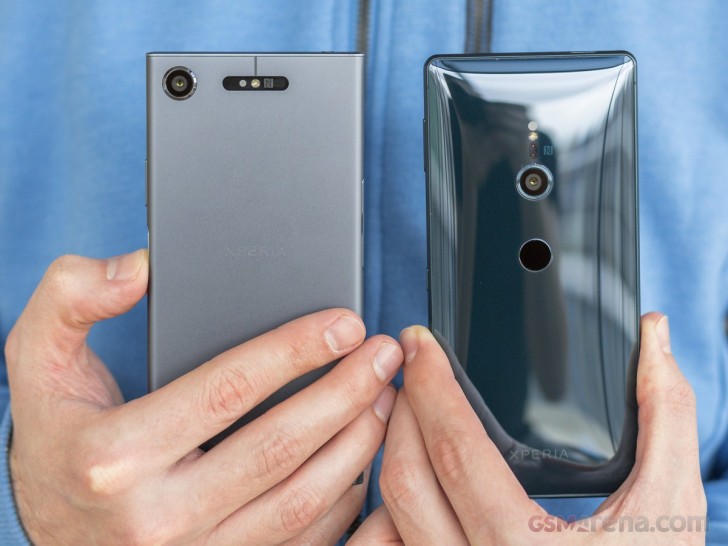 Sony has moulded the entire back from Gorilla Glass 5, curving it with the goal of making the body more ergonomic while creating extra space for the hardware inside. It also looks quite flashy at first glance.
However, while the phone indeed feels very comfortable in the palm, that doesn't change the fact that it's slippery enough to slide off any table and that it quickly turns into a fingerprint mess.
The phone's substantial thickness also means the adding a protective case on the back results in the phone feeling way too chubby for a modern-day flagship.
We couldn't shake the feeling that the back's reflective surface is quite like on the HTC U11, although, perhaps lacking some of the depth layered effect. The back comes in Liquid Black, Liquid Silver, Deep Green (or Petroleum Blue depending how you word your colors) and Ash Pink.
Overall, the back is stunning in looks, provided you manage to keep it smudge-free.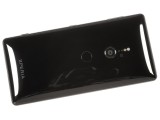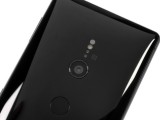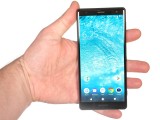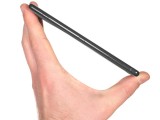 Xperia XZ2: back side • camera array • in the hand
The arched back also houses a fingerprint reader now – a first for Sony. We don't appreciate the relatively low position since it's actually the camera lens where you normally rest your index finger.
The reader here is still just as snappy as we remember from previous generations and, naturally, always-on. It wakes up the phone from standby as quickly as pressing the power button.
While the Xperia XA2 and the XA2 Ultra already laid the ground for the new fingerprint placement, the 18:9 aspect ratio of the XZ2's display is a real Xperia first.
Sony didn't do anything too crazy with the screen – it is thankfully still notch-free, but we now enjoy a more modern looking with a tall aspect ratio and reduced top and bottom bezels.
That being said, one thing we would have loved to see was the minimal side-bezel design of the XA2 and XA2 Ultra. For better or worse, the XZ2 has a generous amount of plastic on all sides on its extra-tall panel.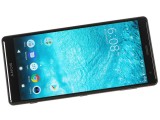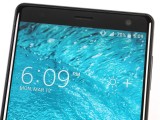 Sony Xperia XZ2 from the front
The slimmed down top bezel is perhaps the reason for the selfie camera resolution downgrade – 5MP, down from 13MP. Still, Sony did find enough room for a powerful stereo setup. In fact, they claim it is 20% louder this time around.
The earpiece still doubles as one of the speakers, while the other one is tucked away in a slot right between the bottom chin and the bezel of the device. Without spoiling the loudspeaker section too much, we will say Sony's loudness claims are not misguided.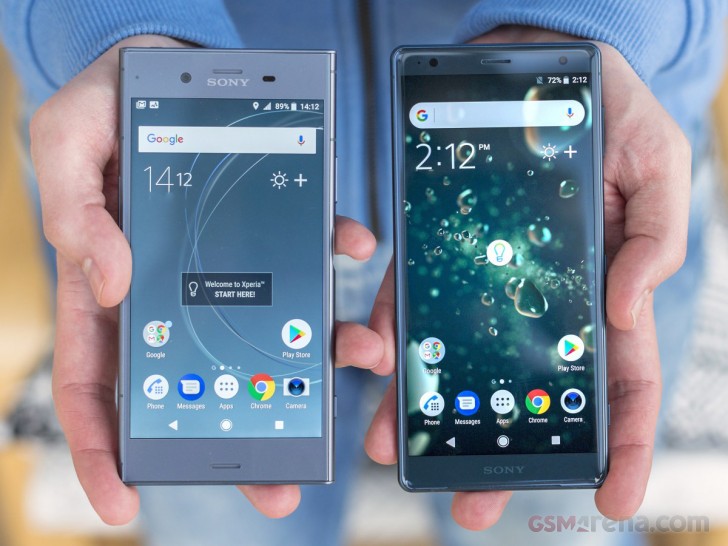 Also on the front of the XZ2, we have an RGB LED, tucked away in the top left corner and a sizeable Sony logo, this time underneath the display.
The entire front panel is covered by a Gorilla Glass 5.
The front glass has rounded edges on all sides attributing to an overall quite modern look – definitely our favorite feature of the new design.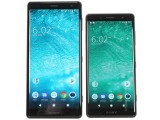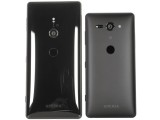 Xperia XZ2 next to the Xperia XZ2 Compact
On to the sides now. The back-mounted fingerprint reader is not the only novelty in the XZ2's control scheme. The volume rocker and power button have been moved around. The volume keys are now positioned way too far from the power key for comfortable use. The power key is also too small and doesn't have any distinct surface.
Double tapping the power key starts the camera – one of our favorite shortcuts on Android, however since Sony phone still come with a hardware camera key, which can also start the camera, there is a bit of redundancy here.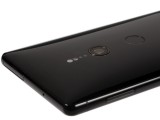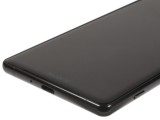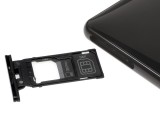 Xperia XZ2 control placement
The SIM tray is on the top of the device. Since the phone, we're reviewing is Dual SIM, the tray is a hybrid one, which can take either two SIM cards or a SIM card plus a microSD card. The phone restarts every time you pull it out. Just like good old times.
Of course, there is also the elephant in the room - with the XZ2 Sony has officially joined the "courageous" ranks of manufacturers to ditch the 3.5mm audio jack.
At least, as some form of mitigation, every XZ2 and XZ2 Compact will ship bundled with an Y-style Type-C dongle, that allows for simultaneous charging and audio out.
Without an audio jack, the bottom of the phone is left with a single Type-C port, only accompanied by a small microphone hole.
3. Lab tests – display, battery, loudspeaker, audio quality
Display
Sony took a rather practical approach to display upgrades for the Xperia XZ2. The new, extra-tall aspect ratio is quickly becoming an industry standard, so ignoring it wouldn't be a wise marketing decision in 2018. The extremely polarizing notch trend, as well as some other traits, like curved edges, are a lot less uniformly accepted at this point, so we are really glad Sony steered clear of those.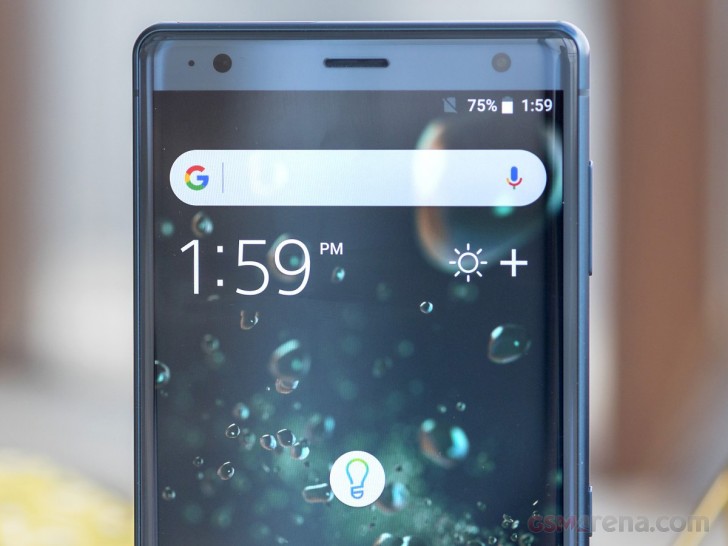 The 5.7-inch panel on the XZ2 is also, arguably sensible in other ways, like the FullHD+ native resolution. Even at that diagonal, that still adds up to a perfectly sharp 424ppi.
Plus, Sony's LCD science has come a long way. Loyal brand fans still swear by their proprietary tech like the Triluminos display and the X-Reality Engine.
Display test
100% brightness
Black, cd/m2
White, cd/m2
Contrast ratio
Nokia 8
0.382
703
1840
Samsung Galaxy S9 (Max Auto)
0
658
∞
Samsung Galaxy S8+ Max auto
0
647
∞
Samsung Galaxy Note8 (Max Auto)
0
647
∞
Sony Xperia XA2 Ultra
0.404
631
1562
Huawei Mate 10 Pro (max auto vivid)
0
623
∞
Sony Xperia XZ2
0.431
618
1434
LG V30 (Max Auto)
0.032
616
19250
Xiaomi Mi 6
0.462
603
1305
Sony Xperia XZ Premium (sRGB)
0.48
576
1200
Sony Xperia XZ1
0.409
575
1406
Sony Xperia XZ Premium
0.463
573
1238
Sony Xperia XZs
0.461
564
1223
LG G6 max auto
0.277
564
2036
Motorola Moto Z2 Force (Max Auto)
0
559
∞
Sony Xperia XA2
0.401
532
1327
Xiaomi Mi Mix 2 (Increased Contrast)
0.4
515
1287
Huawei Honor View 10 (Max Auto)
0.311
507
1629
LG G6
0.228
468
2053
Huawei Honor View 10
0.278
453
1629
Samsung Galaxy S8+
0
442
∞
Oppo R11s
0
441
∞
Huawei Mate 10 Pro (vivid)
0
440
∞
OnePlus 5T
0
437
∞
Huawei Mate 10 Pro (normal)
0
422
∞
Google Pixel 2 XL
0
420
∞
LG V30
0.002
414
207000
Samsung Galaxy Note8
0
412
∞
Xiaomi Mi Mix 2
0.379
387
1020
Motorola Moto Z2 Force
0
376
∞
Samsung Galaxy S9
0
370
∞
HTC U11+
0.19
309
1626
In keeping with Sony's strong display performance history, the Xperia XZ2 gets pretty bright, reaching a maximum of 618 nits. Blacks are still a bit brighter than we would like, which ultimately makes for a solid, but not impressive contrast ratio.
Sunlight legibility is nothing to phone home about either, but we never really felt like the XZ2 was struggling with outdoor light, so we guess it's fine as it is.
Sunlight contrast ratio
OnePlus 5T : 

4.789

Samsung Galaxy S8+ : 

4.658

Samsung Galaxy S9 : 

4.63

Nokia 8 : 

4.239

Samsung Galaxy Note8 : 

4.148

Huawei Mate 10 Pro (normal) : 

4.096

LG V30 : 

4.022

Sony Xperia XZs : 

3.818

Xiaomi Mi 6 : 

3.767

Sony Xperia XZ1 : 

3.765

Sony Xperia XZ2 : 

3.58

LG G6 : 

3.556

Sony Xperia XA2 Ultra : 

3.445

Xiaomi Mi Mix 2 : 

3.19

Oppo R11s : 

3.153

Sony Xperia XA2 : 

2.938

Huawei Honor View 10 : 

2.896

Sony Xperia XZ Premium (sRGB) : 

2.877

Sony Xperia XZ Premium : 

2.877

HTC U11+ : 

2.556
But probably the biggest display upgrade on the XZ2 is the HDR support. The panel supports 10-bit colors and is certified for the BT.2020 standard. Frankly, determining how that correlates to other industry standards, like HDR10 video is a bit difficult and needlessly technical. In practical terms, all that really matters is whether content vendors, like Netflix, enable their HDR content for the XZ2. For now, the best way for early adopters to take advantage of the HDR panel is by watching the compatible 4K HDR clips captured by the phone itself.
Sony also offers an automatic upconversion system, as part of its "Advanced X-Reality for mobile" engine. It takes SDR video content and seamlessly tries to upconvert its colors to HDR levels during playback. If you've seen an HDR TV attempt to do the same, you probably already know that it looks great on cherry-picked demo videos. Real-world usefulness depends strongly on your content. You can probably expect to salvage some detail in shadows and fix some light smear in low-light shots, but it can't do miracles. If the data isn't there, it isn't there.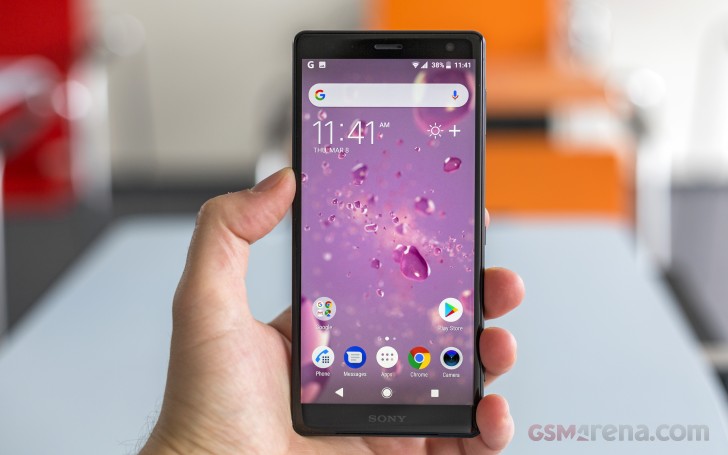 Since the SD to HDR system didn't trigger for our standard display test setup, we can't say how much colors would have improved as a result.
The LCD panel on the XZ2 is surprisingly well-calibrated against the DCI-P3 color space, which we typically test against.
The default Standard color mode gives an average deltaE of 4.4 and a maximum of 8.5. No matter how much we tried, whites and grays always retained a certain level of blue tint.
Switching to the professional color mode brings that down a bit, but it was only after fiddling with the custom white point adjustment that we managed to get an average deltaE of 2.9 and a maximum of 5.1. The settings we used are as follows.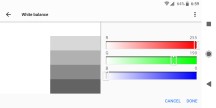 Custom whitepoint calibration settings
Of course, not everybody strives for color accuracy on their phones. In fact, the vast majority of people seem to prefer punchy, vivid colors. If that is you too, go for the Super Vivid setting.
Battery Life
The Xperia XZ2 comes with a bigger battery than the Xperia XZ1. Still, we couldn't shake off the feeling they could have fitted an even bigger one.
After all, the recent Xperia XA2 measures 142 x 70 x 9.7 mm and gets a 3,300 mAh battery. The Xperia XZ2 is 153 x 72 x 11.1 mm and comes with a smaller 3,180 mAh battery in its belly (or rather under the hump on its back). And that's without even looking outside camp Sony. Sure, flagship internals come with their own size and heat design considerations. Still, all of here agreed that it's reasonable to expect a bigger battery from a chubby smartphone like the XZ2.
Still, like we've repeatedly said in the past, it's not about the amperes, but rather how well you make use of them. We have to hand it to Sony and the new, efficient, 10nm Snapdragon 845 chipset.
The combination of Android Oreo and the all-new 10nm Snapdragon 845 chipset has resulted in a great 88-hour endurance rating for the Xperia XZ2. This is especially impressive, considering the 3,180mAh battery capacity.
Breaking down the numbers a bit, we can see that screen-on tasks are the weakest link in the equation. Still, 11 hours or so for Web browsing and local video playback are solid scores. Plus, there is only so much software optimization can do when the sizeable 5.7-inch, LCD of the XZ2 is shining away. Talk time also falls within expectations for a battery pack of such size.
The real secret sauce, so to say, is in the excellent standby endurance. Sony has a solid track record in this department, and the XZ2 does not disappoint. If you are a light user and your phone spends most of its days in a pocket or on a desk, you can easily expect to go a couple of days without a top-up, if not more.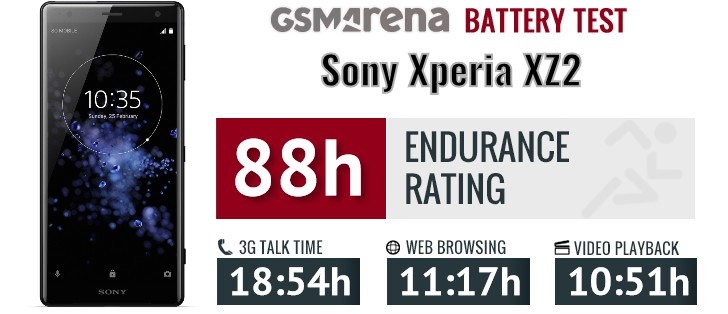 The phone supports Quick Charge 3.0 and even though it doesn't come bundled with a fast charger in every market, using the fast charger we had brought the battery from 0% to about 45% in half an hour.
Unlike its little sibling, the XZ2 also supports QI wireless charging. That won't be nearly as fast, though, even though it uses the fastest possible 9W charging.
As on all its other phones, Sony has equipped the XZ2 with Qnovo Adaptive Charging and Battery care to help prolong the life of the built-in power pack by carefully controlling charging parameters.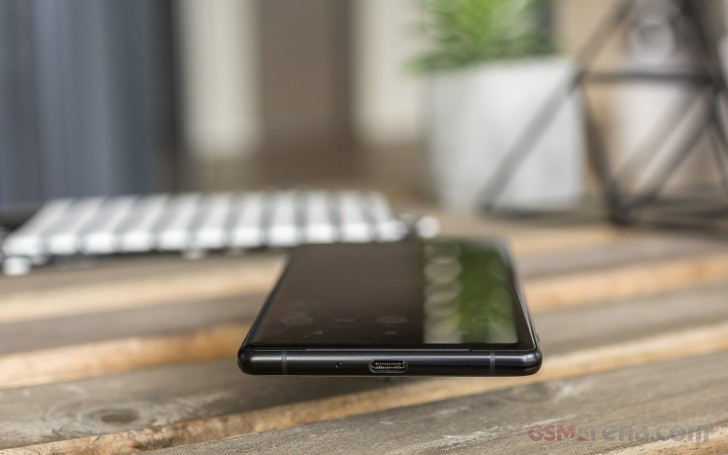 While on the subject of charging, Sony promised it would bundle the XZ2 with one of its EC270 Y-type adapters, so users can charge and listen to music at the same time. While we didn't get one of those with our review unit, we can only assume Sony will be sticking to that promise for end users. So, it's only fair we point out that the adapter comes with a caveat – it doesn't support Quick Charge. On a different note, it is also not compatible with some older Sony noise-canceling headphones, like the MDR-NC31EM and MDR-NC750.
Our endurance rating denotes how long a single battery charge will last you if you use the Sony Xperia XZ2 for an hour each of telephony, web browsing, and video playback daily. We've established this usage pattern so our battery results are comparable across devices in the most common day-to-day tasks. The battery testing procedure is described in detail in case you're interested in the nitty-gritties. You can also check out our complete battery test table, where you can see how all of the smartphones we've tested will compare under your own typical use.
Loudspeaker
Like we already mentioned, Sony still managed to fit a good stereo setup inside the new XZ2 body design. In fact, it is one of the better ones we have seen.
Our tests can mostly confirm Sony's claim – the stereo speakers are about 20% louder than the XZ1.
The XZ2 isn't loud enough to get a last minute party going, but it is excellent for a shower sing-along (don't ask!)
| | | | | |
| --- | --- | --- | --- | --- |
| Speakerphone test | Voice, dB | Pink noise/ Music, dB | Ringing phone, dB | Overall score |
| Sony Xperia XZ Premium | 62.9 | 65.2 | 71.6 | Below Average |
| Sony Xperia XZ1 (ClearAudio+) | 64.5 | 67.6 | 67.7 | Below Average |
| Sony Xperia XZ1 | 65.4 | 68.0 | 69.1 | Average |
| Samsung Galaxy Note8 | 67.8 | 69.5 | 71.5 | Good |
| Sony Xperia XZ2 (ClearAudio+) | 66.0 | 71.6 | 76.4 | Good |
| Google Pixel 2 XL | 66.2 | 70.4 | 78.2 | Good |
| Sony Xperia XZ2 | 66.1 | 71.8 | 78.1 | Good |
| Nokia 6 (Global version) | 63.1 | 70.9 | 82.5 | Good |
| Apple iPhone X | 68.9 | 74.0 | 76.2 | Very Good |
| Sony Xperia XA2 | 68.7 | 72.7 | 78.3 | Very Good |
| Sony Xperia XA2 Ultra | 68.8 | 73.9 | 80.8 | Very Good |
| Huawei Mate 10 Pro | 70.1 | 73.8 | 84.2 | Excellent |
| Google Pixel 2 | 70.0 | 77.0 | 81.1 | Excellent |
| Razer Phone | 69.3 | 75.0 | 90.5 | Excellent |
| HTC U11+ (retail) | 91.2 | 75.4 | 90.7 | Excellent |
But volume alone does not make for a great multimedia experience. For that, you need clarity, which the XZ2 has plenty of as well. Sony's S-Force system unsurprisingly falls short of the magical and kind of self-contradicting PR promise of "Front Surround," but it does make for a vibrant soundstage.
Then there is Sony's new Dynamic Vibration System. The name is pretty self-explanatory, and on the surface, it seems like a very obvious thing to do – pick up the low-frequency sounds and vibrate the phone accordingly. Still, it makes you wonder why other manufacturers have not implemented such a system yet.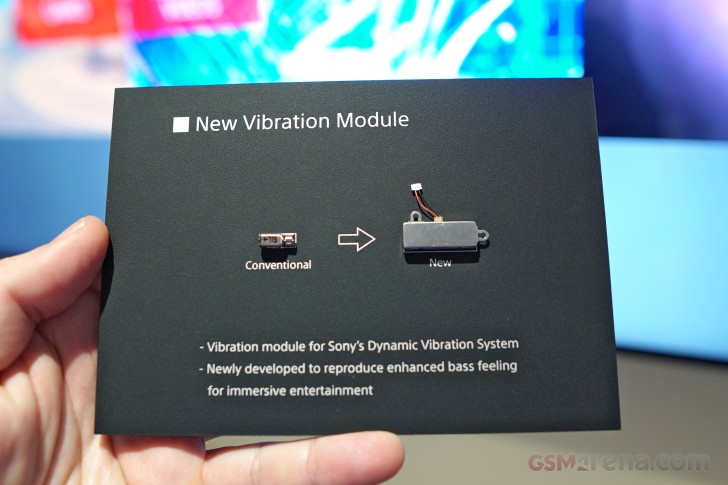 Digging deeper into the matter, revealed that quite a bit of engineering effort has gine into making this possible. To make the haptic feeling convincing enough to be regarded as an actual experience-upgrade, rather than a vibration nuisance, disrupting your multimedia, an advanced vibration engine had to be developed. The actuator in question is not only quite powerful and beefy (probably why it is absent from the XZ2 Compact), but it can also actuate at frequencies all the way down to 100Hz, while most phones only go to 160Hz or so.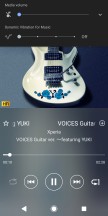 Dynamic Vibration System
While we can't say with certainty that we can feel the extra Hz range in questing, what we can attest to is that the Dynamic Vibration System is no simple vibration.
The haptic feedback feels quite natural once you get used to the sensation. Bass-rich movie scenes become that little bit more exciting and your favorite tracks now cater to another sense.
The effect can be toggled on and off, as well as adjusted in intensity on a per-app basis, which is even better. Especially if you don't find it to your liking for multimedia. Then you can still leave it on for notifications, which Sony claims become more apparent.
Very good audio quality
The Xperia XZ2 represents a big step forward for Sony when it comes to audio output. In previous years the Japanese company's flagships have been a step behind their rivals, but this time around we were treated to a performance worthy of a flagship. When hooked to an active external amplifier the XZ2 delivered above-average loudness and perfect clarity as befits its standing.
Plugging in a pair of headphones dropped the loudness to only average, but the accuracy of the output didn't get damaged. The hike in stereo crosstalk was well contained and while some intermodulation distortion did creep in, it's nothing you will notice without dedicated testing equipment. All in all, the Xperia XZ2 delivered a solid performance with no major weak points whatsoever.
| | | | | | | |
| --- | --- | --- | --- | --- | --- | --- |
| Test | Frequency response | Noise level | Dynamic range | THD | IMD + Noise | Stereo crosstalk |
| Sony Xperia XZ2 | +0.02, -0.01 | -90.6 | 91.2 | 0.0020 | 0.0096 | -89.2 |
| Sony Xperia XZ2 (headphones) | +0.04, -0.26 | -89.4 | 91.9 | 0.0050 | 0.219 | -60.7 |
| Samsung Galaxy S9 | +0.01, -0.03 | -93.4 | 93.5 | 0.0057 | 0.0074 | -93.9 |
| Samsung Galaxy S9 (headphones) | +0.02, -0.03 | -93.0 | 92.9 | 0.0038 | 0.048 | -75.5 |
| HTC U11 | +0.05, -0.11 | -94.1 | 94.1 | 0.0017 | 0.0067 | -94.5 |
| HTC U11 (headphones) | +0.05, -0.02 | -93.7 | 93.8 | 0.0018 | 0.105 | -53.7 |
| LG V30 | +0.02, -0.01 | -93.2 | 93.1 | 0.0008 | 0.0069 | -94.2 |
| LG V30 (headphones) | +0.03, -0.02 | -92.9 | 92.9 | 0.0057 | 0.051 | -68.1 |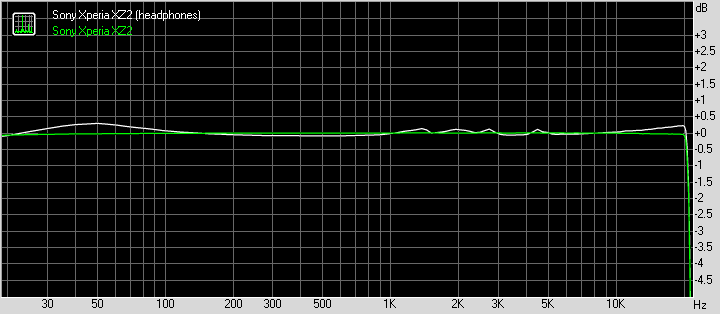 Sony Xperia XZ2 frequency response
4. Software – Xperia Launcher on top of Android Oreo
The Sony Xperia XZ2 runs on Android 8.0 Oreo. Despite the latest Android OS, don't expect a radical change in the UI of the device compared to its siblings, like the XA2, XA2 Ultra, or most of its recent predecessors, like the XZ1, for that matter. Like many other manufacturers, the Japanese giant has mostly decoupled its signature UX from the Android underneath at this point, so as to deliver a familiar experience across its lineup.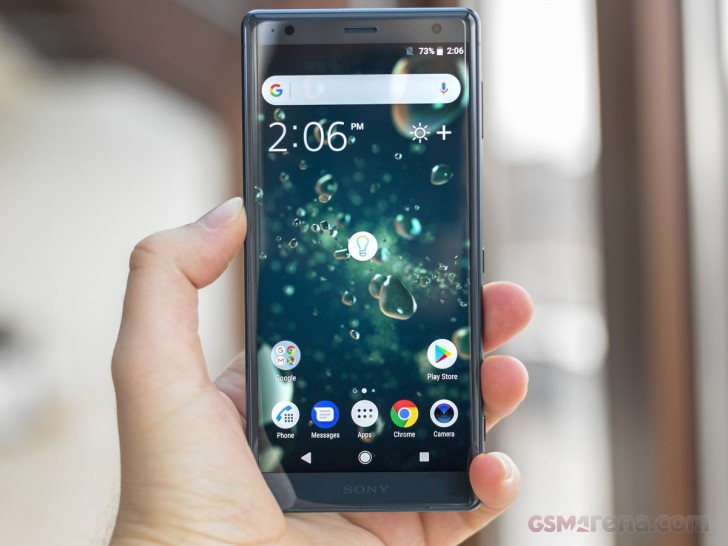 It is worth noting, though, that unlike the mid-range XA2 pair, the flagship XZ2 duo is still not part of Sony's Open Device program. We can only hope it's a question of time, though, since participation not only facilitates custom ROM development but also means a vanilla Android build – available straight from Sony.
Even in the absence of stock Android, the Xperia launcher has gotten pretty lightweight. Not only is the bloat reduced significantly, but most of it isn't even technically pre-loaded out of the box.
During setup, the Xperia Launcher actually prompts for approval for a big chunk of said apps. If you don't like or need any of the non-essentials, you can simply tick them off the list and never deal with them again.
Anyway, long-term Sony fans should feel right at home with what is essentially the same Xperia launcher. The homescreen appears unchanged from previous Xperia generations. This includes the swipe down gesture, which shows a screen of the apps you use most along with recommendations for new apps to install. The search field is highlighted so you can start typing the app's name immediately. There is also a Google Feed pane, accessible through a left swipe on the home screen.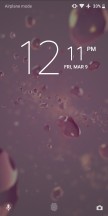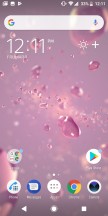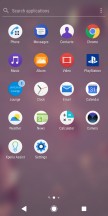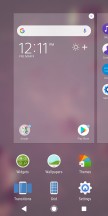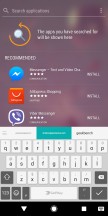 Xperia Launcher
You can also toggle most of these additional features on and off, as per your liking. The Xperia Launcher actually lends itself to quite a bit of tweaking.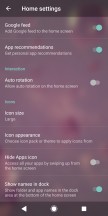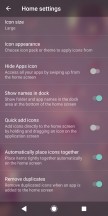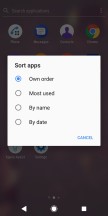 Xperia Launcher settings
Themes are available (both free and paid) that can customize the look and sound of the Xperia XZ2. These are managed through a dedicated interface but seem to be distributed via the Google Play Store – pretty straightforward. Some themes are even interactive, with their wallpapers reacting to your touches. Besides themes, the Xperia launcher also offers wallpapers, grid settings and various transition animation options.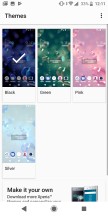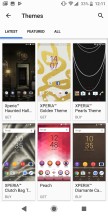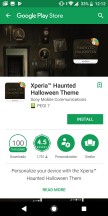 Xperia Themes
The notification drawer and the task switcher are very similar to the vanilla Android ones. There is also a Split Screen feature available to a limited number of apps.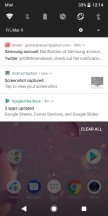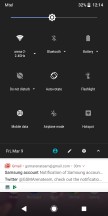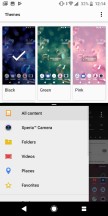 Notification shade • Quick toggles • Task switcher • Split screen
The traditional app drawer is present and even if you opt out of all the additional app installs during setup, you will still end up with at least a few essentials. Sony takes great pride in the A/V prowess of its devices, and the multimedia apps are all custom and feature-rich – Album, Music, and the Video app.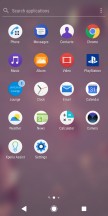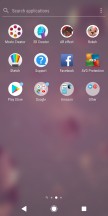 Default apps
The Music app, for instance, offers a plethora of added goodies, like Google Drive and personal media server integration, themes, automatic music info and artwork download and management, Not to mention access to Sony's formidable selection of audio optimization options and equalizers.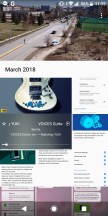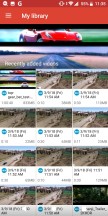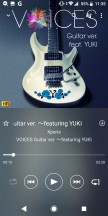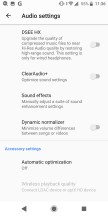 Album • Video • Music
The Xperia Assistant is a new addition to the mix. Naturally, in keeping with current trends, it utilizes AI, but nothing too fancy, like Bixby, Siri or the Google Assistant. Unlike those, the Xperia app lacks a voice of its own, at least for now that is and is more of an interactive manual and convenient management hub for some of the device's features. The main interface is arranged in a chat manner, although you rarely get to actually type. Rather, the Assistant guides you via suggested topics.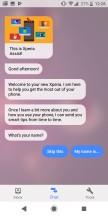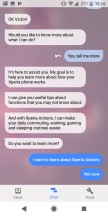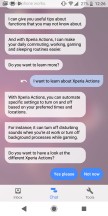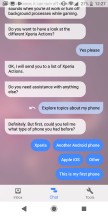 Xperia Assistant main chat interface
It's a fairly intuitive mode of operation, even if not particularly speedy. When you reach a certain juncture in your conversation, the Xperia Assistant can drop convenient links to features you might be interested in checking out. Those cards, or notifications, of sorts, also end up in your inbox, for quicker access later, without having to repeat the conversation with the AI. In some cases, the assistant can directly navigate you to an interface of interest. It can also remind you of various things and send you tips through its own volition when it deems them applicable. You can thankfully enable or disable this behavior on a per-topic basis.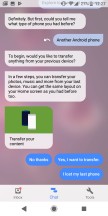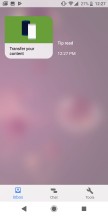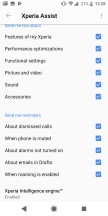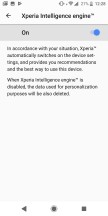 The assistant drops tip cards • Card inbox • Assistant settings
The third and final tab in the Xperia Assistant UI is titled Tools and serves as a convenient management hub for convenient Xperia features, like the extensive STAMINA mode battery saving platform and the Battery Care feature.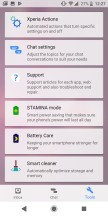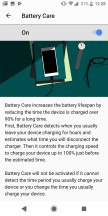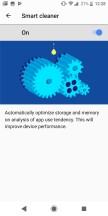 Xperia Assistant tools
We particularly like the latter, since modern batteries do actually benefit from proper care, or rather avoiding certain unfavorable scenarios, like keeping the device charged up all the way for prolonged periods of time. We wish more manufacturers extended such efforts to preserve the longevity of their sealed-in battery backs.
Finally, in addition to the fingerprint unlock, you can set up Smart Lock. It gives you conditional security – trusted nearby devices, locations, faces, or voices can allow you to skip the security protocol that you may have set up on the phone.
5. Snapdragon 845 performance benchmarks
Benchmarking the Snapdragon 845 performance
We expected nothing short of chart-breaking performance from the Xperia XZ2 and the shiny new Snapdragon 845 beating inside it, and we weren't disappointed. We are still getting our first tastes of the new generation of flagship silicon and timing couldn't have been better.
After we put Samsung's Exynos 9810 through the paces in the Galaxy S9 and S9+, we now get to see how it compares to the Snapdragon 845 as well.
In our XZ2 review unit, the chipset is coupled with 4GB of RAM, although many markets will be getting even 6GB of memory.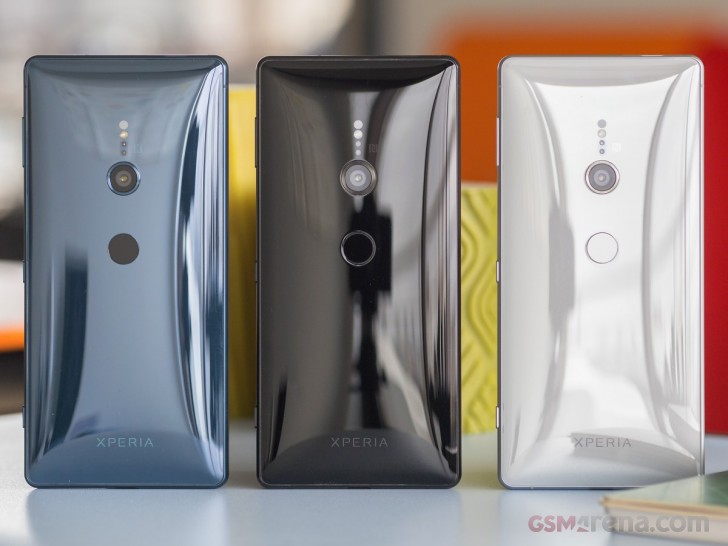 Qualcomm's latest chip is based on a 10nm LPP manufacturing process and introduces a new octa-core processor with new Kryo 385 cores. The four high-performance Kryo 385 Gold cores are clocked at 2.7GHz, and their architecture is derived from ARM's Cortex-A75 reference design.<>
On the other hand, the other four power-efficient Kryo 385 Silver cores work at 1.7GHz, and their architecture is based on ARM's Cortex-A55 design.
There is also a new Adreno 630 GPU, 30% more powerful than the Adreno 540 inside the Snapdragon 835. While earlier rumors seemed to give Samsung's Mali solution of choice a bit of an edge over the Adreno 630, the numbers we are seeing have them trading fierce blows, with the latter coming on top, more often than not.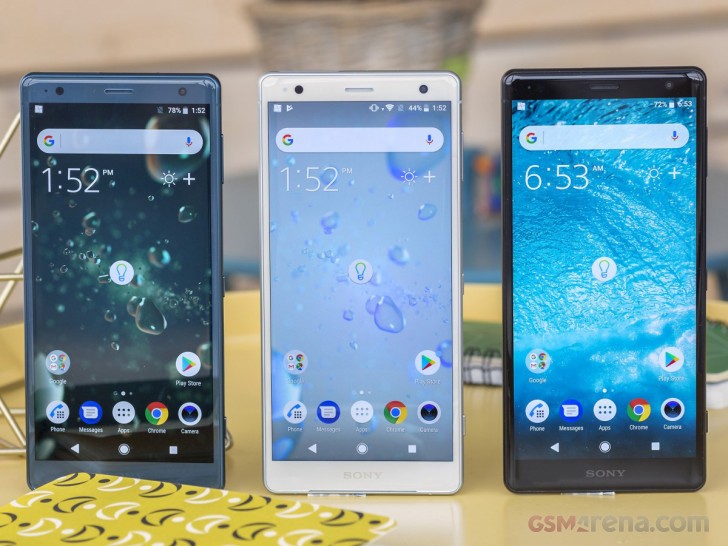 Of course, there are some other differences between the two chips as well, like ISP capabilities – where the Exynos 9810 has the upper hand, with 4K@120fps video capture capabilities. Still, the Xperia XZ2 brings a fair share of camera goodies and extra features of its own to the table, so the race towards consumer appeal is very much on. But, more on that in the camera section.
As far as connectivity goes, just like its Exynos rival, the Snapdragon 845 is decked out. It has a new modem – the X20 with 5CA and LTE Cat1.18 downlink of 1.2Gbps. Sony also threw GPS, Bluetooth 5.0, with aptX HD, dual-band Wi-Fi ac, NFC and a USB 3.1, Type-C into the mix. No FM radio, though, in case you were wondering.
With the specs out of the way, let's look at some performance numbers. Our usual warning does still apply though – synthetics are not necessarily representative of real-world performance. Nor are they an exact science and given the early nature of the new generation of chips, there is still a lot of optimization to be done, potential to be unlocked and proper testing scenarios to be designed. Plus, even though our selection of competing devices spans a couple of hardware generations back and all the way down to mid-range silicon, all of the devices on the list will still chew through any task you throw at them.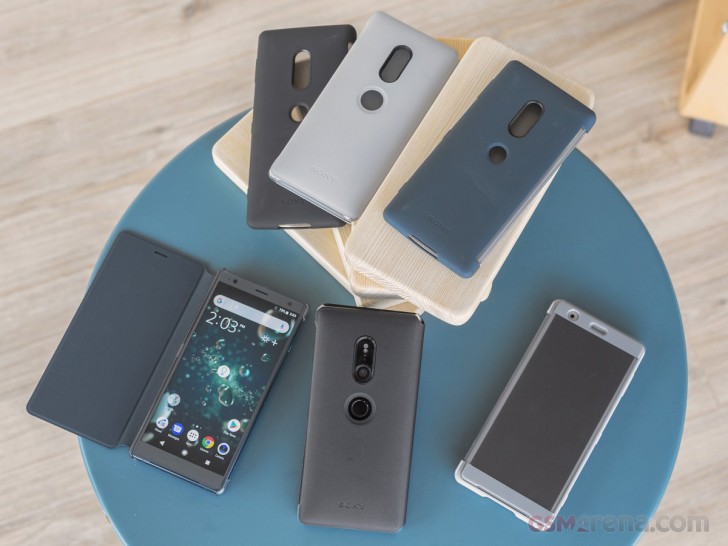 Kicking things off with GeekBench and some pure CPU number-crunching ratings, we can see the Snapdragon 845 fall just a bit short of its Exynos 9810 rival. Still, both chips command an impressive lead over the rest of the devices on the list. And some of them are expensive flagships, which are only a few months old. It seems ARM as a whole still has some impressive leaps forward in its development roadmap.
GeekBench 4.1 (multi-core) – Higher is better
Apple iPhone X : 

10215

Apple iPhone 8 Plus : 

10037

Samsung Galaxy S9 : 

8830

Sony Xperia XZ2 : 

8466

Samsung Galaxy Note8 : 

6784

Huawei Mate 10 Pro : 

6783

OnePlus 5T (Oreo) : 

6759

Samsung Galaxy S8+ : 

6754

Huawei Honor View 10 : 

6738

Xiaomi Mi 6 : 

6719

HTC U11+ : 

6654

Motorola Moto Z2 Force : 

6629

ZTE nubia Z17 : 

6622

Samsung Galaxy Note8 (SD 835)  : 

6590

Nokia 8 : 

6568

Sony Xperia XZ1 : 

6541

Google Pixel 2 XL  : 

6428

LG V30 : 

6365

Samsung Galaxy S8+ (SD 835) : 

6301

Xiaomi Mi Mix 2 : 

6234

Oppo R11s : 

5907

Sony Xperia XZ Premium : 

5460

Sony Xperia XA2 : 

4215

Sony Xperia XA2 Ultra : 

4198

LG G6 : 

4175
However, Apple remains the undisputed king of the hill when it comes to pure CPU prowess.
GeekBench 4.1 (single-core) – Higher is better
Apple iPhone X : 

4256

Apple iPhone 8 Plus : 

4232

Samsung Galaxy S9 : 

3759

Sony Xperia XZ2 : 

2454

Samsung Galaxy Note8 : 

1987

Samsung Galaxy S8+ : 

1986

OnePlus 5T (Oreo) : 

1974

ZTE nubia Z17 : 

1966

HTC U11+ : 

1939

Xiaomi Mi 6 : 

1929

Nokia 8 : 

1925

Xiaomi Mi Mix 2 : 

1924

Motorola Moto Z2 Force : 

1915

Google Pixel 2 XL : 

1915

Huawei Mate 10 Pro : 

1902

Huawei Honor View 10 : 

1902

LG V30 : 

1901

Samsung Galaxy Note8 (SD 835) : 

1862

Sony Xperia XZ1 : 

1840

Sony Xperia XZ Premium : 

1836

Samsung Galaxy S8+ (SD 835) : 

1832

LG G6 : 

1767

Oppo R11s : 

1614

Sony Xperia XA2 Ultra : 

866

Sony Xperia XA2 : 

865
Moving on to the compound benchmarks that take into account many other hardware aspects of its test subjects, we have AnTuTu 7. Once again, the Xperia XZ2 and Samsung Galaxy S9 find themselves neck to neck. This time around, however, Qualcomm takes the gold, and our hunch is, it might just have something to do with GPU performance.
AnTuTu 7 – Higher is better
Sony Xperia XZ2 : 

259244

Samsung Galaxy S9 : 

250156

Huawei Honor View 10 : 

212708

Nokia 8 : 

210323

Motorola Moto Z2 Force : 

209779

OnePlus 5T (Oreo) : 

207072

Google Pixel 2 XL : 

203119

Samsung Galaxy Note8 : 

201065

LG V30 : 

182374

LG G6 : 

158785

Sony Xperia XA2 Ultra : 

89110
Basemark OS 2.0 seems to favor the Xperia XZ2 even more. Still, the iPhone X aside, it's pretty much another cut-throat race between the rest of the flagships on the list. We are dealing with synthetic performance variances here that fade away form a real-life consumer standpoint. Instead, putting the pressure on developers, racing towards better optimized and more fluent user experiences.
Basemark OS 2.0 – Higher is betterv
Apple iPhone X : 

4708

Sony Xperia XZ2 : 

3859

Motorola Moto Z2 Force : 

3609

Apple iPhone 8 Plus : 

3601

Xiaomi Mi Mix 2 : 

3578

Xiaomi Mi 6 : 

3547

Nokia 8 : 

3503

OnePlus 5T (Oreo) : 

3458

Huawei Mate 10 Pro : 

3425

Samsung Galaxy Note8 (SD 835) : 

3424

Samsung Galaxy S9 : 

3382

Google Pixel 2 XL : 

3379

Samsung Galaxy Note8 : 

3333

Samsung Galaxy S8+ (SD 835) : 

3319

Samsung Galaxy S8+ : 

3298

ZTE nubia Z17 : 

3281

HTC U11+ : 

3257

Sony Xperia XZ Premium : 

3174

Huawei Honor View 10 : 

3164

Sony Xperia XZ1 : 

2986

LG V30 : 

2705

Oppo R11s : 

2499

Sony Xperia XZs : 

2386

LG G6 : 

2126

Sony Xperia XA2 Ultra : 

1548

Sony Xperia XA2 : 

1545
Moving on the GPU tests, it's the Snapdragon's time to shine. Again, keeping in mind that most of these variances are hard to detect, if at all possible under real-world circumstances. Every good mobile game, worth its salt nowadays is so well optimized that you should be good with pretty much every flagship GPU solution for at least the average service time of a smartphone.
A lot is riding on OpenGL optimization in these tests, with some minor implementation details potentially skewing numbers one way or another. Staring with GFX 3.0 tests, we see the Xperia XZ2 pumping out around 10 frames more, on average, than the Samsung Galaxy S9 and almost 20 over the Huawei's Kirin 970-powered devices.
GFX 3.0 Manhattan (1080p offscreen) – Higher is better
Apple iPhone 8 Plus : 

85

Sony Xperia XZ2 : 

82

Apple iPhone X : 

81

Samsung Galaxy S9 : 

73

Huawei Mate 10 Pro : 

65

Huawei Honor View 10 : 

65

Samsung Galaxy Note8 (SD 835) : 

63

ZTE nubia Z17 : 

63

Motorola Moto Z2 Force : 

61

Google Pixel 2 XL : 

61

LG V30 : 

60

Xiaomi Mi 6 : 

59

Samsung Galaxy S8+ (SD 835) : 

57

Nokia 8 : 

57

HTC U11+ : 

56

OnePlus 5T (Oreo) : 

56

Xiaomi Mi Mix 2 : 

54

Samsung Galaxy Note8 : 

51

Sony Xperia XZ Premium : 

50

Samsung Galaxy S8+ : 

50

Sony Xperia XZ1 : 

49

Sony Xperia XZs : 

42

LG G6 : 

41

Oppo R11s : 

23

Sony Xperia XA2 : 

14

Sony Xperia XA2 Ultra : 

14
This is a trend which mostly carries over to the higher OpenGL ES scenarios as well. Of course, we are talking about on-screen rendering performance here, since looking at on-screen numbers introduces other variables into the mix, like the native resolution at which each device renders. This is especially hard to properly take into consideration with the different aspect ratios added on top. Plus, in GFX 3.0 test, at least, reaching the test's upper frame limit cap of 59fps is now a reality.
GFX 3.0 Manhattan (onscreen) – Higher is better
Sony Xperia XZ2 : 

59

Apple iPhone 8 Plus : 

59

Apple iPhone X : 

59

Xiaomi Mi 6 : 

56

ZTE nubia Z17 : 

56

Huawei Mate 10 Pro : 

55

Huawei Honor View 10 : 

55

Xiaomi Mi Mix 2 : 

50

OnePlus 5T (Oreo) : 

50

Sony Xperia XZ1 : 

48

Sony Xperia XZ Premium : 

47

Samsung Galaxy S9 : 

45

Samsung Galaxy Note8 : 

42

Sony Xperia XZs : 

40

Samsung Galaxy S8+ : 

40

Motorola Moto Z2 Force : 

40

Samsung Galaxy Note8 (SD 835) : 

37

HTC U11+ : 

36

Google Pixel 2 XL : 

36

LG V30 : 

35

Samsung Galaxy S8+ (SD 835) : 

34

Nokia 8 : 

33

LG G6 : 

24

Oppo R11s : 

23

Sony Xperia XA2 : 

15

Sony Xperia XA2 Ultra : 

15
With OpenGL ES 3.1 loads things get a little more interesting, not to mention applicable to current and future game engines. Here we can really see the Adreno 630 flex its muscles. Not only does it command a 10 fps lead over the Mali-G72 MP18 inside the Galaxy S9, but it also manages to outpace the Apple GPU inside the iPhone X.
GFX 3.1 Manhattan (1080p offscreen) – Higher is better
Sony Xperia XZ2 : 

55

Samsung Galaxy S9 : 

46

Apple iPhone X : 

44

Samsung Galaxy Note8 (SD 835) : 

43

ZTE nubia Z17 : 

43

Samsung Galaxy Note8 : 

42

Samsung Galaxy S8+ : 

42

Motorola Moto Z2 Force : 

42

Google Pixel 2 XL : 

42

LG V30 : 

41

Xiaomi Mi 6 : 

41

OnePlus 5T (Oreo) : 

40

Sony Xperia XZ Premium : 

39

Sony Xperia XZ1 : 

39

Samsung Galaxy S8+ (SD 835) : 

39

Nokia 8 : 

39

Huawei Mate 10 Pro : 

38

Huawei Honor View 10 : 

38

Xiaomi Mi Mix 2 : 

37

HTC U11+ : 

35

Sony Xperia XZs : 

32

LG G6 : 

26

Oppo R11s : 

15

Sony Xperia XA2 Ultra : 

9.7

Sony Xperia XA2 : 

9.6
Ramping up the test difficulty only seems to make this lead more apparent.
GFX 3.1 Car scene (1080p offscreen) – Higher is better
Sony Xperia XZ2 : 

35

Samsung Galaxy S9 : 

28

OnePlus 5T (Oreo) : 

26

Sony Xperia XZ Premium : 

25

Samsung Galaxy Note8 (SD 835) : 

25

Samsung Galaxy Note8 : 

25

Samsung Galaxy S8+ : 

25

HTC U11+ : 

25

Motorola Moto Z2 Force : 

25

Xiaomi Mi Mix 2 : 

25

Xiaomi Mi 6 : 

25

Google Pixel 2 XL : 

25

ZTE nubia Z17 : 

25

Sony Xperia XZ1 : 

24

LG V30 : 

24

Samsung Galaxy S8+ (SD 835) : 

23

Huawei Mate 10 Pro : 

22

Huawei Honor View 10 : 

22

Sony Xperia XZs : 

20

LG G6 : 

16

Oppo R11s : 

8.7

Sony Xperia XA2 : 

5.5

Sony Xperia XA2 Ultra : 

5.4
Of course, it can be observed in on-screen performance numbers as well. But like we said before, looking at those is a double-edged sword that requires factoring in pixel counts and rendering resolutions as well.
Basemark X appears to tell the same overall story, although with what we can only assume is a bit of favoritism towards higher GPU core count, sprinkled in.
Basemark X – Higher is better
Sony Xperia XZ2 :

44097

Samsung Galaxy S8+ :

43862

Samsung Galaxy S9 : 

42645

Samsung Galaxy Note 8 : 

40890

Huawei Mate 10 Pro : 

40232

Google Pixel 2 XL : 

39143

Motorola Moto Z2 Force : 

38615

Sony Xperia XZ1 : 

38583

Xiaomi Mi 6 : 

38541

Sony Xperia XZ Premium : 

38507

Xiaomi Mi Mix 2 : 

38349

HTC U11+ : 

38315

OnePlus 5T (Oreo) : 

38248

Nokia 8 : 

37593

Samsung Galaxy Note8 (SD 835) : 

37211

LG V30 : 

36704

Samsung Galaxy S8+ (SD 835) : 

34951

Sony Xperia XZs : 

33815

ZTE nubia Z17 : 

33513

Huawei Honor View 10 : 

33499

LG G6 : 

30507

Oppo R11s : 

20914

Sony Xperia XA2 Ultra : 

14328

Sony Xperia XA2 : 

14312
Of course, for the sake of fairness, we can's skip over the Basemark ES 3.1 / Metal numbers either. Mainly to illustrate how throwing Apple's Metal graphics API into the mix disrupts the poll positions quite a bit. Never underestimate the power of proper hardware/software optimization, especially when done on a closely monitored hardware and software ecosystem, such as Cupertino's.
Basemark ES 3.1 / Metal – Higher is better
Apple iPhone X : 

1854

Apple iPhone 8 Plus : 

1644

Samsung Galaxy S9 : 

1456

Samsung Galaxy Note8 : 

1268

Huawei Mate 10 Pro : 

1183

Sony Xperia XZ2 : 

1176

Samsung Galaxy S8+ : 

1111
Owing to the Snapdragon 845 chipset, the Sony Xperia XZ2 is one of the fastest phones available today on both CPU- and graphics-intensive tasks.
While playing the numbers game is good fun, the simple reality is that in real-world terms, the XZ2 is up with the best smartphones Apple, Samsung or Huawei have to offer. Plus, you can be pretty sure the Snapdragon 845 will stay relevant for at least a few years to come.
6. Camera
A familiar 19MP Motion Eye camera
Sony has decided to stick to what it knows in the camera department, equipping yet another generation of devices with the familiar IMX400 ExmorRS, a.k.a. Motion Eye camera. 1/2.3″, 1.22µm, behind an f/2.0 lens. Its field of view is still quite wide at 25mm (in 35mm equiv.)
The same module that appears on the XZ Premium, XZs, as well as the XZ1 pair.
This is not necessarily criticism in itself. Sony has been hard at work, optimizing the software processing and its new BIONZ algorithms. That said, if you hoped the Japanese giant would jump on the trendy dual-camera train this time around – this might come as a disappointment. There's no OIS either, the camera relying solely on EIS to keep things steady.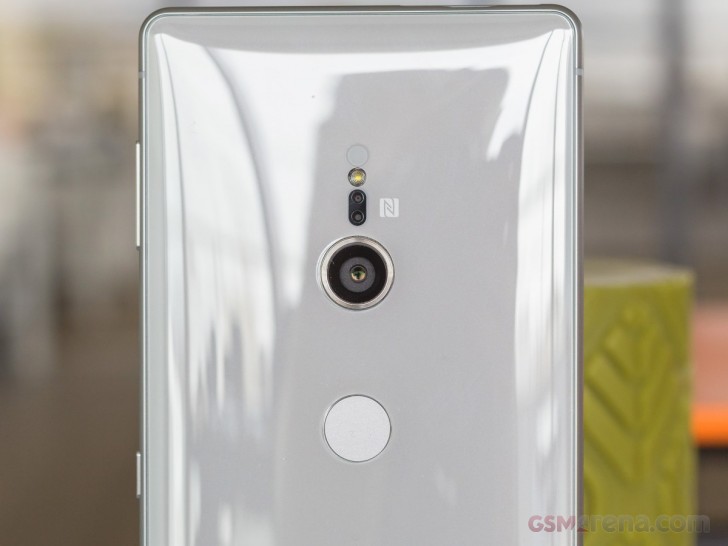 One thing that is part of the XZ2 camera package is Sony's excellent RAM chip solution, sandwiched right in between the sensor and control circuitry layers. It serves as an ultra-fast buffer where the camera can temporarily offload what the sensor captures without the need to wait for the storage to catch up.
This lets the sensor reads out the full 19MP resolution really fast, which prevents the nasty rolling shutter in photos of fast-moving objects. It also enables the headline feature – 960fps slow-motion video. Now, thanks in part to a hardware and software collaboration with Qualcomm on the Spectra 280 ISP, inside the Snapdragon 845, the slow-motion resolution has been bumped up to 1080p! Unfortunately, at haft the slow-mo burst length, but more on that in a bit.
Camera UI
There haven't been any radical changes to the Xperia camera UI in some time now. Well, that does depend on when you've last looked into it. For instance, a while back, Sony finally moved the 4K video recording into the resolution settings, as opposed to being a separate mode.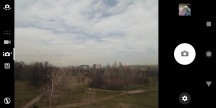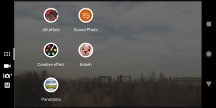 Camera UI • Camera modes
Speaking of resolution settings, you might want to go into settings and switch the default 17MP (16:9) one to 19MP (4:3), so you can get the highest possible resolution for your photos.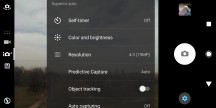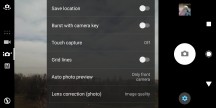 Camera settings
If you find the lens distortion of the XZ2 wide angle lens not to your liking, you can also experiment with the correction option. It does reduce the still quality a bit, though.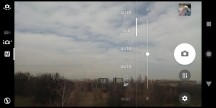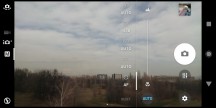 Manual mode
Naturally, Sony's familiar Manual mode is present as well. It is full-featured, with access to shutter speed, ISO as well as white balance and exposure compensation.
A handy and potentially shot-saving feature is called Predictive Capture. When the camera detects fast-paced movement, it records a few of the moments before you press the shutter. So, if you were late in clicking the shutter button, you would be able to use one of those pre-cached shots instead.
Image quality
Stills using the 19MP Motion Eye camera have been pretty consistent in quality across a few Sony devices now. Perhaps, with the exception of the XZs, which suffered from some notable corner softness issues.
In good lighting conditions, the XZ2 captures plenty of detail. Sony's color science hasn't changed much either – colors are reproduced very accurately, and the dynamic range is pretty wide.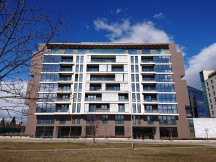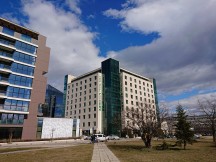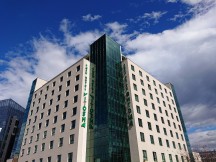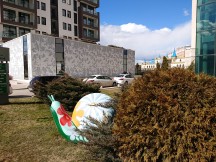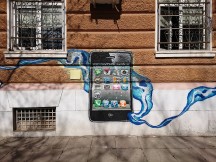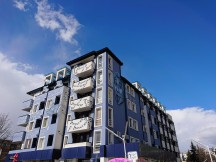 Sony Xperia XZ2 camera samples
Noise suppression artifacts are still abundant, though, even if the lighting was great. If you downscale those images to 12MP or less, that becomes less noticeable. That's a pretty common trait for the 19MP motion camera, along with the slight distortion in the corners, caused by the wide lens. All that said, we did notice some signs of Sony's re-designed BIONZ processing algorithm, namely in noise-reduction.
The new noise-reduction system seems to dial back the noise reduction a bit, as a whole, resulting in a more coarse and grainy rendition of noise but the level of the resolved detail is now higher. In low-light, the difference is even more pronounced with photos coming out looking substantially sharper and with better colors.
Superior Auto is typically very good at recognizing the scenes and adjusting parameters. If it detects the need for HDR, it will shoot in Backlit mode automatically.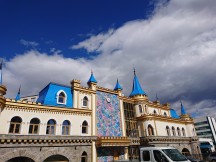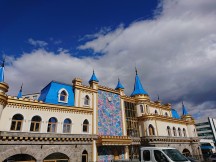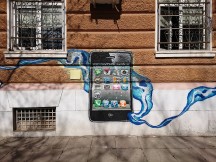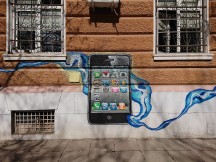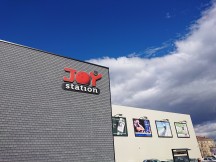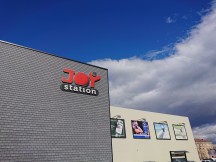 HDR Off • HDR On • HDR Off • HDR On • HDR Off • HDR On
There is manual HDR mode available in, well, Manual mode, but its switch is hidden in the advanced settings. Intelligent Auto is doing a good job, though, so you will rarely need to switch to Manual only to shoot HDR.
The panoramic shots have a height of up to 4,000 pixels. The resulting angle of view is up to you since you can stop the capturing process at any time. You do get plenty of detail and practically no stitching artifacts unless you shoot moving objects.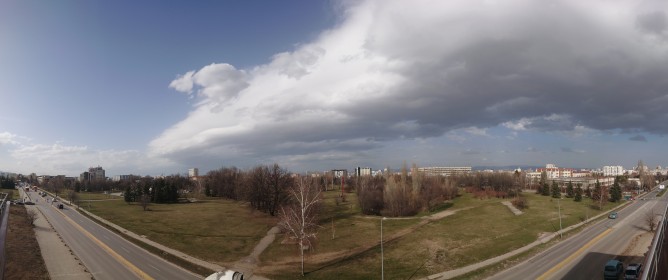 Xperia XZ2 panorama sample
As we hinted before, low-light is where the new BIONZ platform seems to shine the most. Historically, this is where 19MP Motion Eye Xperia's have struggled a bit. The XZ2 still has to battle the lack of OIS, so a tripod will always yield better results. But even without one, the new Multi-Frame noise reduction seems to do a better job, compared to earlier Sony algorithms.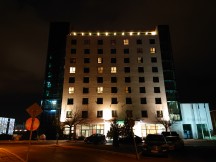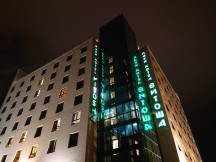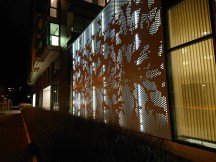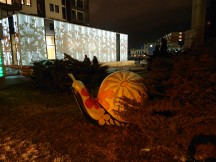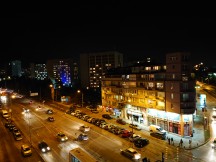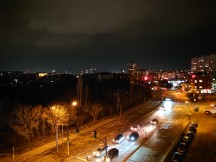 Xperia XZ2 low-light samples
Grab a tripod, and things get even more interesting.
Tripod detection appears to be better optimized on the XZ2, and the new software feels comfortable pushing the shutter speed even lower.
For instance, our Superior Auto in-studio test shot was taken at ISO 200 and a 1/8s shutter speed – camera settings which previously were achievable only through manual mode. Resting the phone carefully on a level surface can yield the same results.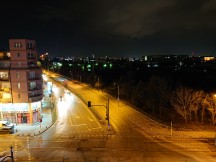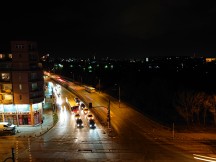 Stationary Superior Auto at ISO 160 • Manually setting the ISO down to 50
As for the low-light color reproduction improvements, Sony also associates with BIONZ, we can't really say we are noticing a major difference, compared to the likes of the XZ Premium or XZ1.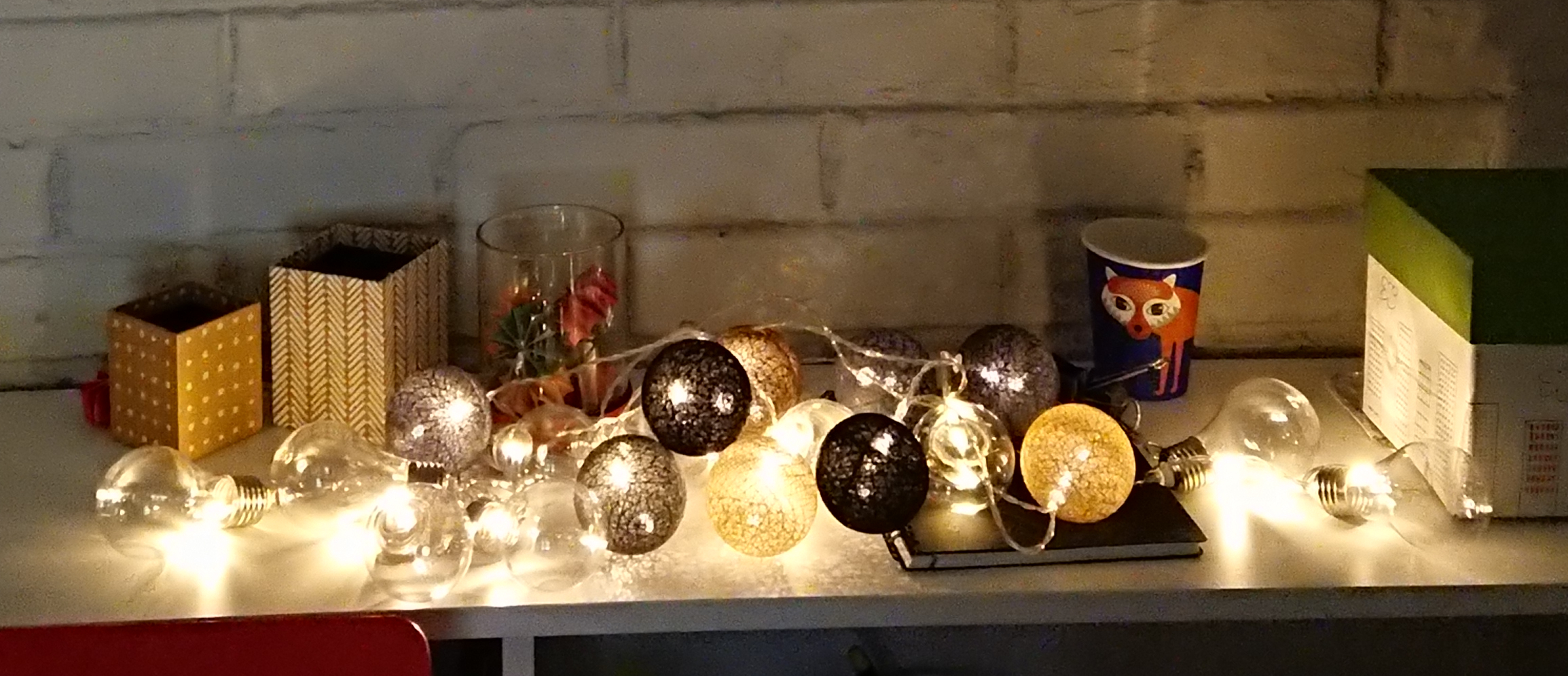 Xperia XZ1 1/8s ISO 1250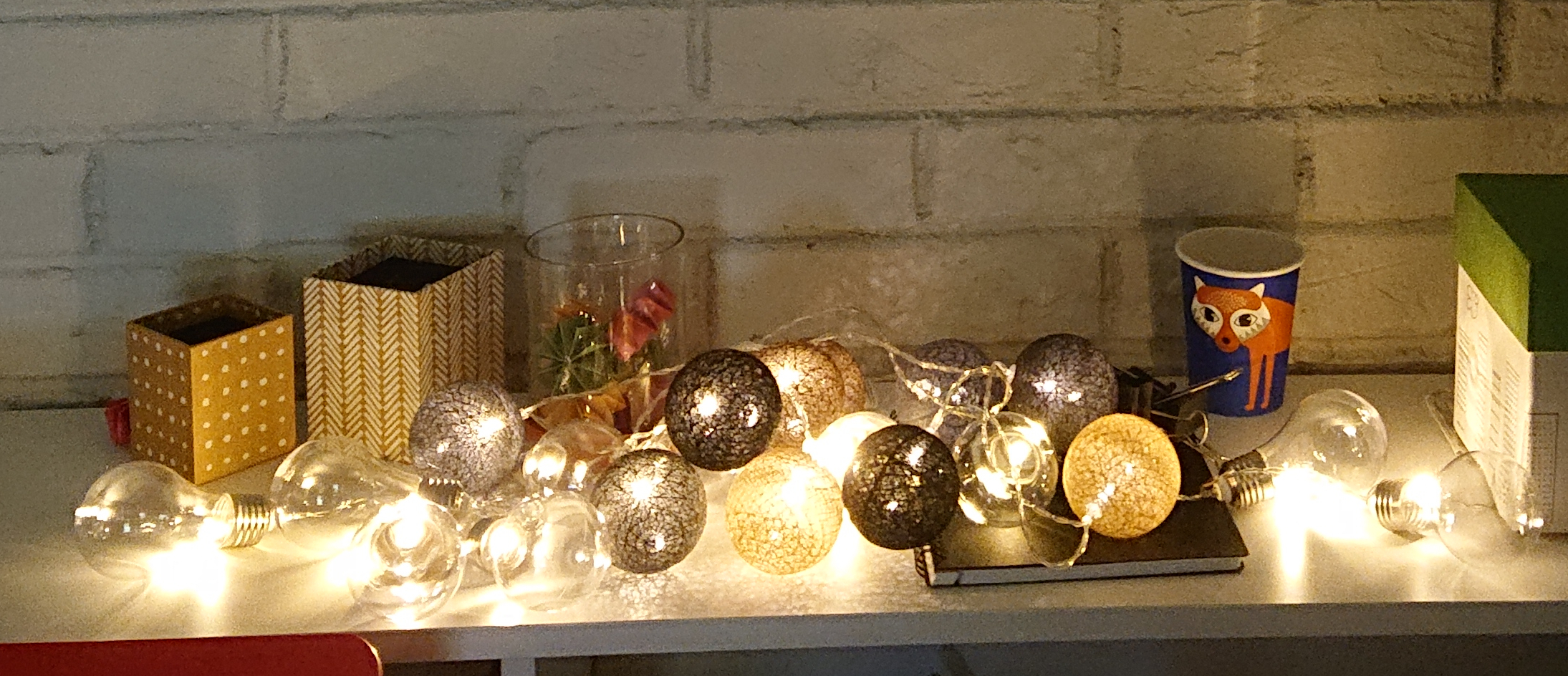 Xperia XZ2 1/8s ISO 1250
Here is a close up crop from the same scene, captured with the Xperia XZ1 and XZ2 under identical conditions, with identical settings in Superior Auto mode, using a tripod.
Overall, low-light performance on the XZ2 has made a step in the right direction. It's not exactly flawless, but certainly an improvement over past Sony phones.
Naturally, we shot our standard posters with the Xperia XZ2 as well. You can use our photo compare tool to see how it stacks up against competitors.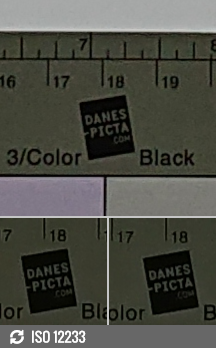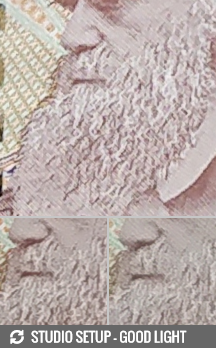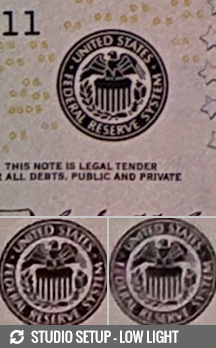 Sony Xperia XZ2 vs. Sony Xperia XZ1 vs. Sony Xperia XZ Premium in our photo compare tool
Selfies
Before we move on to video, we also took a few selfies for you to check out. The selfie camera on the XZ2 did take a hit in specs, likely associated with the new design with slimmer bezels. Resolution is down to 5MP (f/2.2, 1/5″). There is no autofocus either.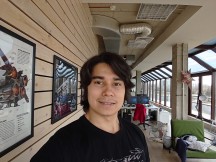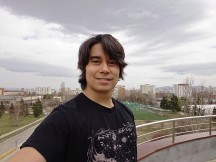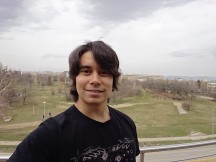 Xperia XZ2 selfie samples
We can't complain about any lack of details. Samples came out nice and sharp and dynamic range is also decent. So the only real bummer is the fixed focus. Bear in mind that in Intelligent Auto the camera seems to have some beautification enhancement constantly on, so if you don't fancy the effect it has on your face, you might have to switch to the Manual mode to disable it.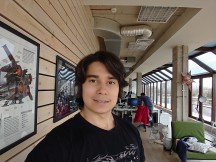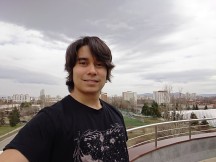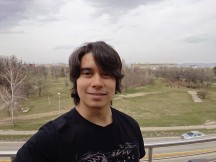 Xperia XZ2 selfie samples with beauty filter on
Video recording
As far as the camera UI goes, once again there is little to no change to observe. We remain grateful to Sony for including a proper video viewfinder – a feature frequently going amiss on devices nowadays.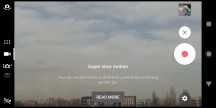 Video recorder UI
Despite the familiar 19MP Motion Eye camera, video recording on the XZ2 has a few new tricks added to the mix. For one, there is the upgraded slow-motion capture, we mentioned earlier.
The maximum resolution for the clips has been bumped up to 1080p. However, since Sony hasn't doubled the capacity of its custom RAM buffer solution, you can only capture slow-motion bursts of half the length compared to the 720p ones.
720p is still a fall-back option though. And given that you only have 0.18 seconds to work with, even in HD and the result is really dependant on proper lighting and timing on your part, lowering the resolution remains a pretty viable option.
The process of shooting a 960fps clip is still just as complicated as it was on the Xperia XZ Premium and the XZ1. You have to switch to video recording, then hit the slow-motion button, then start recording the video and then hit the slow-motion button again at the moment you want. This certainly excludes any potential for capturing the odd moment on a whim, and you certainly have to prepare your shots.
Even if you go through the sequence, nailing the right moment is still quite hard as the camera doesn't start recording when you hit the button. Instead, it offloads what's already in its buffer, so it shows you the recording of the events that have already happened when you press the button. Once you get the hang of this, it becomes easier, but getting the timing just right is still a hit-or-miss affair and has not been improved over last year.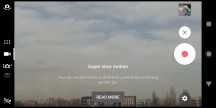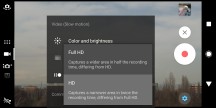 Slow motion recording interface
While on the subject of new video recording tricks, there is also the 4K HDR recording mode – a Sony and potentially Android first. This is another fruit harvested from the collaboration between Sony and Qualcomm on the Spectra 280 ISP, inside the Snapdragon 845. It does take a lot of processing and bandwidth to pull this off.
There are some caveats, though, unlike the regular 4K footage, the XZ2 can pump out at 30fps and a video bit-rate of around 55 Mb/s, the HDR 4K clips end up with about 24 frames each second and a bitrate of around 35 Mb/s. You are loosing quite a bit of detail in the process and the result has a sort of cinematic feel to it.
Still, the wider BT.2020 color space is definitely visible on the XZ2's certified HDR display. And that's an important note to make here. Although we are providing a sample video, as always, unless you watch it on a BT.2020 compliant display, or at least a similar HDR one, it will likely look washed-out not revealing its true colors. Played back on the XZ2 itself, the sample exhibit more true-to-life colors, with a lot more discernible shades and better contrast.
HDR videos get recorded in HEVC, and you can also bump the resolution down to 1080p. Interestingly enough, even with fewer pixels, the video stream still comes out in a cinematic 24fps, with a bitrate of 18Mbps, or so. Seeing how that is the case, it is understandable that setting the resolution to 1080p@60fps disables HDR mode entirely. Perhaps the next generation of hardware can bring that as well.
While on the subject of seemingly odd limitations, there is still no Intelligent Active Stabilization in the 4K or 1080p@60fps recording modes. Historically, flagship Xperias have had no optical image stabilization, and neither does the XZ2.
As far as regular 4K video quality goes – it is pretty comparable to that of the XZ1 or the XZ Premium.
Videos have plenty of detail, great contrast and dynamic range and accurate colors. There is no corner softness either. Processing is rather laid-back, in the sense that not much sharpening is applied.
The only slight issue we had was a small "wobble," which we believe is slight focus hunting. Wind could play some role in the outdoor samples, but the issue appeared while shooting our test charts indoors as well.
Using the HEVC (or H.265) codec is now an option at any resolution, whereas the new codec was previously limited only to 4K. If you decide to throw in HDR at any resolution, H.265 becomes your default and only choice.
HEVC offers notably more efficient compression – one of our sample 3 minute 4K videos came out 1.24GB in H.264 but only 790MB in H.265. Pixel-peeping does reveal small potential differences in quality between the two, but almost insignificant. It is worth opting for the newer and more efficient standard, especially now that YouTube supports it.
1080p videos come with very good quality and smooth framerate no matter if you opt for 30 or 60fps.
And here is the Xperia XZ2 in our video compare tool.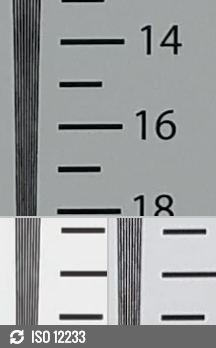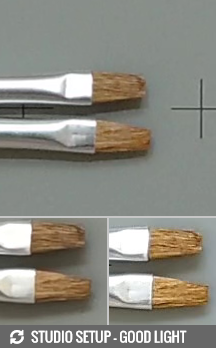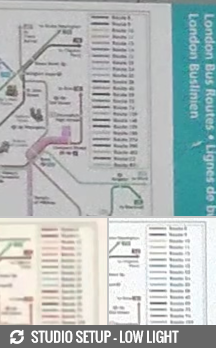 Sony Xperia XZ2 in our 4K video compare tool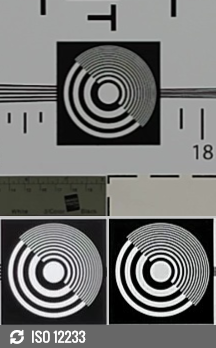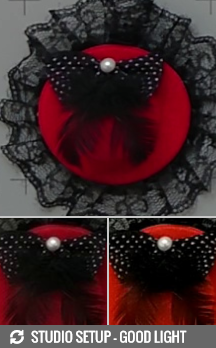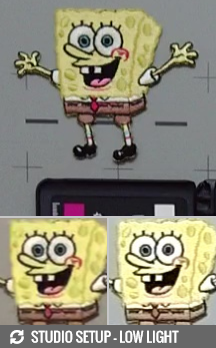 Sony Xperia XZ2 in our 1080p video compare tool
To top the camera portion of the review off, we should mention that Sony has sprinkled a few new extras in its 3D Creator app. If you haven't heard of it, it's a software that lets you create three-dimensional captures of objects. When the feature made its debut on the Xperia XZ1, it's end-goal was rather unclear. Facebook has now stepped in to simplify the sharing process. You can upload your creations to the site directly, where they can be viewed in all their 3D glory without any additional software.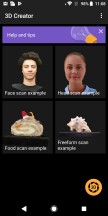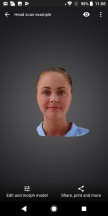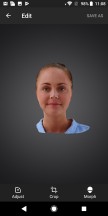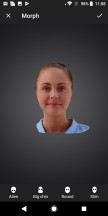 3D Creator app, now with selfie support
3D capture can now work with the selfie camera as well. Making a scan of your face and head is even more fiddly and frustrating than having somebody hover around you for a few minutes. On the plus side, however, this could hint that there are no real hardware requirements for the system to work, making it potentially portable to other devices.
Last, but not least, Sony now has a new cloud service that promises to take your scans and imbue them with more polygons, to make them smoother and more precise than ever. We would have loved to test this out, but sadly, it is still not live as of writing this review.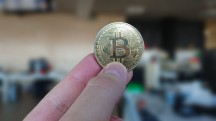 Xperia XZ2 Bokeh shot sample
And finally, in an attempts to stay trendy, Sony has pre-loaded a Bokeh app on the XZ2. Since the phone only has one camera, it operates the old-fashioned way – by taking a pair of photos and then allowing the user to adjust the focus, blurring the rest, as best it can. It works surprisingly well if you line up your shot correctly.
7. Competition, pros and cons, the verdict
Competition
The Sony Xperia XZ2 is a true flagship smartphone. It's rocking the latest and greatest Snapdragon 845 chipset, bundled with the best Sony currently has to offer in display and camera tech. Plenty of special sauce has gone into making the latter a unique proposition. The same can be said about the Triluminos, Bravia-tech LCD, too. Now taller than ever and complete with the visually stunning BT.2020 HDR color space support.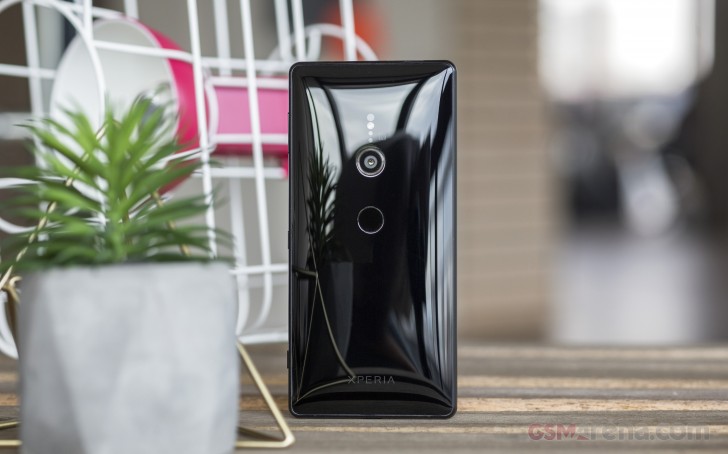 Like we said, a flagship through and through and with a fitting launch price tag of over €800 on some markets – eye-watering for sure, but in tune with the 2018 trends. Since that is the case, any viable alternative to the XZ2 will have to live up to pretty high standards. The new Samsung Galaxy S9+ instantly springs to mind. Besides having more than enough performance to go around, in both its Snapdragon 845 and Exynos 9810 configurations, it also sports a unique camera setup. Its respective 960fps video recording mode can't quite match the FullHD resolution of the XZ2. Nor can it capture HDR. Still, it compensates with an intriguing switchable F/1.5 and F/2.4 aperture, 2x optical zoom, OIS and Dual Pixel PDAF technology. There is also the large, 6.2-inch, Super AMOLED and super vibrant, HDR-compatible display to consider.
While on the subject of great camera experiences, the one in the Google Pixel 2 XL might not be nearly as interesting from a hardware standpoint, but it more than makes up, thanks to the amazing HDR+ mode. Plus, there is the allure of vanilla Android and the timely updates and snappy performance that come with it, especially from the Snapdragon 835 platform.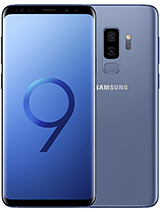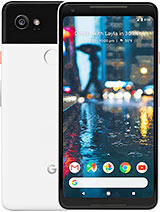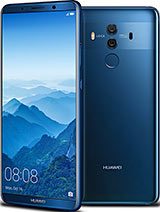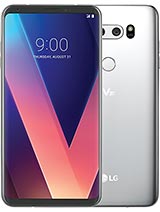 Samsung Galaxy S9+ • Google Pixel 2 XL • Huawei Mate 10 Pro • LG V30
But say you find the Pixel 2 XL a little bit "stripped down" for your taste, or you don't really appreciate Samsung's current extra-curvy panels. The Huawei Mate 10 Pro might just be the solid, all-round flagship experience you are looking for. With no frills or odd new-age designs. Just a classically stylish device that blends in perfectly at a boardroom meeting and can power through any task, business or otherwise. Plus, the Leica-branded dual camera will not disappoint under any lighting conditions.
The LG V30 offers yet another different take on the dual-camera design – an ultra-wide secondary snapper, great for sightseeing. Plus, you get the same powerful Snapdragon 835-based internal setup, with plenty of performance to go around and a great HDR-compliant P-OLED display, all without breaking the bank.
The Verdict
With all said and done, we won't pretend the Xperia XZ2 and its little sibling are just your regular old next-generation flagship releases. Sony's major redesign is a fact. Whether or not "Ambient Flow" sticks around and retains its rounded shapes and forms might just depend on the success of the XZ2 pair. It is still way too early to make any viable predictions in that regard, and the truth is, long-time Sony fans and newcomers to the Xperia realm, alike, have to make their peace with the design one way or another. A distinctly individual decision, if we ever saw one.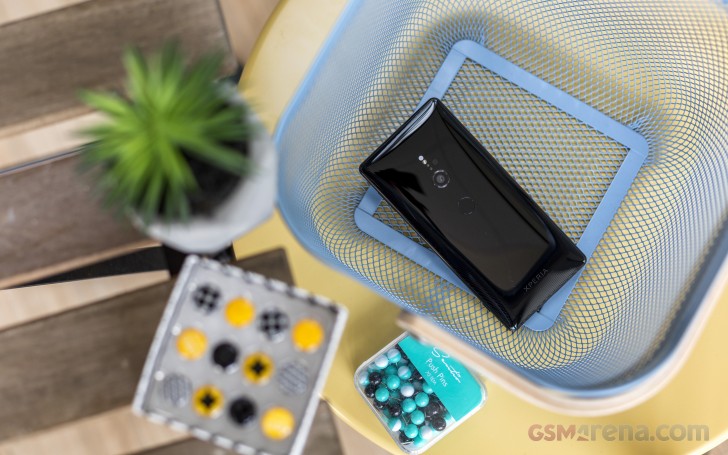 Pros
New, more modern-looking design, still IP65/IP68 certified
Trendy new 18:9 display with BT.2020 HDR support.
Very good battery life
Louder and clearer stereo speaker system – complete with the unique Dynamic Vibration System
The new Snapdragon 845 is a number-crunching beast.
Sony's 19MP Motion Eye camera is back and is now even better
1080p 960fps videos and the HDR BT.2020 videos in 4K and 1080p, at 24 fps are unique propositions
Cons
Chubby and slippery
No 3.5mm audio jack
The selfie camera has been downgraded.
Capturing slow-mo videos is rather difficult.
Camera lacks OIS, while the Intelligent Active Steady Shot stabilization is still limited to 1080p@30fps videos.
What can be said about the Xperia XZ2 with certainty, however, is that it does not disappoint as a 2018 flagship in any immediately apparent and objective way. The new 18:9, HDR display is more vibrant and immersive than ever. The stereo audio setup is louder, clearer and now complete with an extra layer of haptic feedback. The Snapdragon 845 delivers a stellar performance and is optimized for battery efficiency surprisingly well. Sony's reputable Motion Eye camera is back and noticeably improved.
The Sony Xperia XZ2 is a solid flagship device with an updated look and a handful of unique features you can't find elsewhere.
(gsmarena.com, https://goo.gl/tiSq88)
Comments
comments