1. Introduction
The Sony Xperia E5 is the company's cheapest smartphone in the updated 2016 lineup, but you wouldn't tell going by just how it looks. The clean and classy design in fact reminds us of Sony's outgoing flagship, the Z5.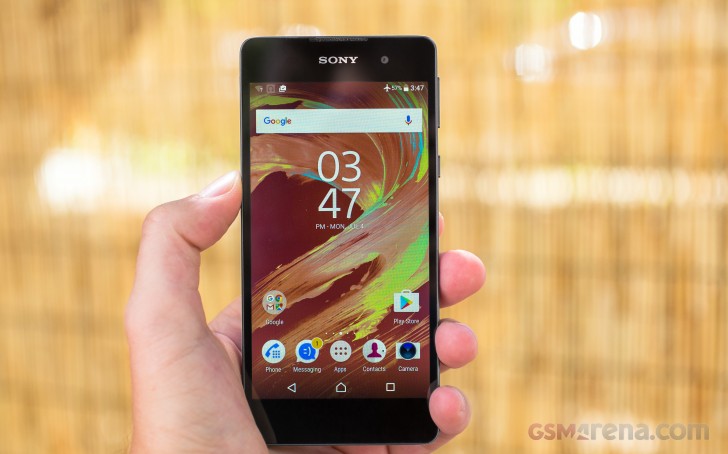 While the main focus has been on the X-series lately, often for the wrong reasons, the reshuffle at the top didn't obviously send ripples all the way down. It's business as usual in the E-series and the Xperia E5 clocks in at about the right time of the year to prove that the stuff that works needs no changes.
It's not to say though that the Xperia E5 didn't get any special attention. The upmarket design has one checkbox ticked but the specs are more than decent too for the phone's weight class and price bracket. Building on the previous generations, the Xperia E5 has all the traits of a well-rounded overall package.
Key features
5.0″ 1280 x 720px IPS LCD display of 294ppi
Android OS v6.0 Marshmallow
MediaTek MT6735 chipset: Quad-core 1.3 GHz Cortex-A53; Mali-T720 GPU; 1.5GB RAM; 16 GB of built-in storage
13 MP camera with 1080p@30fps video recording and tracking autofocus; 5 MP front-facing camera with 1080p@30fps video
LTE Cat.4 (150/50 Mbps); dual-band Wi-Fi a/b/g/n; GPS/GLONASS/Beidou, Bluetooth v4.0
Active noise cancellation with a dedicated mic
2,700mAh non-removable battery
Main disadvantages
Sealed battery
No quick charging
Granted, there's no metal here – a feat only mid-rangers from China are clearly capable of pulling off. For Sony, it seems like a missed opportunity, considering that the battery isn't removable with the current plastic build anyway.
The battery size is adequate though and with Android 6.0 Marshmallow's optimizations should be able to do well enough.
Another interesting thing to see in action is the 13MP/5MP camera set-up front and rear – both are the highest res sensors to ever grace an E-series phone. Well, camera resolution is perhaps a cheap enough upgrade but Sony did well to keep the Xperia E5 on par with the competition.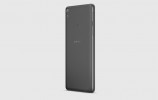 Sony Xperia E5 official photos
But it's rare to see people driven by a specific feature or two in this price range; they want the full package. The Xperia E5 looks smart and professional and seems quite up to it overall. Time to look at it up close and have in-depth look of its performance.
2. Unboxing, 360-degree spin, design and build quality
Unboxing
The Sony Xperia E5 comes with a set of peripherals that match the phone's price point. The company includes a microUSB cable and a plain A/C adapter, which doesn't support fast charging.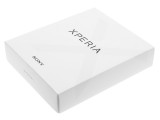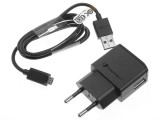 The Xperia E5 box covers the basics
However, the box itself is quite stylish, with a much more expensive feel. Note that Sony packages phones differently based on region (there may even be differences between carriers in the same country).
Sony Xperia E5 360° spin
We broke out the ruler and the Xperia E5 checked in at 144 x 69 x 8.2mm. That's a fairly okay size for a 5″ smartphone, albeit a bit on the tall side. At the very least, bezels are only going slimmer over generations of E-series smartphones.
It sounds like a fairly thick handset but that's only on paper. In hand, the Xperia E5 feels just right with a weight of 147 grams.
Design and handling
The plastic build of the Xperia E5 should come as no surprise. Sony hasn't really tried to reinvent the wheel with this one, nor did they have to. The Xperia E5 follows the design principles set by the company's flagships of old, most notably the Xperia Z5.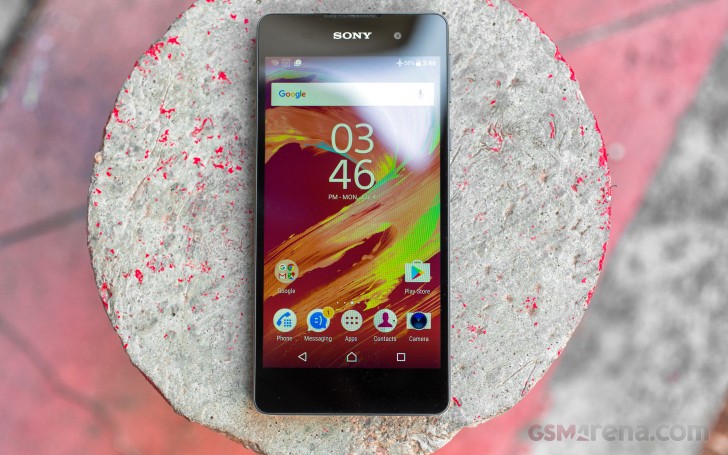 The sides are subtly curved, the edges nicely rounded. At the back, the Xperia E5 has a slight curve around the edges, giving it a great feel when it rests in hand.
There's no unibody design here – the Xperia E5 isn't cast into a single piece of polycarbonate. The non-removable back cover has a miniature gap all along where it meets the sides. The choice of a polycarbonate finish is solid nonetheless, as it's not prone to fingerprints and is pleasantly soft to the touch.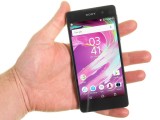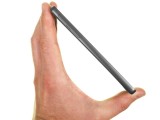 The Xperia E5 in the hand
What feels a little off-putting is that the glass above the display doesn't smoothly meet the polycarbonate edges. As a result, horizontal swipes feel a little odd.
Other than this, the front has sizable top and bottom bezels, considering there are no hardware controls.
Above the display sits the earpiece, a 5MP selfie camera, proximity and ambient light sensors and a status LED (invisible when off, positioned in the top left corner).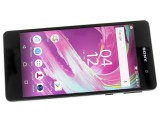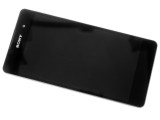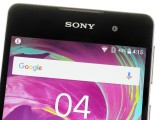 The front of the Xperia E5
Similarly to the Xperia XA, the company's entry level smartphone has its speaker and microphone behind a grille at the bottom right corner with the microUSB port in the center. The secondary, noise canceling mic is at the top next to the 3.5mm headphone jack on the left.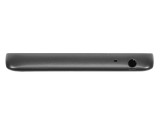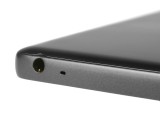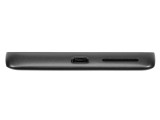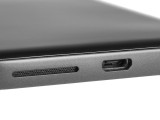 The speaker grille at the bottom • 3.5mm jack at the top
The only controls – volume rocker and power/lock keys – are on the right. The microSD slot and SIM card compartment are near the top on the left side, covered by a shared flap.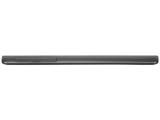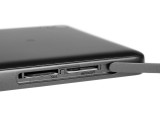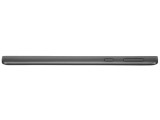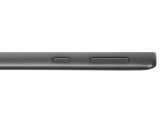 The card slots on the left • Controls are on the right
The back is pretty clean as the 13MP camera sits comfortably in the top left corner teamed up with a single-LED flash below it.
Below the glued up polycarbonate back lies a 2,700mAh battery.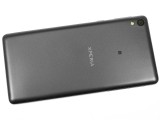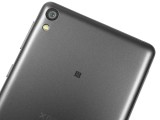 It would've been nice if the back and sides are one piece
3. Display, connectivity, battery
Display
Keeping it simple, Sony has equipped the Xperia E5 with a 5″ IPS LCD display of 720p resolution. The resulting pixel densty of 294ppi is reasonable for the class, but a growing number of phone makers manage to fit 1080p screens in that kind of budget nowadays.
Unlike the Xperia XA, the Xperia E5 is missing the Mobile Bravia Engine 2 technology. Nevertheless, the panel is quite bright at 540nits at its max setting. Contrast is decent too.
Colors are mostly accurate with an average deltaE of 6.3 (max 9.9). It may not sound that well, but you have got to remember that even the Xperia Z5 has a less accurate screen.
Display test
100% brightness
Black, cd/m2
White, cd/m2
Contrast ratio
Sony Xperia E5
0.43
540
1243
Xiaomi Redmi Note 3 (MediaTek)
0.42
403
953
Samsung Galaxy J5 (2016)
0.00
338
∞
Samsung Galaxy J5 (2016) outdoor mode
0.00
476
∞
Oppo F1
0.46
408
897
Xiaomi Redmi 3
0.42
520
1238
Lenovo Vibe K4 Note
0.47
442
940
Microsoft Lumia 650
0.00
333
∞
Apple iPhone 5c
0.47
589
1233
You can tweak the White balance from the settings menu. Sony has also provided an adaptive brightness toggle as well as a Smart backlight control, which keeps the screen lit when it needs to be.
The Xperia E5 fares alright in bright outdoor light. It's not as good as the more premium Xperia family members like the XA, M or X, but it's on par with the likes of the Moto G4.
Sunlight contrast ratio
Samsung Galaxy J7 (2016) outdoor mode : 

3.802

Samsung Galaxy J7 (2016) : 

3.756

Xiaomi Redmi 3 : 

2.735

Sony Xperia E5 : 

2.386

Samsung Galaxy J5 (2016) : 

2.378

Xiaomi Redmi Note 3 (MediaTek) : 

2.249
Connectivity
The Sony Xperia E5 comes in single and dual-SIM flavors. The phones can connect at up to 150Mbps speeds thanks to LTE Cat. 4 (50Mbps up) or Wi-Fi a/b/g/n (dual-band) if you prefer a local connection.
Bluetooth 4.1 with Low Energy and audio-focused aptX is on board as well. NFC is available too.
Wireless media connections include DLNA and Miracast. There's no wired TV out, but the USB port does support On The Go for hooking up external storage.
Battery
The Xperia E5 is powered by a 2,700mAh battery – adequate for a 5-incher, especially when the bar is set so low by the Xperia XA's 2,300mAh unit. The MediaTek chipset inside the Xperia E5 is built on the 28nm manufacturing process so it won't be as power efficient as some of the rivals boasting the 14nm build.
Happily, the Xperia E5 did a lot better than the XA and managed to put up a below average endurance rating of 47 hours. At least Sony isn't promising a two-day battery life here.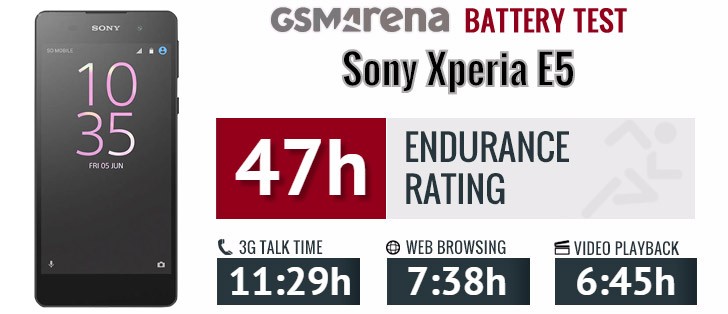 The biggest drain on the battery came from video playback. Here, the Xperia E5 managed just 6 hours and 45 minutes. We're not impressed either with the web browsing time of 7 hours and 38 minutes. At least, the talk time is as advertised at 30 minutes above 11 hours.
Good thing that Sony has baked in its Stamina Mode feature. It's an advanced battery saving mode, which not only restricts brightness and performance but also display rendering, vibration and background data to further enhance battery life.
Sony can improve the battery performance with future software updates – we used the latest firmware version available at the time of testing – 37.0.A.1.133.
4. User interface
Tasty Marshmallow sprinkled with Xperia
The Xperia E5 boots Android 6.0.1 Marshmallow out of the box, similarly to its upmarket X-line brethren. Changes to the Android core are few, but Sony has cramped its great multimedia apps as usual.
With just a single, 16GB variant available, the use of a microSD card for videos, music and photos is a must. After the initial boot and setup, the Xperia E5 offers you only 10.6GB of storage.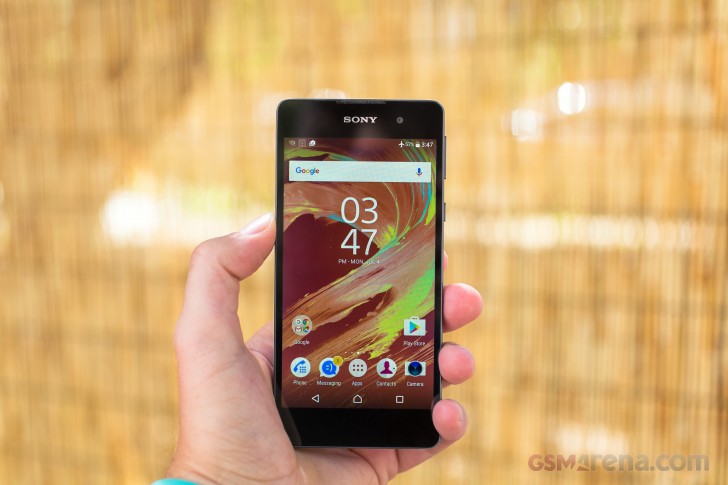 The lockscreen is customized to show off the Xperia theme (the numbers of the clock are see-through so you see the wallpaper through them). You can swipe left or up to unlock, down to view notifications. You can't swipe right to unlock, though that's not much of an issue after the first hour or two with the phone.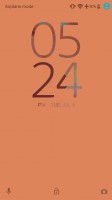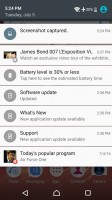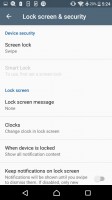 Lockscreen • Lockscreen settings
The homescreen appears unchanged. This includes the swipe down gesture, which shows a screen of the apps you use most along with recommendations for new apps to install. A search field is highlighted so you can start typing the app's name immediately. That's one of Sony's proprietary features on top of stock Android and we appreciate it very much.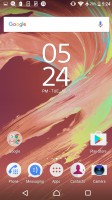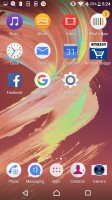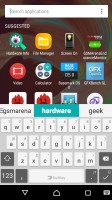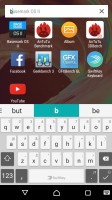 Homescreen • App suggestions and search
The traditional app drawer is still on board and it features an above average amount of vendor apps. Sony takes great pride in their AV prowess, so there is no way that they could have gone for the stock multimedia apps made by Google.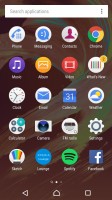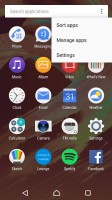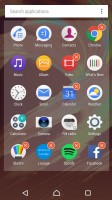 Standard app drawer
Themes are available (both free and paid) that can customize the look and sound of the Xperia E5 interface.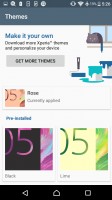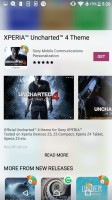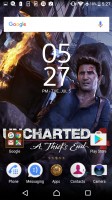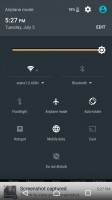 Xperia themes
The notification area is plain Android. You can re-arrange the quick toggle tiles and adjust the screen brightness. Note that just like in vanilla Android, there's no toggle for Auto brightness (you need to go into the settings for that). That's the one thing we don't mind skins changing and still, many manufacturers like to keep it stock.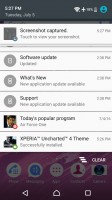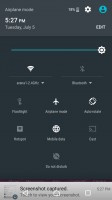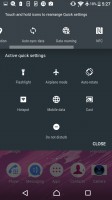 Notification area is vanilla Android
The app switcher is similarly a vanilla Android affair with the 3D rolodex look. The small apps are gone, however, and there is no longer floating app multitasking.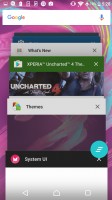 Similarly untouched app switcher
The Smart cleaner feature will periodically empty the cache of apps you haven't used in a while. You can switch this off or just manually tell it not to bother for certain apps.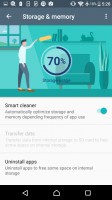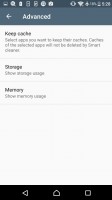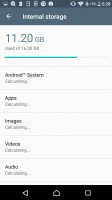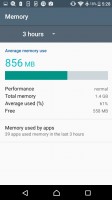 Smart Cleaner frees up memory of both kinds
One thing Android has been missing for years is a proper backup solution and Sony gives you one. It can backup applications, contacts, messages, phone settings. The backup info itself can be stored on your Sony online account, on the microSD card or an external USB device.
Backups can be scheduled, including conditions like "Connected to Wi-Fi" and "Charging device", depending on your preferences.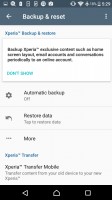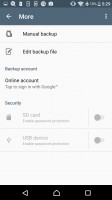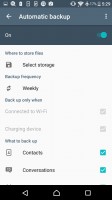 Scheduled backups are the best way to prevent data loss
5. Performance
Sony uses the MediaTek MT6753 chipset as the platform of choice for the Xperia E5. The chip features a quad-core 1.3GHz Cortex-A53 processor, 1.5GB of RAM and dual-core Mali-T720MP2 GPU.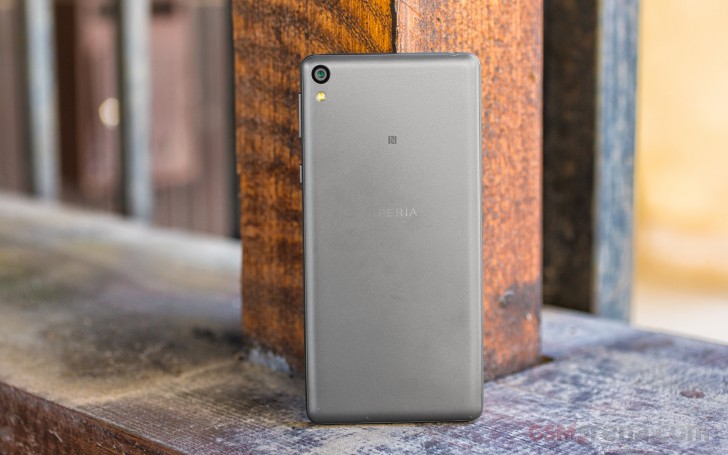 We chose to compare the Xperia E5 with similarly spec'd 5″ 720p smartphones. Most of them rely on Snapdragon 616 and 410 chipsets – the later sports quad-core CPU and older GPU.
The first bencharmark is GeekBench, which is great at giving us a reliable reading of raw CPU performance. Here, the Xperia E5 sits above the Snapdragon 410 in the Galaxy J5 (2016).
GeekBench 3 (multi-core)
Higher is better
Xiaomi Redmi Note 3 (S650) : 

3570

Xiaomi Mi 4s : 

3147

Lenovo Vibe K5 Plus : 

3038

Oppo F1 : 

3014

Xiaomi Redmi 3 : 

2842

Huawei P8lite : 

2813

Sony Xperia E5 : 

1490

Samsung Galaxy J5 (2016) : 

1437
The same happens in the compound AnTuTu 6, where the Xperia E5 is trumped by the Lenovo Vibe K5 Plus and Oppo F1, which have a Snapdragon 616 working inside their bellies.
AnTuTu 6
Higher is better
Xiaomi Redmi Note 3 (S650) : 

75051

Xiaomi Mi 4s : 

59850

Sony Xperia XA : 

47170

Oppo F1 : 

35353

Lenovo Vibe K5 Plus : 

35291

Sony Xperia E5 : 

32248

Samsung Galaxy J5 (2016) : 

27487
Moving to graphics performance, the Xperia E5 managed to output measly 3fps on the 1080p offscreen version of GFX 3.0 Manhattan. On screen result doubled to 6fps, but that's still not as good as the Xperia XA for instance.
GFX 3.0 Manhattan (1080p offscreen)
Higher is better
Xiaomi Redmi Note 3 (S650) : 

14

Xiaomi Mi 4s : 

13

Sony Xperia XA : 

7.2

Xiaomi Redmi 3 : 

5.8

Oppo F1 : 

5.8

Lenovo Vibe K5 Plus : 

5.5

Sony Xperia E5 : 

3

Samsung Galaxy J5 (2016) : 

1.8
GFX 3.0 Manhattan (onscreen)
Higher is better
Sony Xperia XA : 

15

Xiaomi Redmi Note 3 (S650) : 

14

Xiaomi Redmi 3 : 

12

Xiaomi Mi 4s : 

12

Oppo F1 : 

11

Sony Xperia E5 : 

6

Lenovo Vibe K5 Plus : 

5.5

Samsung Galaxy J5 (2016) : 

3.8
GFX 3.1 Manhattan (1080p offscreen)
Higher is better
Xiaomi Redmi Note 3 (S650) : 

9.1

Xiaomi Mi 4s : 

8.1

Sony Xperia XA : 

4.8

Sony Xperia E5 : 

1.9
GFX 3.1 Manhattan (onscreen)
Higher is better
Sony Xperia XA : 

11

Xiaomi Redmi Note 3 (S650) : 

9.1

Xiaomi Mi 4s : 

7.9

Sony Xperia E5 : 

4.3
Basemark OS 2.0
Higher is better
Xiaomi Mi 4s : 

1545

Xiaomi Redmi Note 3 (S650) : 

1537

Sony Xperia XA : 

1013

Oppo F1 : 

961

Lenovo Vibe K5 Plus : 

884

Xiaomi Redmi 3 : 

804

Huawei P8lite : 

691

Sony Xperia E5 : 

575
All in all, the MediaTek MT6735 chipset did a fine job pushing the 720p display of the Xperia E5 smoothly. The user interface felt snappy and there's hardly any lagging except for really heavy apps.
It's certainly not a benchmark champ but it outperforms competing phones with the Snapdragon 410. However, it's no match for mid-rangers with Snapdragon 615 or higher.
6. Phonebook, messaging, loudspeaker
Phone
We have a single-SIM Sony Xperia E5, but there is a dual-SIM version if you need an extra phone line. Either model has active noise cancellation with a dedicated mic.
The call log can be filtered by missed, incoming and outgoing calls.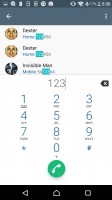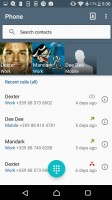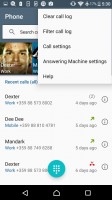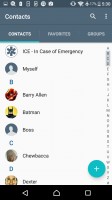 Dialer with smart dial • Call log • Call log filtering • Phonebook
Not to stay behind the curve of the X-family, Sony has given the E5 a unique feature – a built-in answering machine. It picks up an incoming call, plays your greeting and would later replay your friends' messages. You can set up your greeting and pickup conditions.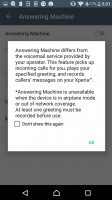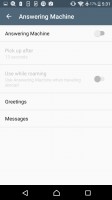 The Xperia X has a built-in answering machine
Loudspeaker
The Xperia E5 is equipped with a single loudspeaker sitting behind a grille at the bottom. It scores Below Average score in our loudspeaker test. However, turning on ClearAudio+ in the settings boosted it to an Average mark.
Quality is okay with no distortions even at full volume (and that's good since you'll likely crank up the volume slider up and leave it there, it's just too quiet otherwise).
| | | | | |
| --- | --- | --- | --- | --- |
| Speakerphone test | Voice, dB | Pink noise/ Music, dB | Ringing phone, dB | Overall score |
| Apple iPhone 5c | 66.5 | 65.5 | 66.2 | Below Average |
| Oppo F1 Plus | 66.3 | 66.2 | 65.9 | Below Average |
| Sony Xperia E5 | 62.0 | 67.5 | 69.4 | Below Average |
| Samsung Galaxy J5 (2016) | 66.0 | 64.3 | 70.1 | Below Average |
| Xiaomi Redmi 3 | 66.1 | 65.5 | 70.6 | Average |
| Sony Xperia E5 (ClearAudio+) | 63.2 | 68.3 | 70.9 | Average |
| OnePlus X | 65.9 | 66.3 | 70.7 | Average |
| Xiaomi Redmi Note 3 | 66.5 | 66.6 | 75.8 | Good |
| Microsoft Lumia 640 | 70.6 | 65.2 | 75.9 | Good |
| Lenovo Vibe K4 Note | 74.7 | 66.6 | 72.3 | Good |
Messaging
The Sony Xperia E5 has a beautiful Material design messaging app. It feels like the instant messengers you might be used to, including conversations wallpapers and cute stickers you can send.
Ours came with panda stickers pre-installed, but you can download more (free and paid sticker packs are available). You can also send your own creations drawn in the Sketch (obviously, this changes the message type to MMS).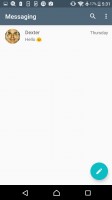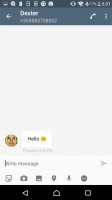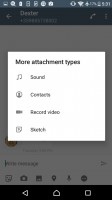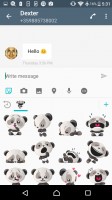 Messaging app • Stickers are available, just like in chat apps
For text entry, Sony picked the SwiftKey keyboard. It became popular for its swipe input, but regular tap-typing with text correction is available as well. Typing is quite comfortable and the narrow bezels didn't lead to accidental presses.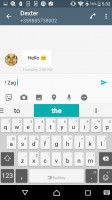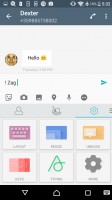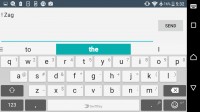 The SwiftKey keyboard is highly customizable
The keyboard is highly customizable – you can change the layout, choose what characters are available (accented characters, emoji), enable a number row, resize the keyboard or even undock it. The Messaging app also handles voice input.
7. Multimedia, audio quality
The excellent Sony Album app ticks all the checkboxes
The Sony Xperia E5 Album app is among the most comprehensive and feature-rich we've seen, it's fast and easy to use, too! Photos are organized by month, and you can use pinch-zoom to change the size of thumbnails (then they smoothly animate into the grid).
At the very top of the list is a slideshow, showing off your photos, lower down, the first photo of each month is shown at twice the size of other images.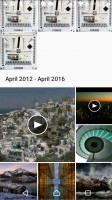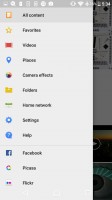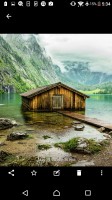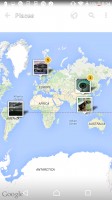 The Album app is both beautiful and functional
You can instead browse photos on a map (you can manually add geotag info too) or by folder. This includes network storage so that you can view photos from a DLNA server (your home computer for one). Then there's integration with online albums – Facebook, Picasa, Flickr.
Image editing is handled by Sketch. It lets you fingerpaint over a photo or a paper-like texture, add text, stickers, photos and so on. If you're talented, you can share your creations on the Sketch mini-social network, and if you're not, you can just browse what others drew.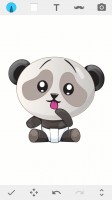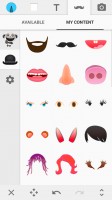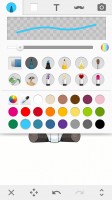 Sketch is a fun image editor with a mini social network for sharing art
Movie Creator is similar to the Assistant of Google Photos. It automatically creates short videos from the photos and videos you've shot.
You can do it manually too: pick photos and videos, change their order, add color effects and music (you get a small audio collection to start you off, but can use custom files too). Then tap the Share button and send out your animated slideshow.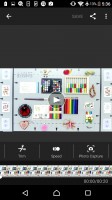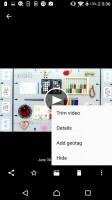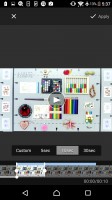 The Movie Creator can automatically or manually make shareable slideshows
Music app
The Music app feels like a part of the same software package as the rest of the custom Sony stuff. The contextual side menu offers much of the same browsing options – by folder, network folder and online services, in this case, Spotify (it's just a link to the Spotify app though). You can share music from the phone to compatible players.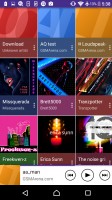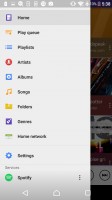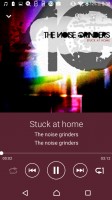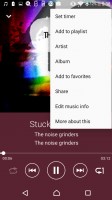 Music app
The Infinite button as such is gone, but its functionality is still here in the menu. It can find the track's video on YouTube, look up info about the artist on Wikipedia and search for lyrics on Google. Gracenote is used here too and it can automatically download information about your tracks and album art.
There are presets for Sony headsets and a number of audio settings. ClearAudio+ determines the best audio quality settings depending on the track you're listening to. We liked how it changed the sound and carefully accentuated various details. You also get a 5-band equalizer if you want to do the tuning manually.
Dynamic normalizer evens out the volume differences across tracks, which is great if you've mixed multiple albums from multiple sources.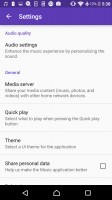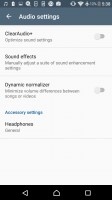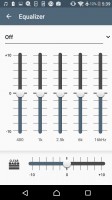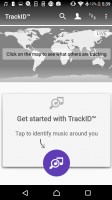 A fair amount of audio settings
TrackID is Sony's trusted song recognition software, which has since evolved way past that. It can now show you music charts by country, give you live updates on recent searches across the world, and store your search history as well.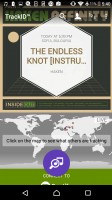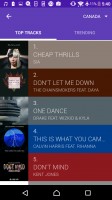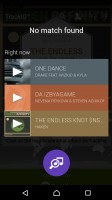 TrackID
FM Radio
There's also an FM radio tuner with RDS. The app features multiple visualizations and integrates with TrackID to recognize the currently playing song. The interface is very intuitive and full of stunning animations. Possibly one of the best FM radio apps out there.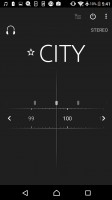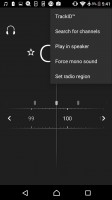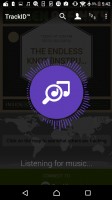 FM Radio with RDS and track recognition
Of course, you would need to have your headset plugged in for the FM radio to pick up any signal.
Video
The Movies app is gone, a simpler Video app takes its place. The app is simpler to use – you pick a file from one of the local folders or your home network. You can also use the Search feature to look up videos on YouTube. The app is missing the HTPC-like functionality though, which pulled movie and TV show info automatically.
A chapter view lets you find a specific part of the video, by letting you scrub through a virtual timeline.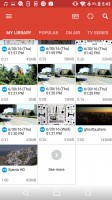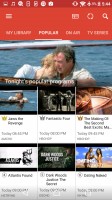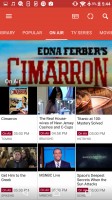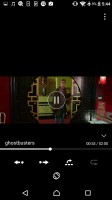 Powerful video player
Videos can continue playing in the background (it's an option), but you can't view the video in a small floating window. At least you get full subtitle settings.
Audio output has its ups and downs
The Sony Xperia E5 started off well in our audio quality test. The smartphone achieved mostly excellent scores for clarity with the only average frequency response the only exception. . Its loudness was above average too, so it's all in all a good showing.
The headphones test brought some intermodulation distortion and stereo crosstalk, so it's not a faultless output, but as you can see from the table below it's not too bad either. Volume drops notably though so we'd only call it par for the course for the entry level handset.
| | | | | | | |
| --- | --- | --- | --- | --- | --- | --- |
| Test | Frequency response | Noise level | Dynamic range | THD | IMD + Noise | Stereo crosstalk |
| Sony Xperia E5 | +0.14, -0.81 | -92.3 | 92.4 | 0.0072 | 0.0093 | -91.9 |
| Sony Xperia E5 (headphones) | +0.15, -0.88 | -89.5 | 88.9 | 0.0090 | 0.370 | -50.7 |
| Motorola Moto G4 | +0.02, -0.07 | -92.4 | 92.5 | 0.0028 | 0.0084 | -92.1 |
| Motorola Moto G4 (headphones) | +0.04, -0.08 | -92.0 | 92.0 | 0.0073 | 0.070 | -63.8 |
| Sony Xperia XA | +0.01, -0.18 | -93.6 | 90.6 | 0.0030 | 0.010 | -91.7 |
| Sony Xperia XA (headphones) | +0.85, -0.18 | -87.1 | 87.8 | 0.018 | 0.327 | -54.9 |
| Lenovo Vibe K5 Plus | +0.02, -0.08 | -93.8 | 92.8 | 0.0037 | 0.034 | -91.3 |
| Lenovo Vibe K5 Plus (headphones) | +0.09, -0.03 | -93.5 | 92.6 | 0.070 | 0.075 | -49.0 |
| Huawei Honor 5X | +0.02, -0.08 | -93.4 | 90.1 | 0.0028 | 0.012 | -93.4 |
| Huawei Honor 5X (headphones) | +0.10, -0.03 | -92.9 | 89.8 | 0.0048 | 0.071 | -78.2 |
| Samsung Galaxy A5 (2016) | +0.02, -0.07 | -94.3 | 92.2 | 0.0065 | 0.010 | -95.0 |
| Samsung Galaxy A5 (2016) (headphones) | +0.42, -0.01 | -93.4 | 87.1 | 0.029 | 0.254 | -53.0 |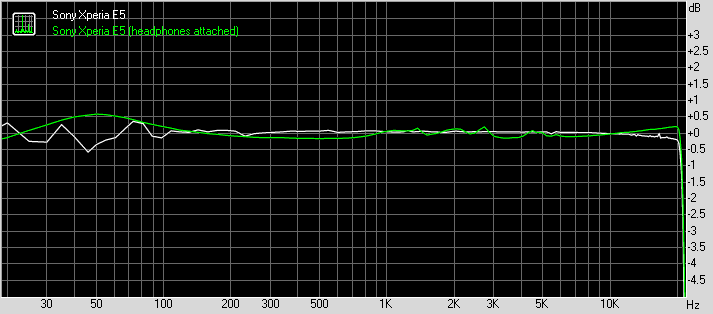 Sony Xperia E5 frequency response
8. Camera
The Sony Xperia E5 features a 13MP camera with an f/2.0 aperture. Sony doesn't disclose the sensor size, but it does say it's not of the Exmor brand for what it's worth.
In any case, the camera supports continuous autofocus and object tracking, as well as 3x digital zoom.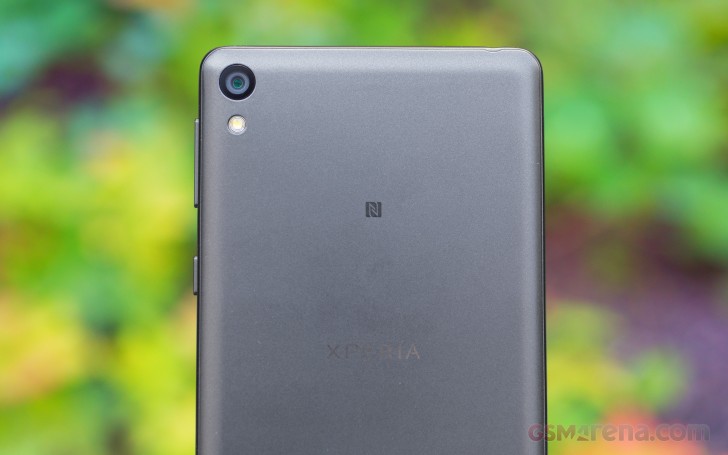 The camera user interface is similar to that of the Xperia XA and the other, more premium X phones. It offers easy navigation through the different modes via vertical swipes. A horizontal swipe flips between the front and back cameras.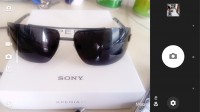 Xperia Camera UI
Sony has preloaded a fair amount of different modes, but Superior Auto is missing – it's called Auto here and it does a similar job of recognizing the particular scene, but we guess the number of scene presets is lower hence the lack of "Superior" in its name.
There is also a Manual mode, which just means that the automatic scene recognition is turned off, and you can override some of the basic camera parameters such as white balance, exposure level, and metering mode.
There are no camera app add-on's, which means that the panorama and the fun AR modes are missing from the stock camera app, but you can always download a specialized alternative app from the Google Play store.
The camera includes options for Quick launch, but since there's no shutter key, this translates to launching the camera from the lockscreen. By doing so, you can set up the camera to start taking a video or snap a photo right away, which is also handy for not missing the moment.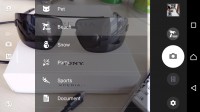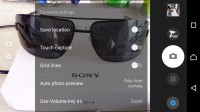 Additional camera settings
Image quality
The phone takes sharp photos with plenty of detail. Colors seem natural but traditionally for Sony, the white balance leans towards the colder hues. The dynamic range is okay, but you'll get a lot more with HDR on. Unfortunately, the images have a lot of noise even in good light, but we like the overall processing of the fine details.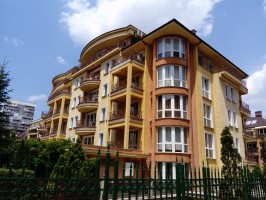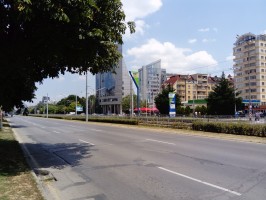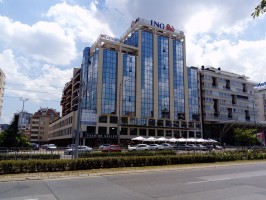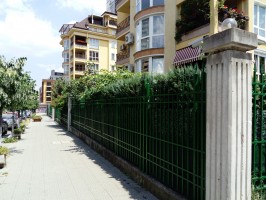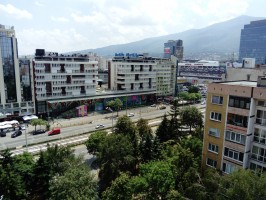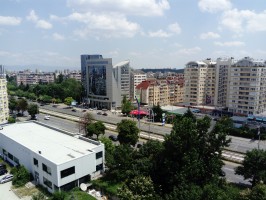 Sony Xperia E5 camera samples
The HDR photos turn up great with improved exposure of the shadows and highlights. Quite often, the white balance comes out better with HDR on, so you get an overall better shot.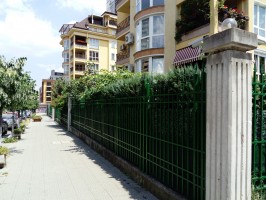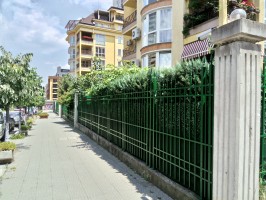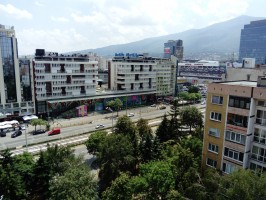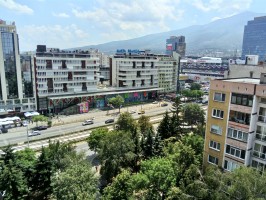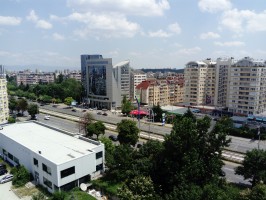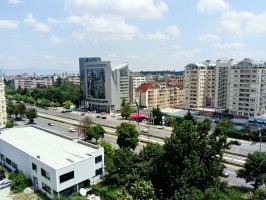 HDR off • HDR on • HDR off • HDR on • HDR off • HDR on
The 5MP selfie camera produces relatively sharp images with good colors. Noise is kept in check, and the dynamic range is good here.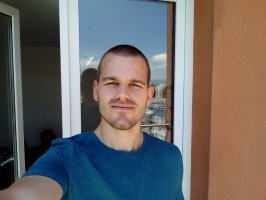 Selfie camera doesn't disappoint
Here's the Xperia E5 against other 13MP cameras in its class. The camera performs quite well and manages to beat the Galaxy J5 (2016) by a noticeable margin.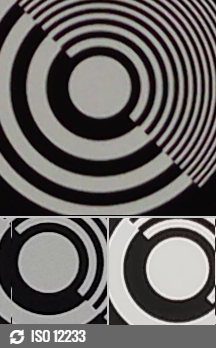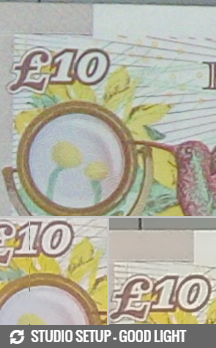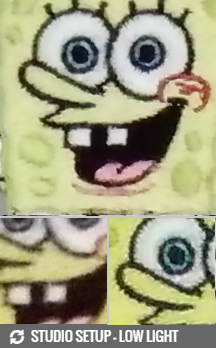 Sony Xperia E5 in our Photo Quality Comparison tool
Video camera
Both of the Sony Xperia E5 cameras record 1080p video at 30fps. Probably due to hardware restrictions, there's no video HDR or Sony's SteadyShot stabilization – features we've seen on more expensive midrange Sony smartphones.
1080p footage is shot in MP4 files at the usual 17Mbps. Audio is captured at 128KBps but is mono only.
We're quite disappointed with the video that the Xperia E5 captures. The level of resolved detail isn't high and the dynamic range is bad with lots of over exposure in the highlights.
You can also download the untouched video sample: 1080p at 30fps (9s, 19.3MB).
http://goo.gl/8n17qz
Check out how the Xperia E5 did against the competition in our Video compare tool.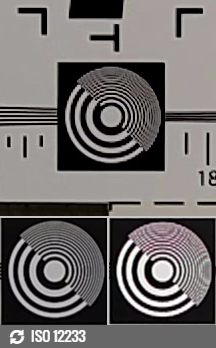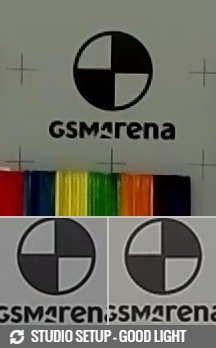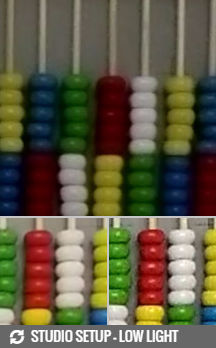 Sony Xperia E5 in our Video Quality Comparison tool
Final words
Affordable, entry-level smartphones are just as well-made and feature-rich as mid-rangers from last year. This doesn't sound like a remarkably profound statement when you keep hearing it every year, but still credit to Sony for coming up with a solid upgrade.
Now, Sony doesn't bother with real cheap phones – which is actually fair from a brand that usually commands premium prices. Sony's base 2016 model is more of a midranger but one that keeps up with the latest trends: big screens, hi-res imaging, decent processing power, NFC, Android Marshmallow – it's all there.
Smartphones that don't require a huge investment traditionally don't come with such attention to design either, but Sony has managed to pull a "less is more" job with the Xperia E5. We almost get a Nexus 5-like feel out of this one, and that's pretty cool.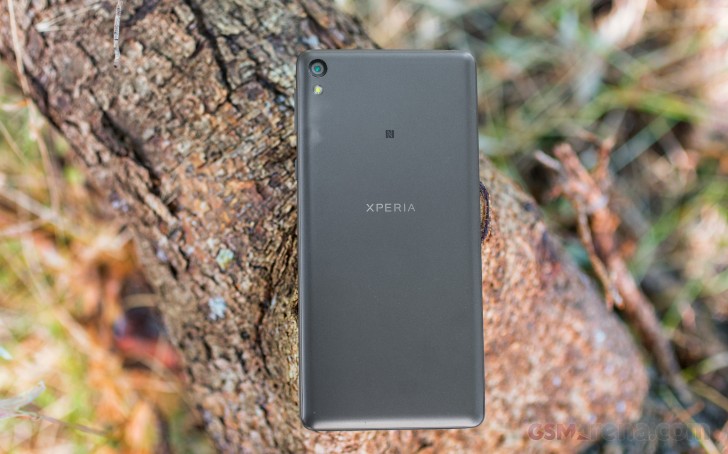 Indeed, a lot of smartphones look good and don't cost an arm and a leg, but not too many of them get most things right when it comes to design, handling and build quality. For us, the Xperia E5 excels in all of them, despite some of the competition touting more expensive materials like glass or metal.
Of course, you're not buying a phone in this price point just for the looks. What's on the inside is also important and we couldn't agree more, so here's what we found during our time with the Xperia E5.
Key test findings
Very enjoyable, minimalist design with high build quality
The display is bright and with decent contrast. There's a noticeable discoloration when viewed at an angle but other than that, colors are fairly accurate for the price bracket
Sony's bespoke media apps are a welcome addition to the package, themes are a fun way to spruce up the UI;
Okay performance from the entry-level MediaTek chipset – it's faster than competing a Snapdragon 410 but slower than a Snapdragon 615/617
Average battery performance with a 47h endurance rating
Below average loudness of the speaker, but it does get a slight boost from the ClearAudio+ software feature
The 13MP camera outputs great detail and colors; HDR mode is is quite good but it's slow – there is no Panorama mode though;
1080p videos lack detail and dynamic range unlike the still camera
The 5MP selfie camera gets the job nicely done
Like we said, the Xperia E5 is Sony's budget offer and, all things considered, with a price tag of €200 it isn't too far off the mark – especially compared to how the company's flagship is stretching the bounds of its own price bracket.
For that money, there's plenty of competition and most of it is from China. However, to us it seems like many of the choices Sony made with the Xperia E5 were driven by a need to match a certain rival, the Samsung Galaxy J5 (2016). The headliner of Samsung's 2016 lower midrange lineup is, simply put, awesome. You get a phone with a metal frame, solid battery life and performance, topped with a Super AMOLED panel.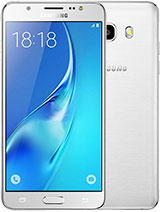 Samsung Galaxy J5 (2016)
It should be no surprise that the Xiaomi Redmi 3 is on the short list of recommendations. It can potentially give you a lot more bang for the buck if it happens to be available in your region: it's got a far better 13MP rear cam, a faster Snapdragon 616 chipset and a whopping 4,100mAh battery, which provides a seriously better battery life than the Xperia E5.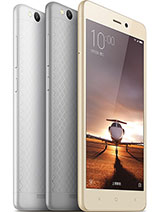 Xiaomi Redmi 3
Adding to the Chinese tally, the Oppo F1 boasts a premium metal build and a Snapdragon 616 with 3GB of RAM. Although the phone is thinner than the Xperia E5, the battery capacity hasn't suffered too much at 2,500mAh. It has a better Endurance rating, too.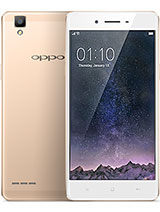 Oppo F1
Interestingly, Sony's last year Xperia M4 Aqua is quite a fitting contender. It features almost the same design as the Xperia E5, albeit more colorful and with the iconic Xperia metal Power/Lock button. Under the hood, there's a 5″ 720p display, more potent Snapdragon 615 chip and a similar 13MP camera. Oh, and it's IP68 certified for waterproofness up to 1.5m of water.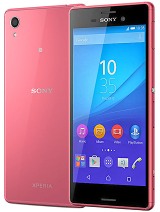 Sony Xperia M4 Aqua
The Asus Zenfone Max ZC550KL is quite popular as well. It is similarly priced to the Xperia E5 but its larger 5.5″ display makes room for a 5,000mAh battery to fit inside. Beyond that, though, the Snapdragon 410 is quite dated and 720p resolution won't look as great as on the Xperia E5.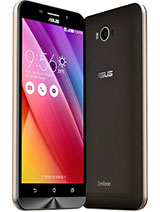 Asus Zenfone Max ZC550KL
Having a decent looking Xperia E-series member must feel nice for Sony. The phone looks solid on the outside, but is having a hard time matching the specs of the competition on the inside. Nothing we didn't already suspect would be amiss, but that poor battery life is a hard pill to swallow.
This is a must-fix for Sony, as the phone boasts a good camera and altogether decent performance. If the battery life woes are promptly addressed, the Sony Xperia E5 is easily a solid recommendation for anyone looking for a cheap but capable smartphone.
(gsmarena.com, http://goo.gl/If8dGi)
Comments
comments