SAMSUNG GALAXY NOTE 8: WHAT YOU NEED TO KNOW NOW THE GALAXY S8 HAS LAUNCHED
Samsung execs have confirmed the Galaxy Note 8 is coming, but what will it look like? And how will it compare to Galaxy S8 and S8+, Samsung's latest flagships? Here's all we know about the Galaxy Note 8's release date, specs, features and price.
(Update: March 29 2017) – The Galaxy S8, Samsung's next flagship device, has now been unveiled, and we now have a much better idea of what's to come with the Galaxy Note 8, not least when it comes to the new Bixby and Samsung DeX features.
Following the less-than-successful Galaxy Note 7 launch – remember those exploding batteries?! – there was no shortage of pressure on the company to get the Galaxy S8 and Galaxy S8+ right. And all this before the Galaxy Note 8.
Everyone can agree that the best outcome for the firm's next phablet-esque phone will be that it doesn't spontaneously combust – and it seems Samsung, having identified the issue last time around, will be doing all it can to prevent that from happening. We're also hoping for impressive hardware, software and design too, of course.
On the bright side, we're in the unusually fortunate position of knowing that the Galaxy Note 8 will be released in 2017. In a statement about Samsung's Galaxy Note 7 recall issued in October 2016, the company said that both the Galaxy S8 and Galaxy Note 8 would be released next year, i.e. 2017.
And now, we might have had our first glimpse at what the Note 8 could look like. A new image, via Slashleaks, seemingly shows a design sketch for the Note 8, complete with miniscule bezels that could be even smaller than those slated to appear on the Galaxy S8.
The leak is unconfirmed at the moment, but it's worth mentioning that the sketch are came with some claimed specs for the phablet. That includes a Snapdragon 835 or Exynos 9000-series processor depending on region, 6GB of RAM, up to 256GB of internal storage, and a 6.4-inch Super AMOLED display with either QHD+ (2K) or UHD (4K) resolution. Again, all unconfirmed at this point.
Elsewhere, Samsung has reportedly codenamed the Galaxy Note 8 as 'Baikal'. We've got no idea what that means, and Google Translate offers zero insight. But still, with the dearth of Note 8 rumours, it's at least something to chew over: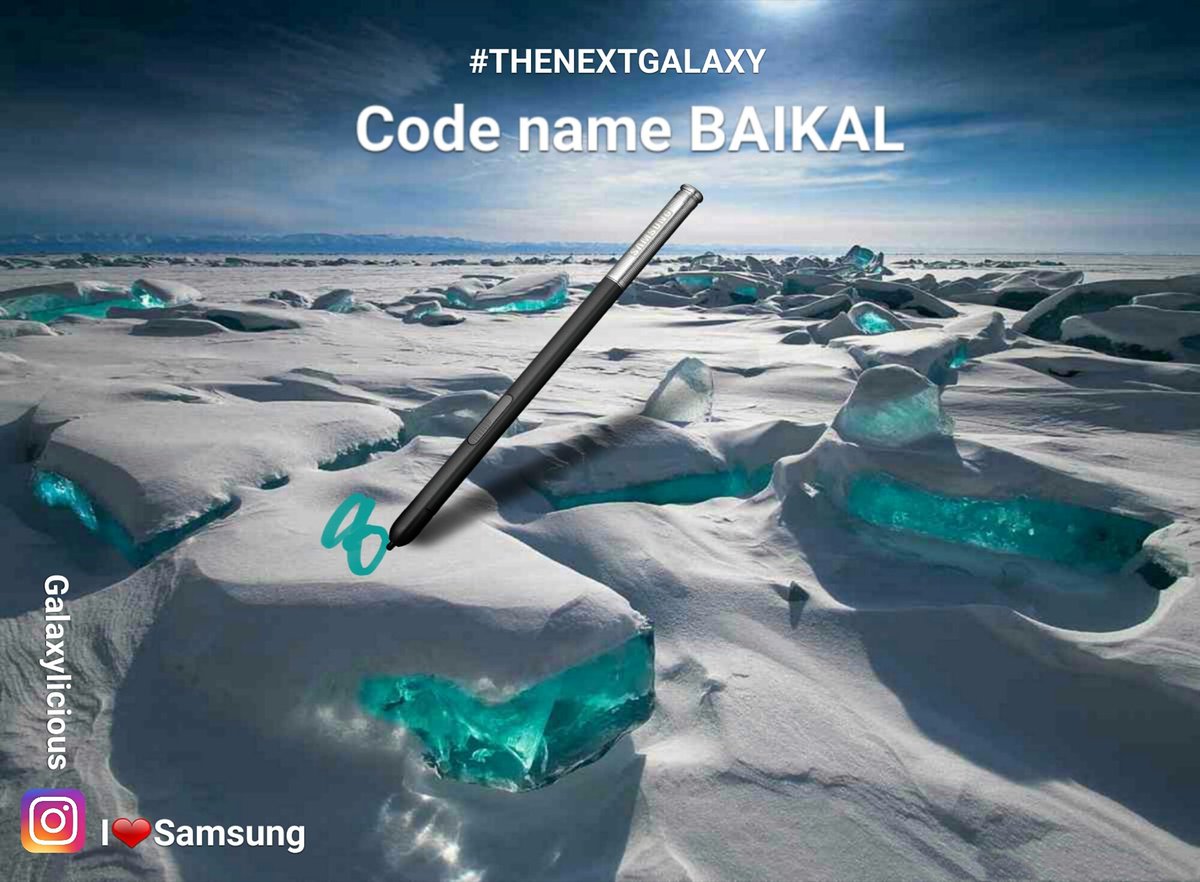 Or at least it was, until a new report from SamMobile suggests that the Galaxy Note 8 is actually codenamed 'Great', and will launch under the model number SM-N950F.
So with that in mind, what would we like to see from the Galaxy Note 8 in light of the Galax8 S8 launch? Read on to find out all about the upcoming phablet.
1. NO MORE FIRES, PLEASE
It goes without saying, really. But we're desperately hoping that Samsung's Galaxy Note 8 resolves all of the heat issues that plagued the Note 7.
For the unaware (or if you just like a bit of schadenfreude), Samsung was forced to recall the Galaxy Note 7 just one month after it launched. An internal investigation uncovered a serious battery flaw that was causing some users' handsets to catch fire.
After replacing a bunch of the dodgy handsets, the company then had to initiate a second mass recall – it turns out the fixed phones were catching fire too. Samsung eventually stopped producing the Galaxy Note 7, and has pleaded with users to turn their handsets off indefinitely.
Apparently, the issue was caused by battery cells that were squeezed into too tight a space, which caused the poles to connect and generate excess heat – kaboom. But Samsung is now nearly ready to reveal the full extent of what went wrong with the Galaxy Note 7. We're expecting a comprehensive report on the fiasco before the end of the year, following an extensive investigation involving South Korean and American authorities that began on November 11.
We're certain that Samsung will be devoting every resource available to ensure that both the Galaxy S8 and Note 8 don't suffer the same fate.
For instance, Samsung is reportedly recruiting new battery suppliers for the Galaxy S8 – and presumably the Note 8, too.
2. GALAXY NOTE 8 RELEASE DATE SHOULD SCARE APPLE
Like all phone makers, Samsung is a creature of habit. Each year, it launches a Galaxy S device around February or March, and then a Galaxy Note device in August or September. That puts the Note in direct competition with Apple's iPhone, and that's how we like it.
There have been plenty of rumours about the Galaxy S8 release date being pushed forwards, backwards and side-to-side, but we're hoping that the Galaxy Note 8 release sticks to its Apple-battling launch cycle. Note phones tend to be a tour de force of hardware, so the Note 8 should be a perfect rival to the iPhone 8 Plus – or whatever Apple's 10th iPhone is called.
3. POWERED BY SNAPDRAGON 830
When it comes to powering the Galaxy Note 7, there are really only two options.
The first is the Snapdragon 830, a chip that hasn't actually been announced yet, but will almost certainly be a candidate. The Snapdragon 830 is set to be Qualcomm's new top-end processor, replacing current chip-in-chief, the Snapdragon 820. Rumour has it that the CPU will be built on a highly efficient 10nm process, which means it could be more powerful and less power-hungry than the processor in the Galaxy Note 7.
Most importantly, the Snapdragon 830 is expected to be manufactured by Samsung's own chip-making division, which makes it even more likely to appear in a Samsung phone.
Alternatively, Samsung regularly employs its own custom-built Exynos chips in flagship smartphones, so there's an equal chance that one of those will be built into the Note 8 instead.
4. TWO CAMERAS ARE BETTER THAN ONE
Dual cameras are officially the phone feature to have in 2016, but for some reason the Note 7 went without. As such, we feel Samsung would be remiss to skip over dual cameras again with the Note 8.
After all, Apple's flagship iPhone 7 Plus makes use of a seriously cool dual-camera arrangement that involves pairing a telephoto lens and a wide-angle lens for impressive snapping. And both the Huawei P9 and LG G5 also debuted their own versions of a dual-camera arrangement.
Rumours suggest Samsung is set to follow suit with the Galaxy S8, so we'd hope the same will be true for the Note 8.
5. WHEN VR CALLS, 4K SCREENS ANSWER
This one may prove controversial, but we're keen to see a 4K display on the Note 8. Samsung has something of a track record pioneering new smartphone innovations, particularly on the Note series. And what would be more fitting for a phone designed for power users than a supremely high-density display?
The real reason we want a 4K display, however, is virtual reality. Generally, 4K screens are seen as a waste of time on smartphones. After all, you're never close enough to the screen to appreciate the jump in pixel density over a QHD or Full HD panel. But virtual reality means you'll regularly be docking your Note 8 next to your face, either with a Gear VR or Google Daydream View headset.
When you dock your handset in a headset and engage VR mode, your screen splits into stereoscopic mode, effectively halving the resolution of the image. Couple that with the fact that your face is now just an inch away from the phone, and suddenly moving beyond the Note 7's QHD resolution seems very important.
Of course, the downside to a 4K screen is that battery life takes a hit, but with a potential move to more efficient processors on the cards, this might not be so bad.
6. MATCH THE IPHONE'S STORAGE
Samsung's Galaxy Note 7 shipped with a sizeable 64GB of storage, with a spin-off 128GB variant also confirmed to be coming later – before it started exploding, obviously.
But Apple rocked the boat one month later with the release of the iPhone 7 Plus, the top configuration of which featured a staggering 256GB of storage. We're not suggesting Samsung will (or even should) build a Note 7 with that much storage by default, because that would jack up the price by a significant margin. But it would be great to see a 256GB variant, for super-file-hungry power users with cash to spare.
Of course, keeping the microSD card slot is a must, too.

7. ALL THE FUN EXTRAS
Really, what we're most keen to see is a continuation of the Note 7. Before "fire-gate", the Note 7 was wowing phone reviewers across the globe. We gave it a 9/10, and that was well deserved.
As a result, our seventh request is that Samsung doesn't bin all of the great extras that the Note 7 offered. That means we want the Note 8 to be waterproof, feature an iris scanner, and retain the S Pen stylus that has graced so many Note screens in iterations gone by.

8. NO MORE PRICE HIKES
When it launched in the UK, the Galaxy Note 7 cost a lofty £749/$1,123. Since then there's been a trend for big tech firms – Apple, Microsoft, Dell and OnePlus, to name a few – to jack up prices across a range of products, likely in response to the falling value of the British pound.
By next year, there's every chance that the value of sterling could be as low, or lower, so we worry that the Note 8 could cost far more than £749/$1,123. Our final request is that Samsung doesn't push the price of the Note 8 any higher – otherwise, plenty of Note fans could be shut out from being able to purchase the phone.
(trustedreviews.com, https://goo.gl/ZAXMFA)
Comments
comments