1. Introduction
Busy expanding its lineup, Samsung is using a Sesame Street approach of sorts, going through the alphabet one letter at a time. For the most part, this naming scheme works well and helps avoid confusion. We know the "S" line is the place to get flagships, the upper-midrangers designated with an "A". Further down the price ladder, there is the budget "J" series and the Tizen-powered "Z".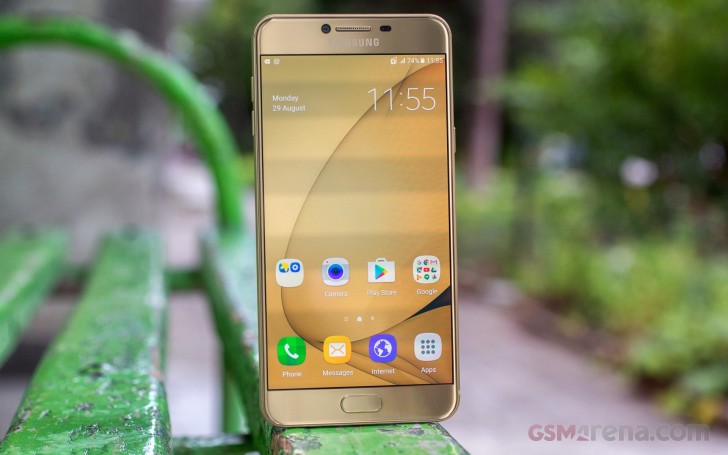 But things have been getting a bit weirder lately with the introduction of the "On" lineup and the new "C" line. The latter currently includes the 5.2-inch Galaxy C5 and the 5.7-inch Galaxy C7. Both were made official in late May and are currently available in China and Hong-Kong, but have also got the all-clear from the FCC, which means they will likely be going international soon.
The hard bit is to guess how the C-line fits in Samsung's existing lineup. With midrange specs and slim all-metal bodies, the closest comparison seems to be to the Galaxy A lineup. The C5 and C7 do, however, bring about a few notable hardware improvements over the "A" models, so we're curious to see how the Koreans will market them.
Samsung Galaxy C7 key features
156.6 x 77.2 x 6.8 mm, 169g body
5.7″ 1080 x 1920px Super AMOLED of 386 ppi; 2.5D scratch-resistant glass
Android 6.0.1 Marshmallow
Qualcomm Snapdragon 625 chipset, octa-core 2.0GHz Cortex-A53 CPU; Adreno 506 GPU; 4GB RAM
16MP, f/1.9 camera; 1080p@30fps video recording and Dual-LED flash
32GB or 64GB of built-in storage and a hybrid microSD card slot
Dual-SIM connectivity
LTE Cat.4 (150Mbps); Dual-band Wi-Fi a/b/g/n/ac; GPS/GLONASS/BDS (region dependent) receiver, Bluetooth v4.2, FM radio with RDS, NFC compatible with Samsung Pay
Fingerprint reader in the home button
Active noise cancellation with a dedicated mic
3,300mAh non-removable battery; Quick Charge 3.0 support
Main shortcomings
No OIS
No phase detection, laser or other advanced autofocus technology
No 4K video recording
Cap on LTE speed
The Galaxy C5 and Galaxy C7 share most of their hardware. The same will likely be true for the alleged C9 as well, if and when it gets released. Design-wise the two handsets seem to differ only in scale and that same ratio is, in a way, applied to the chipset as well. The Snapdragon 625 is definitely a step up from the Snapdragon 617. Other than that, both phones have 4GB of RAM, 32GB or 64GB of expandable storage, mostly identical connectivity options and the same camera setup including a 16MP main unit and an 8MP front-facer.
Samsung's excellent Super AMOLED screen tech is also a given and panel size seems to be the decisive factor in comparing the new "C" models to existing counterparts. At 5.2 inches, the Galaxy C5 definitely looks like a spruced up version of the A5 (2016).
The C7, however, is a little more special. Its 5.7-inch diagonal puts it in the Note territory as far as screen real estate goes. That makes it a bit bigger than the currently available Galaxy A7 (2016) and the A9 (2016). The A8 is definitely a better match, but in the absence of a 2016 upgrade to said model, the C7 might be just on time to fill a gap.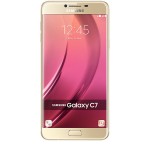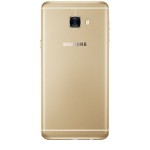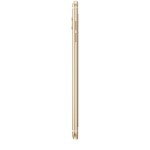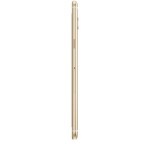 Samsung Galaxy C7 in official photos
The 5.7-inch form factor has stuck with the Note line for four generations now, so it definitely holds a lot of appeal. The Galaxy C7 might just be a perfect alternative for anyone who does not need the S Pen and all the extra features – and the resulting price premium – or isn't particularly fond of curved displays.
2. Unboxing, 360-degree spin, hardware
Unboxing the Samsung Galaxy C7
Being essentially a midrange device, the Galaxy C7 doesn't do anything extravagant regarding packaging or presentation, but still, comes with a pretty full set of accessories. We would gladly give up a fancy-looking box for the sake of getting a full set of accessories, and the C7 doesn't leave you wanting in this respect.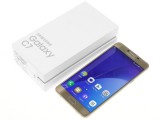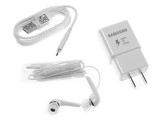 Samsung Galaxy C7 retail box
Opening the simple two piece container reveals the device itself on top. Right underneath is another box with leaflets and a SIM ejector. Underneath is the main compartment, with a Samsung Adaptive Fast Charging A/C adapter.
You also get a simple USB type A to micro USB cable and a pretty decent pair of wired headphones with a microphone and controls. All the supplied accessories are stylishly finished in white.
Samsung Galaxy C7 360-degree spin
Samsung must have drawn inspiration for the new "C" series design from at least a few sources. The metal exterior is an instant throwback to models like the A5 (2016) and A7 (2016), but Samsung has changed some parts of the chassis quite a bit this time around. The distinctive grooves on the sides are gone, and the chamfered back edges are now a lot deeper and smoother.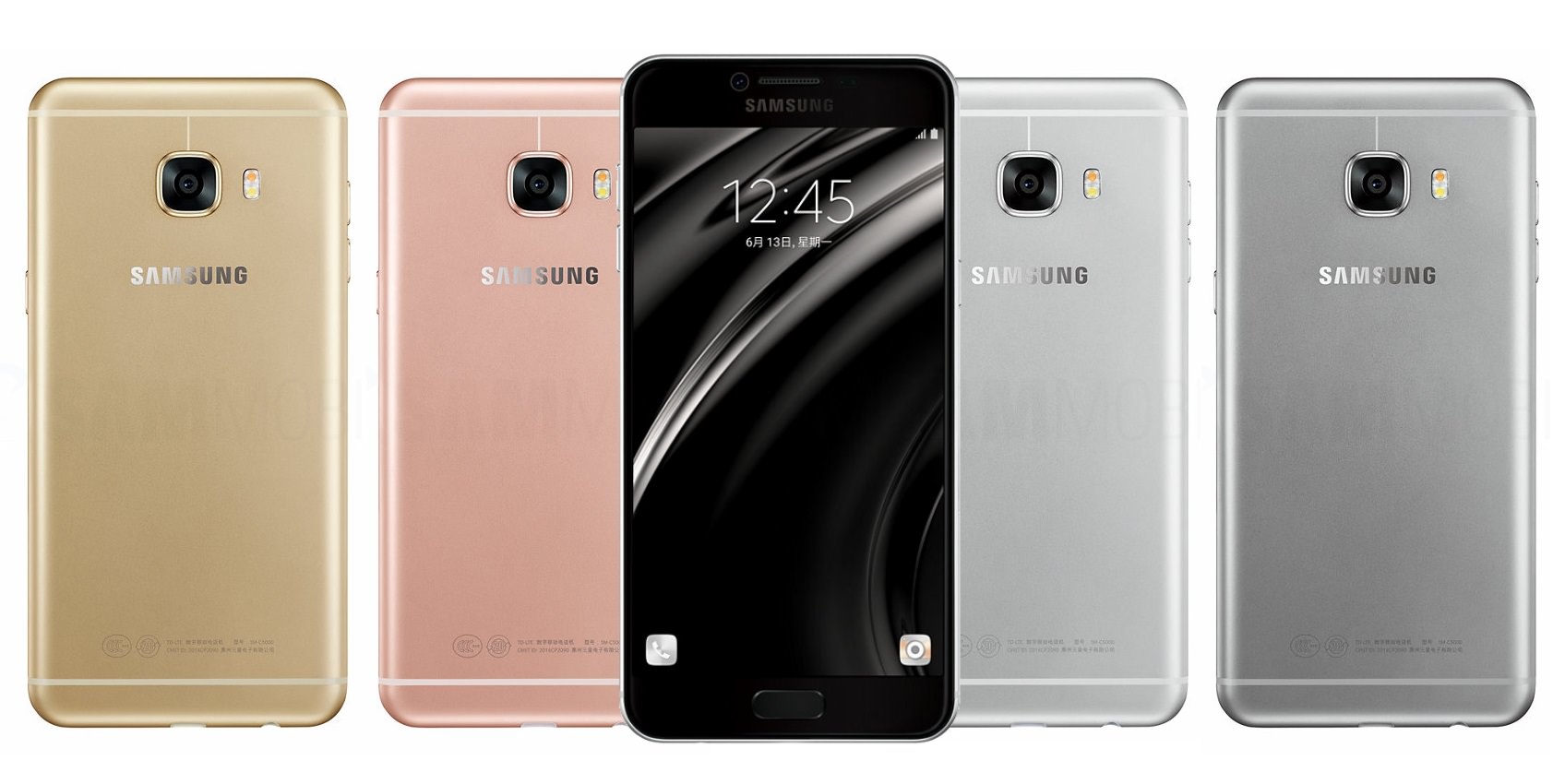 This doesn't help with handling all that much, but does make for a gorgeous back panel that gently slopes in on all four sides. The impression the C7 makes is somewhat reminiscent of an iPhone 6s, an HTC A9 or a OnePlus 3. If nothing else, the latter has very similar and prominent antenna cutouts.
Hardware overview
Apart from the updated design, there isn't anything all that notable or different about the Samsung Galaxy C7. What you get is a sturdy metal unibody with a nice matte finish that luckily isn't prone to get smudged up with fingerprints, all put together with great precision in a neat phablet package. The materials and the build quality are immaculate – we'd certainly give them that.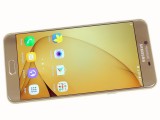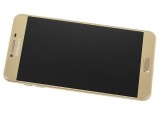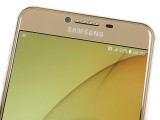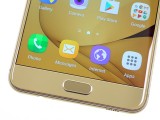 Clean front side
On the front, the C7 has a typical Samsung appearance. The most recent one as well, complete with little details like the subtle color accents around the front camera and sensors and the slightly taller home button. The device looks very clean from this angle. Besides the already mentioned pair of controls, there is only a Samsung logo on top of the display and the earpiece, of course.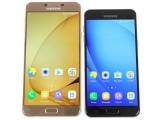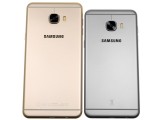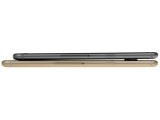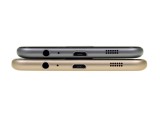 Samsung Galaxy C7 next to the smaller C5
Below the screen, the home button integrates a snappy fingerprint reader and has a pair of capacitive buttons either side. These are in the typical Samsung layout of menu key on the left and back on the right and are invisible when not backlit. The design is tied together nicely by the slight 2.5D effect on the top glass.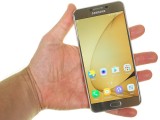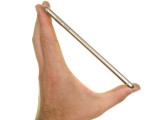 Samsung Galaxy C7 in the hand
Going round the back, there aren't many things to note. It is very clean as well. As already mentioned, this particular antenna design is a novelty on a Samsung phone, and we still can't shake the feeling it is slightly out of place – it's like we are reviewing a phone by another brand. However, the latter likely stems from some of our preconceived notions and the new design certainly helps the C7 stand out among its Samsung siblings.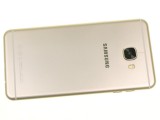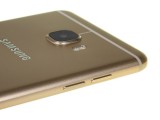 Clean back side as well
The camera bump protrudes noticeably but still looks reasonable and is almost justifiable considering the phone's 6.8mm slim profile. Right next to the lens, there is a Dual-tone LED flash and that about covers the back.
The sides are pretty conventional as well. On the left, we only have the volume controls, a power key, and a SIM card tray on the right. The latter has a total of two slots, one being a hybrid slot so that you can choose between a second SIM and a microSD card. A dedicated memory card slot would've been better, but hybrid slots seem to be the norm lately.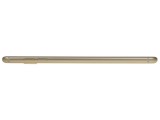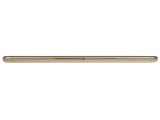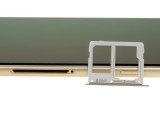 Mostly empty sides
The bottom of the Galaxy C7 feels a bit busier. It houses, in order of appearance, a 3.5mm audio jack, the primary microphone, a microUSB port and a single speaker grille. As for the top, it only has a tiny pinhole for the secondary noise-canceling microphone.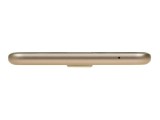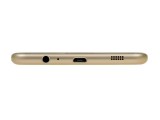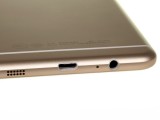 Top and bottom sides
3. Display, connectivity, battery
Display
It seems you can always count on an upper midrange Samsung smartphone to come with a great-looking display. The Korean Giant is pretty much on top of the food chain when it comes to its excellent Super AMOLED technology where high contrast and punchy colors are a given.
Sitting proud at a respectable 5.7 inches, the Galaxy C7 is a perfect stand-in for a Note phablet, minus the S Pen of course, among other things. The point is, you definitely won't suffer from any shortage of screen real estate and the Full HD resolution and 386ppi still make for an absolutely sharp image. Plus, skipping on the increasingly popular QHD does go easier on your battery.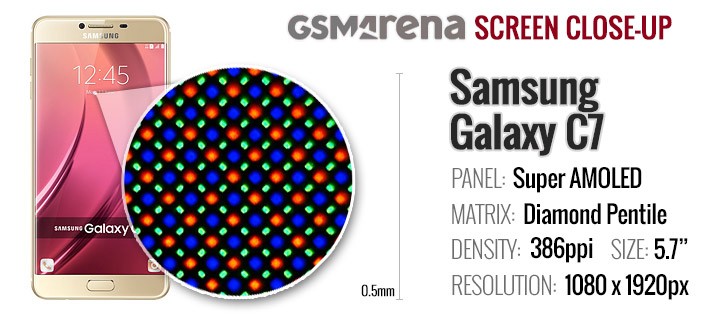 As far as performance goes, the panel on the Galaxy C7 does quite alright. It has deep blacks and the benefit of infinite contrast. At 100% brightness level, it maxes out at 422 nits, which is pretty close to what Samsung's current flagship devices, like the Galaxy S7 and Note7 are capable of. When presented with a bright external light source, the C7 can burn up to 624 nits in Max Auto mode, so using it outdoors is trouble-free, even on the brightest of days.
Display test
100% brightness
Black, cd/m2
White, cd/m2
Contrast ratio
Samsung Galaxy C7
0.00
422
∞
Samsung Galaxy C7 (Max auto)
0.00
625
∞
Samsung Galaxy A5 (2016)
0.00
421
∞
Samsung Galaxy A7 (2016)
0.00
425
∞
LeEco Le Max 2
0.30
426
1444
Huawei Mate 8
0.346
471
1361
Xiaomi Redmi Note 3 (MediaTek)
0.42
403
953
Samsung Galaxy Note5
–
439
∞
Samsung Galaxy Note5 max auto
–
620
–
Xiaomi Mi Max
0.46
424
922
Sony Xperia XA Ultra
0.50
531
1071
Samsung Galaxy A9 (2016)
0.00
427
∞
Huawei Nexus 6P
0.00
352
∞
Samsung Galaxy S6 edge+
–
410
∞
Samsung Galaxy S6 edge+ max auto
–
540
–
LG V10
0.29
432
1490
As already mentioned, sunlight legibility does not disappoint. In fact, it is nothing short of excellent.
Sunlight contrast ratio
Samsung Galaxy S6 edge+ : 

4.615

Samsung Galaxy Note5 : 

4.09

Huawei Nexus 6P : 

4.019

Samsung Galaxy A7 (2016) : 

3.918

Samsung Galaxy C7 : 

3.896

Samsung Galaxy A9 (2016) : 

3.817

Samsung Galaxy A5 (2016) : 

3.789

Huawei Mate 8 : 

2.949

Sony Xperia XA Ultra : 

2.906

LG V10 : 

2.744

LeEco Le Max 2 : 

2.567

Xiaomi Redmi Note 3 (MediaTek) : 

2.249

Xiaomi Mi Max : 

1.996
Color accuracy is impressive as well, but you do have to switch the display to Basic mode to enjoy the most accurate color reproduction. In Basic mode the average delta E is only 2.4 and a max reading of 5, interestingly enough, in the cyan color. But if you would much rather enjoy the punchy colors AMOLED has to offer, you can just leave the C7 in Adaptive mode, where reds tend to deviate as far off as 12.7.
Overall, the display is excellent save for the slight color shift when looking at it from an angle.
Connectivity
The Samsung Galaxy C7 is equipped with a total of two nano SIM slots. It's a hybrid slot so one of the card positions is to be used with either a SIM card or a Micro SD card, so you do have to choose. As for network speed, the Snapdragon 625 powering the phablet is equipped with an X9 LTE modem, capable of speeds of up to Cat.7 or 300 Mbps. However, Samsung has capped the C7 to Cat.4 or 150 Mbps. Other Internet connectivity options include Wi-Fi a/b/g/n/ac.
Local connectivity includes Bluetooth 4.2 complete with ANT+ support, so Samsung has made sure to keep the hardware up to date in this department. NFC is also on board, and it is compatible with Samsung Pay.
The microUSB 2.0 port handles charging and data, but it also supports USB OTG so you can hook up external hardware to the phone.
You do get FM radio as well, as a more old-school source of music and entertainment. It is full-featured as well and includes RDS and recording.
Battery
The Samsung Galaxy C7 is powered by a hefty 3300mAh battery, which is non-removable. However, on a positive note, combined with the 1080p AMOLED panel and a 14nm midrange Snapdragon processor, the sealed-in pack manages to go a long way. Just as a reference, you might recall the Galaxy J7 (2016), which managed to pull a whopping 101 hours of endurance with an identical 3300mAh battery, a 14nm Exynos chipset and a 720p AMOLED display.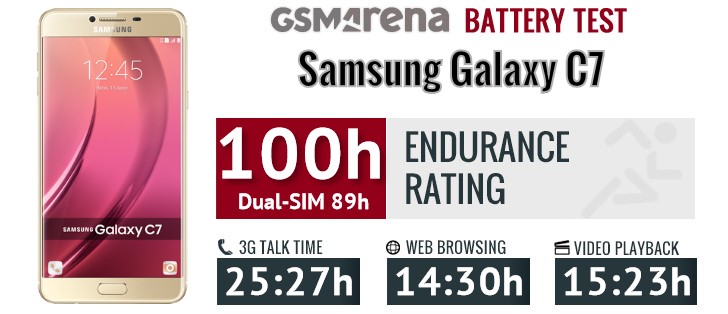 The C7, which has most of the same ingredients, scored 100 hours flat in our dedicated battery life test. That is a truly outstanding performance and puts the C7 only a notch below the Galaxy J7 (2016) in our battery performance chart and in the top 15 of all time. And better yet, this incredible endurance is achieved while still maintaining an above average 2.0GHz of clock rate on the Cortex-A53 cores and an impressive overall performance. We have no doubt that similar battery life results will become more common as the 14nm development processes spread to more and more chip designs. However, right now, you should look no further than the Galaxy C7 for excellent battery life.
The battery testing procedure is described in detail in case you're interested in the nitty-gritties. You can also check out our complete battery test table, where you can see how all of the smartphones we've tested will compare to each other under your own choice of usage pattern.
4. Software overview
Android 6.0.1 Marshmallow at your service
The Samsung Galaxy C7 boots up with Android 6.0.1 Marshmallow with TouchWiz UI on top. The latest available version of Android bundles cool features like native support for an app manager, Doze mode, and Google Now on Tap among other tweaks. Plus, Samsung has gotten to a point where its interface looks quite refined. The C7 also has the benefit of being quite clutter-free with almost no annoying bloatware, but more on that later.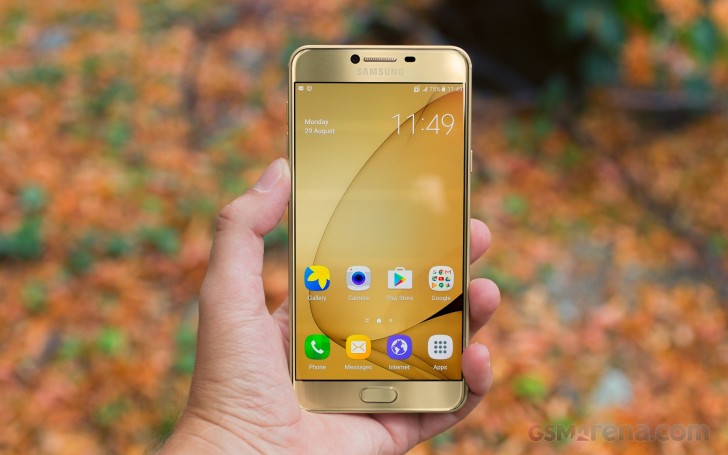 The lockscreen is the typical Samsung deal and offers swipe to unlock and a pair of quick shortcuts on the bottom. The fancy always-on display from recent flagships is missing. Both the Galaxy C5 and C7 are also equipped with fingerprint readers. They reside in the home button, as is typical for Samsung and work as good as the ones found on company flagships. This does, however, mean that said readers are not always on. Rather, to unlock the phone, you have to press the Home key and leave your finger for a moment longer while the fingerprint reader does its thing.
Speed-wise, the C7 and C5 tend to come closer to the S7 than the previous generation S6. The unlock speed is somewhat dependent on the processor itself and feels just a bit slower on the C5. Regardless, both phones recognize a print in less than a second, and while we have seen a lot faster readers out there, Samsung still has impressive accuracy on its side, which streamlines the overall experience.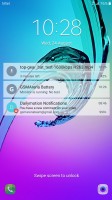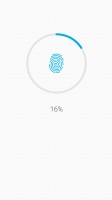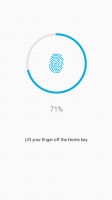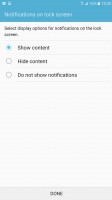 The lockscreen • Fingerprint reader
The homescreen is identical to the TouchWiz home of other Samsung phones. You get plenty of extra home screens which tend to pile up to the right of the main one. However, the title of "main" can be reassigned to another one, leaving you with a more old-school "swipe both ways" interface. If you decide to leave it be, swiping once to the left opens up a Briefing interface for quick news consumption.
As for organization, Samsung has you covered with color-coded folders both inside the app drawer and on any home screen.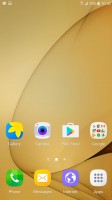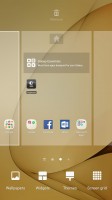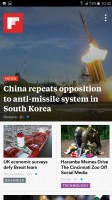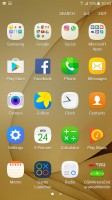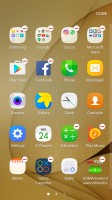 Homescreen • Homescreen editing• Briefing • App drawer • App drawer settings
The Notification area is pretty busy by default. It starts with a scrollable line of quick toggles on top, then a brightness slider; then the Quick connect button. Everything can be rearranged from the Edit option.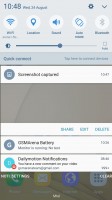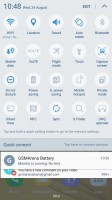 Notification area
Don't like the default look of TouchWiz? No problem, as the Galaxy C7 user interface is fully themeable. We only got the default theme pre-installed, which is great if you don't intend on using the feature. But otherwise, the Theme Store has you covered with many more to download.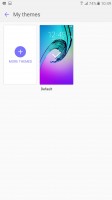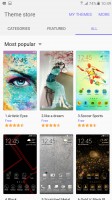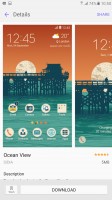 Samsung theme store
Multitasking has also come a long way, especially on recent Samsung devices. Advanced features that were once only available to Note users have been trickling down steadily to other parts of the company's lineup. On the Galaxy C7 and even its lower spec C5 sibling, you can pretty much do every split screen and floating app trick that a Galaxy Note would allow, lacking only the S Pen magic.
You do, however, have to know where to look for the split screen UI as it's not immediately apparent. Supported apps will have a Split screen icon in the App Switcher, or you could press the Menu key for a bit longer. Once you launch the Split screen mode, you can even drag and drop content between them. You can also collapse either app into a floating, resizable app window.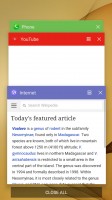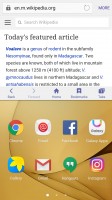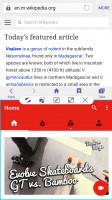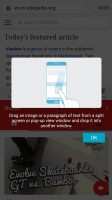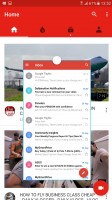 Multitasking is a breeze
Overall, the latest iteration of TouchWiz manages to remain feature-rich, while also being reasonably light on resources. As a result, it runs without glitches on the Snapdragon 625 chipset inside the Galaxy C7. Speaking of which, follow us onto the benchmark section of the review.
5. Performance
Synthetic benchmarks
The Samsung Galaxy C7 is not a powerhouse by any standards. It makes use of a Qualcomm Snapdragon 625 SoC with a total of eight Cortex-A53 cores, running at 2.0 GHz. But the real trick to the chip is that it is manufactured using a 14nm process. It is the same fabrication process Qualcomm uses for its top-tier chips like the Snapdragon 820 and is still quite uncommon in mid-range chips.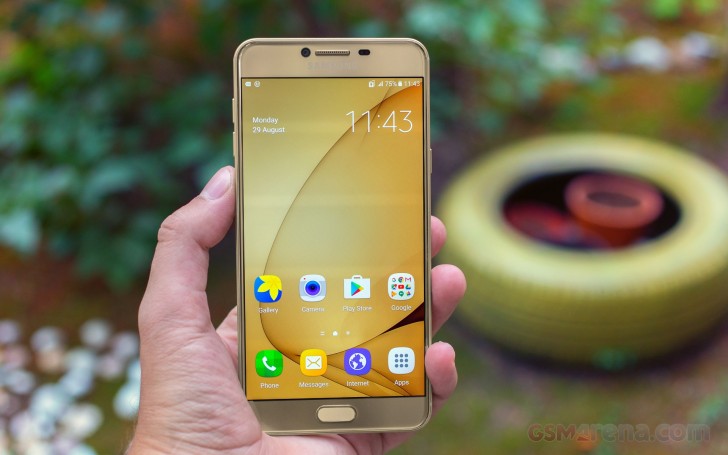 In fact, the only other similar mobile chip we have encountered was the Samsung-made Exynos 7870 inside the Galaxy J7 (2016). It is also based on a 14nm process and uses a total of eight Cortex-A53 cores, only clocked a little lower at 1.7 GHz. It allowed the J7 to shine regarding battery life, and it is a similar story with the C7.
Coming back to the benchmarks themselves, the Galaxy C7 can definitely hold its own against competitors. When we picked the competitions, we put the emphasis on display size at and above 5.7 inches, but we tried to stay as close as possible to starting price of the C7, which is around $430. Alternative phones like the Samsung Galaxy Note5 or the Galaxy s6 edge+ may be a bit over budget, but not by a lot. We also threw in the Galaxy C5 and the A5 (2016) and A7 (2016) for a clearer overall picture.
Looking at the all-round benchmarks first, we clearly see the Galaxy C7 holds its ground among mid-rangers. Of course, it is not exactly a fair performance fight when we pit it against flagships like the LeEco Le Max 2, the Nexus 6P or the Galaxy Note5. However, the advantage of a higher clock speed becomes evident when we consider how close the C7 has come in its AnTuTu score to the Xiaomi Redmi Note 3 or the Samsung Galaxy A9, both having the benefit of more powerful cores in their setup.
AnTuTu 6
Higher is better
LeEco Le Max 2 : 

129461

Huawei Mate 8 : 

91609

Huawei Nexus 6P : 

89345

Samsung Galaxy S6 edge+ : 

83167

Samsung Galaxy Note5 : 

81615

Xiaomi Redmi Note 3 (S650) : 

76186

Xiaomi Mi Max : 

74488

LG V10 : 

67547

Samsung Galaxy A9 (S652) : 

64591

Samsung Galaxy C7 : 

62818

Sony Xperia XA Ultra : 

50109

Samsung Galaxy C5 : 

44438

Samsung Galaxy A5 (2016) : 

35689

Samsung Galaxy A7 (2016) : 

35134
The C7 also clearly outruns the smaller A5 (2016) and A7 (2016) – another testament to the abilities of the Snapdragon 625. Basemark OS II tells mostly the same story.
Basemark OS II
Higher is better
LeEco Le Max 2 : 

2494

Huawei Nexus 6P : 

2063

Huawei Mate 8 : 

2033

Xiaomi Redmi Note 3 (S650 ) : 

1914

Samsung Galaxy Note5 : 

1852

Samsung Galaxy S6 edge+ : 

1833

Xiaomi Mi Note : 

1370

Samsung Galaxy C7 : 

1368

Samsung Galaxy C5 : 

1007

Oppo R7 Plus : 

913
And for even further proof of the superior nature of the 14nm SoC in the Galaxy C7, we can examine the purely CPU-geared GeekBench results. In the single core test, it is not hard to see how any Cortex-A72 or Kryo unit performs a lot better than an isolated Cortex-A53. But, when you put enough of them together on a multi-threaded load, the higher clock rate starts to add up.
GeekBench 3 (single-core)
Higher is better
LeEco Le Max 2 : 

2118

Xiaomi Redmi Note 3 (S650) : 

1543

Xiaomi Mi Max : 

1536

Samsung Galaxy Note5 : 

1498

Samsung Galaxy S6 edge+ : 

1490

Samsung Galaxy A9 (S652) : 

1466

Huawei Nexus 6P : 

1363

Samsung Galaxy C7 : 

933

Samsung Galaxy C5 : 

695
GeekBench 3 (multi-core)
Higher is better
Huawei Mate 8 : 

6323

Samsung Galaxy S6 edge+ : 

5158

Samsung Galaxy Note5 : 

5124

Samsung Galaxy C7 : 

5103

LeEco Le Max 2 : 

5026

Samsung Galaxy A9 (S652) : 

4759

Huawei Nexus 6P : 

4539

Xiaomi Mi Max : 

3861

Xiaomi Redmi Note 3 (S650) : 

3695

LG V10 : 

3607

Oppo R7 Plus : 

3204

Xiaomi Mi Note : 

3094

Samsung Galaxy C5 : 

3083

Samsung Galaxy A5 (2016) : 

3061

Samsung Galaxy A7 (2016) : 

3039
Moving on to graphics, the Adreno 506 bundled with the Snapdragon 625 provides an adequate match to CPU performance. That said, we definitely can't expect it to stand up to something like the Adreno 530 in the Snapdragon 820, but it is still more than adequate for mostly every current Android game title in the Play Store.
GFX 3.0 Manhattan (1080p offscreen)
Higher is better
LeEco Le Max 2 : 

44

Huawei Nexus 6P : 

25

Samsung Galaxy S6 edge+ : 

25

Samsung Galaxy Note5 : 

21

Huawei Mate 8 : 

18

Xiaomi Mi Max : 

15

LG V10 : 

15

Xiaomi Redmi Note 3 (S650) : 

14

Samsung Galaxy A9 (S652) : 

13

Xiaomi Mi Note : 

11

Samsung Galaxy C7 : 

9.8

Sony Xperia XA Ultra : 

7.2

Samsung Galaxy C5 : 

6.4

Oppo R7 Plus : 

6

Samsung Galaxy A5 (2016) : 

5.7

Samsung Galaxy A7 (2016) : 

5.7
GFX 3.0 Manhattan (onscreen)
Higher is better
LeEco Le Max 2 : 

28

Huawei Mate 8 : 

18

Huawei Nexus 6P : 

17

Samsung Galaxy Note5 : 

15

Xiaomi Mi Max : 

15

Samsung Galaxy S6 edge+ : 

15

Xiaomi Redmi Note 3 (S650) : 

14

Samsung Galaxy A9 (S652) : 

13

Xiaomi Mi Note : 

11

Samsung Galaxy C7 : 

9.6

LG V10 : 

9.5

Sony Xperia XA Ultra : 

7.5

Samsung Galaxy C5 : 

6.3

Oppo R7 Plus : 

6.3

Samsung Galaxy A5 (2016) : 

5.7

Samsung Galaxy A7 (2016) : 

5.7
GFX 3.1 Manhattan (1080p offscreen)
Higher is better
LeEco Le Max 2 : 

28

Huawei Nexus 6P : 

17

Samsung Galaxy Note5 : 

15

Samsung Galaxy S6 edge+ : 

15

Huawei Mate 8 : 

10

LG V10 : 

10

Xiaomi Mi Max : 

9.4

Samsung Galaxy A9 (S652) : 

9.3

Xiaomi Redmi Note 3 (S650) : 

9

Samsung Galaxy C7 : 

6.2

Sony Xperia XA Ultra : 

4.7

Samsung Galaxy C5 : 

4.2
GFX 3.1 Manhattan (onscreen)
Higher is better
LeEco Le Max 2 : 

15

Huawei Mate 8 : 

11

Huawei Nexus 6P : 

11

Xiaomi Mi Max : 

9.4

Samsung Galaxy A9 (S652) : 

9.1

Xiaomi Redmi Note 3 (S650) : 

9

Samsung Galaxy Note5 : 

6.7

Samsung Galaxy S6 edge+ : 

6.6

Samsung Galaxy C7 : 

6.1

LG V10 : 

5.7

Sony Xperia XA Ultra : 

5.1

Samsung Galaxy C5 : 

4.1
GFX 3.1 Car scene (offscreen)
Higher is better
LeEco Le Max 2 : 

16

Xiaomi Mi Max : 

5.5

Xiaomi Redmi Note 3 (S650) : 

5.3

Samsung Galaxy C7 : 

3.4

Samsung Galaxy C5 : 

2.6

Sony Xperia XA Ultra : 

2.5
GFX 3.1 Car scene (onscreen)
Higher is better
LeEco Le Max 2 : 

8.8

Xiaomi Redmi Note 3 (S650) : 

5.5

Xiaomi Mi Max : 

5.4

Samsung Galaxy C7 : 

3.4

Sony Xperia XA Ultra : 

2.7

Samsung Galaxy C5 : 

2.6
Basemark X provides an even better overview of where the Galaxy C7 fits graphics-wise among its competitors.
Basemark X
Higher is better
LeEco Le Max 2 : 

33874

Samsung Galaxy S6 edge+ : 

26333

Samsung Galaxy Note5 : 

26281

Huawei Nexus 6P : 

22825

Huawei Mate 8 : 

15593

Xiaomi Mi Max : 

15487

Samsung Galaxy A9 (S652) : 

15290

LG V10 : 

15161

Xiaomi Redmi Note 3 (S650) : 

14717

Xiaomi Mi Note : 

13075

Samsung Galaxy C7 : 

10445

Sony Xperia XA Ultra : 

6754

Oppo R7 Plus : 

5349

Samsung Galaxy A7 (2016) : 

5210

Samsung Galaxy C5 : 

5039

Samsung Galaxy A5 (2016) : 

4947
All things considered, the Samsung Galaxy C7 may not have the top-tier specs to impress, but it won't let down even power users. The eight 2.0 GHz cores are snappy, and the 4GB of RAM are still perfectly adequate for multitasking to your heart's content. The sole fact that Samsung feels confident enough to include its full-featured multi-window working environment on to the handset is plenty of proof that the C7 won't leave you hanging whatever the situation.
6. Telephony, messaging, text input, other apps
Telephony and loudspeaker
The Samsung Galaxy C7 uses the standard Samsung dialer, which combines the call log, favorites and general contacts interfaces as well. It is also a Dual-SIM device, the SIM card manager lets you pick a preferred SIM for voice, text and data.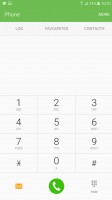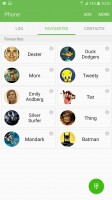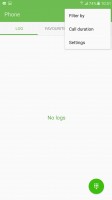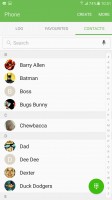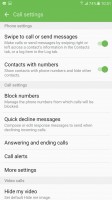 Dialer • Dialer • Call log • Contacts • Call settings
The Do Not Disturb mode can be put on an automated schedule. When it's on, only priority notifications can get through and you decide what should be categorized as "priority" – it can be anything from calls from select contacts to reminders from key apps.
In our loudspeaker test, the Galaxy C7 managed to score an Average mark. However, just a tenth of a decibel more and it would have joined its smaller sibling, the C5 in the Good rank and that is well within the margin of error.
| | | | | |
| --- | --- | --- | --- | --- |
| Speakerphone test | Voice, dB | Pink noise/ Music, dB | Ringing phone, dB | Overall score |
| Samsung Galaxy A7 (2016) | 66.2 | 64.8 | 66.8 | Below Average |
| Samsung Galaxy A5 (2016) | 65.8 | 66.0 | 66.5 | Below Average |
| Huawei Mate 8 BG | 67.8 | 65.8 | 66.6 | Below Average |
| Samsung Galaxy S6 edge+ | 65.8 | 64.8 | 70.4 | Average |
| Xiaomi Mi Max | 67.1 | 66.2 | 68.1 | Average |
| LG V10 | 66.1 | 64.7 | 70.7 | Average |
| Samsung Galaxy A9 (2016) | 65.5 | 72.2 | 65.2 | Average |
| Samsung Galaxy Note5 | 65.3 | 64.6 | 73.5 | Average |
| Samsung Galaxy C7 | 67.3 | 67.8 | 72.8 | Average |
| Xiaomi Redmi Note 3 | 66.5 | 66.6 | 75.8 | Good |
| Samsung Galaxy C5 | 67.4 | 69.0 | 72.9 | Good |
| LeEco Le Max 2 | 74.9 | 69.3 | 77.2 | Very Good |
| Huawei Nexus 6P | 74.7 | 77.8 | 72.1 | Very Good |
| Xiaomi Mi Note | 75.9 | 68.9 | 83.3 | Excellent |
| Sony Xperia XA Ultra | 88.9 | 79.3 | 82.7 | Excellent |
Text input
The Galaxy C7 uses an updated version of the Samsung Keyboard. It's quite comfortable, with a dedicated numbers row, a row above that for word suggestions and additional characters on each key (accessible via long-press).
The dedicated symbol input is arranged in separate pages, which isn't exactly to our taste, but we are willing to overlook such shortcomings considering the other powerful options the keyboard offers.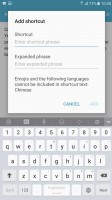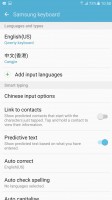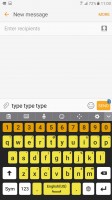 Keyboard • A lot of options to play with
If that seems too tall, you can scale the keyboard down (or up, if you want bigger keys). We don't like that the Space key is quite short, though.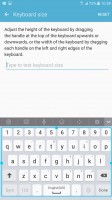 Keyboard size is adjustable
Additional typing tools include swipe input, My Hot Keys (predefined phrases that can be typed by long-pressing a number key) and voice dictation.
Messaging
The default messenger is also pretty conventional. You get a simple unified interface and quite a lot in the way of attachment options. We particularly like the small camera interface baked right in for taking a quick snap and attaching it as you type.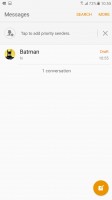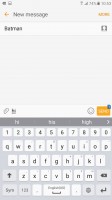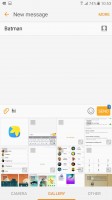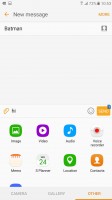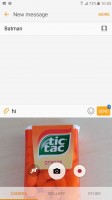 Messaging app
As for e-mail, there is Gmail, which since its inclusion of external inbox support has really become a one-stop choice for most users.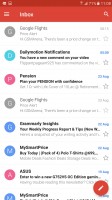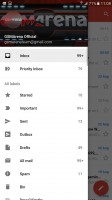 Gmail app
However, Samsung has also thrown in its own e-mail client. This is convenient enough if you want to keep some communications separate, but we were at least hoping that you could lock the app up in Samsung's Private mode. Sadly, this functionality is only reserved for Gallery, Voice recorder and My Files.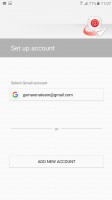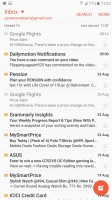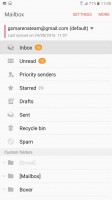 Samsung email app
The Galaxy C7 generally has a pretty slimmed-down and de-cluttered ROM on board, with probably the small exception of a couple of social apps that Samsung decided to throw in. These are Instagram and WhatsApp and both can be disabled, but not Uninstalled unless you root the phone.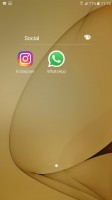 Instagram and WhatsApp are pre-loaded
Other apps
One thing we definitely can't fail to mention is that Samsung has included its powerful Game Launcher on the new "C" family of devices as well. It not only groups all your games in one place, but also has two power saving modes at its disposal, so you can play longer. They both cap the max frame rate to 30 fps and also increasingly lower the resolution at which the games are played. The latter might also come in handy for any particularly graphically demanding titles that the C7 can't handle at its native 1080p resolution.
The launcher also offers options to disable notifications during gaming, and also a floating toolbar that can be used to capture screenshots or trigger video recording.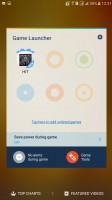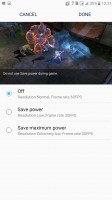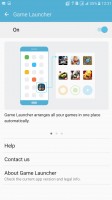 Game Launcher
Samsung continues to bundle the Microsoft app package that includes Word, Excel, PowerPoint, OneNote and Skype.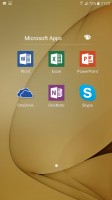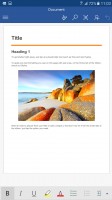 Microsoft app package
Google Drive is pre-installed, however, the actual document editors are not (they are a free download, though). The rest of the Google app suite is all accounted for as well.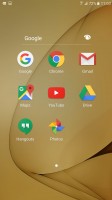 Google app suite
The Samsung-customized web browser features Web sign in – a feature that works as a password manager secured by your fingerprint. This makes log-ins as simple as unlocking the phone.
S Health is on board though without the advanced sensors (heart rate, blood oxygen) its functionality is more limited. It can still track walking/running/cycling and you can manually input water and coffee intake and so on.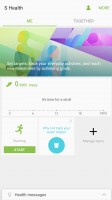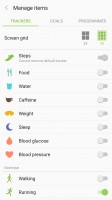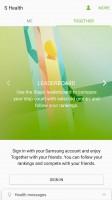 S Health
Smart Manager is a hub that controls several key areas – battery, RAM, Storage and Device security. This gives you tools to track down apps that drain the battery, use too much RAM and clean-up unnecessary files.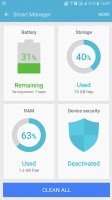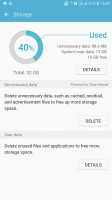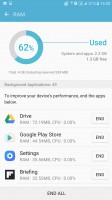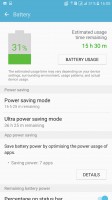 Smart Manager • Cleaning up the storage • Cleaning up the RAM • Battery management
The My Files app is the default file browser. It features Google Drive integration. You can ZIP folders to make them easier to share as a single file.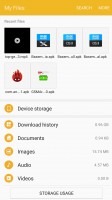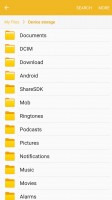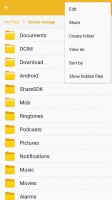 My Files
The Galaxy C7 gets access to S Voice as well. Samsung's voice assistant has really come a long way and it is a breeze to use for small tasks hands-free. You can even set you own trigger word to start up voice recognition.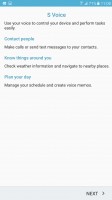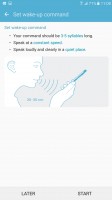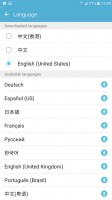 S Voice
Finally, there's Galaxy Apps, Samsung's own app store. Galaxy Essentials is a good place to find great tools (like Kids Mode), but for general app shopping, you would probably be better off with Google Play.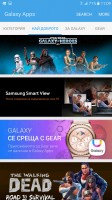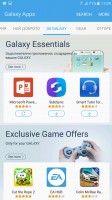 Galaxy Apps
7. Gallery, media players, audio quality
Gallery
The TouchWiz gallery orders photos by time, but you can switch to folder-based Album view. Thumbnail sizes can be resized with a pinch gesture and the album selection pane on the left can be hidden.
Sharing options include wireless printing, Android Beam and Wi-Fi Direct, but no DLNA (or any other way to send an image to your TV).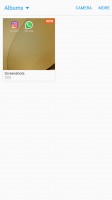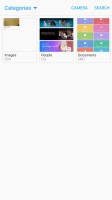 Gallery
Several image editing tools are available – from basic cropping, to collage making, to a more capable editor (which supports image correction, effects and drawing).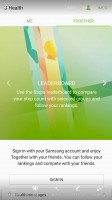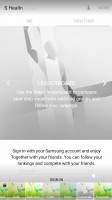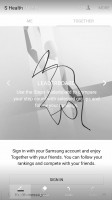 Powerful editor
Music player with advanced EQ features, FM radio
Google Play Music is the default player for your tunes on the Galaxy C7. The app was treated to the Material design a while ago, and its functionality remains unchanged – it can play your local files, as well as stream music from the cloud.
The Samsung sound enhancements are available, of course, you can access them from Play Music, too, as they are system-wide and reside in the Settings menu. They include the SoundAlive tool, which has an intuitive interface to tuning the equalizer (a manual 7-band equalizer is available for more knowledgeable users).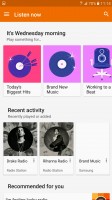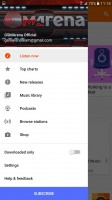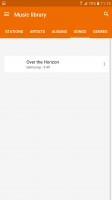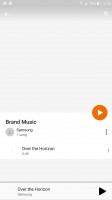 Google Play Music
Adapt Sound is even simpler. It tunes the EQ to your hearing and your particular pair of headphones by playing multiple frequencies and asking how well you hear them. Smart Volume automatically adjusts the volume of tracks from various sources.
UHQ sound resolution enhancer is available, Surround sound emulation and Tube Amp Pro simulator are onboard, too.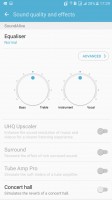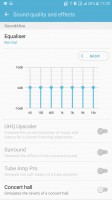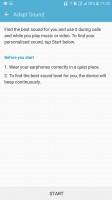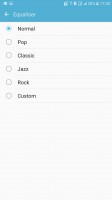 Equalizer and other settings
The Galaxy C7 also has an FM radio built in (something many Galaxy flagships do not). It can record radio broadcasts (though this feature may be disabled in some regions). The Settings menu suggests there is RDS support as well, but it didn't work for us for some reason.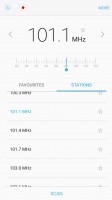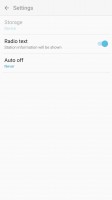 FM radio
Video player
There is no video player app pre-installed and the Gallery handles the videos by default. At least, that appears to be the case, as the Video player does not have a separate icon of its own. If you want a dedicated app, you can grab the TouchWiz Video player from the Galaxy Apps repository. The default video player supports pop-up window, a feature dating back to the Galaxy S III.
It has full subtitle support with advanced features to modify their appearance. The app lets you play only the audio (if you just want to listen to a music video) or you can play the audio via Bluetooth (if you have a BT-enabled speaker handy).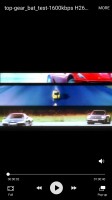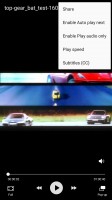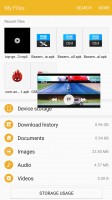 Video player
There's an "Editor" option too though that may be overstating it – it just lets you trim the video. If you want a more capable video editor, you can download more in the Galaxy Apps store for free, courtesy of Samsung.
Both Video apps were once part of the TouchWiz package, but Samsung decided to get rid of as much bloatware as possible and left the choice of apps to you.
Audio output is solid
The Samsung Galaxy C7 aced the active amplifier portion of the audio quality test. It had very high volume levels and perfectly clean output for a really impressive showing.
When we plugged in a pair of headphones, the stereo crosstalk rose an average amount, but the somewhat bigger issue was the volume that dropped to just above average. It's still a very good performance and one that will make most people perfectly happy, it's just not as stellar as the first test.
| | | | | | | |
| --- | --- | --- | --- | --- | --- | --- |
| Test | Frequency response | Noise level | Dynamic range | THD | IMD + Noise | Stereo crosstalk |
| Samsung Galaxy C7 | +0.01, -0.09 | -95.3 | 93.1 | 0.0046 | 0.0095 | -92.2 |
| Samsung Galaxy C7 (headphones attached) | +0.20, -0.03 | -93.2 | 91.9 | 0.034 | 0.122 | -57.6 |
| Xiaomi Redmi Note 3 | +0.04, -0.08 | -96.0 | 92.3 | 0.0015 | 0.0076 | -95.6 |
| Xiaomi Redmi Note 3 (headphones attached) | +0.48, -0.09 | -95.3 | 92.1 | 0.011 | 0.327 | -70.2 |
| Sony Xperia XA Ultra | +0.02, -0.15 | -92.9 | 92.8 | 0.033 | 0.038 | -92.5 |
| Sony Xperia XA Ultra (headphones attached) | +0.53, -0.25 | -90.8 | 91.6 | 0.019 | 0.427 | -49.1 |
| Xiaomi Mi Max | +0.01, -0.03 | -93.5 | 93.5 | 0.0029 | 0.0068 | -93.8 |
| Xiaomi Mi Max (headphones attached) | +0.04, -0.02 | -93.4 | 93.3 | 0.034 | 0.035 | -57.7 |
| Huawei Mate 8 | +0.01, -0.03 | -97.8 | 99.1 | 0.0054 | 0.0087 | -97.3 |
| Huawei Mate 8 (headphones attached) | +0.02, -0.09 | -97.3 | 97.9 | 0.015 | 0.078 | -81.3 |
| Nokia Lumia 950 XL | +0.01, -0.08 | -91.6 | 91.7 | 0.0035 | 0.012 | -89.3 |
| Nokia Lumia 950 XL (headphones attached) | +0.48, -0.07 | -90.4 | 91.5 | 0.011 | 0.293 | -55.6 |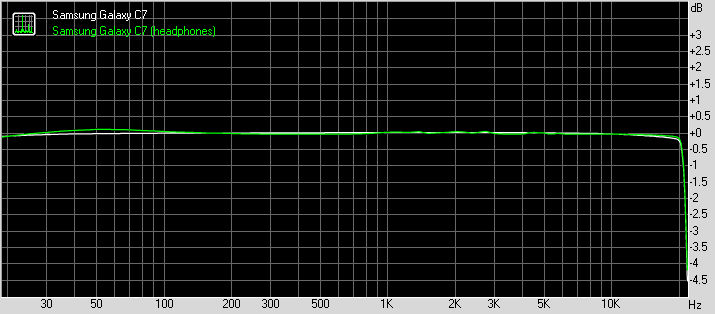 Samsung Galaxy C7 frequency response
8. Camera
Powerful 16MP snapper
The Samsung Galaxy C7 is equipped with a 16MP main camera with a 4:3 aspect ratio and aperture of f/1.9. The phone is also equipped with a dual-tone LED flash, but sadly lacks many modern commodities such as OIS – natural, considering the price segment.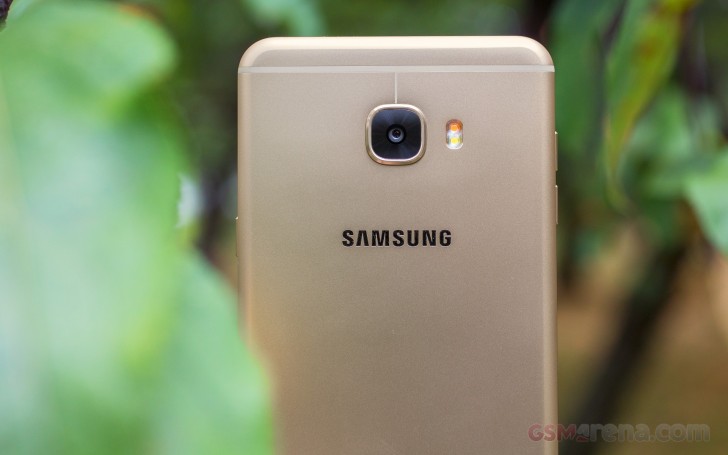 However, the module in question is pretty advanced. It relies on a Samsung-manufactured sensor, dubbed S5K3P3. It is a 1-micron pixel sensor, which allows it to be about 20 percent thinner than its technological predecessors, built on 1.12-microns. It also uses the company's ISOCELL technology to separate neighboring pixels and limit unwanted crosstalk.
It was originally released back in July 2015, as what most presumed to be a response to criticism against the Galaxy S6 generation camera bump. Rumors suggested Samsung was grooming it for a debut on the Galaxy Note5, but that didn't happen – possibly due to time constraints. The Note5 came out with a Sony IMX240 instead, but, Samsung's willingness to bet on the S5K3P3 for a Note device is a good testament to its qualities.
As for the overall camera experience on Galaxy C7, it is quite streamlined. Samsung has included the latest iteration of its camera app, and it works well on the phablet. Launches are quick, and you also get the convenience of a quick launch shortcut – double pressing the Home button.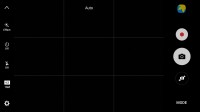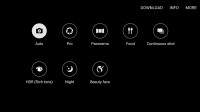 Main camera interface
In terms of options, you get all the essentials out of the box. Shooting modes are plentiful and include Pro, Panorama, Food, Continuous shot, HDR, Night and Beauty face out of the box. However, in typical Samsung fashion, you can easily download more from the Galaxy store.
There is also a nice selection of effects, some of which are branded and come courtesy of particular developers. The C7 doesn't hesitate to give you a live preview of each either, and the option to download more is present here as well.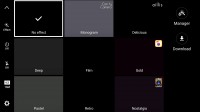 Camera effects
Pro mode is a nice addition, however, it only lets you control White balance, ISO and Exposure compensation. There is no manual focus or other more powerful options.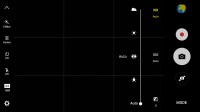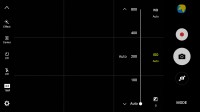 Pro mode
As for the samples themselves, they look really clean and sharp. Noise is kept at bay; resolved detail is good, and colors appear pretty accurate.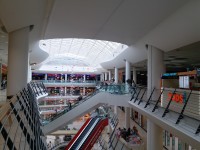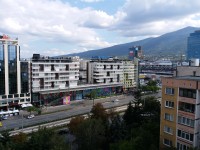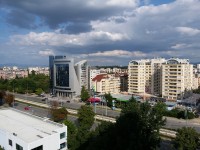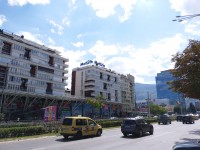 Samsung Galaxy C7 camera samples
There appears to be no obvious way to enable an auto HRD setting, but the main Auto mode seems to take advantage of it when needed. You can also take control yourself and force the HDR mode. Shooting on this setting does take a little more time as expected, but never more than a couple of seconds. And it is well worth it, as the results are usually commendable. The C7 manages to retain extra information about both shadows and highlights, without going over board.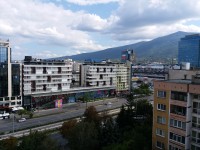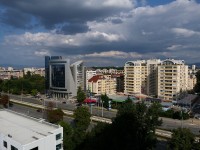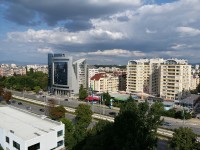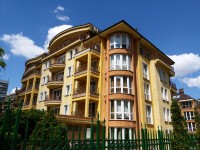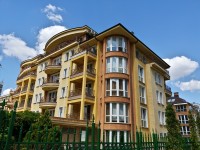 HDR off • HDR on • HDR off • HDR on • HDR off • HDR on
Panoramic photos look alright. Not the best we have seen by a long shot with some noticeable jagged lines from stitching, but still a pretty good effort. Here are samples in both orientations.


Panorama samples
You can also check our camera compare tool to see how the Galaxy C7 stacks up against the competition. As far as we managed to gather, the Xiaomi Redmi Note 3 Pro should be using the same S5K3P3 sensor.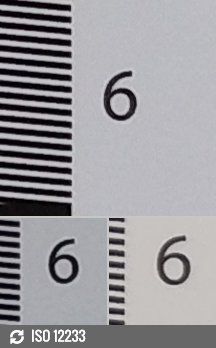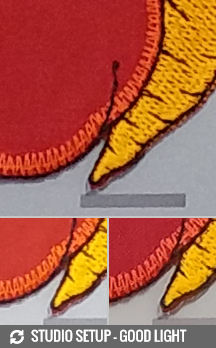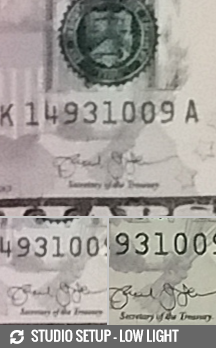 Samsung Galaxy C7: photo quality comparison
Flipping the camera interface around to the 8MP f/1.9 selfie camera didn't leave us disappointed either. Colors and detail in the samples are pretty good, with only the dynamic range falling a little bit short.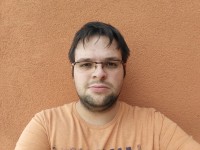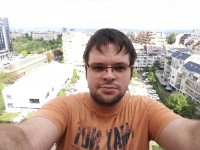 Selfie camera samples
The selfie shooter offers a few options of its own. There is the Beauty face feature that is separated into three filters, each with their own individual sliders on a scale from zero to eight. These include Skin tone, Slim Face, and Large eyes. Below are samples of No filter, followed by each of the other modes in the same order of appearance, individually set to 5. Of course, you can always mix and match.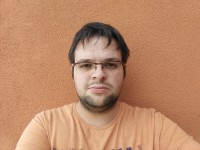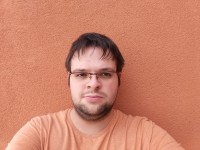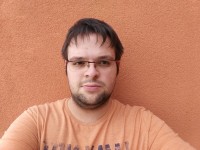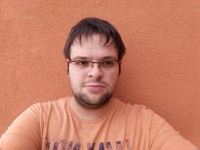 Selfie no filters • Selfie Skin tone • Selfie Slim Face • Selfie Large eyes
There is also a Wide selfie mode that generally works well with no noticeable signs of stitching in the end result. However, it does require some quite awkward hand-twisting motions to work.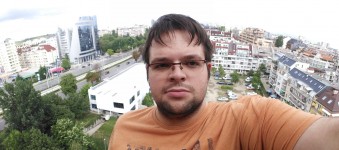 Wide selfie sample
Good 1080p videos
The Samsung Galaxy C7 is capped at 1080p when it comes to video capture. The Snapdragon 625 is perfectly capable of going up to 4K@30 fps so you will understand our mild disappointment in this chapter. Still, the limit was likely a marketing decision to keep some distance between it and the Galaxy S series.
Putting that aside, video samples from the C7 look quite detailed. Contrast is excellent as well. The only thing we didn't appreciate is the frequent focus hunting. The phone records 1080p @ 30fps, and our video samples came out with a bitrate of 17Mbps and with 256Kbps, 48KHz audio.
Last, but note least, you can check out video compare tool as well.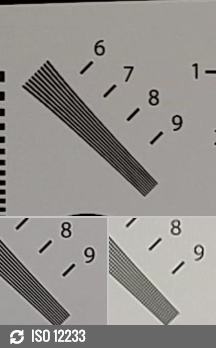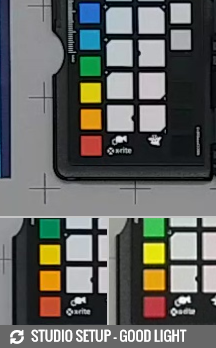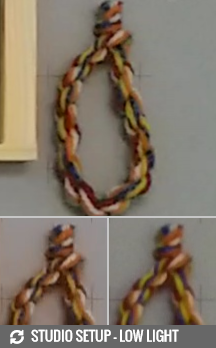 Samsung Galaxy C7: video compare tool (1080p)
Final words
Designing and successfully selling midrange devices in today's overcrowded market is becoming increasingly challenging. Users are willing to accept certain compromises up to the $200 mark while flagship devices cost obscene amounts of money, for often not easily justifiable reasons. It's the middle ground that truly requires craftsmanship, careful engineering and a finely-balanced set of features and minimum compromises.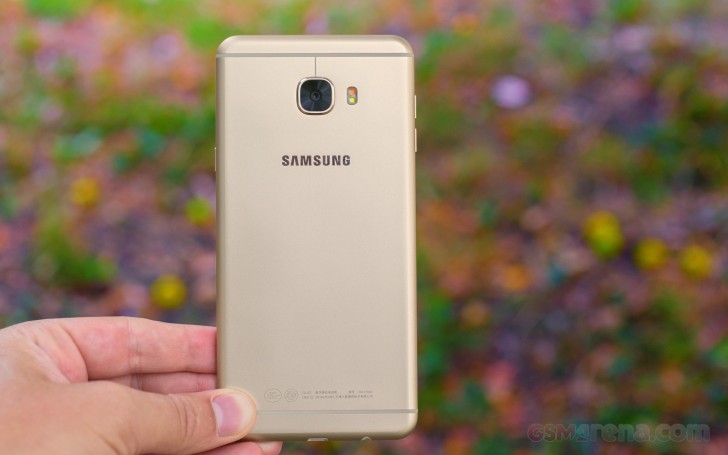 If done right, both customers and manufacturers can enjoy great benefits, but that also means tough competition with excellent handsets like the OnePlus 3 or the ZTE Axon 7 setting the bar incredibly high and pushing the boundaries of what can be achieved on a shoestring budget. This is exactly where Samsung has aimed its brand new "C" family.
At first glance, one may easily overlook the Galaxy C7 in the company's vast portfolio but make no such mistake. Samsung has created an impressive, well-rounded phablet. At $430 or so, it comes across as a Galaxy Note on a budget, rather than just another big-screened mid-ranger.
If a curved display, a dual-glass body, the S-Pen and some more advanced software features are easy to live without, the Galaxy C7 is probably the best choice for Samsung-style advanced productivity on a budget this year. It's a looker too.
Key test findings
Build quality is superb, fit and finish exemplary, though the design has been inspired from the competition.
The Super AMOLED screen is excellent. Very bright panel. Minimal glare, excellent contrast and sunlight legibility. Colors are very accurate in Normal mode.
LTE is limited to only Cat.4 (150 Mbps), although the chipset can go up to Cat. 7 (300 Mbps). Other than that, local connectivity is great and up to date.
Battery life is amazing thanks to the combination of an AMOLED panel and a 14nm fab chipset.
The user interface is current as well – it runs on Android 6.0.1 and has all the latest Samsung design trends and features, including fully functional Samsung multi-window multitasking.
Performance is surprisingly good for an octa-core Cortex-53 setup. The 2.0GHz clock speed definitely helps.
The loudspeaker falls in the Average category in our test.
The 16MP rear camera captures detailed images, with good sharpness, pretty accurate colors and not too much noise.
1080p video quality is good, but the camera tends to hunt for focus a bit too often. There is no 4K video recording either, even though the chipset should support it.
It might be intentional or coincidental, but there are a few notable aspects of the C7 that just make it work and stand out among the competition. For starters, we can't help but praise the Snapdragon 625 yet again. Advanced 14nm chips are still a rarity outside the premium segment, the Galaxy J7 (2016) with its Exynos 7870, being the only other example we can think of. But its benefits to battery life are more than noticeable. We can't wait to see something along the lines of a Snapdragon 652 with its powerful Cortex-A72 cores scaled down to the more efficient process, but even the 2.0 GHz Cortex-A53 units in the C7 do great, combining power and efficiency on a whole new level.
And while on the topic of unique qualities, we also can't fail to mention Samsung's own S5K3P3 camera sensor. Allegedly originally groomed for the Galaxy Note5, the sensor provides the Galaxy C7 with a great camera experience. As for the rest of the device, we think it can be best described as classic and efficient. Sturdy and well built, albeit not necessarily original on the outside and adequately equipped for modern Android workloads on the inside.
Still, the enormous effort that companies currently put into the midrange has resulted in a few excellent alternatives for you to consider. Starting off, there are the OnePlus 3 and ZTE Axon 7 we just mentioned. Both tend to go for a little bit more than the Galaxy C7, but then again, they also offer top of the line specs, including a Snapdragon 820 SoC and AMOLED panels. Each has its own perks like 6GB of RAM on the OnePlus or QHD resolution and amazing stereo speakers on the Axon 7.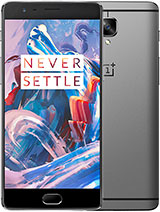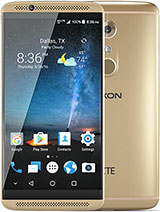 OnePlus 3 • ZTE Axon 7
If it is screen size you are after and feel like more screen real estate can really boost your productivity, then you can consider the Huawei Mate 8 or the Sony Xperia XA Ultra, both sitting proudly at 6 inches. The former takes a definite edge in performance, while the latter has the advantage of a superior camera experience, especially on the selfie side. ZTE has yet another handset to pitch, the Z11 MAX, which is also surprisingly similar in specs to the Oppo R9 Plus and the Xiaomi Mi Max. The first two have big 6 inch displays and a Snapdragon 652 SoC, while the Xiaomi is the most extreme choice in the quest for size, sitting at a whopping 6.44 inches.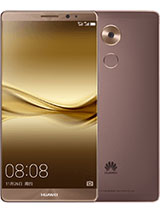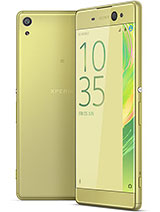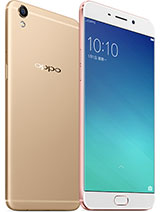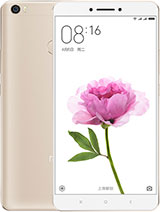 Huawei Mate 8 • Sony Xperia XA Ultra • Oppo R9 Plus • Xiaomi Mi Max
Of course, you can always look into a full featured Galaxy Note, courtesy of Samsung and not skip on its productivity benefits. This year's model is definitely way above budget, but the Note5 comes a lot closer with a premium of only around $100. The same goes for the S6 edge+, which seems to be the easiest way to get Samsung's excellent AMOLED QHD panel in its curved variant if that is your fancy. Also, while we are at Samsung's, the cheaper Galaxy A9(2016) and A7 (2017) are about as close a match to the Galaxy C7 as the "A" lineup can offer. Both, however, aren't quite up to speed with Samsung's latest tech and trends as the C7.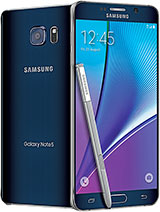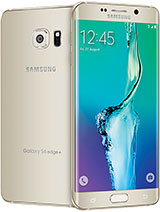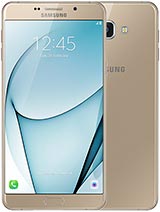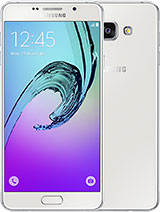 Samsung Galaxy Note5 • Samsung Galaxy S6 edge+ • Samsung Galaxy A9 (2016) • Samsung Galaxy A7 (2016)
Other alternatives that deserve a mention include the Nexus 6P. Its price has been steadily dropping and always seemed to be on sale and is still a current gen, Google serviced, vanilla Android device. You do, have to settle for a slightly dated Qualcomm chipset and this is the case with the LG V10 as well. Both the Snapdragon 810 and 808 still offer plenty of power for everyday use. And the LG does come with a unique second display as a bonus.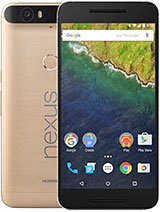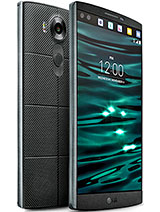 Huawei Nexus 6P • LG V10
And last, but not least, we will also mention the LeEco Le Max 2 and the Xiaomi Redmi Note 3 Pro, which prove that it is possible to match and even better the performance of a Galaxy C7 for even less cash. However, concerns about availability and after-sales support inevitably come up when we discuss getting a phone by either manufacturer outside of the few markets where they have official presence. Still, if you happen to reside in one of those markets, or if you don't mind the hassle of getting a gray import, you would certainly be in for a good deal.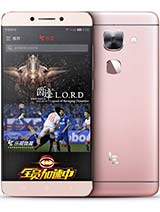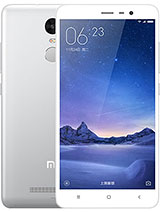 LeEco Le Max 2 • Xiaomi Redmi Note 3
So, we called the Samsung Galaxy C7 a low-cost Note for convenience, using a familiar point of reference. The alternatives above do offer some extra perspective too, to help you get a feel of the market. The bottom line is that this phone is a solid upper-midrange phablet, not quite as affordable as emerging brand alternatives but one that has enough to show for the price.
(gsmarena.com, http://goo.gl/1u0OqA)
Comments
comments