PROS
Water resistant
Looks great
Good battery life for video
CONS
A little expensive
Low-res screen
KEY FEATURES
4.7-inch 720p display
2GB RAM
16GB internal storage
Android 6
USB-C
Manufacturer: Samsung
Review Price: £299.99/$449.99
WHAT IS THE SAMSUNG GALAXY A3?
The Samsung Galaxy A3 is a handset for those after a compact phone, one on an affordable contract, or a device that can be bought SIM-free without anxiety-inducing cost.
Compare the price against the specs featured, however, and the A3 doesn't offer the greatest deal around. But alongside the entry-level additions, there are enough high-end features to trick you into believing for much of the time that you have in your hand a device that's almost as fancy as the Samsung Galaxy S7.
SAMSUNG GALAXY A3 – DESIGN
Just a few years ago, most of Samsung's phones were plastic – even the fairly expensive devices. The Samsung Galaxy A3 demonstrates just how far the company has moved on from that style.
This device is composed of glass and metal, with barely any plastic on show at all. It looks very much like the Samsung Galaxy S7's smaller sibling, even though the devices sit in different ranges. The most obvious thing to set them apart in the finish: where the Galaxy S7's colours tend to look shiny or metallic behind the glass top layer, the A3's are plain.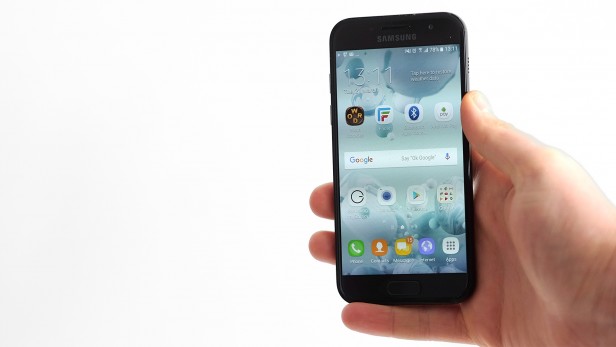 For a phone made using some of the same materials featured on a device that's twice the price, it's a bit of a wallflower. I don't mind, but it does mean that the higher-quality build becomes obvious only when you start using the Samsung Galaxy A3.
Samsung hasn't skimped on the glass, either. The front and back are big-brand Gorilla Glass 4, and the rear features curved edges for a softer feel. It's been a while since I've used a phone as compact as the 4.7-inch-screened A3, but handling it was second nature. Picking up a friend's iPhone 7 a few days into testing the A3, Apple's handset felt big and awkward.Thankfully, there are no major features lacking as a result of its more diminutive size. Beneath the screen is a reliable fingerprint scanner couched between the two soft keys, just as in Samsung's larger phones. Also included is a headphone jack, plus the Galaxy A3 is water resistant, too; itsIP68 certification means that an accidental drop in water is unlikely to cause damage.
As is the case with the majority of new handsets, the Samsung Galaxy A3 has a USB Type-C charging port rather than micro-USB. Storage is a reminder that you're not using a high-end phone, however.Following only a couple of days of use, the dreaded "you've run out of space" message popped up as I tried to install an app; the phone has just 16GB of storage. A few gigabytes of photos, a couple of data-hungry games, and you'll be done. Note that there is a slot for a single microSD card in the tray, however, which holds a nano-SIM.
The A3, like the Samsung Galaxy A5, has an unusual speaker. Rather than sitting on the bottom of the device, it can be found on the side, above the power button. I often walk around my home with a podcast playing on my phone, and found that I tended to block the sound more than I would have on a device with a bottom-loaded speaker. However, at least muffled sound won't be an issue when playing games, regardless of which way you hold the phone.Speaker quality is fine, with enough volume to cut through some ambient noise. Otherwise, it's of the slightly dreary mid-range standard. That said, I've used it for hours at a time so, it can't be that bad.
SAMSUNG GALAXY A3 – SCREEN
The Samsung Galaxy A3's screen is where high-end and low-end parts of the hardware collide. It's a 4.7-inch Super AMOLED panel with punchy colours that can be calibrated to suit your taste.For those who like a super-vivid look, it's there. If you want more relaxed colour, however, it's possible to just switch to the "Basic" mode in Settings to achieve this. I've mostly used the standard Adaptive mode, which presents better colour saturation than just about all entry-level and mid-range phones with LCD screens.
However, if you go looking for the effects of the limited 720p screen resolution, you're certain to find them. While this isn't a bad resolution for a small display, Samsung's OLED screens tend to look a little fuzzy, unless they have a high pixel density. The use of a PenTile array means that pixels share sub-pixels – the little red, green and blue dots that make up a screen's image.On first firing up the Samsung Galaxy A3, this was very obvious. Following a day or two of use, however, I'd completely forgotten about it since it's unlikely that you'll use this device with the screen right up by your eyeballs.
However, you'd be wise to take this into consideration if you'll be using your phone often for gaming, reading articles or Netflix-watching. For such activities, the Moto G5 Plus' larger, sharper screen would be my first choice every time.Note that there's a great extra that comes with a Samsung OLED; a sort of compensation. In standby the screen continues to display basic information such as the time, notification icons and the battery level. I've been using it as a desk clock while I work. OLED technology makes way for this since only a few pixels needed are activated, where as an LCD has to light up the whole screen to display anything.
SAMSUNG GALAXY A3 – SOFTWARE
The Galaxy A3 runs Android 6.0.1 at launch, and has Samsung's familiar interface wallpapered on top. Given the Galaxy S7 has already been updated to Android 7.0 in some territories, it's a shame the A3 doesn't benefit from it too.
Advanced notifications are the main difference between the two versions: Android 7.0's display more information and let you reply to messages direct from the notifications bar, for instance.
In return, the Samsung interface injects a bunch more customisation, and a different style. It uses app menu pages rather than a great long vertical scroll for example, lets you choose how the icons are arranged, and allows app menu folders.
There are also themes that give your Samsung Galaxy A3 a new look with minimal effort, although many of these now cost money. The app puts paid-for options at the top – Samsung gets its cut, after all – but it's still possible to find free ones.
Samsung also includes masses of preinstalled apps, which aren't entirely welcome when the Samsung Galaxy A3's storage is limited. There's the Microsoft Apps suite, including Word and OneNote, but since these are free to download, their value is thin.
S Health is probably the most interesting of Samsung's own apps. This is now a full fitness and 'wellness' platform, allowing you to simply track your steps, but also log your food and GPS-track hikes, cycles and walks as well. There are plenty of alternatives on Google Play, but just running S Health the once is a good way to turn the Samsung Galaxy A3 into a low-key fitness tracker.
SAMSUNG GALAXY A3 – PERFORMANCE
Samsung's interface doesn't feel as fast as vanilla Android – but the Galaxy A3 in particular doesn't feel slowed-down by the relatively low-end hardware at its core. The phone has an Exynos 7870, a CPU with eight Cortex-A53 cores clocked at up to 1.6GHz, and a Mali-T830 GPU.
Each part here is less powerful than that included in the Moto G5 Plus, which has faster slightly CPU cores and a better GPU. For the price, the level of power is acceptable at best, but you can reasonably argue it doesn't need any more.
High-end games such as Asphalt 8 run well, with only slight dips in the frame rate at the start of races and during very high poly-count scenes. The drop in graphics quality between a 1080p screen and a 720p one such as this is quite obvious, however. As already mentioned, there are better phones out there for gamers.
In Geekbench 4 the Samsung Galaxy A3 scores 3342 points, which is typical of a phone with eight Cortex-A53 cores.
SAMSUNG GALAXY A3 – CAMERA
The Samsung Galaxy A3 has a 13-megapixel rear camera with an f/1.9 lens. Images captured are fairly detailed, Samsung's processing isn't particularly obvious and the camera is fun to use. There's minimal shutter lag, so you won't often lose a shot because the A3 simply wasn't fast enough.
A fairly wide lens aperture also lets you create some neat 'blurry background' effect close-ups, without needing to use a software mode that mimics this effect (there isn't one in the camera app anyway). I also found it easier to get sharp night photos than with 2016's Galaxy A3, since this model seems to use slightly faster shutter speeds when shooting in low light.
However, the camera lacks optical image stabilisation, so with shots taken in poor light especially, you'll need to keep the phone fairly still. In addition, the camera here simply isn't as smart as those featured in Samsung's more expensive devices. On occasion, its metering system becomes confused, misreading the scene and making the image either too dark or too bright.
A little exposure control by the focus point lets you fiddle with this manually, but ideally you want to simply point and shoot 24/7 without having to fix a camera's mistakes. Note too, that outside of exposure the level of manual control is pretty poor. While there's a Pro mode, you can't control shutter speed, although doing so without OIS is of limited use anyway.
I'd also have liked to have seen a little more dynamic range optimisation when shooting normal shots, as often the foreground ends up looking a glum. The hardware at the heart of the Samsung Galaxy A3's camera doesn't appear super-advanced. You also lose out on 4K video capture, since the quality tops out at 1080p.
While I'm happy with the sharpness of the lens, it struggled to focus on very close subjects. Here are some sample shots:
Here's the f/1.9 lens in action, showing off the kind of blurry background effect you can achieve
No purple fringing; no obvious overexposure. There's some of Samsung's characteristic bonus warmth, but it doesn't look bad.
This photo would come alive with some post-processing: bringing out some of the mid-tones and fiddling with the black level to increase contrast. But the A3 has done fairly well.
Here's the level of detail you can expect.
Another detail demo
The A3 ramps up its sensitivity fairly quickly in low light, meaning it starts to eat at fine detail such as the frills on this… umbrella thing. But the processing style is much less ugly than some.
Here's an extreme blow-up of a tiny part of the frame, showing the almost painting-like look of the Samsung processing
The A3 has played it safe here, dimming the building to make sure the sky isn't overexposed
Here the HDR mode has brought back sky detail rather than trying to bring out foreground detail, which is quite unlike the Samsung HDR mode of a couple of years ago
An example of the exposure metering failing. This dark horse has confused the A3 into radically overexposing this shot.
Around the front sits an 8-megapixel selfie camera. It's capable of producing decent images in good light, but the way processing eats away detail in low light indicates that this isn't a high-end sensor.
SAMSUNG GALAXY A3 – BATTERY LIFE
Your experience of the Samsung Galaxy A3's battery life will depend on your habits.
The 2350mAh battery is well suited to the Samsung Galaxy A3's small screen, and when used in a way that exploits this, the Galaxy A3 lasts for some time. An hour of Netflix consumes just 5% of the battery, for example – a result so good I have to wonder whether the phone occasionally uses some 'non-linear' battery reporting tricks.
My experience with the phone has been rather more ordinary, though, since I stream a lot of audio – a task that doesn't really care for the size of your screen. The Samsung Galaxy A3 lasted a day with my normal use, but that's about it.
If you're less of a mobile data hog, you'll have a better result. If you're after the longest-lasting phone around, however, the Motorola Moto Z Play is a better bet at £200-300.
SHOULD YOU BUY THE SAMSUNG GALAXY A3?
The Samsung Galaxy A3 is a nice phone. All that glass and metal is likely to convince many that it's worth the high asking price.
If all you want is an unobtrusive, well-made handset then the Galaxy A3 is a safe bet.
However, if you're the kind to shop around, are a big gamer, or tend to read/watch a lot of content on your phone, then it's possible to get more for your money. The obvious alternative is the Lenovo Moto G5 Plus, which has a sharper screen for a lower price.
VERDICT
One of the best small phones on the market – although not a leader for value.
(trustedreviews.com, https://goo.gl/tzj7nz)
Comments
comments