Key Features
Qualcomm Snapdragon 835 CPU
8GB LPDDR4 RAM
5.72-inch IGZO LCD 1440 x 2560 120 Hz, Wide Color Gamut (WCG) Corning Gorilla Glass 3
12-megapixel AF f1.75 Wide and 12-megapixel AF f2.6 Zoom dual-lens rear camera
Stereo Front facing speakers
Nougat 7.1.1
64GB storage (microSD)
4000 mAh lithium-ion battery
Hands-on with Razer's first smartphone
Razer isn't a company that likes to be pigeon holed. Over the years it's broken out from its traditional PC peripheral roots to create everything from full-on laptops to wearables. Some of the gambles have paid off to great effect, like Razer's stellar series of gaming notebooks, but others have been outright stinkers – remember the Razer Nabu watch?
That's why you may be skeptical about this latest expansion into the phone market. After all, with former heavyweights like HTC and BlackBerry struggling, what could Razer actually bring to the table that others haven't? If you're willing to look under the slightly old-school aesthetics, quite a lot as it turns out.
Razer claims it worked to create a common look between its phone and existing laptops. Whether this is a positive or a negative will depend largely on personal taste. Some will love the phone's solid metal, black chassis and pristinely cut sides. But others, like me, will see the design as being slightly retro. I personally think it looks a little like the mongrel spawn of an HTC One and Sony Xperia.
Whatever side you fall, there's one thing you can't deny: the Razer Phone is a cutting edge handset from a hardware perspective in pretty much every way.
The metal frame features a USB-C charging port and, like many modern phones, doesn't feature a 3.5mm headphone jack. Curse you, Apple, for making my Sennheiser Momentum 2.0 useless during the morning commute without a dongle.
On the inside you'll also find all the bells and whistles you'd expect from a 2017 flagship. The Razer Phone is powered by a super-fast Qualcomm Snapdragon 835 and a quite frankly ridiculous 8GB of DDR4 RAM. It will easily blitz through everyday tasks and demanding 3D gaming, from what I've seen.
The rear camera setup – which pairs separate wide-angle and telephoto lenses with two Samsung 12-megapixel sensors – also follows the standard dual-sensor strategy that's currently in vogue.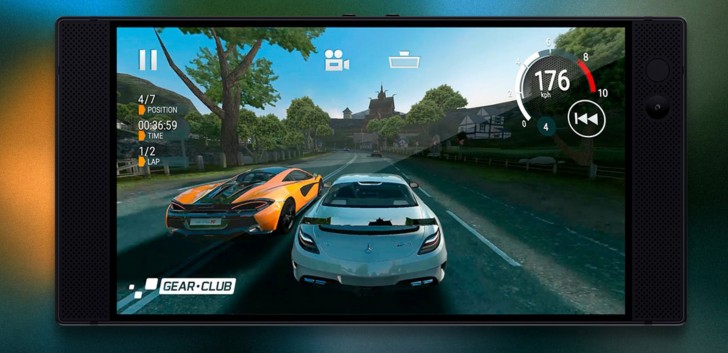 I won't be able to sensibly comment on the cameras' prowess until I manage to more thoroughly test the Razer Phone, but they worked well enough during my demo session and appeared to be no better or worse than those on most 2017 phones. Images looked fine on the small screen and appeared to be more than good enough for sharing on social media.
So far, so so-so, right? Well that's what I thought until I delved a little deeper and realised Razer's pulled a few clever tricks to bring PC gaming innovations to the mobile space. The coolest of these relate to the Razer Phone's screen, cooling and speakers.
At first glance the screen was pretty bog standard. The 5.72-inch panel's 1440 x 2560 resolution is sharp and clear, but no better than on competing handsets like the Galaxy S8. Colours appeared reasonably well balanced, albeit a little overcooked to the naked eye and blacks and whites were what I'd expect from an LCD, not AMOLED, panel.
But after a few minutes using the phone I noticed a few subtle differences. For starters, the phone felt smoother and was pleasingly free of the screen tearing issues I often experience on Android while gaming. This is because Razer's actually loaded the handset with a variable refresh rate and new custom 'Ultramotion' tech.
To non-techies, refresh rate refers to how many times a display renders an image per second. Most phones have a locked refresh rate that's capped at 60Hz (60 frames per second).
A variable refresh rate means the screen can change how many images it renders per second on the fly, depending on what it's doing. In the case of the Razer, this means the phone can optimise itself to run anywhere between 20-120Hz at any given moment. To non-PC gamers this won't mean much, but trust me it's actually a pretty cool feature with a variety of benefits.
The 120Hz max is a seriously impressive feature that, outside of the iPad Pro, is yet to appear in mobile devices. The higher refresh rate means the screen is significantly more responsive and smoother to use – by rendering more frames per second there are fewer gaps between each new animation and image. The difference is particularly noticeable in reaction-focused games, like MOBAs, where the Razer felt more responsive than the HTC U11 I had in my pocket.
The fact that it can lower its refresh rate for less demanding and slower tasks, like basic browsing, should also help conserve battery, as the screen won't be rendering new images quite so often.
Ultramotion is a nifty bit of tech that's pretty similar to Nvidia's G-Sync and AMD's FreeSync. The tech syncs the screen's dynamic refresh rate with the GPU to stop it jumping ahead and pre-rendering images early, thus causing screen tears and anomalies appearing when playing games.
This feature may not sound that sexy, but after an hour with the Razer Phone I've found every other handset I've tested since feels a little chuggy, particularly when gaming.
The same is true of the phone's audio. During the demo, the Razer's dual speakers managed to give the HTC U11 – until now was the loudest phone I've ever tested – a run for its money. This is another boon that could make the Razer a great handset for gaming.
The clever cooling system is a final perk that feels tailor made for mobile gamers. Within the phone's metal frame, you'll find cleverly optimised thermals that attach a heat pipe and two layers of thermal protection to the frame, creating a heatsink setup.
I didn't get long enough to see how well it worked under a load of different conditions, but I was amazed how cool the phone ran after over 15 minutes of playing Riptide GP2. If the Razer Phone can keep this up for prolonged periods it should be one of a select few handsets capable of avoiding CPU and GPU throttling during prolonged gaming sessions.
Opening impressions
The Razer Phone's unique hardware is impressive and means, on paper at least, that the handset should be a solid choice for mobile gamers. My only concern is that Razer's not got a whole lot of experience in mobile software – an area that can make or break any phone.
The use of Android Nougat – Android Oreo update confirmed for the new year – overlaid with Nova Launcher Premium, means the phone should be stable and generally great for everyday stuff. But I can't help but think Razer may struggle with key things like camera optimisation, an area largely defined by software. I'm also slightly sad the company didn't push its games offering a little more and pair with a big-name company to offer exclusive titles or services, like Nvidia and its Shield services, for example.
Hopefully my concerns won't amount to anything. Either way I can't help but feel the Razer Phone will be one of the most interesting phones to arrive this year and I can't wait to more thoroughly test it.
(trustedreviews.com, https://goo.gl/zLKaZA)
Comments
comments