Over the past four years, OnePlus has gained some serious momentum in the smartphone world. For better or worse, it's a company that draws the attention of technology enthusiasts.
The biggest reason for this is that, since the beginning, it's sought to bring flagship specs and performance to a phone that costs a lot less than its big-name brand competitors. Prices aren't as low as they were in the beginning, but OnePlus' commitment to delivering a powerful smartphone that's well made is still there.
Earlier this year, the OnePlus 5 wowed us with its proper, grown-up flagship experience that cost just £449. Now, just six months later, there's a new version: the OnePlus 5T. Complete with a new 18:9 screen form factor, can it continue to push OnePlus' success?
Solid simplicity
156.1 x 75 x 7.3mm; 162g
Rear fingerprint sensor
Midnight black only at launch
At a glance, from the back or the sides, the OnePlus 5T looks very similar to the OnePlus 5 that launched earlier this year. It's kept the same focus on using quality materials, designed in a way to both look good and feel great sitting in your palm.
It's a unibody aluminium build, which feels very solid, and also very slim and comfortable thanks to the curves that extend from the back, up the edges, to form that "horizon line" along the sides. Combined with the soft, slightly textured finish, it's easily one of the most pleasurable in-hand feels going in a modern smartphone.
You'll find the same arrangement of buttons and ports as the previous phone too. That means the volume rocker and the ever-useful alert switch are both on the left edge, while the power button and SIM tray are embedded in the opposite side.
As OnePlus has been keen to point out during pre-launch teasers, there is a 3.5mm jack on the bottom edge, alongside the USB-C port and the loudspeaker. So you don't have to use Bluetooth or Type-C headphones!
One thing we really like in the 5T, as with the previous model, is the Midnight Black finish. It's made up of three layers that are just 14 microns thick, and finished in such a way that it's resistant to both scratches and fingerprints, so your phone should look new for much longer than most other phones.
If there's anything you could regard as "missing" in a flagship phone of 2017, it's a water- and dust-resistance certificate. OnePlus is now one of very few high-end phone makers not to have an official IP-rated certification.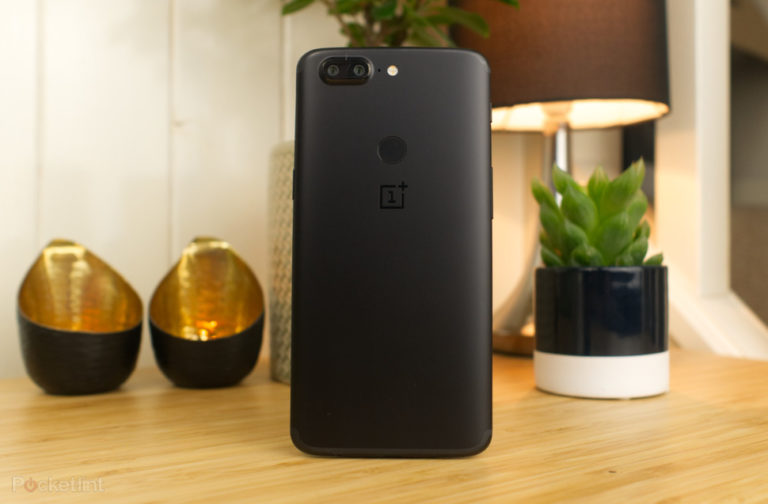 Switching to the back of the phone and you'll notice one of two major design changes in the ceramic fingerprint sensor. It's now placed within easy reach of your index finger and is finished to closely match the Midnight Black.
Of course, the fingerprint sensor moving to the back has been necessitated by the biggest change to the phone: the large 6-inch screen on the front. Now that it's an 18:9 ratio display, the bezels are much smaller and therefore can't play home to a fingerprint sensor.
If you're used to a home button on the front, it does take some getting used to having the sensor on the back. But credit where it's due: it's perfectly positioned for easy reach with an index finger. Which is great, considering you can now use gestures on it to take a photo, or swipe down to bring down the notifications and quick settings shade.
Other minor changes compared to the OnePlus 5 include the camera housing on the back, which in the 5T now has gently curved, sloping edges to make it feel more like one seamless part of the phone. And, of course, the new phone is ever-so-slightly taller and wider than its predecessor.
Big, bright, all-consuming screen
6.01-inch Optic AMOLED display
2160 x 1080 resolution
18:9 ratio
Sunlight Display feature
If there's one outstanding feature in the 5T, it's the display. It's every bit as bright, vibrant and contrast-rich as the screen on the OnePlus 5, except now it's bigger.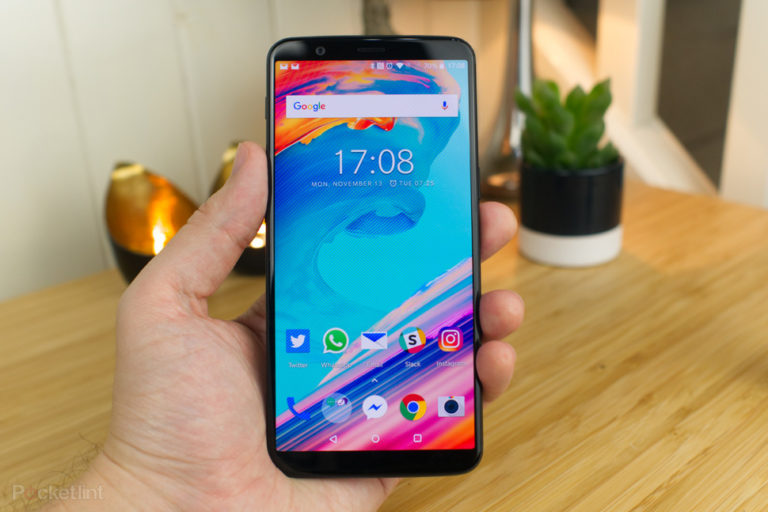 The 18:9 ratio means it dominates the front of the phone, and has very little frame on the sides, along with slim bezels on the top and bottom. It's made by Samsung, and makes most other smartphone screens look dull in comparison.
In default mode, the colours are really vibrant and saturated, but you can change the profile to a more natural calibration within the display settings menu if you'd prefer a more subdued look. You get to choose between Default, sRGB, DCI-P3, Adaptive mode and Custom colour (the last of which lets you choose the temperature yourself).
On the whole, it looks really good, although like most AMOLED screens, pinks and reds are slightly over-saturated, leaving skin tones looking more pink than they should be.
Once more, OnePlus opted for a Full HD resolution screen, which is perhaps the only criticism we have of the display. In this case, that's 2160 x 1080 pixels stretched over a 6.01-inch Optic AMOLED panel. That said, the majority of its nearest competition – from the Huawei Mate 10 Pro to the Xiaomi Mi Mix 2 – also offer identical resolution in similar panel sizes.
At arm's length details and text on the 5T look just fine. But as soon as you place the device next to a Quad HD screen, you start to notice some of the finer curves in text, the smaller details aren't quite as smooth. You can't quite see individual pixels, but the difference is just about noticeable. This is really nit-picky detail though, as on the whole it's a fantastic experience. You won't find many better screens for playing games, or watching movies on the go.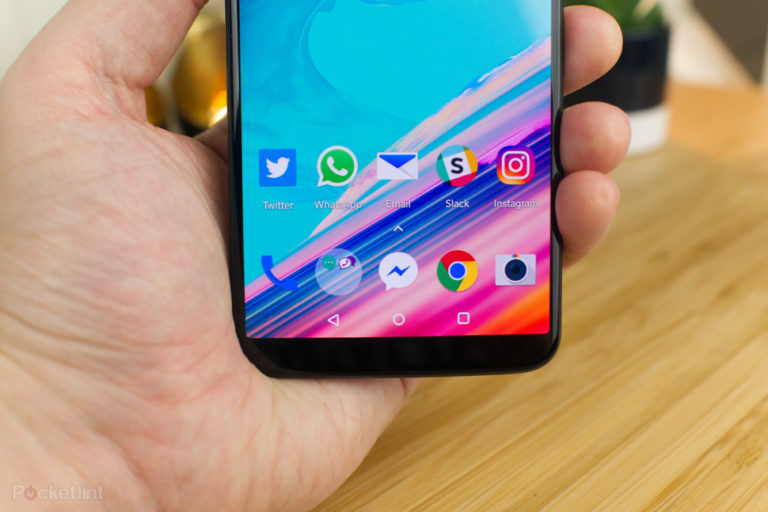 One cool new feature is the adaptive display technology, called Sunlight Display. This uses the ambient sensor to detect when you're in bright light, and then boosts the screen's contrast when you're gaming, using the camera or flicking through your photo gallery. With it being November in the UK, few opportunities arose to get to see this feature in action, but we did spot our photos in the gallery adjust when looking outdoors in daylight to become brighter, and more visible. We can't wait to see what it's like in the height of summer.
All things considered, the OnePlus 5T offers a wonderful panel for media consumption. Filling it up with near-2:1 ratio Netflix Originals is brilliant, although we'd love to see the panel equipped with HDR capabilities like some of the more expensive flagships. The fact that it takes over the entire front of the phone just makes it that much more immersive and enjoyable.
OxygenOS gets some new tricks
OxygenOS 4.7
Android Nougat-based platform
Parallel apps and Gallery Map added
Audio: aptX and aptX HD compatible
OnePlus fans will be pleased to know the company is sticking with its philosophy of using a relatively clean software experience . In many ways it feels as pure and light as stock Android Nougat – you can change the size and style of the app icons on the home screen, as well as choose the layout for them, for example – with a few minor tweaks and a lot of customisation options.
One of the new features is parallel apps, which allows you make a copy of each of your apps, but use different accounts for each "clone" (similar to Huawei's App Twin approach in its EMUI software). Currently, OnePlus only offers a handful of apps that support this feature, and it's mostly limited to messaging or social networking apps. As an example, you can activate the feature on Facebook, Instagram, Skype, Twitter and WhatsApp. If you have both work and personal accounts, for example, this can be tremendously useful for dual SIM users.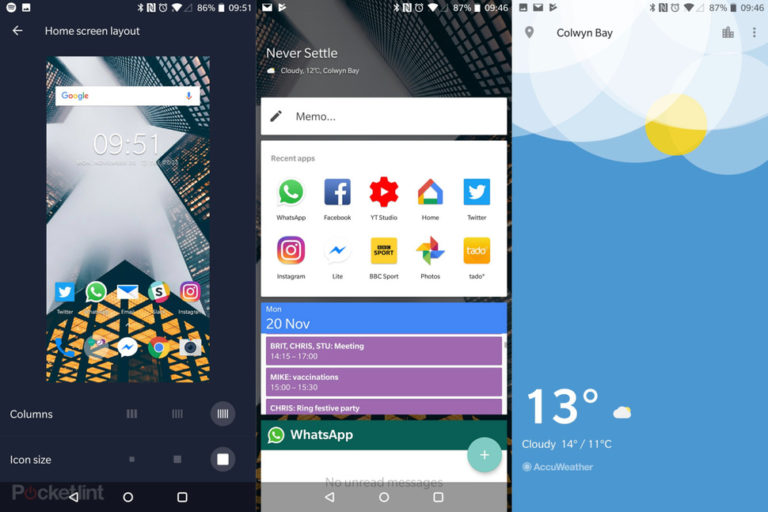 With that big screen, and the absence of capacitive back, home and recent apps control buttons, there's more customisation for the virtual onscreen keys. You can choose to have the row of buttons hidden and swipe them up onscreen from the bottom edge, or have them permanently on screen. As usual, you can also swap the recent apps and back buttons around depending on your preference.
The camera app is another area where you'll find new features. Rather, the entire interface has been redesigned to make it easier to get to the important things. You can swipe up from the bottom to switch shooting modes, or swipe left or right to switch between photo, video and portrait mode in double-quick time.
As a side note, it's worth noting that the OnePlus 5 is equipped with Bluetooth 5.0 technology, and is compatible with both aptX and aptX HD to ensure you get the best quality wireless music possible, when used with a compatible set of earphones.
Power for days
Snapdragon 835 processor
6GB or 8GB RAM
64GB or 128GB storage
Dual SIM (no microSD slot)
In the hardware and performance spec list, all is as it was in the OnePlus 5. Inside, there's a Snapdragon 835 processor alongside either 6GB or 8GB RAM, depending on whether you pick the 64GB or 128GB storage option.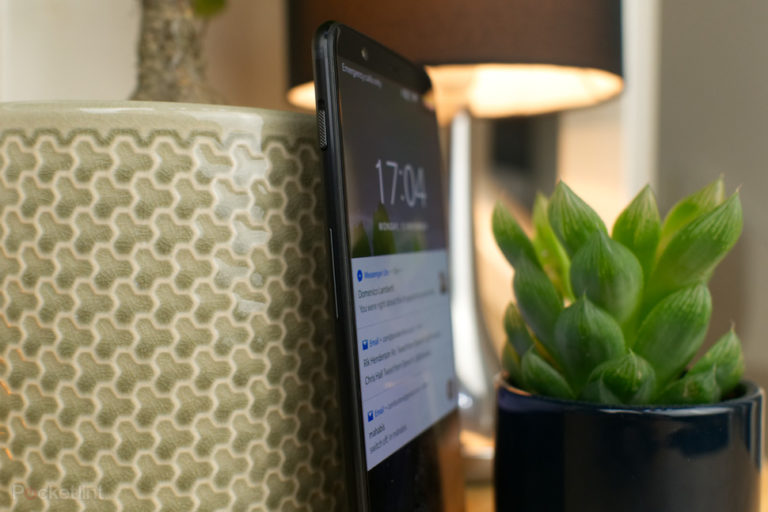 In daily use, the OnePlus feels just as good as a flagship, as it's among one of the fastest smartphones around. General interactions are smooth and stutter-free, while games load as fast as they do on the best phones around. Even some of the more graphically more demanding games didn't trouble the phone in the slightest.
One thing you might notice on the downside, however, is the responsiveness of the touchscreen. It's not that it's unresponsive, but rather that it has the unusual "jelly" effect when scrolling – which we've seen on quite a few Android phones. In other words, start with your finger in one place, drag down or up and eventually it follows at the same speed, it just gets there gradually, creating a wobbly effect if you scroll up and down really quickly. Which you're unlikely to do that often.
Dashing battery
3,300mAh battery
Dash Charge for fast-charging
To keep it going all day, the OnePlus 5T has the same 3,300mAh battery as found in the OnePlus 5. Despite having a larger screen and more pixels than the OnePlus 5, the 5T has proven quite capable of making it through a full day on a single charge with moderate use.
With a smartwatch connected, most days we got to roughly 11pm with around 30 per cent battery remaining. Each day is different, of course. On some of our lighter use days it managed to finish the day with 45 per cent.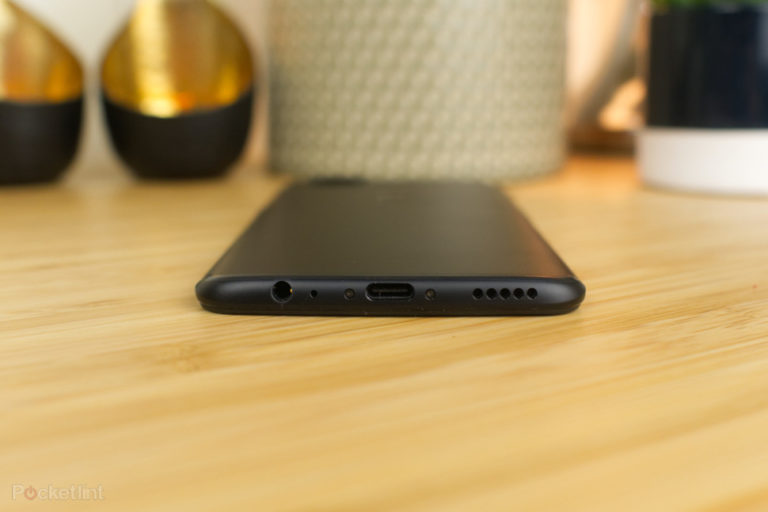 Still, with Dash Charge available, battery levels running low is hardly an issue. OnePlus' fast-charging technology is a fantastic feature and can top your phone up from zero to around 70 per cent in just 30 minutes. Or, as the company's slogan goes" "a day's power in half an hour".
We can't reiterate enough how marvellous Dash Charge is. It's a true life-saver when you're in a rush. Plug it in for just 10-15 minutes on your way out and it'll last you three to four more hours. It's fantastic.
Facial recognition and dual camera fun
Dual 16MP + 20MP camera system
f/1.7 on both cameras
Face Unlock feature on 16MP front camera
Like the previous model, the OnePlus 5T has a dual camera system, comprising one 16-megapixel sensor and one 20-megapixel sensor. This time out, however, the more pixel-packed sensor is paired with the same f/1.7 aperture lens for improved low-light performance. Confusingly, however, there's no difference in focal length between the two lenses – i.e. they both have the same view onto the world and are present for depth detection for portrait shots.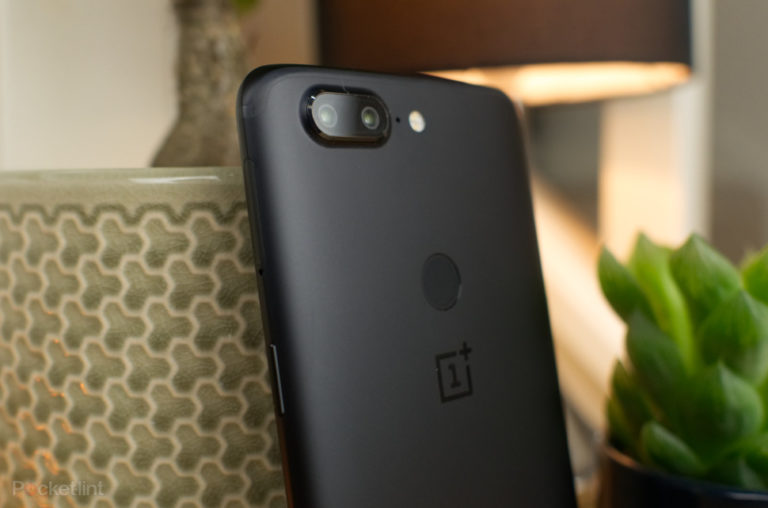 The secondary camera is activated automatically in low-light situations when the phone thinks a higher resolution is required (we're still trying to suss out exactly why it does this, as more resolution in low-light is rarely a benefit). OnePlus has also brought back the "Intelligent Pixel" feature which is supposed to analyse pixels in low-light photos to improve sharpness and remove image noise, giving much better results.
The end results are decent enough. Photos in daylight come out with a nice balance of natural colours and detail.
With that said, the experience of using the camera hasn't been the same as using a really high-end flagship like the Samsung Galaxy S8, Google Pixel 2 or Apple iPhone X. In some ways, it still feels like OnePlus needs to catch up here if it's really going to be a flagship "killer".
Just sticking with shooting in automatic mode, the 5T sometimes takes a fraction more time to focus, and sometimes when shot, the photo came out a little blurry due to hand or object movement. Whereas the likes of the S8, Pixel 2 and iPhone take great pictures, instantly and with little effort, we find the OnePlus made us concentrate a that little bit extra.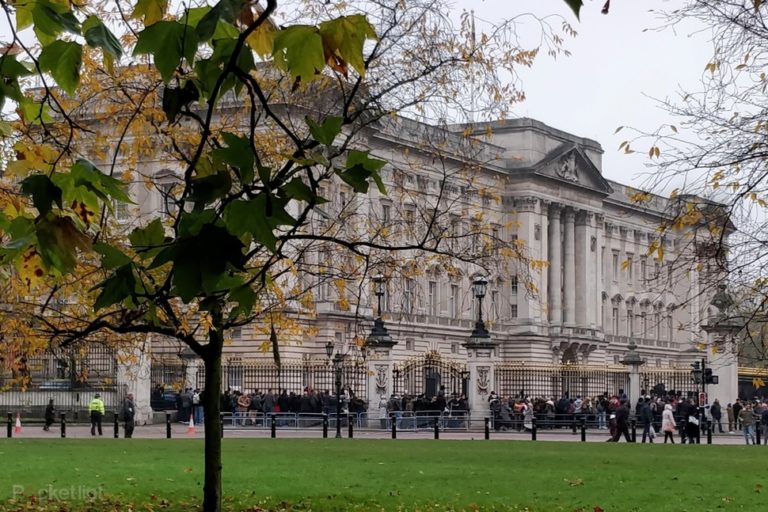 Similarly, at first glance, low-light photos look good. There's not too much image noise, and details look good… until you zoom in. At 100 per cent scale, the details then start to look "spongy".
For those who like manual control and higher quality images, and more freedom to edit afterwards, there is a Pro shooting mode and the ability to shoot raw files. Pro mode lets you opt to manually change the focus area, ISO sensitivity, white balance, shutter speed and exposure compensation. It's possible to get some smooth, warm lit still scenes using just a single candle and a 10-second long exposure if you're willing to take the time.
As for the front camera, that's as densely packed with pixels as the primary camera on the back, except this time it has a super-power: using the camera, the phone is able to recognise faces and unlock using a feature called Face Unlock.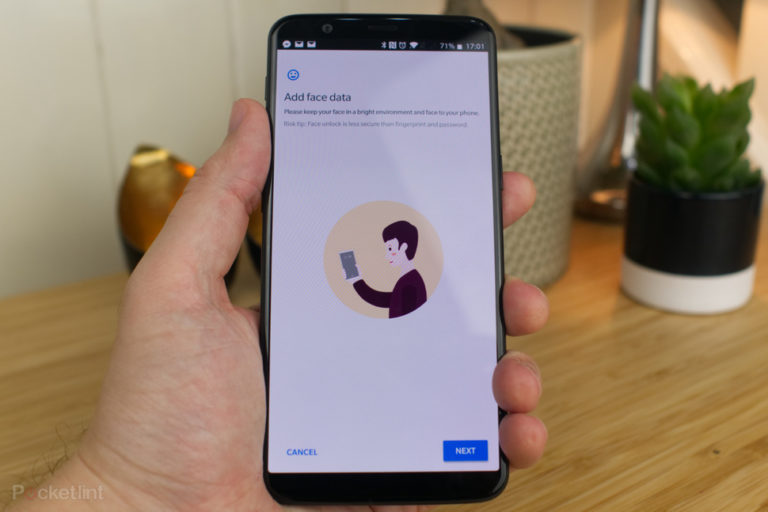 Using 100 different data points, it's able to tell whether the person looking at the phone is the user or not. It's not as secure or fast as the fingerprint scanner, but it's convenient and apparently can't be fooled by pictures, unless they're life-size. This method isn't the most secure available right now, which goes to Apple's FaceID. Still, we rather like that it's included, as it unlocks within the blink of an eye.
Verdict
Being hyper-critical, there are still a couple of areas that need improving if the OnePlus 5T is going to be a genuine killer of flagship phones. It would be nice if the camera offered that "instantly brilliant" automatic performance of the Samsung Galaxy, Apple iPhone and Google Pixel phones of this world, and waterproofing would be a useful addition too.
As an overall package, however, even ignoring the relatively low price, the OnePlus 5T offers a fantastic all-round experience. It's one of the nicest to hold, it's got a sturdy and solid build, that 18:9 aspect ratio screen looks brilliant, the battery lasts all day, while the performance and software are slick, clean and customisable.
The OnePlus 5T has no major flaws. And it still costs considerably less than its direct competition. Simply put: for £450/$594 you're unlikely to find anything close to the OnePlus 5T. It's brilliant.
Alternatives to consider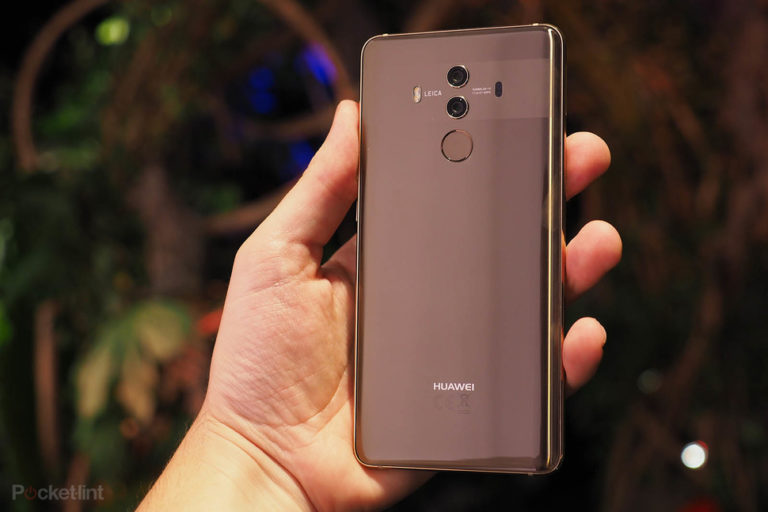 Huawei Mate 10 Pro
Like the OnePlus 5T, the Mate 10 Pro is blessed with a huge display with narrow bezels. It also happens to be one of the most beautiful phones launched in recent memory, and is equipped with a great camera system, huge battery and lots of power. It is more expensive though.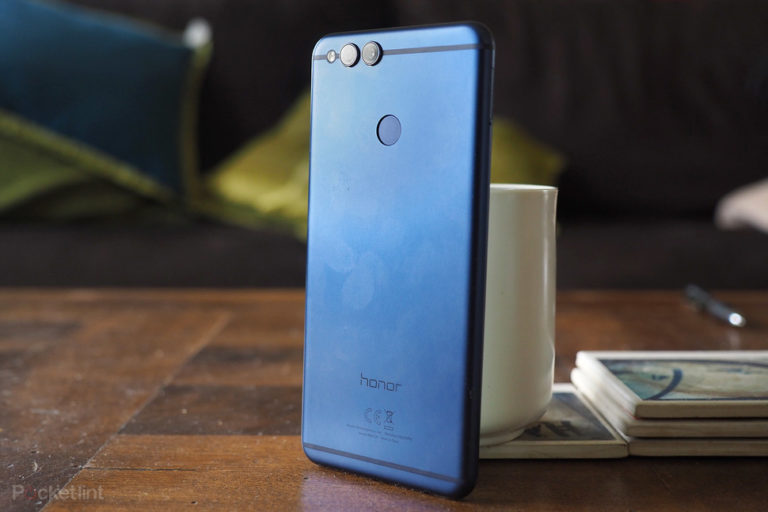 Honor 7X
If you're after the 18:9 display goodness with minimal bezel, but OnePlus' latest phone is a tad too expensive still, the Honor 7X makes a good case for itself. It's expected to come in under £300/$396 when it goes on sale and has that long screen, plenty of power and looks good too.
(pocket-lint.com, https://goo.gl/b1p6UD)
Comments
comments