You often hear the age-old rhetoric that China is taking over the world, and nowhere is that more clear than in the smartphone market. Companies like Huawei, Oppo and Vivo are now in the top five global smartphone vendors.
One company you may not be aware of is Meizu. Like Xiaomi – another popular Chinese smartphone maker – it's known for producing great quality hardware at relatively affordable prices.
The Meizu Pro 6 Plus is the company's biggest and best phone, and still costs considerably less than an iPhone 7 Plus, Pixel XL or Galaxy S7 Edge. But, is it a great phone? We've gone hands on with it to see just how good this flagship challenger is.
Meizu Pro 6 Plus preview: Design
155.6 x 77.3 x 7.3mm
158g in weight
All metal chassis with curved edges
Like so many other Chinese Android phones, the design is immediately familiar. But then again, when it comes to premium phones, the current choices for staying on trend are limited. You can either use an all-metal back and be forced to have antenna bands running along it (like the iPhone), or go with glass (like a Samsung Galaxy).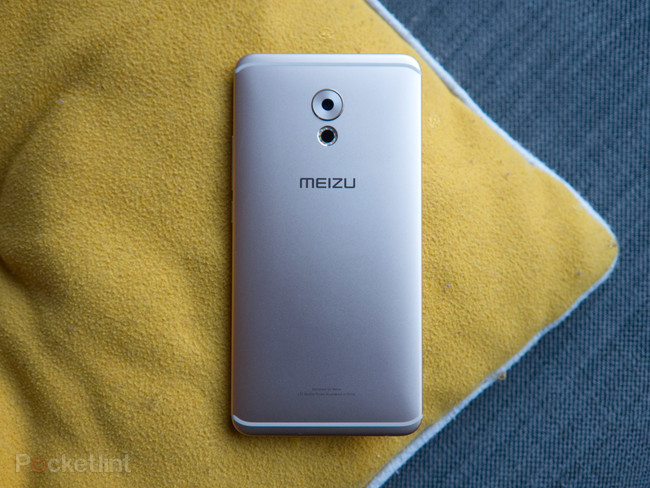 On the whole, Meizu has built a phone that's both attractive to look at, and pleasant to hold in the hand. In many ways, it reminds us of the similarly designed and sized Oppo F1 plus.
The metal back panel is anodised – our review unit in gold, but other colours are available – and has antenna bands at the top and bottom. They're not your typical completely straight bands though, they curved to match the curves of the phone's edges.
The camera sits near the top, placed centrally above an unusual LED flash ring that's made up of multiple dual-tone LED lights which surrounds the laser focus sensor.
On the front, there's a single pill-shaped home button which also acts as the fingerprint scanner. Unusually, there are no capacitive buttons joining the home button, and there are no typical home, back or multitasking virtual buttons on the screen either.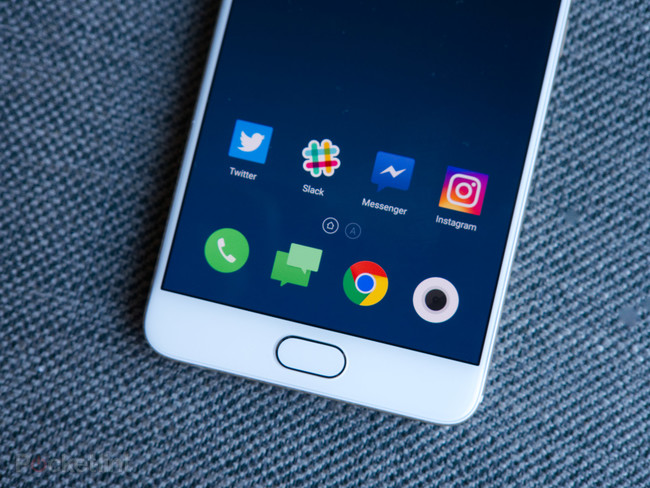 As far as other ports, switches and buttons go, they're in the places you'd expect to find them. The bottom edge features the Type-C port, the loudspeaker grille and the 3.5mm jack. The top edge has nothing except the noise cancelling microphone, while the power button and volume rocker live on the right side of the phone, and the dual SIM tray lives on the left edge.
Meizu Pro 6 Plus preview: All the pixels
5.7-inch Quad HD display
Super AMOLED 1000:1 contrast ratio
3D touch-like technology
As smartphone screens go, the 5.7-inch display on the Meizu Pro 6 Plus is definitely at the larger end of the scale. And it's looking at it we get our first hint that Meizu really is going after flagship territory with this beast.
It's a Quad HD 2560 x 1440 resolution panel built using Super AMOLED technology similar to Samsung's best phones. As well as being big, bright and colourful, the screen boasts a 1000:1 contrast ratio, meaning those blacks look really inky and dark and combine well with the bright saturated colours.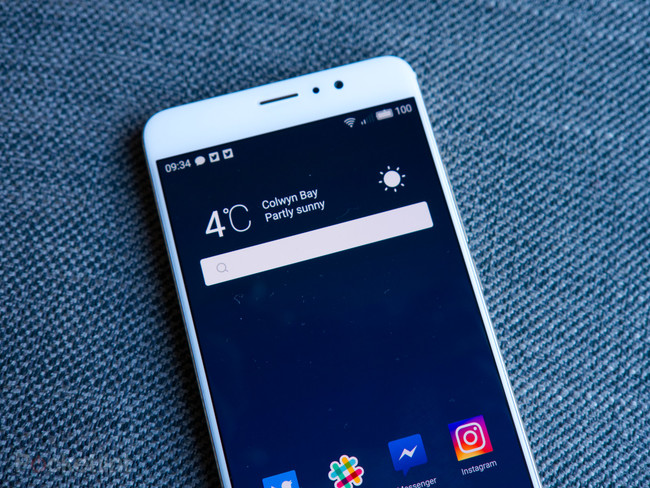 As a bonus, Meizu built in a pressure sensitive layer into the screen to enable 3D Touch-like features, giving you the option to press hard on app icons to bring up bespoke quick actions. In a lot of ways, this is similar to the latest iPhones; giving you the ability to send a quick text from the messages icon, or create a new contact from the dialler icon, among others.
Meizu Pro 6 Plus preview: Exynos inside
Exynos 8890 processor
4GB RAM
USB 3.1 support
3,400 mAh battery with Quick Charge 3.0
Depending on whether you buy the 64GB or 128GB version you'll get different internal specifications. For instance, while both come with 4GB RAM, the lower storage model's Exynos 8890 processor is clocked at a slightly lower speed to the more capacious 128GB version. Likewise, the higher storage model has a slightly more powerful graphics processing unit (GPU) too.
Regardless of which one you end up going with, Samsung's Exynos 8890 processor inside is one of the most powerful and fastest chips available on the market. In fact, this is the same chip that powers the Samsung Galaxy S7 and S7 Edge. In short: It's no slouch.
Providing the audio chops is a DAC capable of producing 32-bit/192kHz audio which is designed to produce great sounding music without consuming a lot of power.
Backing all of this processing power is a 3,400mAh battery, which should certainly be enough juice to get you through a full day without issue. Meizu also claims that its battery is long lasting, and can survive up to twice as long as regular batteries, and has a lifetime of over 900 cycles.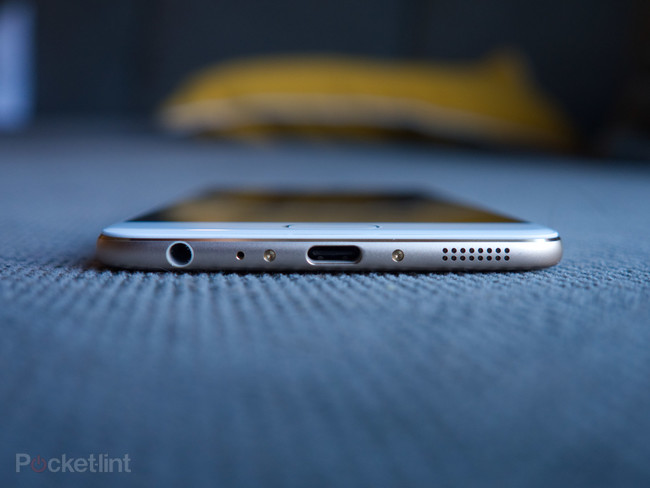 Once it depletes, the Quick Charge 3.0 enabled power adapter can fill it up again speedily. Its USB cable has been designed specifically to deal with high wattage power transfer up to 60W (MacBook charger territory). The phone has short circuit protection to ensure the phone doesn't overheat or short circuit, as an additional security measure.
As well as all that, it's worth mentioning that the phone supports USB 3.1 via a Type-C port giving you data transfer speeds up to 5Gbps. Matching that speediness, the fingerprint sensor on the front is claimed to be one of the fastest out there, and our initial testing does nothing to dispel those claims. The phone unlocks within the blink of an eye.
Meizu Pro 6 Plus preview: Flyme to the moon
Flyme 5.2 software
Runs on Android 6.0 Marshmallow
No Google Play services out of box
As is the case for most Chinese smartphone manufacturers, Meizu's big flagship phone runs a heavily skinned custom version of Android called Flyme. It's version 5.2 currently, which uses Android 6.0 Marshmallow as its foundation, but you wouldn't know it from looking at it.
Some basic core elements of Android just aren't there initially. For instance, there are no onscreen virtual home, back or multitasking buttons despite the fact that there aren't any capacitive ones. Instead, to go back you have to swipe from right to left on the home button, and to launch the multitasking screen you have to swipe upwards from the bottom of the display.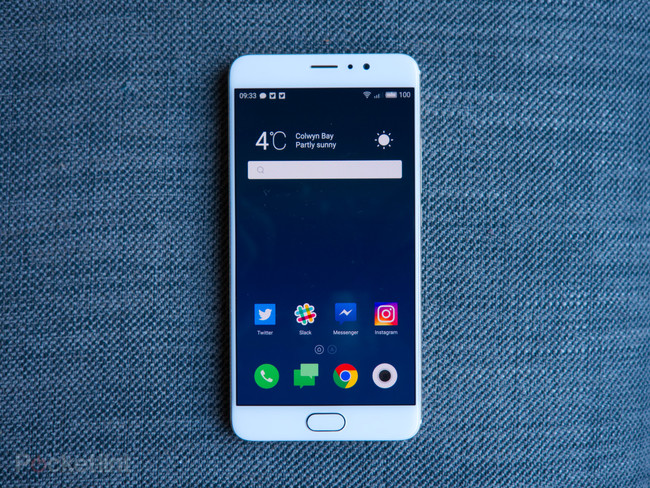 It also doesn't ship with Google staple apps and services, so there's no Play Store, Google Maps or anything else. However, there is a way to manually install them by downloading the Google Installer APK. You can do this from the preinstalled "app store", or by using other unofficial sources, like APKMirror. Once we got that installed, we were able to download and install all of our favourite and most-used apps.
As you'd expect, there's also no app drawer, which means all of your apps live on the home screen. That means either arranging everything into folders, or just downloading a third party launcher for a more traditional Android look and feel.
Meizu Pro 6 Plus preview: Camera happy
12MP Sony sensor
10 LED flash ring
4-axis OIS
The Pro 6 Plus' flagship claims are bolstered even further by its camera specifications. Images are captured by a 12-megapixel Sony sensor with large 1.25μm pixels to produce great shots in low light conditions. Combine that with the 4-axis optical image stabilisation, f/2.0 aperture and 6 element lens, and you should see great results, and you should be able to snap them quickly thanks to the laser-guided autofocus.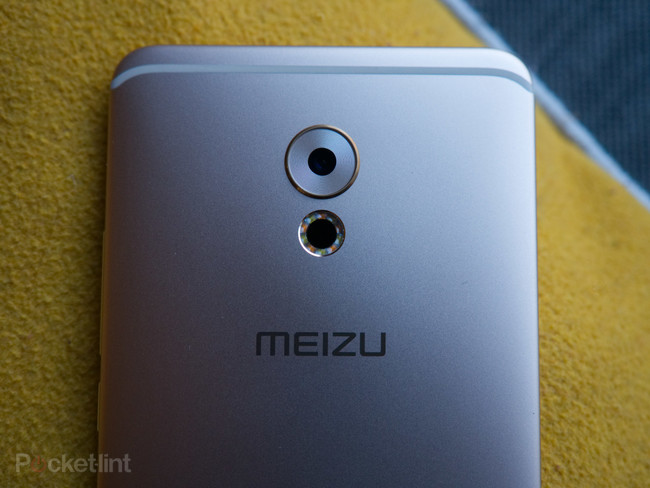 Meizu also built in what it calls the "latest generation high-performance ISP image processor", and paired the camera with a unique dual tone flash ring made up of 10 individual LEDs. In other words, you should be able to shoot smooth, noise and blur-free shots with great colour regardless of the lighting conditions.
First Impressions
Our initial impressions of the Meizu Pro 6 Plus are good. We're impressed virtually all the hardware, it has everything it needs to challenge the best phones on the market, and at a price which is significantly lower.
The biggest concern, and greatest stumbling block to any potential customers, is the lack of standard Android services. Not having a Play Store by default will put of regular buyers. And while it's not overly difficult to install the APKs required to get those essential services, the fact they're not available from official sources makes it difficult to recommend. That and the fact you can't buy the phone from an established UK retailer. You can however import them through sites like Gearbest for £550/$825.
(pocket-lint.com, https://goo.gl/O80MU0)
Comments
comments