American Psychiatric Association has already confirmed that taking selfies is a mental disorder. It even has got a special term – 'selfitis'. But I am not going to teach you what you have to do or not. Instead I am going to introduce you another great device designed for those who like this occupation.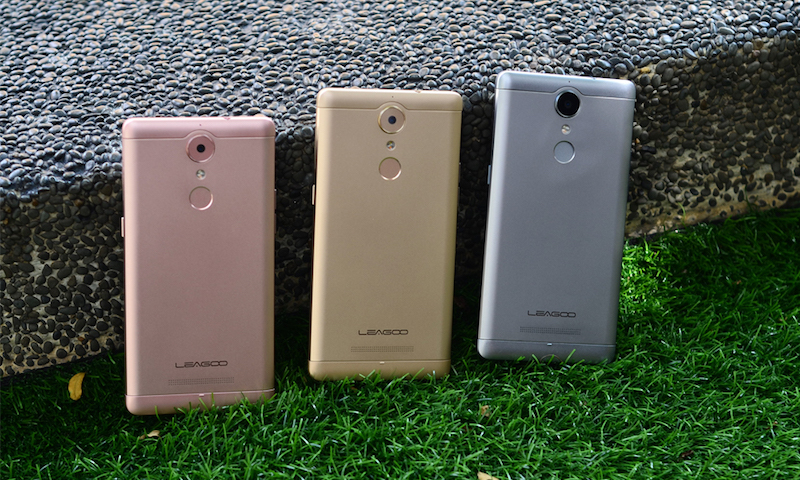 We have already met selfie-centric smartphones such as iNew Pandora R9 that is known as the main rival to the Oppo R9. But probably, the best selfie-focused smartphone is the Oppo R9S that comes with a 16MP front camera with f/1.7 aperture. But this model is not a competitor to them – the Leagoo T1 is more known as a rival to the Oppo F1 – another great device for the same market.
Well, we have reviewed the Leagoo T1 Plus a few weeks back, and found out it's a pretty nice phablet at an affordable price tag. So it's expected to see similar features this model as well. Besides the selfie-centric nature of the Leagoo T1 there are many attractive specs that have turned into selling points for it. So let's meet them to understand whether this handset is worth the price tag it is sold at,though I have to say it costs too less.
Leagoo T1 Appearance
First thing we have to mention is that the Leagoo T1 is a mid-range handset, but some of its features are seen mainly on high-end models. For example, you will have some difficulties when looking for a mid-range smartphone made of metal. But as I say the Leagoo T1 will sport some features inherited from top-end models and the housing is the case. It is made of metal, and there are also two plastic parts on the top and bottom sides of pack panel for better antenna signal.
Next, the Leagoo T1 has refused all kinds of physical buttons on screen. Moreover, it has placed the touch buttons on screen unlike many Chinese smartphone makers that put them below the screen to save some area. But the UI of Leagoo T1 allows it hide them when they are not used and bring them back just swiping from down to up on home screen. Thus the standard three buttons (+ one for those, who want to use it with one hand) won't grab any area of your phone.
Well, the phone sports a 5-inch capacitive IPS touchscreen at resolution of 1280 x 720 pixels (294ppi) and made of OGS technology that means it is a regular smartphone and we can't think of it as a phablet. So when comparing it to other phones, be careful to get a smartphone not a phablet. As for OGS technology, we have already seen it on such devices as the Elephone S1 and Doogee Homtom HT6. So thanks to it an additional air gap is between the display and the touchscreen, which affects the better saturation and sensitivity as well as lighter weight (143 grams).
Generally, the Leagoo T1 is very light when holding in hand, and it has no common things with the Leagoo M5 launched recently that weighs 179 grams. The screen is also packed with a 2.5D glass, and the edges are bit curved, though this phone cannot be put into the category of curved-edge screen phones. Plus, it is protected with Gorilla Glass 4 technology, which means we are dealing with a scratch resistant display. Want more? Well, the screen is also have an oleophobic coating, therefore it won't keep fingerprints or water on it. The upper right side of the front are located a 5MP camera, a proximity sensor, a speaker, and a flash light to take clearer selfies in low light conditions.
The back of the phone comes with an 8MP camera that can be interpolated up to 13MP. It is provided by Samsung, so you can be sure the interpolation won't affect the quality of photos much. There is an additional noise cancellation microphone above the camera module, a two-tone flash below it, and a fingerprint scanner. The bottom side of back panel carries a brand logo and a speaker grille. The right side carries a unlock button and a SIM card slot. The volume rocker is on the left side. A micro USB port and a microphone are on the bottom side, while the 3.5mm audio jack is on the top.
As I said, the Leagoo T1 housing is made of metal not taking into account two plastic parts, and the frame is also made of metal. This give a feeling of a high-end smartphone when handling. Moreover, thanks to rounded edges it doesn't make any inconvenience when using the phone. Thus the ergonomics of the Leagoo T1 is just great. The overall build quality is great, and no one will complain on it. But as the phone is very thick 7.5mm, the battery is not that large. And finally, the Leagoo T1 comes in three color to choose from – Champagne Gold, Rose Gold and Titanium Grey.
Leagoo T1 Performance
This handset comes with a MediaTek MT6737 quad-core processor clocked at 1.3GHz. It is paired with a 2GB of RAM, ARM Mali-T720 GPU, and 16GB of ROM, which can be expanded up to 128GB via microSD card slot. This CPU is 20-30% faster than its previous version and it also provides up to 25% of power saving. Obviously, this is not the fastest SoC we have ever seen, but it works smoothly, there are no lags and the phone doesn't hang ever.
leagoo-t1-storage
The Leagoo T1 was tested via different benchmark tests and it showed respectable scores. First, it was out into AnTuTu Video Tester 3.0, and the Leagoo T1 showed it fully supports 11 items, partially supports 7 items and doesn't support 12 items scoring 524 points.
Moreover, the phone was tested for heating after gaming, and it has had a 37.1 degrees C on the upper side, while the lower side has had 36.5 degrees C temperature.
Well, after different tests we decided to test it via benchmarks, and surprisingly it scored around 29700 points (there were more than one tests, and it scored 29708 and 29956).
The Leagoo T1 was tested even via GeekBench 3, and the Leagoo T1 scored 596 points in single-core test and 1672 points in multi-core test as well.
As for the battery, the Leagoo T1 is packed with a 2400mAh battery, which is a bit disappointing. But as I said above, the manufacturer has had to choose between the thickness and battery capacity, and it preferred the phone to be thicker rather than the battery to be larger. But do not hurry to make assumptions, because we have also tested the battery and the charging/drainage time.
First, the battery on the Leagoo T1 charges very fast, and though there are not special software for it, it took only 2 hours to charge fully.
leagoo-t1 charging
On the other hand, the battery drained fully after 6 hours of continues YouTube video playing on WiFi.
The Leagoo T1 was also tested for chatting, web browsing, downloads and installs and it was able to serve us about 5 hours. For example, the same Leagoo T1 lasted 4 hours and 6 hours for video playing and typical use test, respectively.
Well, we also managed to understand the battery comes at smaller capacity, but it can serve owners for a long time. Thanks to Ultra Power Saving Mode you can disable many processes running on the background and save up to 30% of power.
leagoo-t1-power-saver
Leagoo T1 Connectivity
I don't know how strange it can sound, but the Leagoo T1 comes with 4G LTE support. Thus besides the 2G (GSM: 850/900/1800/1900) and 3G (WCDMA: 900/2100) networks it faces no problems even on 4G frequencies (800/900/1800/2100/2600MHz). So you can use the Leagoo T1 worldwide via 2G network, and UK/Euro/Asia via 3G/4G.
The Leagoo T1 also comes with dual-SIM card support, Bluetooth 4.0, OTG micro USB interface, fingerprint scanner that can unlock the phone or launch an app in just 0.19 seconds (360 degrees of recognition angle and 508 of recognition resolution), WiFi and GPS.
leagoo-t1-gps-test
Leagoo T1 Cameras
Finally, we've got to cameras. At the beginning of the review, I said many think the Leagoo T1 is competing with the Oppo F1, which is another selfie-centric smartphone. Before we start learning the key features of its camera, seems the Leagoo T1 I capable of taking great photos, but it has no chances against the abovementioned phone. The Oppo F1 is packed with an 8MP front camera at f/2.0 aperture, 1/4″ sensor size and it can record videos at 1080p. On the back this device carries a 13MP camera at f/2.2 aperutre, LED flash and can record videos at 1080p as well. But everything is not as bad as you can think.
The Leagoo T1 sports an 8MP camera from Samsung that can be interpolated to 13MP. But this is not the main characteristic of this camera module. The back camera is accompanied with a dual-tone LED flash and an f/2.2 aperture. Moreover, the Leagoo T1 camera supports many features like V Gesture Capture, Smile Capture and Voice Capture. The sample photos below show the Leagoo T1 is really great when taking macro captures in day light, and though we haven't provided low-light condition photos, it is great even there.
As for the front, the phone is powered with a 5MP camera interpolated to 8MP. It comes with an f/2.2 aperture lens and a Highlight Smart Flash light. Thus you can capture clearer selfies in dark conditions.
Seems the Leagoo T1 yields its competitor, but it's not so. This phone comes with many apps and software enhancements that make the capturing process fun. For example, the Leagoo T1 supports Screen Flash that turns the screen into a camera flash. Second, you can use the fingerprint scanner not only to unlock the phone but also to get selfies. Lastly, the phone comes with Beautify 4.0 app, which allows users to use different effects to make a photo better and nicer.
Leagoo OS 2.0
The Leagoo T1 runs on Android 6.0.4 Marshmallow and Leagoo OS 2.0 based on Google's operating system. This means you are able to download anything you want from Play Store as well as use tons of features available via the custom UI. The phone supports different gestures, say you can double tap to unlock the phone, or you can write any letter you want without touching the screen and the phone will launch the corresponding app. You can also change the layout of standard buttons from the settings. One more interesting feature of this UI is related with swiping – two-finger swiping changes the wallpaper, while the three-finger swiping captures screenshot. And finally, the phone supports Dual Tag feature meaning the phone allows users to create and access two social media channels simultaneously.
The Bottom Line
The Leagoo T1 has been considered to be an actual competitor to the Oppo F1. But this handset can compete with many other devices as well. I guess the key feature of this smartphone is not the screen, metal housing, great custom UI or cameras – the Leagoo T1's selling points is how the manufacturer could get maximum from existing hardware and software combination. Moreover, the phone is priced only at $108, which means you will acquire a premium looking smartphone with many acceptable features.
(xiaomitoday.com, https://goo.gl/nzbH7K)
Comments
comments