iPhone 8 vs iPhone 7: Should you upgrade?
If you were expecting Apple to replace the iPhone 7 with the iPhone 7S, then think again. At a special event in Cupertino, Apple has just unveiled the iPhone 8 and iPhone 8 Plus, the successors to last year's iPhone 7 and 7 Plus.
Should you be getting your wallet ready to upgrade? Let's take a look at what Apple has added this year.
| | | | |
| --- | --- | --- | --- |
| | | | |
| | iPhone 8 | iPhone 7 | |
| Screen | 4.7-inch LCD | 4.7-inch LCD | |
| Display | 1334×750 (326ppi) | | |
| Aspect ratio | 16:9 | 16:9 | |
| Rear camera | 12MP, f/1.8, OIS | 12MP, f/1.8, OIS | |
| Front camera | 7MP, f/2.2 | 7MP, f/2.2 | |
| Chipset | Apple A11 Bionic | | |
| RAM | Not stated | 2GB | |
| Storage | 64/256GB | | |
| Battery | Not stated | 1960 mAh | |
| Waterproof? | IP67 | IP67 | |
| Fingerprint scanner? | Yes | Yes | |
| Face/Iris scanner? | No | No | |
| Headphone jack? | No | No | |
| Data port | Lightning | Lightning | |
| Wireless charging? | Qi | No | |
| MicroSD slot? | No | No | |
| Dimensions | 67.3×138.4×7.3mm | | |
| Weight | 148g | 138g | |
iPhone 7 vs iPhone 8 Design: What's the difference?
Apple played it safe with the iPhone 7 last year, deciding to keep the overall form-factor and size the same as both the iPhone 6S and 6. And again this time around there isn't a whole lot different – all the big changes seem to have gone into the iPhone X. Instead, the iPhone 8 looks very familiar. It has rounded sides and a Touch ID button below the display.
The biggest visible difference is the glass back, which replaces the 7000-series aluminium used in the iPhone 7. Apple has switched to glass so it can implement wireless charging into these new phones.
Apple introduced an IP67 water-resistance rating with the iPhone 7, and it's good to see that that's still here, but the iPhone and iPhone 8 Plus still both lack a headphone jack. To combat this Apple includes both a Lightning-to-3.5mm dongle and a pair of Lightning EarPods in the box.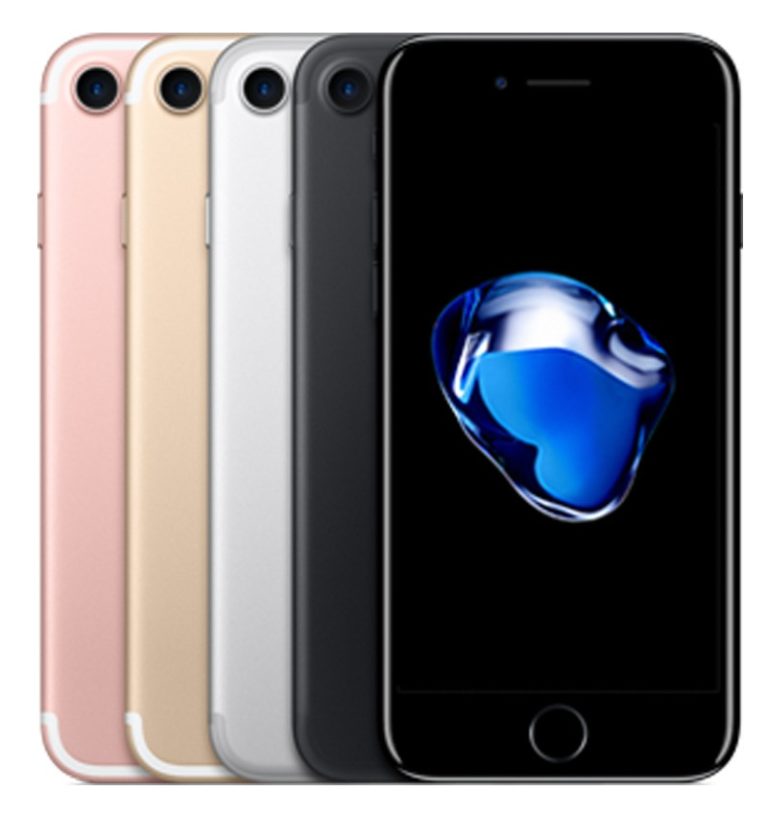 iPhone 7 vs iPhone 8 Specs: Which phone is more powerful?
Apple's iPhone 7 and 7 Plus were, predictably, the fastest iPhones ever, thanks to the A10 Fusion quad-core CPU, 2/3GB RAM and a six-core GPU. They were, and still are, some of the fastest and smoothest phones out there, easily running any app or game in the App Store.
Inside the iPhone 8, there's an A11 Bionic chip, which is built using the same 10nm manufacturing process as the Qualcomm Snapdragon 835, for improved operational efficiency, but we don't know how much RAM the iPhone 8 has yet. Apple says the Bionic is 25% faster than the A10, and it has the first Apple-designed GPU that's built especially for Metal 2.
In terms of display, the iPhone 8 is very similar to the iPhone 7. Both are available with 4.7-inch and 5.5-inch IPS LCD panels with a Retina resolution. If you're after something a little different, the iPhone X has a near-bezel-free OLED display.
The iPhone 7's 12-megapixel f/1.8 camera was good, but it was quickly surpassed by the Google Pixel and then the Galaxy S8 and HTC U11. For the iPhone 8, Apple has seemingly made a bevy of small changes across the board. It's still 12MP f/1.8 on the regular iPhone 8, and there's a dual-sensor 12MP camera on the Plus, but it now has better pixel processing, faster autofocus and hardware noise reduction.
The iPhone 8 Plus has a new Portrait Lighting mode that'll launch in beta, and this adds a so-called 'professional lighting' look to your pictures.
When we reviewed the iPhone 7 our biggest criticism was the poor battery life. We struggled to make it past the end of the working day without reaching for the Lightning cable. The 7 Plus didn't have the same problems, thankfully.
According to the stats on Apple's website, battery performance is exactly the same this time around, but perhaps the new chip will improve things slightly. We'll have to wait and see.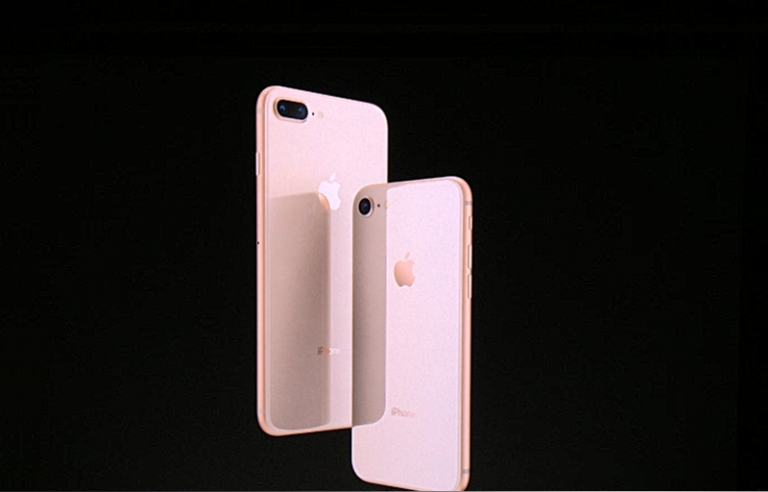 iPhone 7 vs iPhone 8 Price: Which phone offers better value for money?
When it first went on sale in late 2016, the iPhone 7 started off at £599 for 32GB of storage and £699 for 128GB. If you wanted the bigger iPhone 7 Plus then you'd be splurging £699 for the 32GB and £799 for the bigger 128GB model.
The iPhone 8 kicks off at $699 for 32GB and $799 for 128GB. While the iPhone 8 Plus starts at $799 for 64GB and $899 for 128GB. We'll update this with UK pricing when we know it.
iPhone 7 vs iPhone 8 summary: What's the difference?
Design: All the phones are IP67 rated and lack a headphone jack, but the iPhone 8 has a glass back for wireless charging. Both come in 4.7-inch and 5.5-inch sizes.
Specs: The 10nm A11 chip powers the iPhone 8, though RAM has yet to be determined. The iPhone 7 has an A10 Fusion chip and 2/3GB RAM.
Price: The iPhone 8 kicks off at $699 for 32GB and $799 for 128GB. The iPhone 8 Plus starts at $799 for 64GB and $899 for 128GB. That should relate to similar pricing to the iPhone 7's.
(trustedreviews.com, https://goo.gl/i2qoSz)
Comments
comments